I love love love the bucket bag! I'm so excited to see these on the street, on the runway, and in stores. They're perfect for day or night because they come in a variety of sizes, fabrics and colors so there are lots of options to go with any wardrobe. I think the bucket bag is a different and cool way to update your "night-out" purse. We tend to spend too much time with our outfit, hair and makeup and then we grab any black purse or clutch and we're out the door. A smaller bucket bag is a perfect substitute for the ordinary "going-out" clutch. The best part is…they have a long strap to go perfectly across your body. This means…no more losing your purse! With the bucket bag, there's no excuse! I'm sure we've all experienced a lost purse at point or another and it's not a fun experience to have to cancel your credit cards and wonder who's now making long-distance calls from your Blackberry.
Here are some of my favorite bucket bags: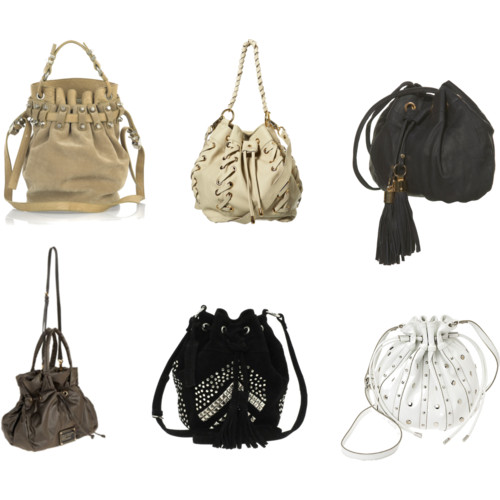 Top Row (left to right): Alexander Wang Diego Suede Bucket Bag ($795 at net-a-porter.com), Leather Lace Up Pouch Bag ($170 at topshop.com), Leather Pouch Cross Body Bag ($55 at topshop.com)
Bottom Row (left to right): Marc by Marc Jacobs Drawstring Resort Tote ($330 at barneys.com), ASOS Dark Suede Duffle Studded Across Body Bag ($59 at asos.com), Drawstring Bar Crossbody Bag ($69 at ninewest.com)
As you can see, there's a variety of colors, fabrics and sizes with the bucket bag. There's also one to fit every budget. How perfect!
—————————————————
So, what do you think of the bucket bag? Do you own one? Do you plan on buying one? If you found one or have one that's not one of my picks, post the link or a picture. I'd love to see it. Let me know what you think!