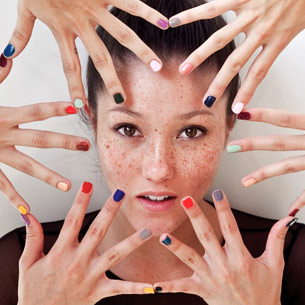 I heard about the American Apparel Nail Lacquer when it first came out but I'm not going to lie…I was a bit skeptical. I am used to my favorite brands like Lippmann, Zoya, OPI, Chanel and Nars but the colors looked bright and fun…and they were 3 for $15 so I didn't have much to lose. I used it for the first time the other day (in Mouse) and I was seriously impressed. It's the perfect balance of not too thin and not too thick (which is hard to find with nail polish these days), it goes on very smooth and it lasts for a long time. I usually chip my nails within the first few days of painting them. A few weeks ago I used Mouse (a taupe-like color…very in right now) and it stayed on for over a week with NO chipping. There are also a ton of awesome colors to choose from. I only bought 3 but there will definitely be more American Apparel Nail Lacquer in my ever-growing nail polish collection very soon. I used Mount Royal last night (a blue/purple color) which is awesome and I still have yet to use Factory Grey (self-explanatory color).
Recapping why American Apparel Nail Lacquer is AWESOME:
1. The colors are awesome! Whether you like brights, darks or neutrals…there's a color for everyone!
2. The quality of the polish is great. It's not so thin where you have to apply like 3 coats but it's not too thick where the polish bubbles. Perfect consistency!
3. They're fairly inexpensive. OPI nail polish tends to run around $8 each and Lippmann goes for about $16 each so for a quality nail polish, $6 for an American Apparel nail polish is a great deal.
4. Not only is the quality great, they are all D&P, Toluene and Formaldehyde free. Safe and healthy painting J
5. It goes on very smooth and lasts longer than most nail polishes I've used in the past.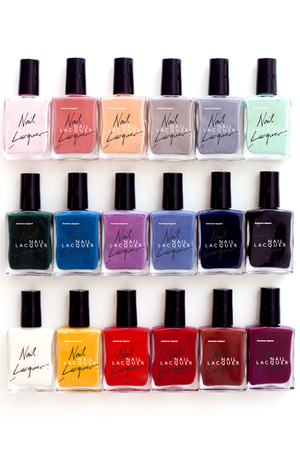 So what are you waiting for? Check out your local American Apparel to pick up some fabulous new colors!
————————————————————–
Have you tried American Apparel Nail Lacquer? If so, what do you think? If not, would you try it? I want to hear your thoughts!