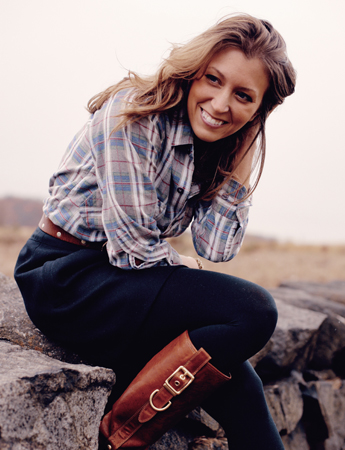 Photo Credit
Dallas Shaw is a beautiful and talented artist who works with big-name labels like DKNY, Dace, Vaute Couture, and American Eagle. Her three main specialties are paintings, fashion illustrations, and vintage-wallpaper art.
Because I think Dallas is super-talented and pretty awesome…I decided I had to interview her! I hope you enjoy getting to know Dallas as much as I did.
——————————-
1. I see you currently reside in Delaware. Were you born and raised there or is that where you decided to pursue your art career?
Oh no, I just recently relocated to DE. I am from PA and then lived in Orlando for a bit while I drew with Disney. I thought my whole life that was what I wanted to do- but learned quickly that I wanted to be in fashion. And now we are here and loving it.
To answer your question about pursuing an art career: I decided I would be an artist I was about 6. I never thought about doing anything else with myself.
2. Did you go to school for art or was it more of a hobby for your growing up?
Both. It was a hobby very early, I took classes for fun and to learn more before going to school for it.
3. Were you ever involved in a different line or work before becoming an artist? If so, what?
I briefly taught art in middle school and met amazing talented children. But everything I have ever done in my life has been art related in some way- I really don't know anything other than being creative.
4. I read from your bio you have your own line of t-shirts. When did you start making these? Also, where can they be found/purchased?
They are gone 🙂 Happily they sold out and used to be available on etsy. There may be a few left at buildanest.com if you were to find any but they went fast. I am working on something new since they were so popular. Just not sure how long it will take though- b/c I like to do things bigger, and better.
5. Where do you gather your inspiration for your drawings?
The runway, and amazing spaces.
6. How did you get involved with such big-name brands like DKNY and American Eagle?
I am constantly working and have been for years and years so I have been introducing my work to many companies and building relationships for a long time. They just really liked the work- and I am happy to say they have all been very supportive.
7. Who are your favorite fashion designers/lines at the moment?
This changes every season, but currently Marchesa, Oscar, Donna Karan, Diane Von Furstenburg, Chris Benz… all for different reasons.
8. What is your go-to garment/accessory for summer?
A long maxi dress. (With a mens blazer at night)
————————–
For more information about Dallas Shaw, you can visit her website www.dallasshaw.com and her blog www.dillydallas.blogspot.com.
EXCITING ANNOUNCEMENT: You are the first to know that Dallas will be creating my ChiCityFashion logo! Follow me on Twitter @ChiCityFashion for updates. Can't wait to see it!
All photos from this post courtesy of Dallas Shaw