Although the Cannes Film Festival isn't over just yet, there's way too many looks to judge to wait another four days (perhaps a part 2 will be coming your way next week?)
It's safe to say Blake Lively is the new Diane Kruger for the 2014 Cannes red carpet. Just see for yourself.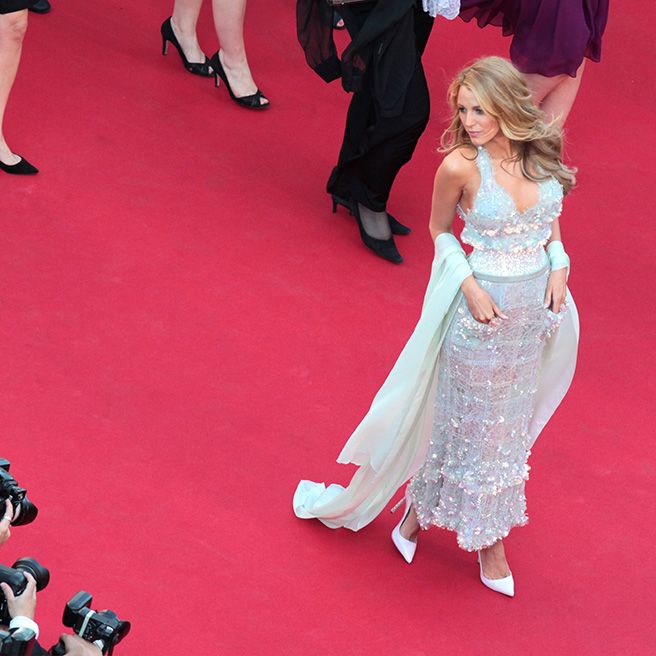 Blake Lively in Chanel Couture
Serena van der Woodsen at her finest. THIS IS CANNES REALNESS.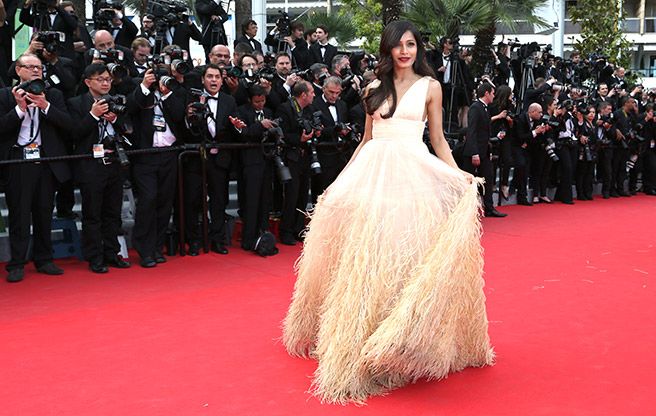 Freida Pinto in Michael Kors
I almost wish it had the neckline from Diane Kruger's Prada dress from the 2012 Met Ball but I'm just being picky — perfectly glamorous. Spot on for the occasion.
Cate Blanchett in Givenchy
Could've done without the drop earrings so close to the statement top but hey, she's Cate the great. And Givenchy is totally her thing.
Julianne Moore in custom Louis Vuitton
It's always such a disappointment to see a custom dress gone wrong. It's custom — it should be perfect! The fit up top is super awkward, I'm not sure whose choice it was to do shiny burgundy leather but it's most definitely not the best idea. Then paired with this heavy bottom. It just makes no sense to me.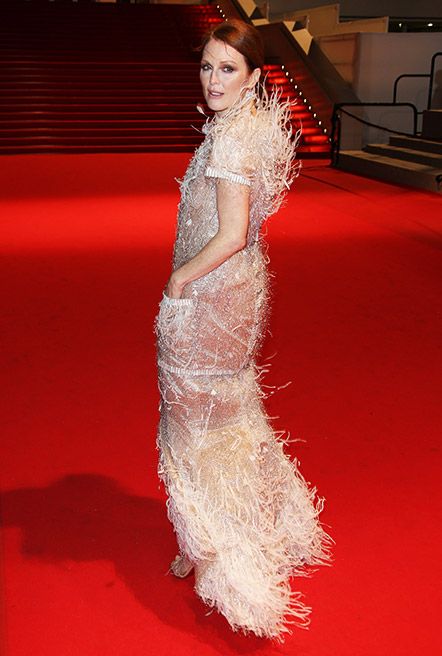 Julianne Moore in Chanel Couture
Now THIS makes sense to me. I hope one day to also wear Chanel feathers that effortlessly blow in the wind.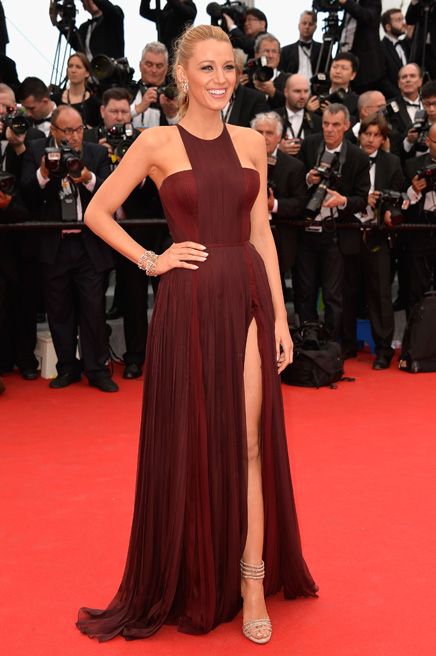 Blake Lively in Gucci Premiere
This is how you work a slit. No need to protrude your leg (I'm talking to you, Angie).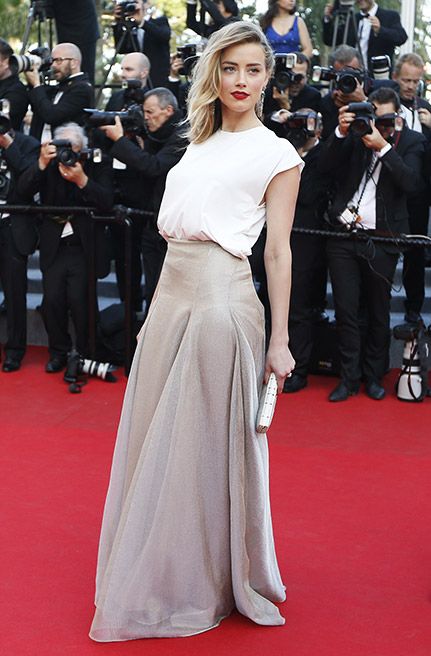 Amber Heard in Vionnet
I love that whole "t-shirt tucked into a skirt" look for the red carpet and although this is far from a simple t-shirt, I dig it. And if there were an award for best hair and makeup at Cannes so far — Amber takes the cake (now I want cake).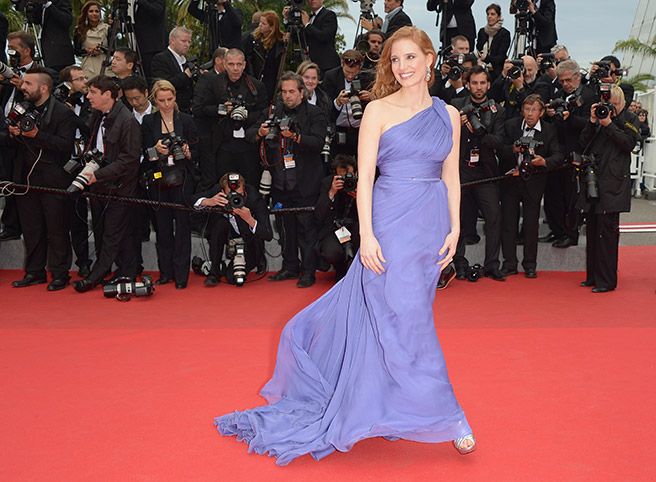 Jessica Chastain in Atelier Versace
It looks like one large piece of fabric just wrapped around her body at the last minute. Is this how you put the Atelier in Atelier Versace? Not a fan.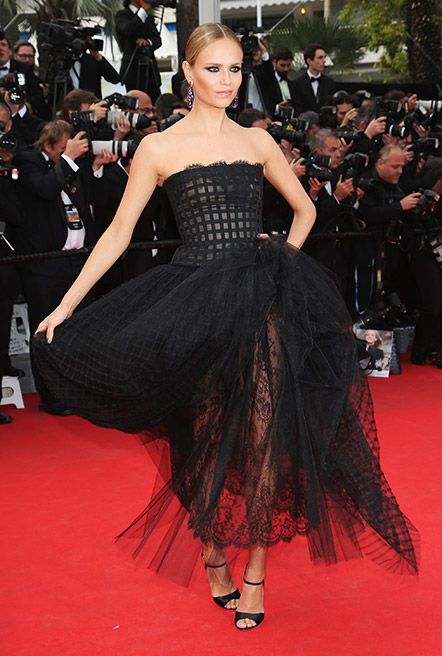 Natasha Poly in Oscar de la Renta
Doing black  textures on the red carpet can be tough because they rarely photograph well and you can't really appreciate the detail — but Natasha proved me wrong. Bring on the lace and tulle!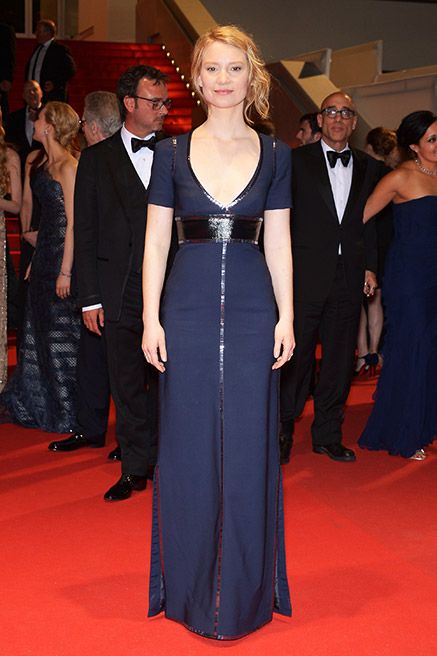 Mia Wasikowska in Louis Vuitton
So, hair and makeup were a no-show then?
Kendall Jenner in Chanel
Girl is just KILLIN' IT. Who knew a half-Kardash could be so damn chic?
Sofia Coppola in Valentino
92% on board with this — a short dress with wedges on the Cannes red carpet is a little casual for me. Turn this into a stiletto and I'd be down, 100%.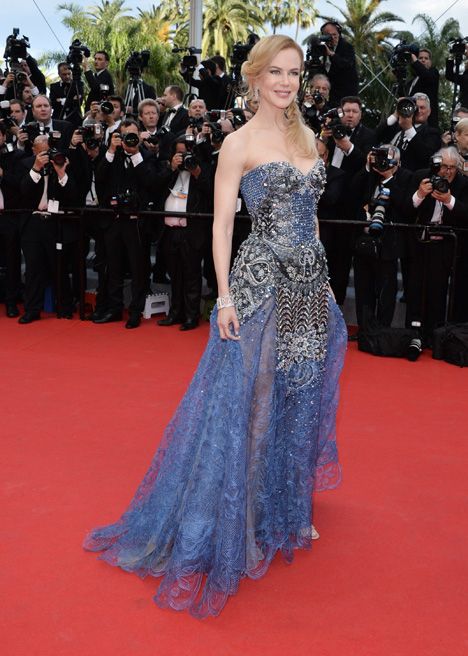 Nicole Kidman in Armani Prive
The detail in this dress is just insane — the lace, the beading…you can tell this took a very long time to make so I do appreciate it. But I still somehow hate it. It's either the wrong occasion or the wrong girl…either way I just find this all…so wrong.
Naomi Watts in Marchesa
I can just hear Joan on Fashion Police — "she looks like a MOOOOVIE star!" And yes, Joan, she does. But this look is so done. It's this morning-after mermaid-esque vibe that I just can't get behind.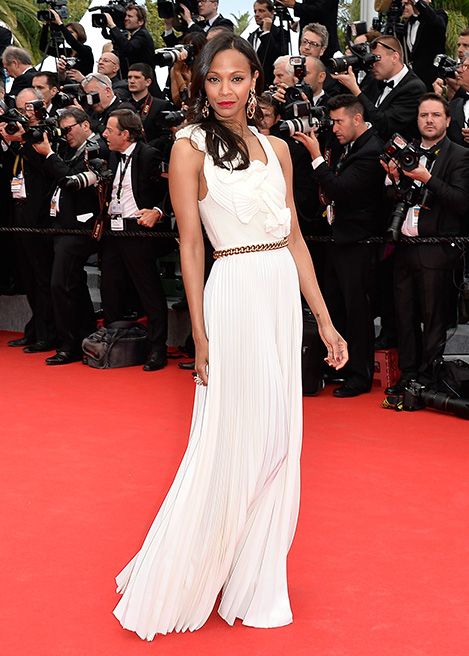 Zoe Saldana in Victoria Beckham
Zoe's one of those girls who can just wear anything and look good, but lately I haven't been into her red carpet choices (exhibit A: the Met Gala). This is a gorgeous Posh Spice dress and Zoe looks amazing but I've seen her do a lot better. I guess I just hold her to higher standards. Is that so wrong?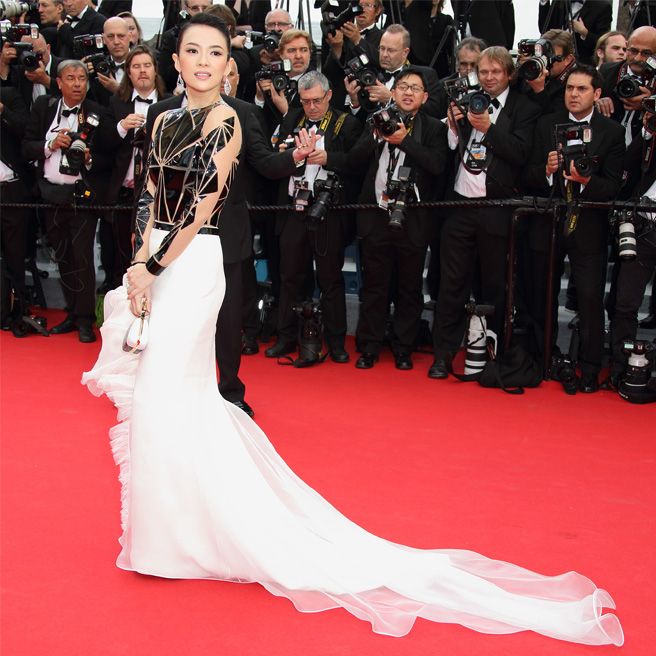 Zhang Ziyi in Stephane Rolland
Love the top. Despise the bottom (especially that front ruffle…oh I really don't like a front ruffle).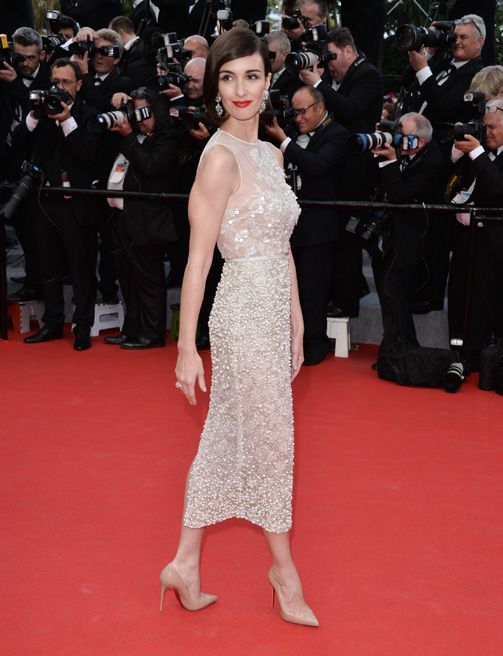 Paz Vega in Elie Saab Couture
Not very exciting but still stunning.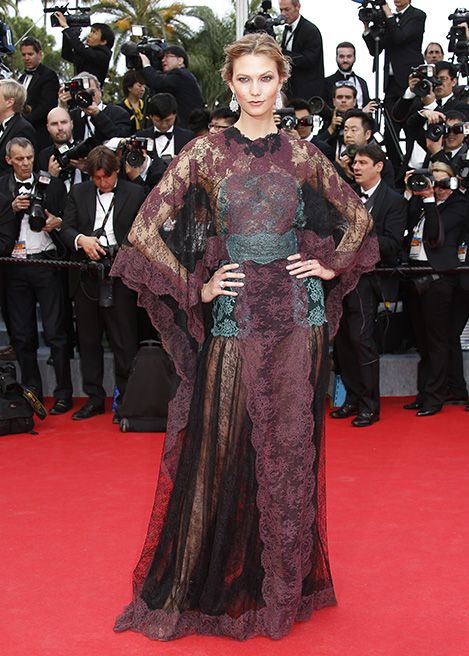 Karlie Kloss in Valentino
There's no hope for me liking this because this is probably one of my least favorite colors but between the sheer, the lace, the kimono sleeves, and the teal — there's a lot going on here. Kind of like Nicole Kidman's dress but at least that one is actually pretty.
Marion Cotillard in Dior Couture
Peep toe ankle boots are one of the more unflattering types of footwear out there. Definitely not one I'd choose to wear on the red carpet because they instantly make a look very casual. But the pairing here with the high-low dress with that detail in the back is just so unexpected, it makes me actually love it all.
Jane Fonda in Elie Saab Couture
I can't think of another celebrity who dresses as age-appropriate yet still fabulous and picks the most perfectly-fitting red carpet choices more than Jane Fonda. Girl always looks GOOD.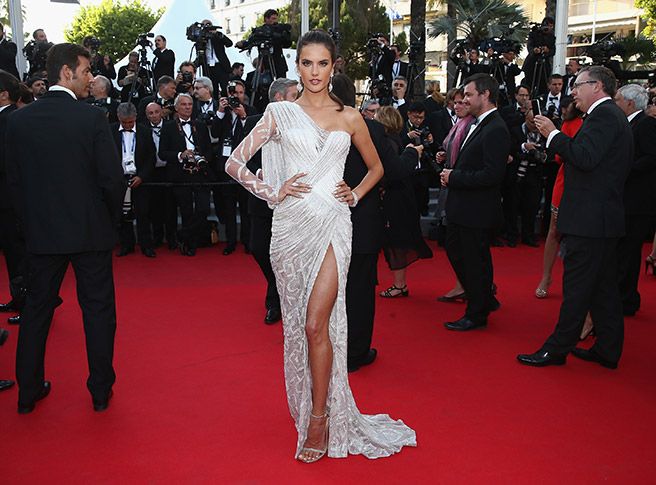 Alessandra Ambrosio in Atelier Versace
It's a little JLo at the Grammys to be in the South of France.
Hilary Swank in Atelier Versace
Basic.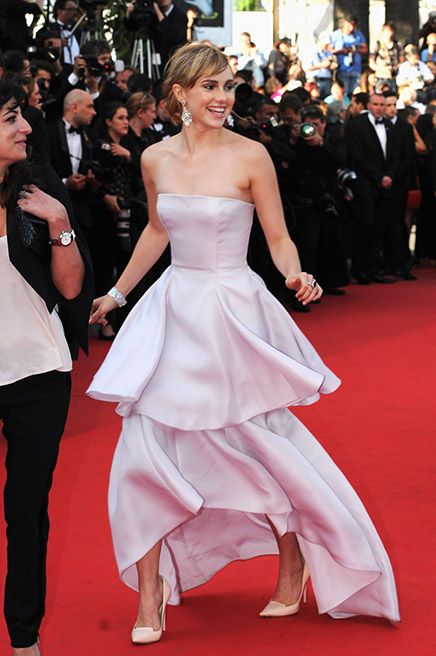 Suki Waterhouse in Dior
Strapless. Neutral. You'd think I'd hate it, right? I should…yet I don't (could have to do with the fact that I'm having a major girl crush moment).
Zoe Saldana in Jason Wu
See comments from "Zoe Saldana in Victoria Beckham."
—
Do you have any favorites so far from this year's Cannes red carpet? Least favorites? TELL ME.
And if you need a few more distractions today, be sure to check out some of the most memorable looks from Cannes past as well as last year's red carpet looks (consider it a hump day treat).
Images via Style.com
You might want to check out...