All caught up with part 1 of the Emmys red carpet? Do you agree with my two best dressed picks so far? I might just have a few more. We still have a ways to go, though. So let's get to it…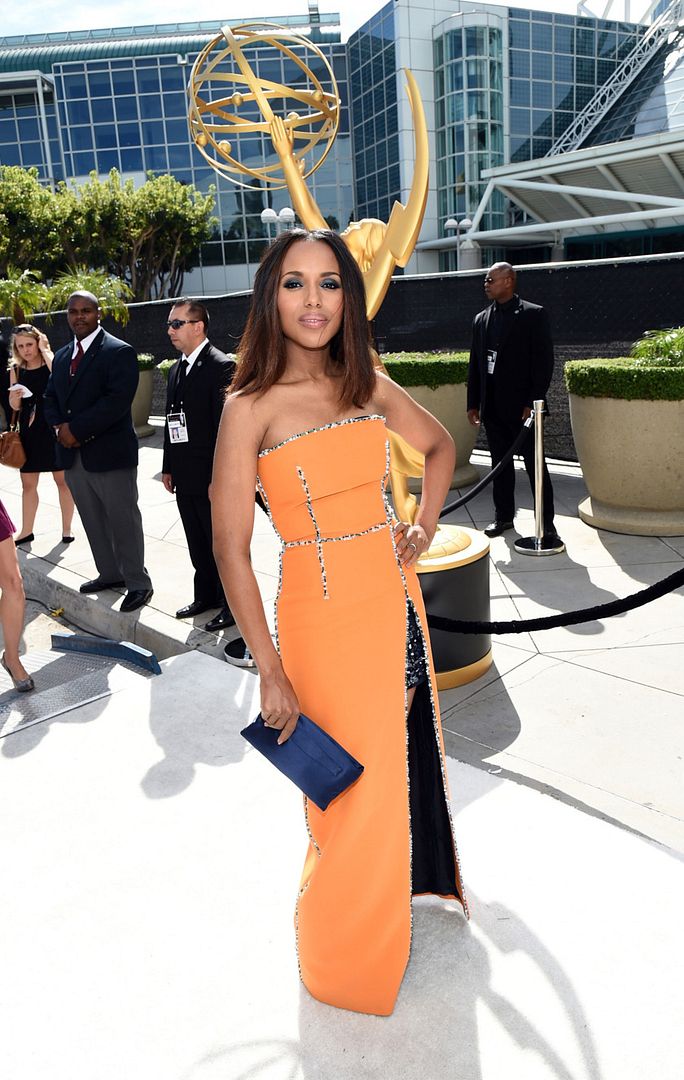 Kerry Washington in Prada
It's like I get where she's going with this but at the same time I have no idea where she's going with this. It's an interesting concept, but just not executed properly. A for effort though.
Kate Mara in J. Mendel
J. Mendel has been a go-to red carpet designer for quite some time, and I just don't understand why everyone is flocking towards these overly designed dresses. First Anna Kendrick at the Oscars then Emmy Rossum at the CFDA Awards and now this. It's one of those things where I like all of the elements but just not together.
Laverne Cox in custom Marc Bouwer
It's a little bridal with the train and all but she looks really confident in it and excited to be at the Emmys. And for that, I can't knock this look.
Julia Louis-Dreyfus in Carolina Herrera
As a Seinfeld fan, when she referenced Bryan Cranston as Tim Whatley on that stage, my night was complete. Then they made out and my world turned upside down (in a good way). Oh but about the dress? You know I hate red but DAMN…she looks good. I hope I can look half as good as this when I'm in my 50s (yes she is in her FIFTIES!)
Julie Bowen in Peter Som
I thought it was funny Julie Bowen said on the red carpet that she doesn't take risks because in my opinion, she totally does. She's worn everything from a neon yellow Monique Lhuillier dress to a full leather gown. Usually the funny ladies don't take much of a fashion risk so I always appreciate her efforts. We don't see printed dresses on the red carpet all that much and I'm not sure why because it's a different way to do color without being so one-note. I love this print, the cut of the dress is cool and retro…overall, I'm in!
Julianne Hough in DSQUARED
Just not feeling anything here. It's a lot of white, yes but I can't even pinpoint what I don't like about it. I guess it's like when someone rubs you the wrong way and you can't figure out why you don't like them but you just don't…that's how I feel about this.
Julia Roberts in Elie Saab Couture
I thought we were over peep toe platforms but I don't even care because she looks amazing! This is such a fun dress for the Emmys, and not the beaded and/or lace situation we typically see from Elie Saab. You can tell she knows she looks good…and that's what fashion is all about, folks!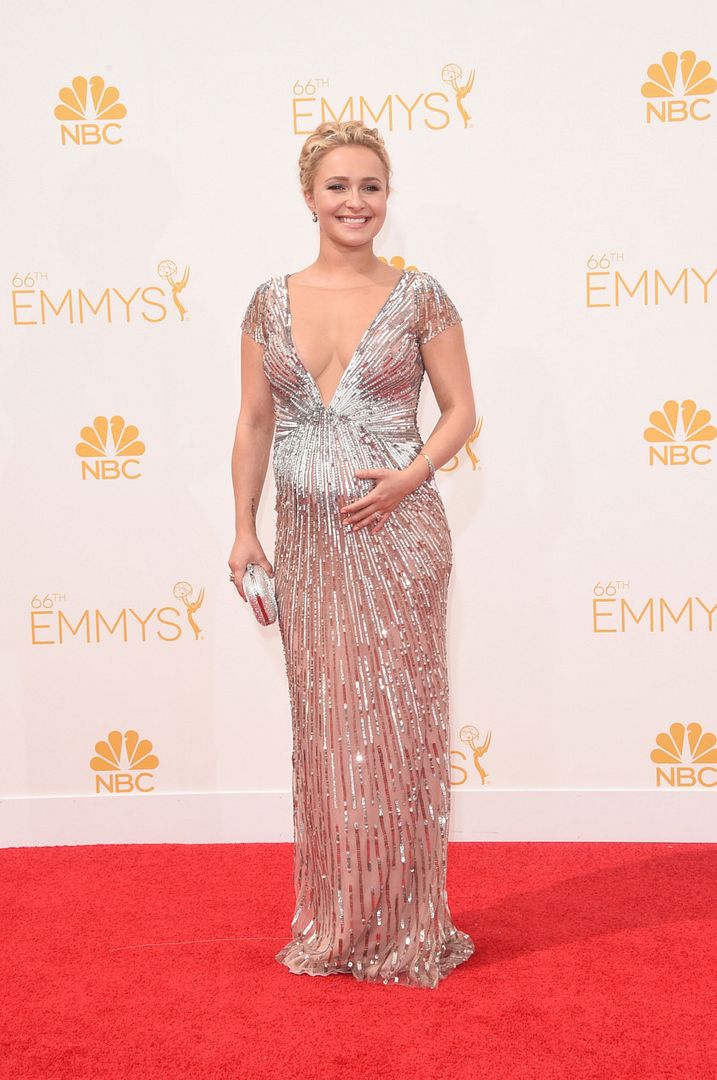 Hayden Panettiere in Lorena Sarbu
The first thing I thought to myself when I saw she was pregnant is that I hope this plays into a juicy storyline in Nashville. But about the dress…I'm never a fan of the nude mesh paneling that's meant to hold a dress together because otherwise it would be a wardrobe malfunction waiting to happen. However, I'd rather see a totally different dress than see that awful nude material. Don't get me wrong, I'm down for a low-cut dress when pregnant (if you can pull it off of course) but that material always throws me off. Swing yet a mess for me.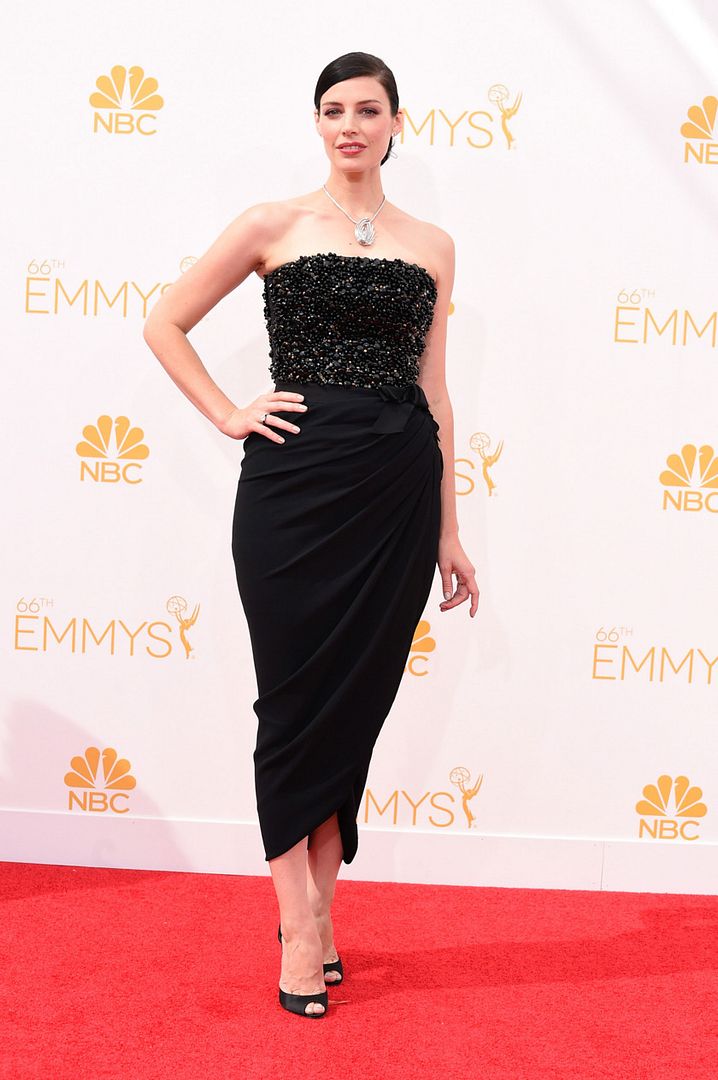 Jessica Paré in Lanvin
Bored.
Debra Messing in Angel Sanchez
It's like a not-as-cool version of Alexander Wang SS13. I like the idea but Alex did it better.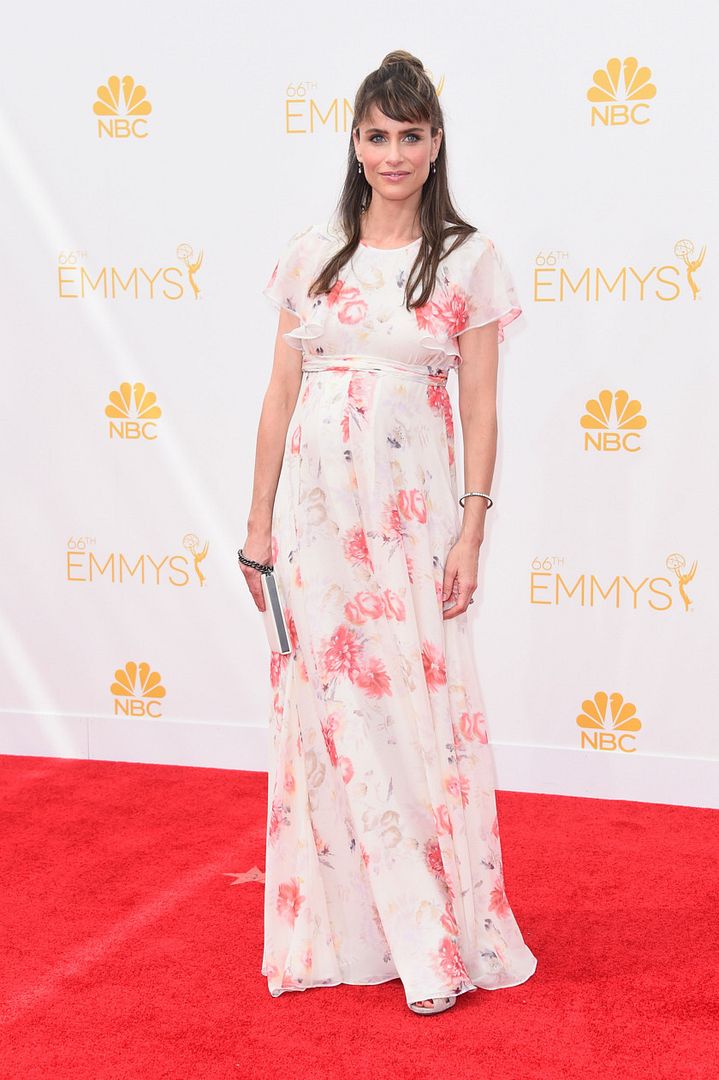 Amanda Peet in Giambattista Valli
I can't even comment on the dress until we address that hair — WHAT IS THIS? Side bangs + a half-up top knot? Why does this exist in the hair world? So now we can talk about the dress…her fashion choices haven't really been all that fantastic in the last few years so this doesn't really surprise me. It's not the worse she's worn though (see? I can give compliments)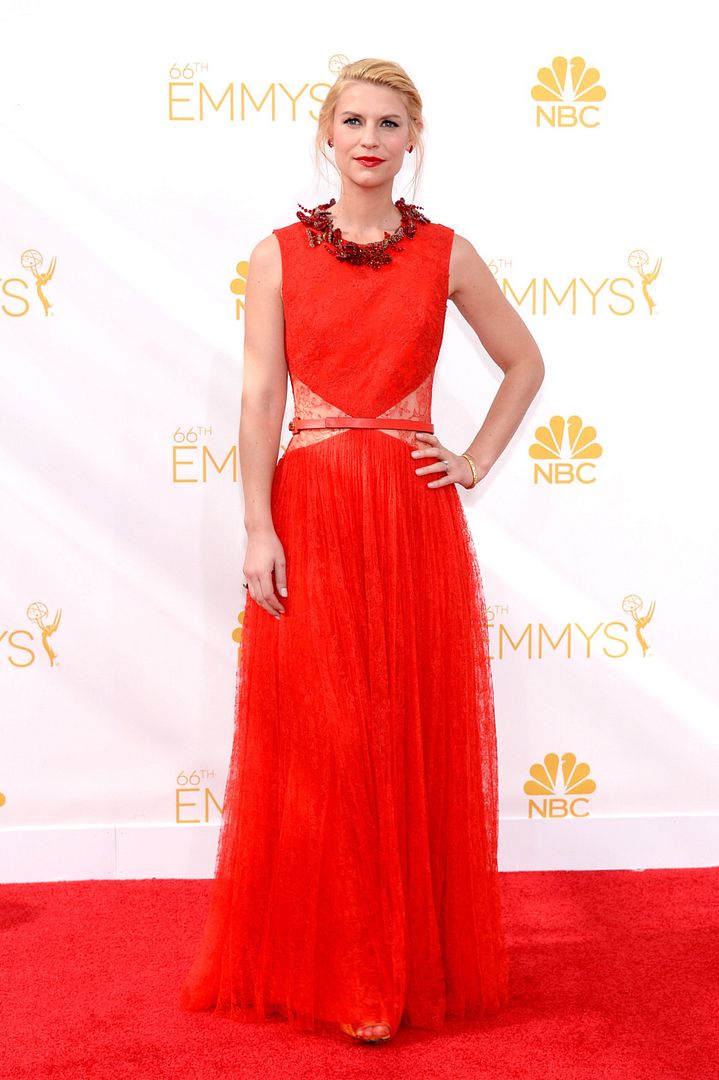 Claire Danes in Givenchy
Best Dressed Pick
I'm sure everyone's throwing their hands up in the air being all like THIS IS BASICALLY KIM KARDASHIAN'S WEDDING DRESS. But I personally think it's different enough where it's still okay to wear for the Emmys. Plus it's badass (did you see the back?) and yes I am saying this about yet another red dress. I guess Prabal and Riccardo just know how to do the color right. I'm even more surprised that I like this specific dress because there is a lot going on — lace, cut outs, a belt and an embellished neckline. But somehow it all works. Gotta be that Tisci touch!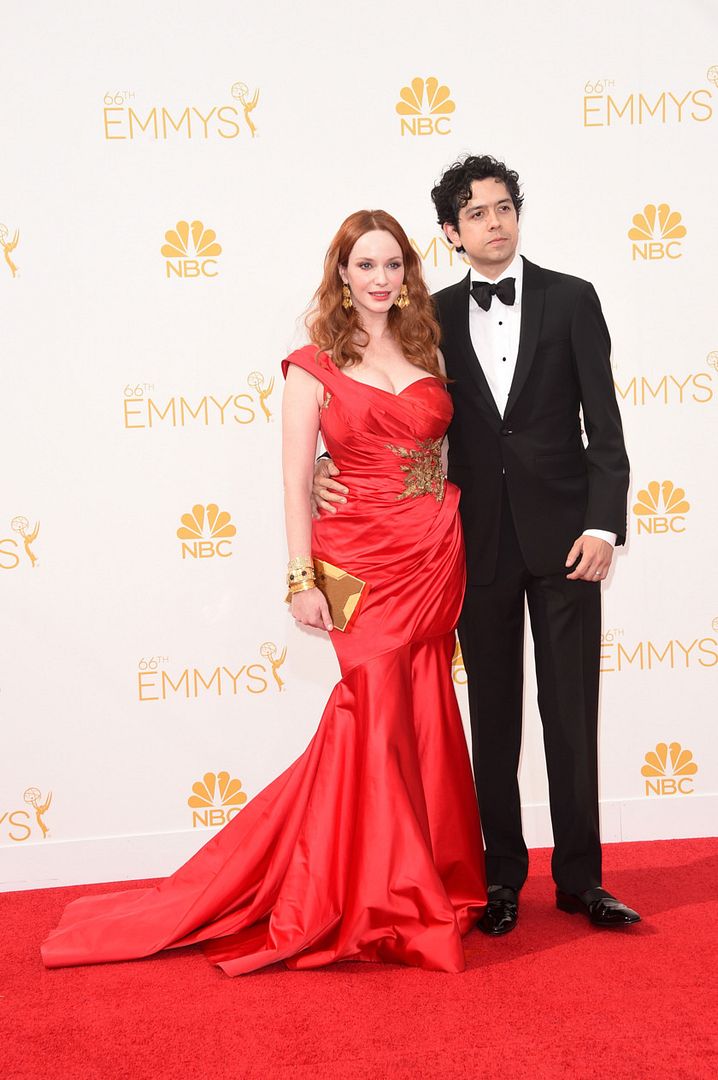 Christina Hendricks in Marchesa, with Geoffrey Arend
Speaking of why I hate red dresses…
Allison Williams in Giambattista Valli Couture
When I heard Allison Williams would be in Giambattsita Valli Couture and I had already seen Lena Dunham's disaster, I was kinda hoping for a full on Giambattista moment (like this). I mean, there are four Girls (although I'm not sure where Jemima Kirke and Zosia Mamet were last night) and four of these "sherbert dresses" so it was only natural for this vision to occur to me. Though I was left with Lena Dunham looking like a melted cupcake and Allison looking like a neatly wrapped present. 
Camila Alves in Zuhair Murad with Matthew McConaughey
Remember what I said about nude mesh? If you're trying to do that whole illusion thing, this is how you do it. This just has a nude slip underneath with completely transparent mesh (or a similar material) so it all just blends with her skin perfectly and shows just the right amount of skin. As Beyonce would say, FLAWLESS. And Matt, you look pretty good too. Alright alright alright.
Anna Chlumsky in Zac Posen
I'm not a huge fan of Zac Posen's gowns (mostly because they tend to all look the same) but he really killed it with the red carpet dresses last night. Is this look groundbreaking? No. But it fits her well and she looks good (although I kind of hate the earrings).
Heidi Klum in Zac Posen
Not only have I loathed pretty much everything Heidi has worn post-Seal (her looks typically scream I'M A DIVORCEÉ…COME AND GET ME!) but I actually find this dress very refreshing (and…it's Zac Posen!) Again, not the most unique dress we've ever seen but it's a nice color and it looks great on her. But once again…HATE the earrings.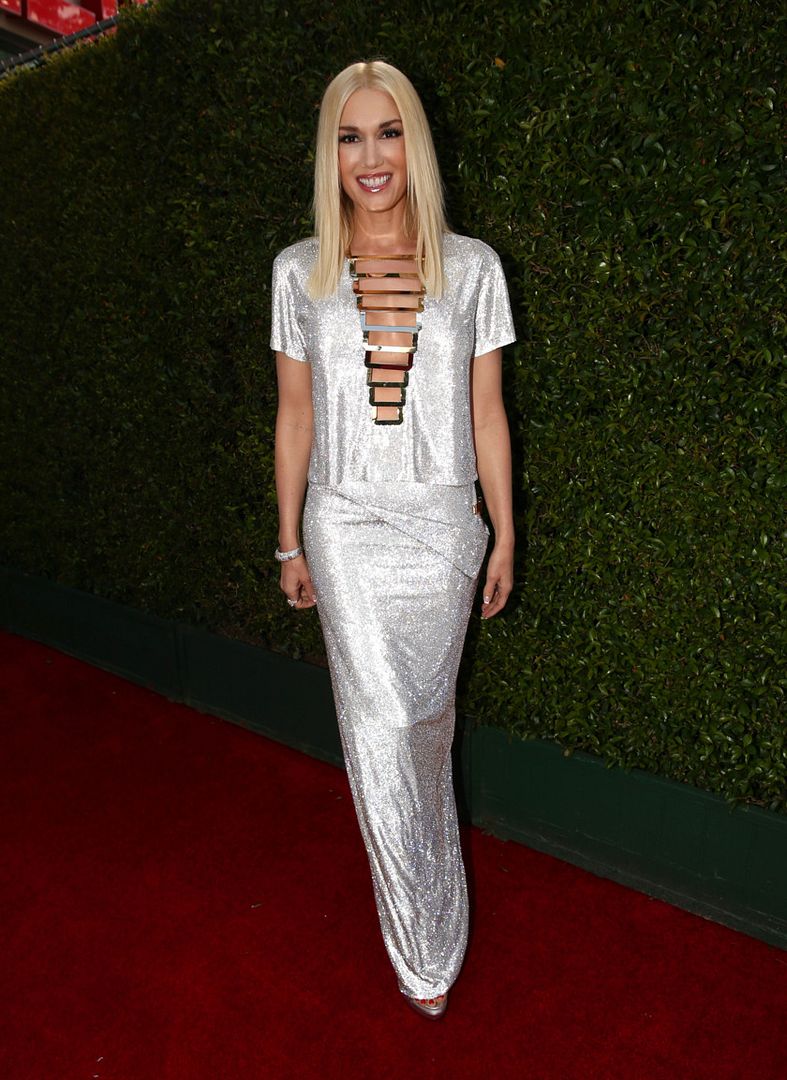 Gwen Stefani in Atelier Versace
Best Dressed Pick
When I first saw her photos I first thought, holy shit I love this outfit then I asked myself but who the hell is this? I don't know if it's just this photo but this looks nothing like Gwen Stefani. Did she have work done between Sunday's VMAs and last night? Her face just looks nothing like what I'm used to. But besides that, this is pretty fantastic. Something  that could easily go vulgar and tacky (especially in the hands of a Kardashian) but it just looks super cool on Gwen. I dig the two-piece look and with the stick-straight hair, it all works!
—
What did you think of the Emmys red carpet this year? Mostly hits? More misses? Be sure to share your thoughts! Until the next red carpet…
Images via The Cut
You might want to check out...