Predicting who will win what is just not where it's at anymore — it's who will WEAR what that's right now (or really just what I care about). Although I did have a little fun with who might win the CFDA Awards (we'll get the results in exactly one month from today), it's almost that time of year again — what most fashion folks would say is the BEST time of the year (because it is) — the Met Ball is just around the corner.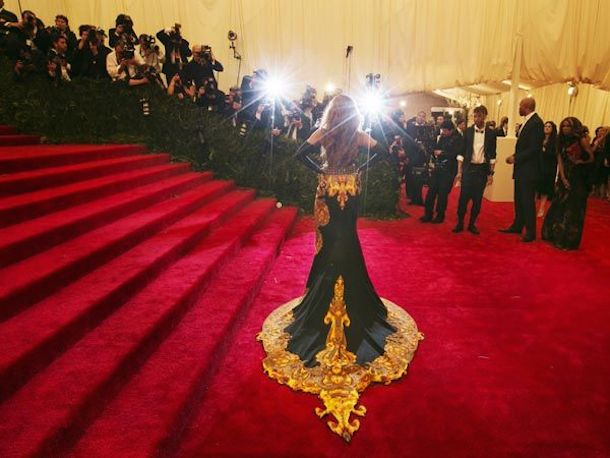 If you're not familiar with the Met Ball, it's really just a lavish fashion benefit for the Metropolitan Museum of Art's Costume Institute (it's real name is actually the Costume Institute Gala but I guess that was too many syllables). Every year has a theme — last year was punk (which made for especially exciting red carpet posts). This year, it's all about couturier Charles James, so you can expect things to get down right fancy this Monday night. Fun fact: Charles was a milliner when he was just 19…and set up shop in Chicago! Of course he then moved to New York (too bad I didn't have ChiCityFashion back in the day…maybe he would have reconsidered) but some good info nonetheless.
Anyway, I thought it would be kind of fun to showcase some dresses that would be perfect for this year's Met Ball. Keep in mind, the attire is "White Tie and Decorations" (whatever that means — but apparently it's just super dressy). Expect to see a lot of Oscar de la Renta gowns (with hopefully a cool jumpsuit thrown in here and there — this isn't the Academy Awards people…IT'S THE FREAKING MET GALA).
Armani Prive Spring 2014
With an occasion such as this (plus one with an especially dressed up theme) you have to expect some couture appearances. With all the details and craftsmanship in this look from Armani Prive, it most definitely deserves a moment on the Met Ball red carpet (perhaps an Emilia Clarke red carpet moment?)
Elie Saab Spring 2014 Couture
Typically we see runway looks as either real life or editorial and never anything in between. So what's the only occasion where editorial looks are acceptable for real life? The Met Ball of course (and I guess fashion week — but are you really going to wear a ball gown traveling from Lincoln Center to Milk Studios?) If there's any occasion for an enormous couture gown, this is it. I can see Allison Williams trying to pull this off but the execution going all wrong (it can happen when you play a perfectionist on TV).
Chanel Spring 2014 Couture
Going along with the couture theme, what's a fancy fashion event without some Chanel? Naomi Watts, this is calling your name.
Balenciaga Spring 2014
This look as is would be way too casual for this event so imagine this off-the-shoulder dress in gown form — so good, right? Perhaps a future killer SJP moment?
J Mendel Spring 2010
So you're probably thinking "that's so last season." But some times in fashion, that's a good thing. Everyone wants "what's now" and forgets about those amazing pieces from a few years back. Apparently Taylor Swift is confirmed to wear J. Mendel and with so many of his recent gowns already been seen on the red carpet, she'll either do custom or something from the archives. I'd love to see her in this dress but in either something really light like cream or white or the total opposite in jet black. Either way, this silhouette screams T. Swift (which therefore screams "who wants to be my new best friend on Instagram?")
Jason Wu Fall 2014
Like the Balenciaga, this is far too casual for the occasion but adding some length and/or volume would be the ideal way to get this look on the Met Ball red carpet. This would be perfect for one of the model attendees (wouldn't be surprised to see this on Karlie Kloss or Gisele…all the more excuse to make us have ab envy).
Prabal Gurung Fall 2014
Like Taylor Swift, there's a few other celebrities who are confirmed to be dressed by and attend the Met Ball with certain designers. Zoe Saldana and Prabal Gurung are on that list. And although it's easy to put them in a custom gown (which I'm sure most designers will do but because I can't read minds and I'm [unfortunately] not friends with Prabal, this is the best I can get) it's fun to see what they might wear straight from the runway. Zoe can wear anything but she'd especially rock it in this.
Rosie Assoulin Fall 2014
I have no idea if we'll see any Rosie on the red carpet but with her quickly rising popularity, I have to think at least one dress will make an appearance. If Emma Watson is doing the Met Ball this year, I'm hoping she at least considers this…
Valentino Fall 2014
Speaking of Emmas, WWESW? (What Would Emma Stone Wear? Duh…) THIS.
Dior Spring 2014 Couture
Assuming Jennifer Lawrence is still under contract, she will be wearing Dior (SHOCKING, I know). I haven't been all that into any of Raf's dresses lately (sorry Raf) so I thought this one would be a nice compromise, modified with a longer hemline. It still blows my mind J-Law hasn't worn any custom Dior so maybe this will be her big moment to get in on a Raf collaboration and actually kill it in Dior, for once.
Givenchy Fall 2010 Couture
Like my reasoning for the J. Mendel dress, it's cool to bring back an archived piece for an event like this. Givenchy hasn't done a couture collection in the last few years so why not give an old dress a good night on the town? Amanda Seyfried is reportedly wearing Givenchy for Monday night's festivities and I know you're thinking it too — this dress needs to be worn by her like yesterday.
Valentino Spring 2014 Couture
This is definitely the most avant-garde of the picks (and a ballsy move for this specific Met Ball theme) but if anyone can do it, SJP can. It's not confirmed but rumor has it she'll be wearing Oscar de la Renta (which totally makes sense for this year's dress code) but secretly, how bad do you want her to wear this? Okay if not SJP how about a badass model like Joan Smalls or Cara Delevingne? JUST SOMEONE WEAR THIS DAMN DRESS.
—
So that's all [for now] folks. A few other fun facts (thank you Telegraph), Lupita Nyong'o is confirmed to be wearing Prada and Margot Robbie for Diane Von Furstenberg. Because both designers aren't really known for their off-the-runway red carpet gowns, we'll have to assume these dresses will be custom. We'll just have to wait until Monday (and then extensive red carpet posts here on CCF first thing Tuesday morning).
What are you hoping to see at the Met Ball this year? Any predictions of your own?
Images via Style.com
You might want to check out...