If you missed Jay + Bey, the only prediction I got right, and some Olsen realness then be sure to check out part 1 of the 2014 Met Gala red carpet. If you're caught up, let's keep going. We have a lot to cover here.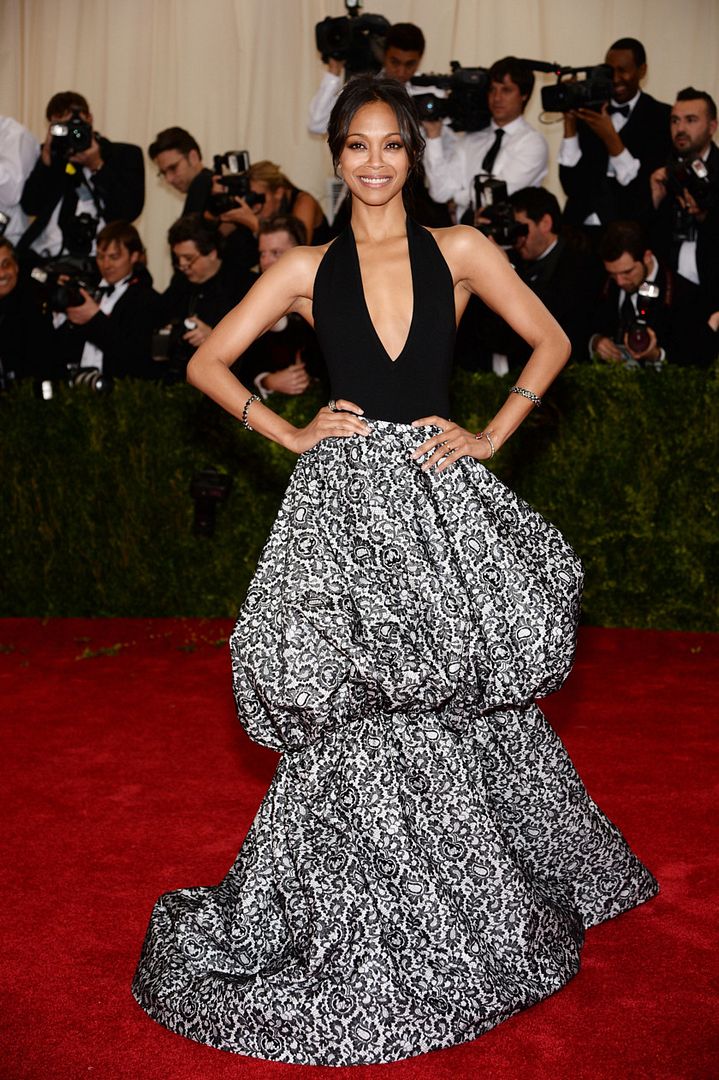 Zoe Saldana in Michael Kors
Apparently Zoe was confirmed to wear Prabal (not sure what happened there). Like I said about Solange's dress, the whole bubble thing just doesn't do it for me. If you want my honest opinion I'd say this looks like  an American Apparel bodysuit with a fancy printed trash bag and matching Christmas tree skirt. Which KILLS me to say because I usually love her red carpet style. But I cannot tell a lie…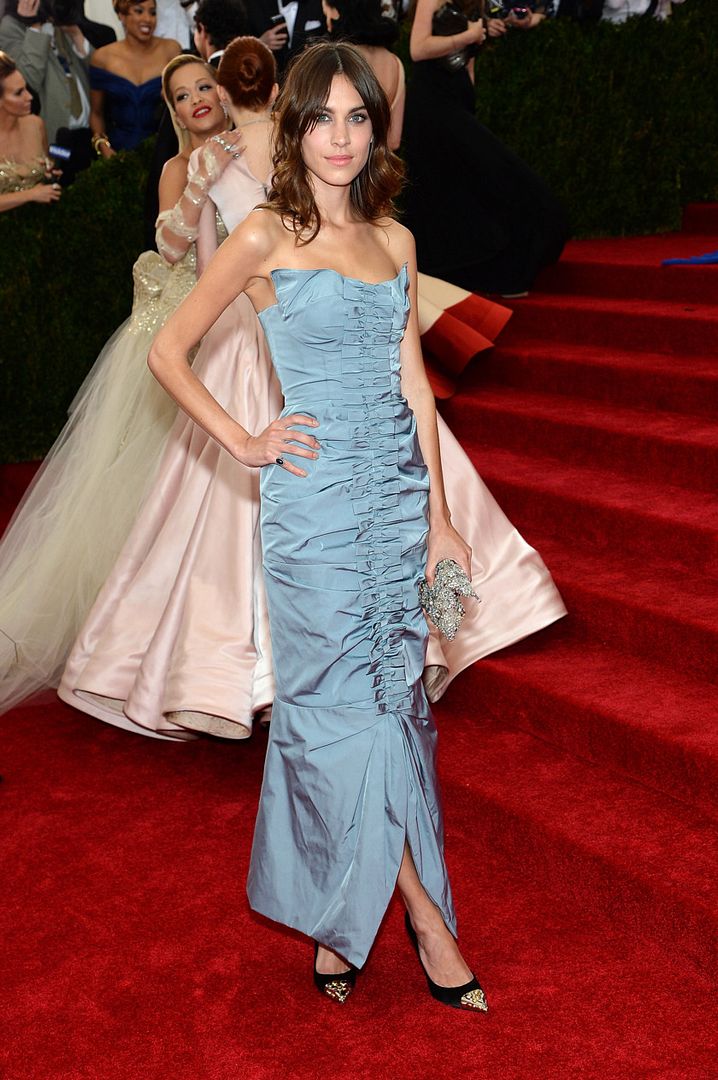 Alexa Chung in Nina Ricci
This looks like it would make a crinkling sound every time she takes a step. That is not a compliment.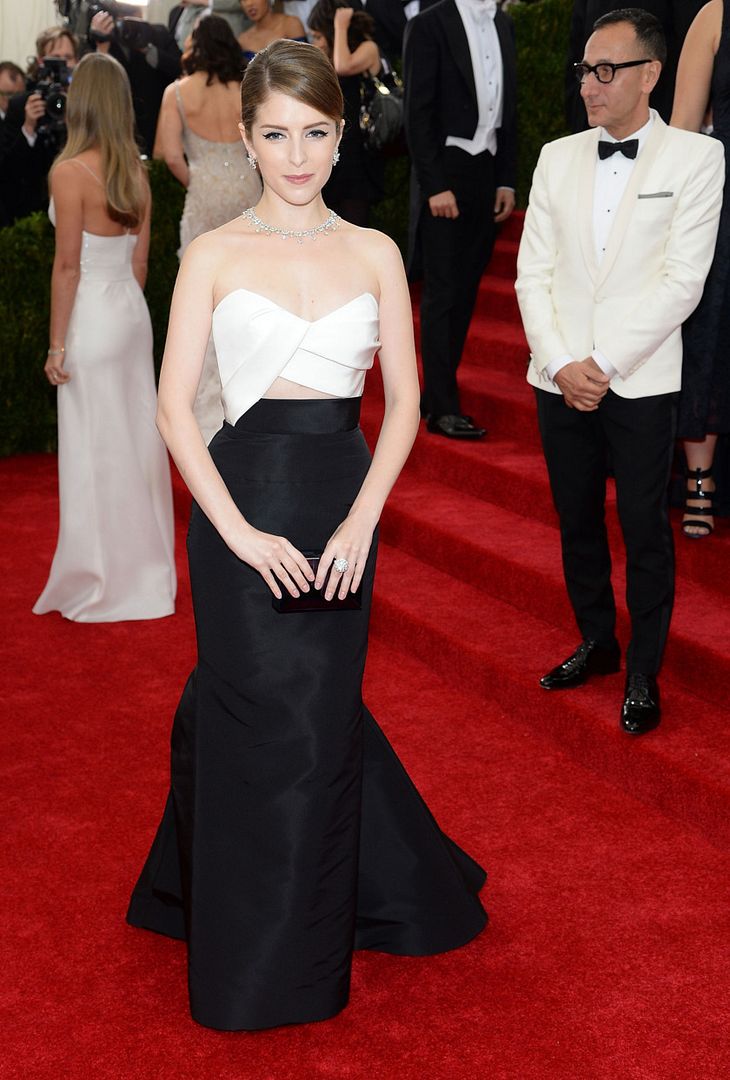 Anna Kendrick in J. Mendel
One word: meh.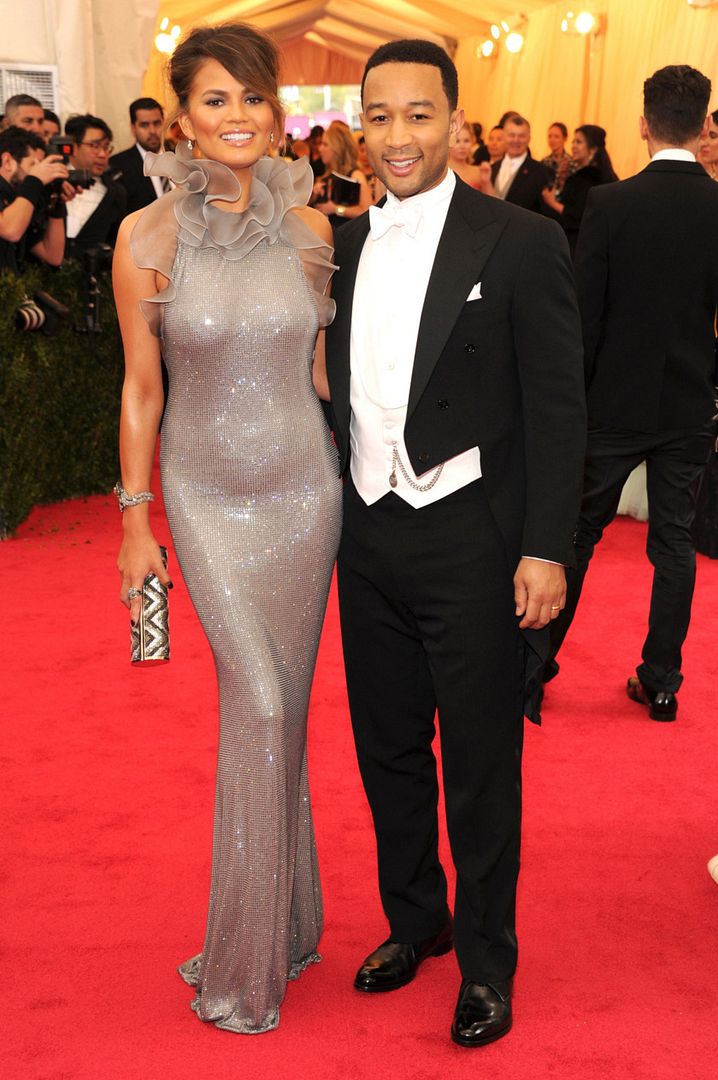 Chrissy Teigen and John Legend, both in Ralph Lauren
John looks baller. And for Chrissy…I can't get over the fact that you can see everything through that dress. And due to that major distraction (as well as the ruffles taking over her neck and soon, her face), I can't be on board.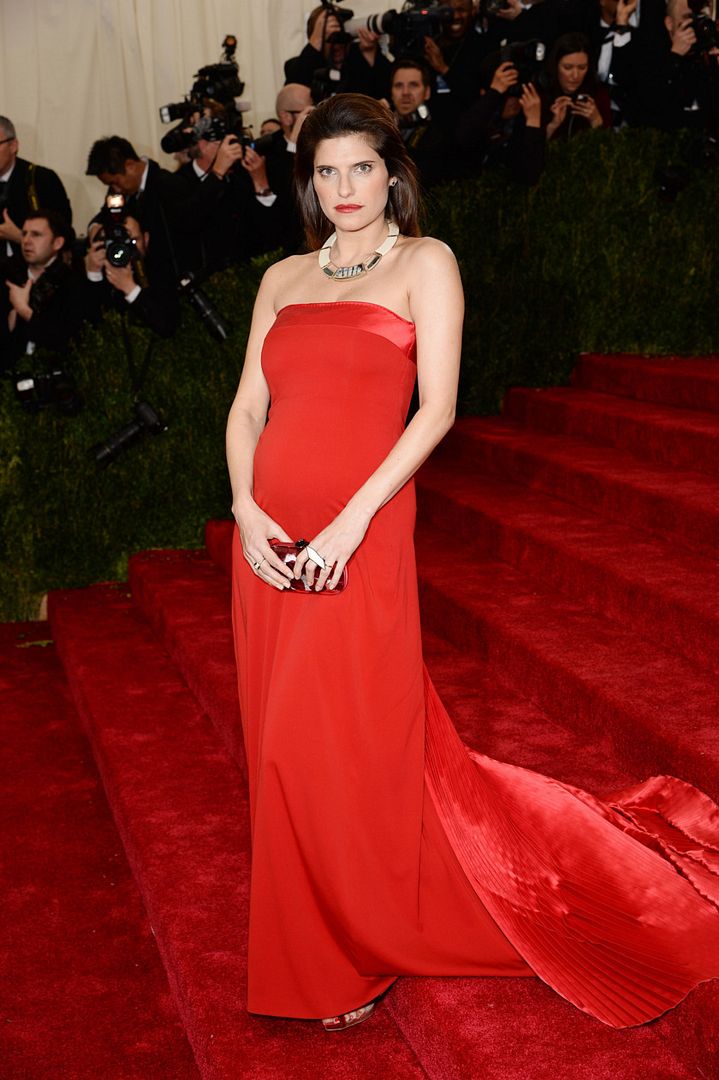 Lake Bell in Tommy Hilfiger
You know it takes a lot for me to love a red dress…and this definitely doesn't make the cut.
Lake, cheer up…YOU'RE AT THE FREAKIN' MET BALL!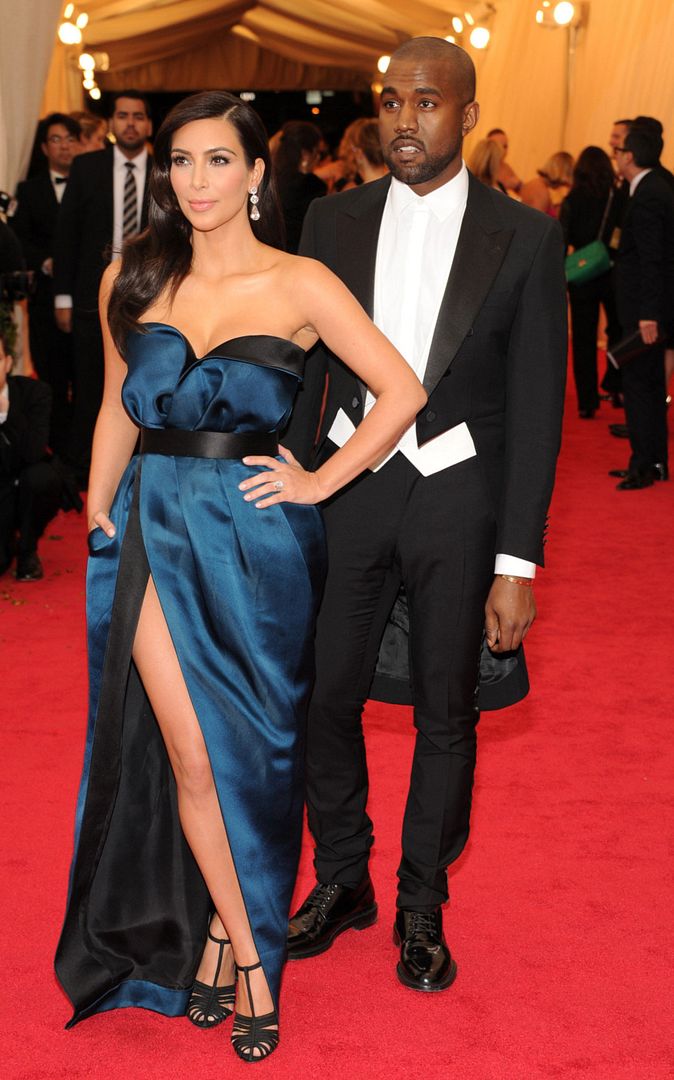 Kim Kardashian and Kanye West, both in Lanvin
I found it kind of hilarious that Riccardo Tisci dressed "rival power couple" Jay-Z and Beyonce, and not Kim and Kanye (I still haven't accepted Kim…sorry I'm not sorry). This is probably the most formal we've ever seen Kanye and I can't say I don't like it (see what I did there?) and although I don't love this Lanvin dress on it's own, it's probably the classiest Kim's ever looked…and you know what? I think I just complimented Kim Kardashian. DAMMIT!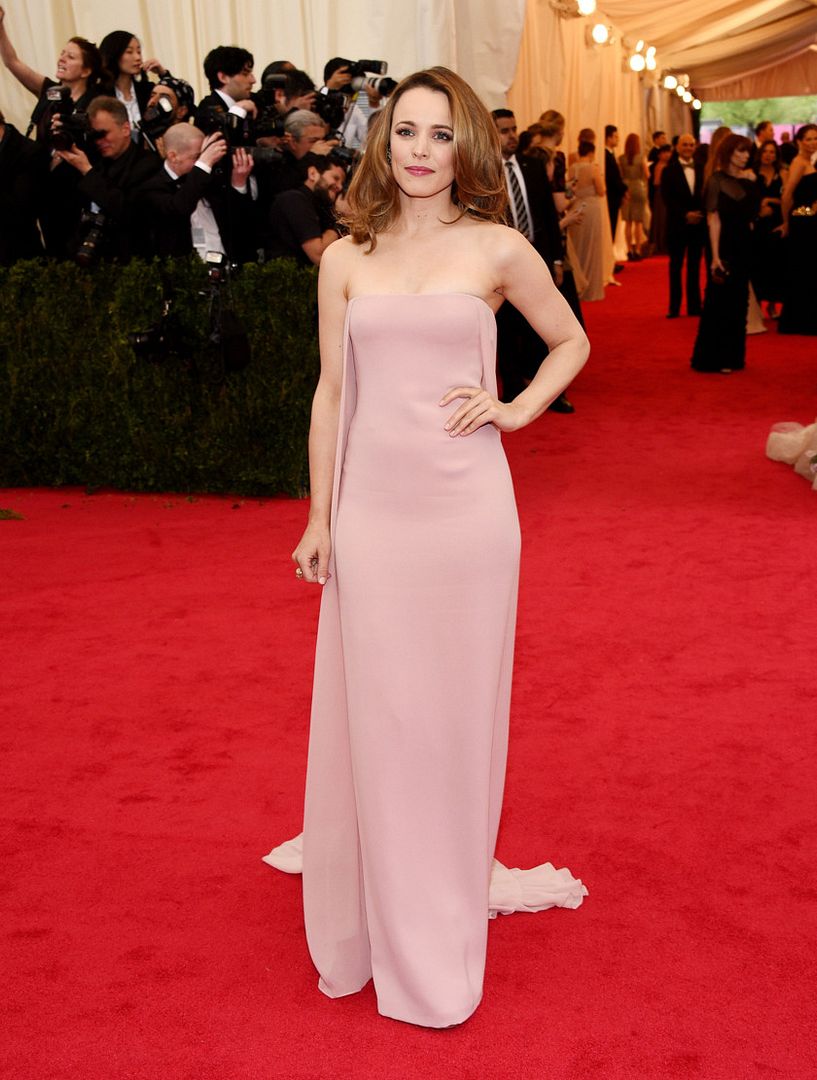 Rachel McAdams in Ralph Lauren
Ground. Breaking. #sarcasm
Taylor Swift in Oscar de la Renta
It's perfect for the theme but it's hard for me to love because of the material. It's so difficult to wear because it puckers and wrinkles very easily. Again, it's so right for the occasion but coming from someone who lives in leather pants and t-shirts, I just can't.
Zoe Kravitz in Topshop
This is what having an "I woke up like this moment" at the Met Ball looks like. Because it really does look like she just woke up…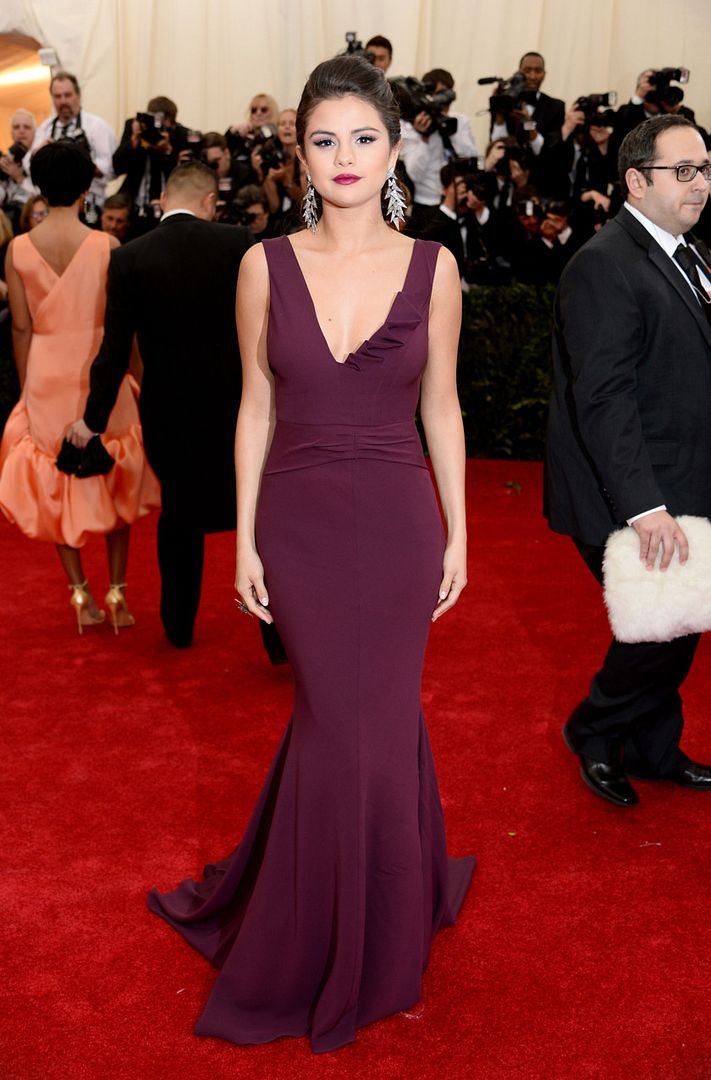 Selena Gomez in Diane von Furstenberg
Selena, you have your whole life ahead of you to dress like a lady. You're 21…HAVE A LITLE FUN.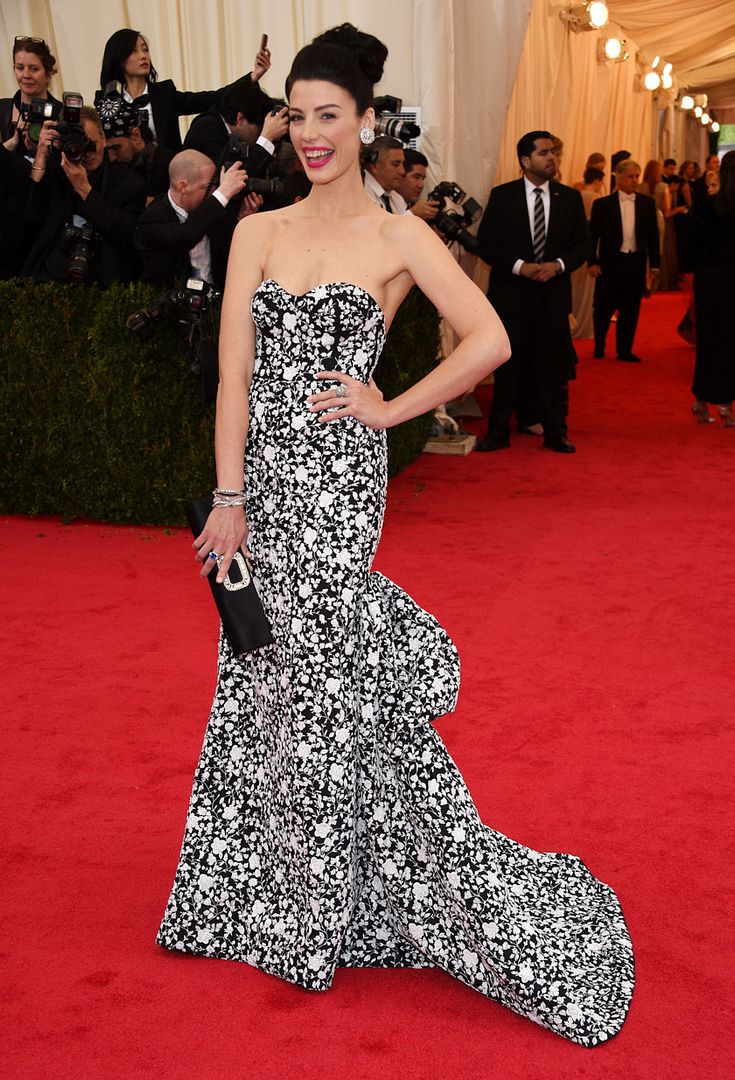 Jessica Pare in Michael Kors
No thank you.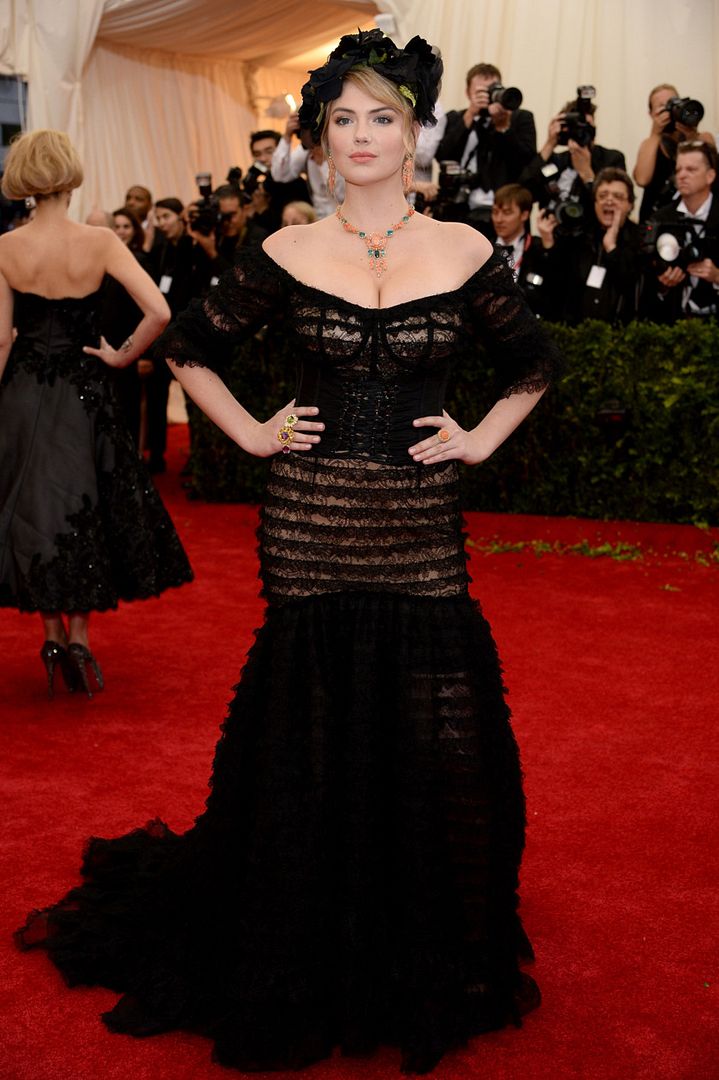 Kate Upton in Dolce & Gabbana
Besides the fact that the dress is sheer in all the wrong places, this is way over accessorized — all the rings, the earrings, the necklace and the headpiece. You know that whole "take off one piece of jewelry before you leave the house" thing? This is an example of why that quote exists.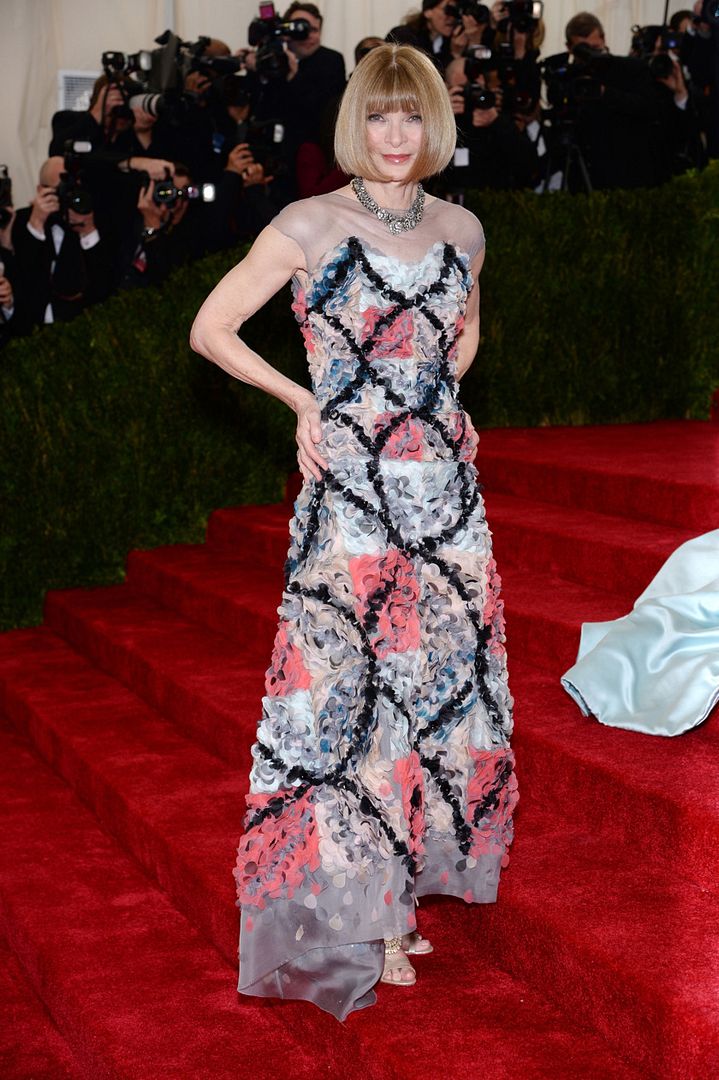 Anna Wintour in Chanel Couture
She looks…dare I say happy? She is at the Met Ball which she's pretty much responsible for making happen in this capacity…and she's in Chanel Couture. So I'm glad we got at least a small smirk.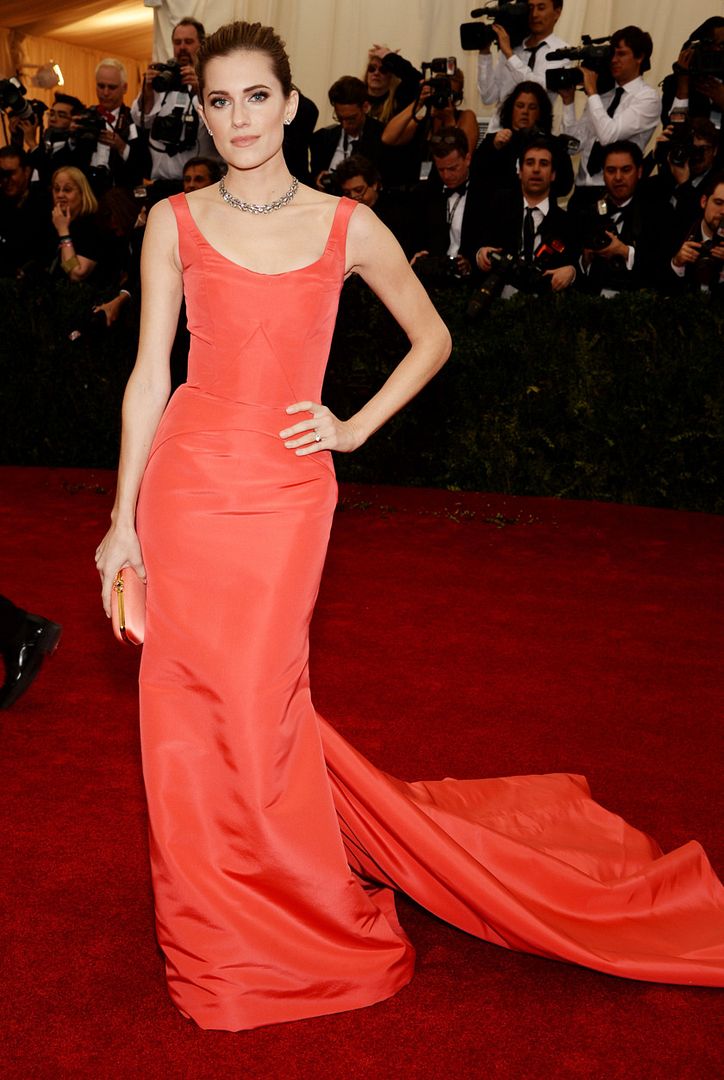 Allison Williams in Oscar de la Renta
BASIC.
Dianna Agron in Miu Miu
I'm into the dress, I dig the shoes and the bag but this is simply on the wrong girl. You need someone who's going to own this look and she's just too…Glee for this.
Florence Welch in Valentino
It's very her which I can appreciate but definitely not the dress I'd pick out for myself for such occasion.
Kristen Stewart in Chanel
This is such a cool dress and on an edgy girl like Kristen, this should work. Maybe the orange hair is throwing me off, or perhaps that smile (not used to either one) but regardless, there's something a little on but also very off about this whole thing.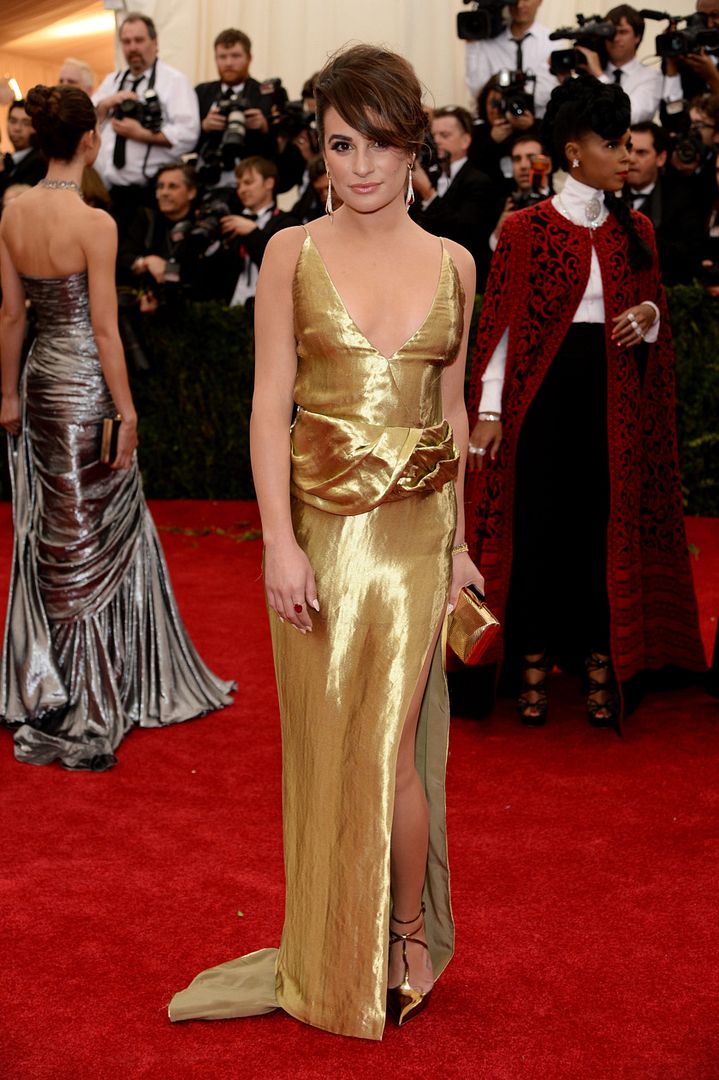 Lea Michele in Altuzarra
If the dress didn't have the extra fabric in the midsection, I'd be in love (well that and different hair). But who would ever want more volume in that area? She's a tiny girl so it's even more unflattering on someone with her figure. It's like they had some extra fabric left over and Lea cheated with dairy so they joined forces and made this.
Reese Witherspoon in Stella McCartney
It's boring, and I expect nothing less.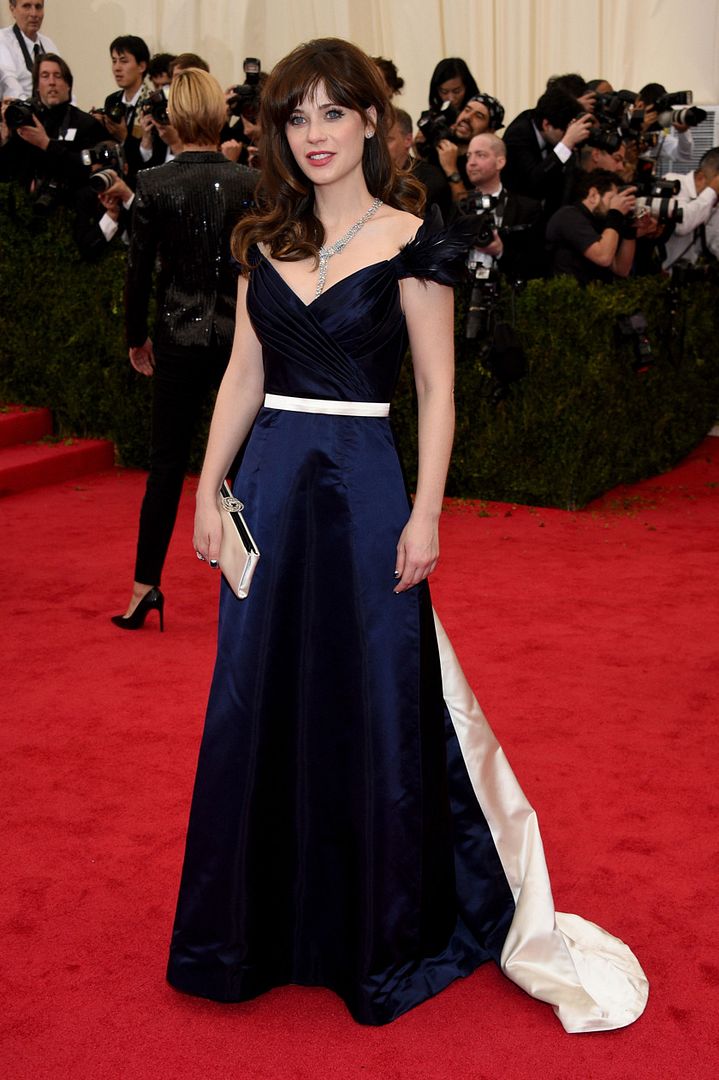 Zooey Deschanel in Tommy Hilfiger
She does always win for worst hair on the red carpet (at least she's consistent). I can't get behind the dress, especially with that styling. Probably one of my least favorites of the night.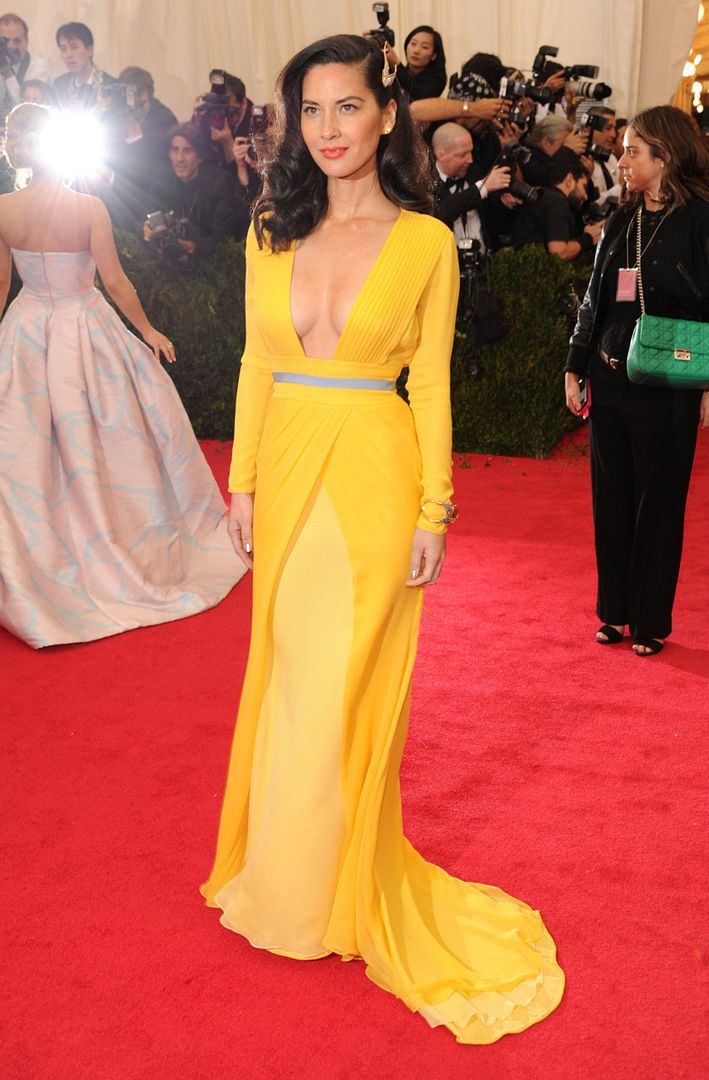 Olivia Munn in Diane von Furstenberg
It's not easy to pull off a bright yellow dress on the red carpet but this is styled perfectly. I wish the underlay was a little different — the contrast of yellows reminds me of a partially cooked yolk and a partially runny yolk. But that's just me being picky (and now craving eggs).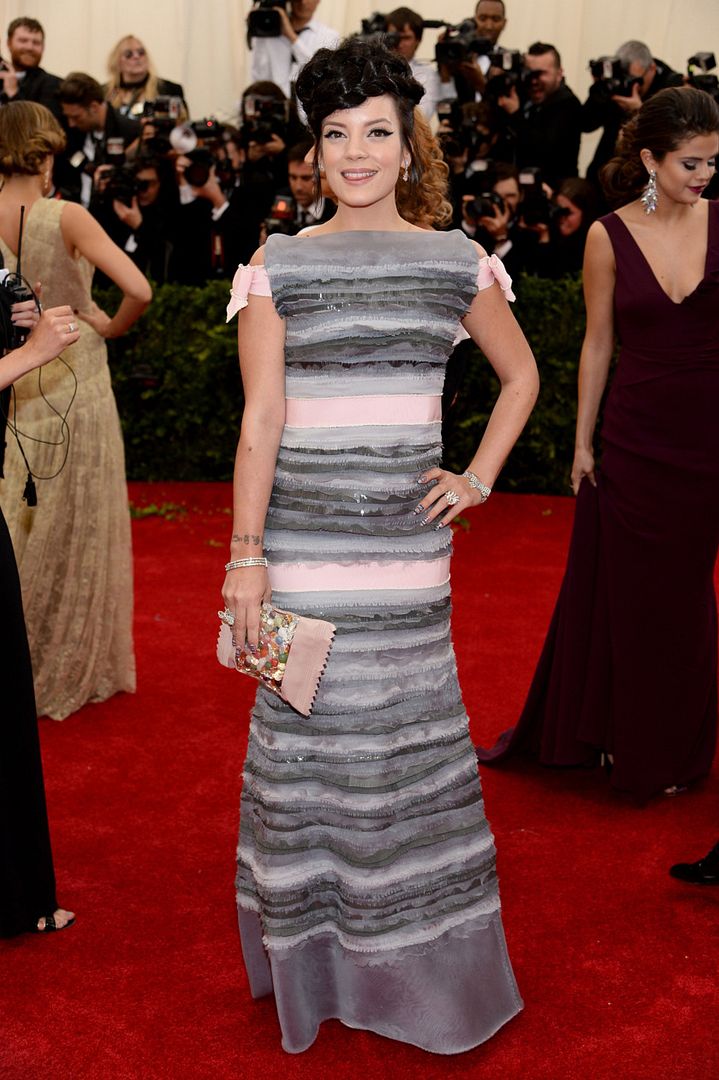 Lily Allen in Chanel
You know that little girl who DIYs red carpet gowns? This is next on her list (although I hope she doesn't even try to repeat that awful hair).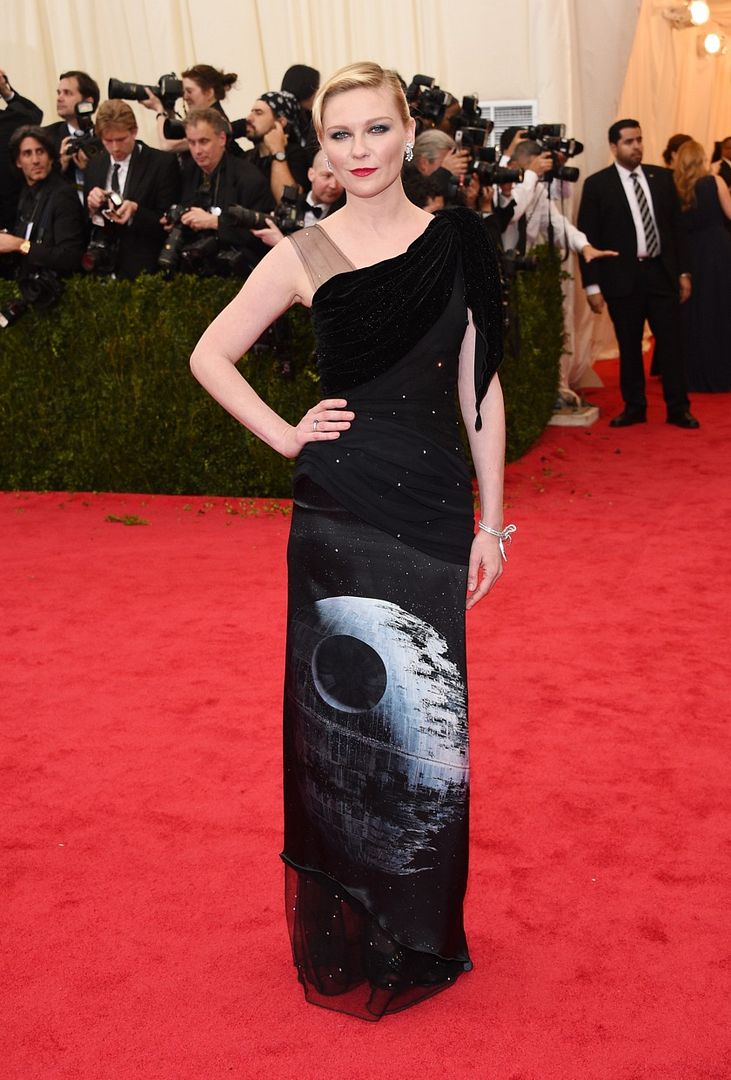 Kirsten Dunst in Rodarte
I've never been a big Dunst fan (maybe it's because she suffers from Bitchy Resting Face and people should look a little happier in $10k gowns) but I'm glad she wore this Rodarte dress to the Met Ball because it's dressy enough for the occasion but weird enough to make it her own.
Jessica Alba in Diane von Furstenberg
Pretty…in a mediocre kind of way.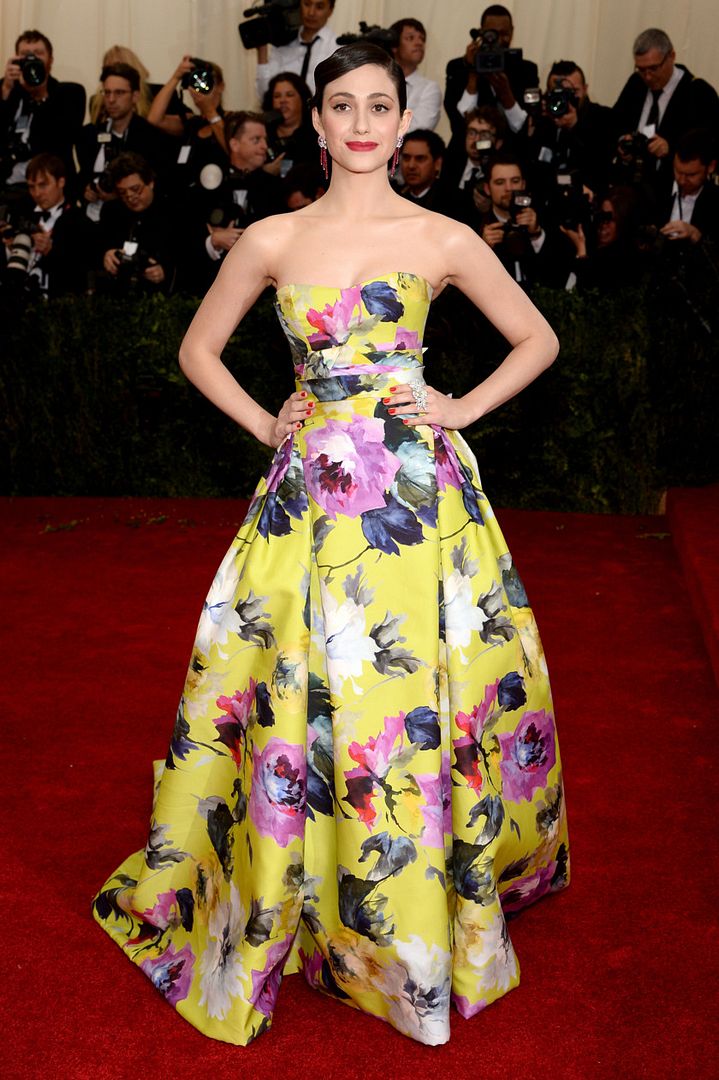 Emmy Rossum in Carolina Herrera
Whoa there Fiona Gallagher, you clean up nice (any fellow Shameless fans out there?) I can always appreciated a printed gown, because at least it's something different for us to look at. I would've liked to see an edgier hairstyle to contrast the look but overall, it's nice but not my favorite.
—
And is it just me or are there a lot more celebrities than fashion folks at the Met this year? Where's Lauren Santo Domingo? Bianca Brandolini D'Adda? THESE are the people I wanted to see. But enough about that, we got three more Met posts coming atcha.
Images via The Cut & Vogue
You might want to check out...