Of any posts here on ChiCityFashion, there's nothing I look forward to more than writing about a red carpet event. But when it comes to something as fashion-focused as the Met Gala, I'm pretty much freaking out for weeks in advance (and I don't even go to this thing).
So last night was the big night. We saw a lot of crop tops, dramatic backs and my predictions were oh-so-wrong (with one exception). Kind of a bummer that Amanda Seyfried and Jennifer Lawrence didn't show up. I always look forward to seeing what they'll wear (and unfortunately I wasn't either of their understudies for this particular event) but we still have 87 looks to judge. Yes, 87. Take a deep breath and…let's go.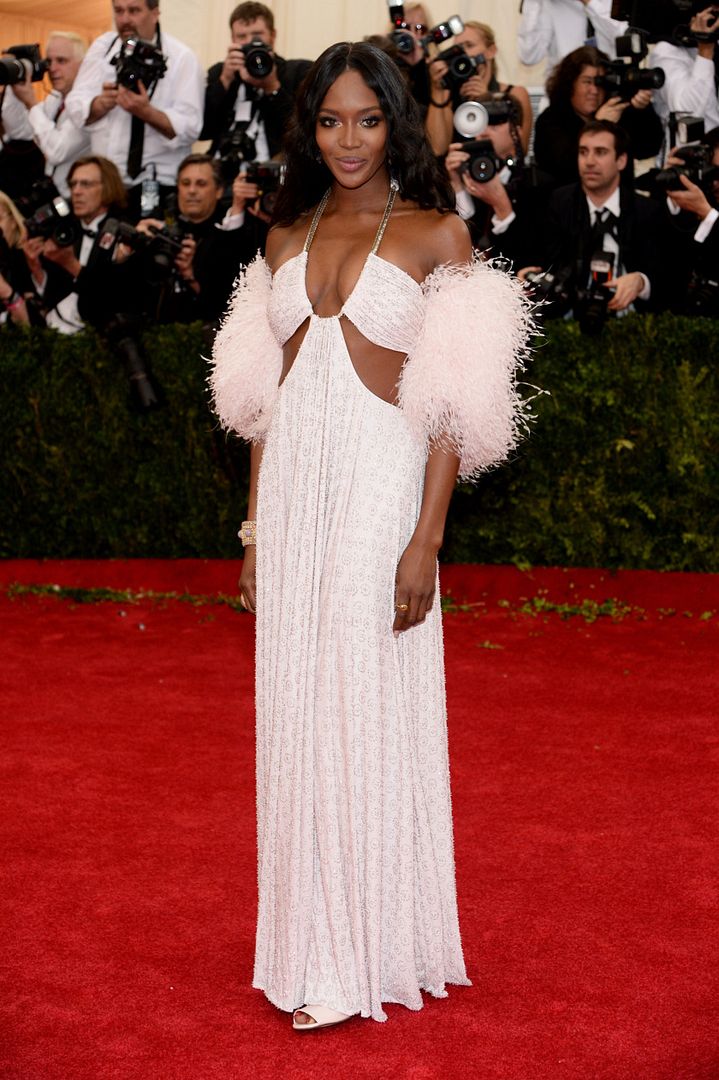 Naomi Campbell in Givenchy
Beyonce has to sing "bow down bitches," Naomi just says it with her eyes.
But seriously, if anyone else wore this it would be a big WTF moment (re: Sandra Lee, coming soon) but it's Naomi Campbell and she's going to wear feather sleeves if she damn pleases.
Kate Mara in Valentino Couture
I haven't loved the Valentino gowns from the last few collections (including couture) because I don't find much appeal in an Earth-tone gown. However, there's something about the contrast of the casual hair and makeup to this couture dress that kind of makes me not totally hate it. I might actually kind of like it. Kind of love might be taking it too far…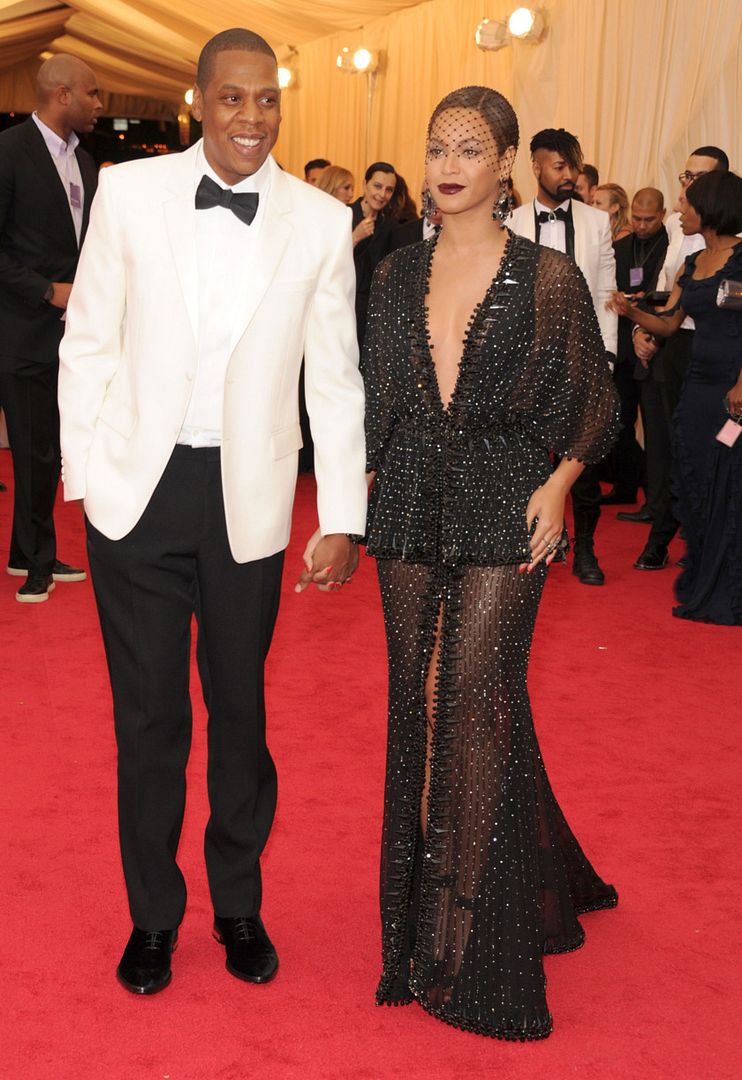 Jay-Z and Beyonce, both in Givenchy
Those that Givenchy together, stay together. I'm guessing he found it too ironic to wear Tom Ford and although you can't go wrong with Mr. Ford, Mr. Tisci is also always a solid option. I dig Bey's veil situation and the overall look is a step up from last year. But with 86 other looks for me to judge, it just doesn't make it into the top ten (I hope the Beygency doesn't come after me for this…)
 Solange Knowles in 3.1 Phillip Lim
Moving onto the other Knowles…I typically don't like any sort of bubble dresses but I'm not going to lie, I'm into this. The color is awesome, the bag is a fun addition but we have to address the elephant in the room — WHAT THE HELL IS HAPPENING ON HER HEAD?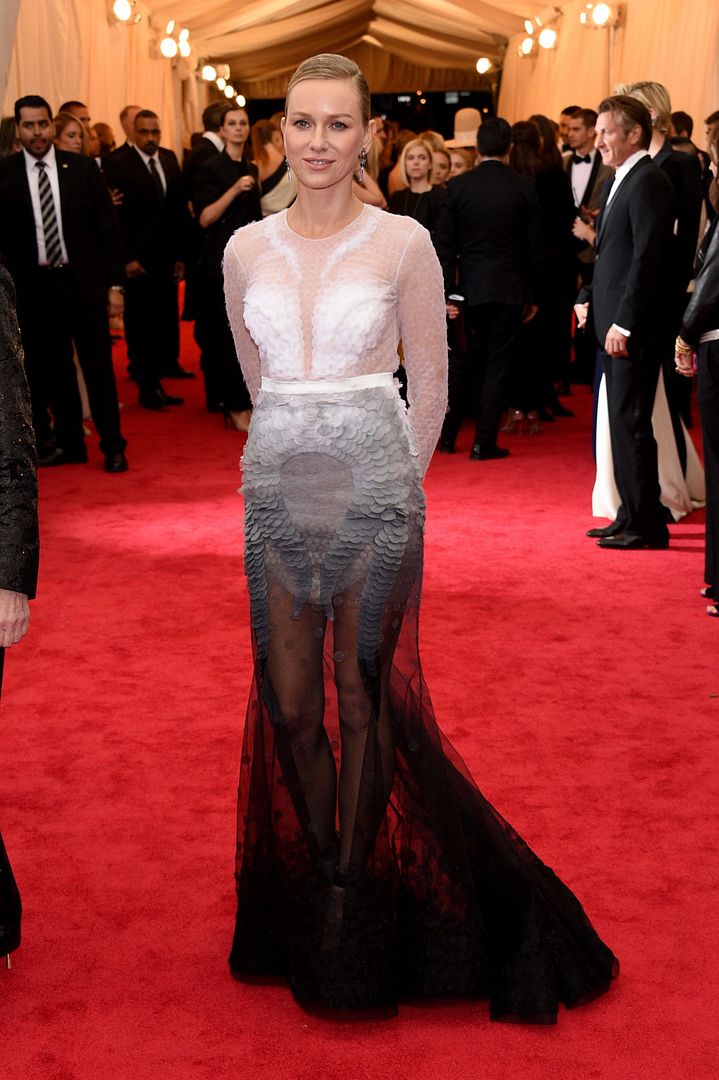 Naomi Watts in Givenchy
The detail in this dress is incredible, the fit is amazing but the fact we've seen the sheer skirt thing so many times is why I'm not head-over-[Givenchy]-heels for this look. She looks incredible though (but doesn't she always? It's hardly a compliment anymore).
Marion Cotillard in Dior Couture
Well if J-Law couldn't make it, at least Marion could wear her dress. Like Valentino, I haven't been all that into Dior lately (with the exception of these earrings) but this dress is really unique and perfect for an occasion like the Met Gala (although perhaps not as fancy as many of the other looks from last night). Just wait until you see the back (will show up in a photobomb in at least one of these posts). My biggest complaint though? Those shoes. I'm all for not doing a traditional pump but these are not the best alternative.
Chloe Sevigny in Kenzo
If this was the 1998 Met Gala then YES!
Leighton Meester in Pucci
This is such a badass dress and like Kate Mara, I love the contrast of casual hair with an elegant gown but this one is way too big on her. She either has a bad stylist or went on a rapid juice cleanse between fittings.
Gisele Bundchen in Balenciaga
"I HAVE ARRIVED (but unfortunately in a mediocre dress)."
Margot Robbie in Prada
I like all of the elements here but I'm not sure I'm feeling them together. It either needed to be a bra with a jacket or a different type of undergarment beneath the sheer top. Even a top with sleeves would have done the trick. The exposed bra straps with everything else going on is just too much. But I do appreciate the risk she took for her first Met Ball though. A solid B minus.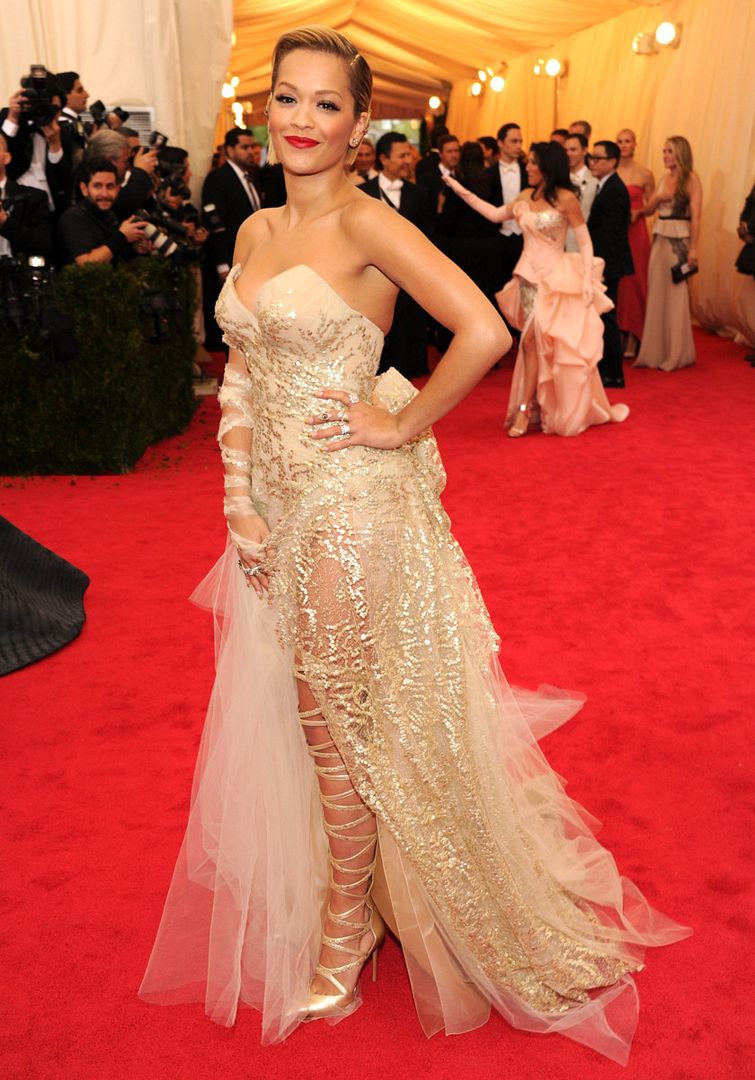 Rita Ora in Donna Karan Atelier
If anyone else wore this they'd look like a stripper. So, Rita just looks like a high class hooker.
Kristen Wiig in Balenciaga, pictured with Alexander Wang
Hey girl, when did you get all fashiony on us?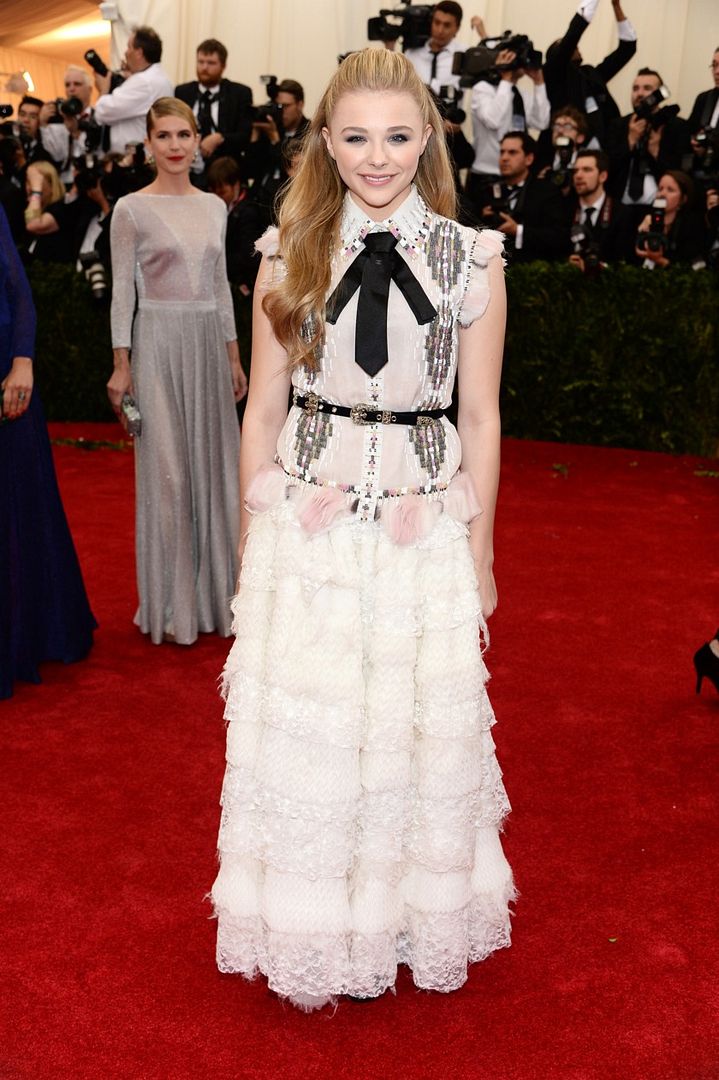 Chloe Grace Moretz in Chanel
Just because it's Chanel, doesn't mean you have to like it. Exhibit A: Chloe Grace Moretz at the Met Ball. Although I don't like this dress on it's own, it needs a funkier hairstyle to balance the Little Bo Peepness. If she's not willing to go bob or pixie, at least an edgy up-do would've done wonders here.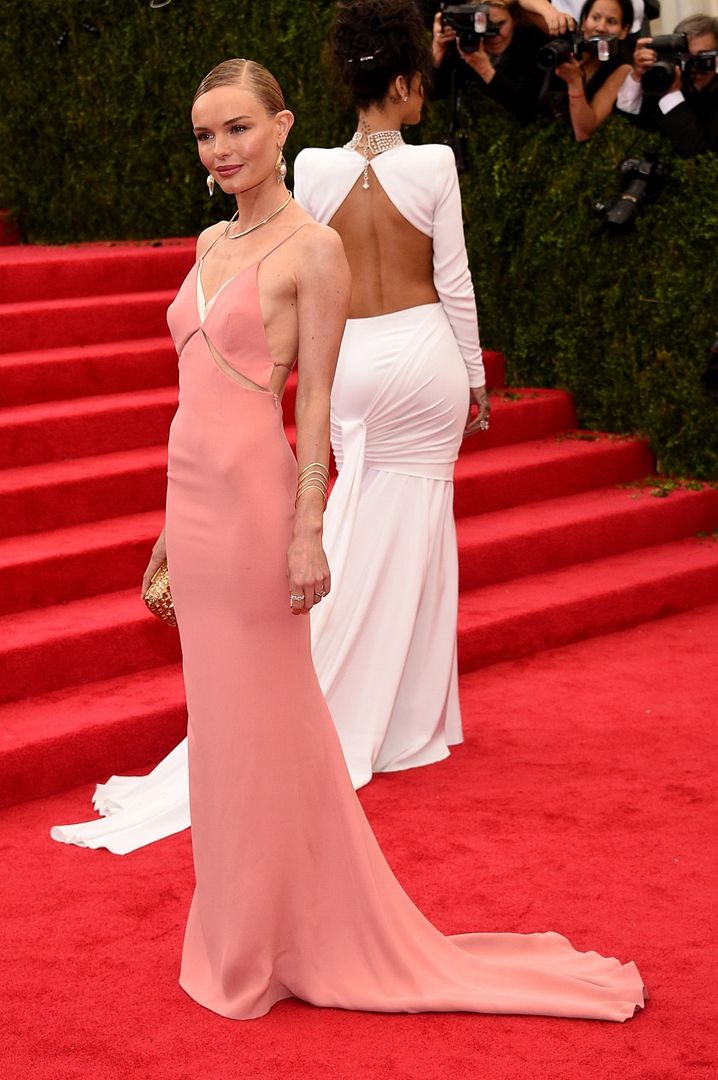 Kate Bosworth in Stella McCartney
There's not many celebrities I'd personally consider to be a style icon of mine but Kate Bosworth happens to be one of them. Her Balmain dress last year was one of my favorites but this year, I just can't get past the hip bones…
ps. can you guess whose back that is in the background?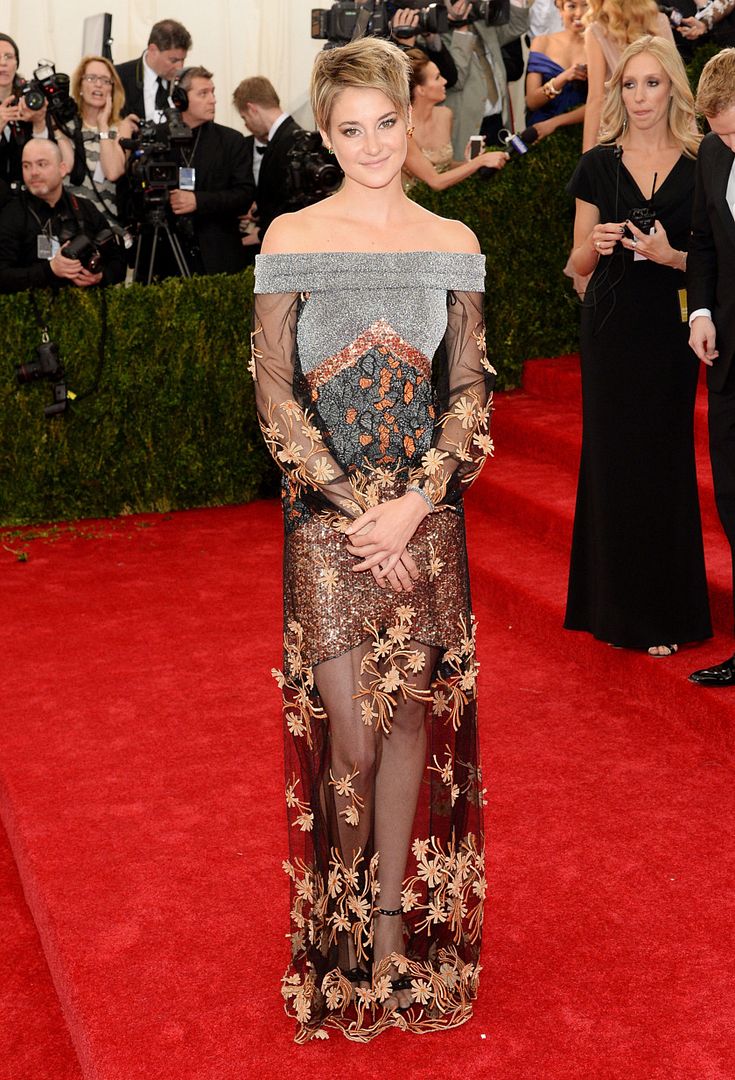 Shailene Woodley in Rodarte
Hate the dress. Loathe the hair. Sorta like the eye makeup? (just trying to be nice…)
Anne Hathaway in Calvin Klein Collection
You can hate on Anne Hathaway all day long, but I dare you to hate on this.
Kendall Jenner in Topshop
I thought it was pretty cool that Topshop dressed a lot of the ladies last night, including my new [I hate to admit it] girl crush Kendall Jenner. I've mentioned many times here on CCF my extreme passion against shiny satin strapless dresses BUT there's something about that perfect fit with that messy hair that I'm loving…and hating that I'm loving it.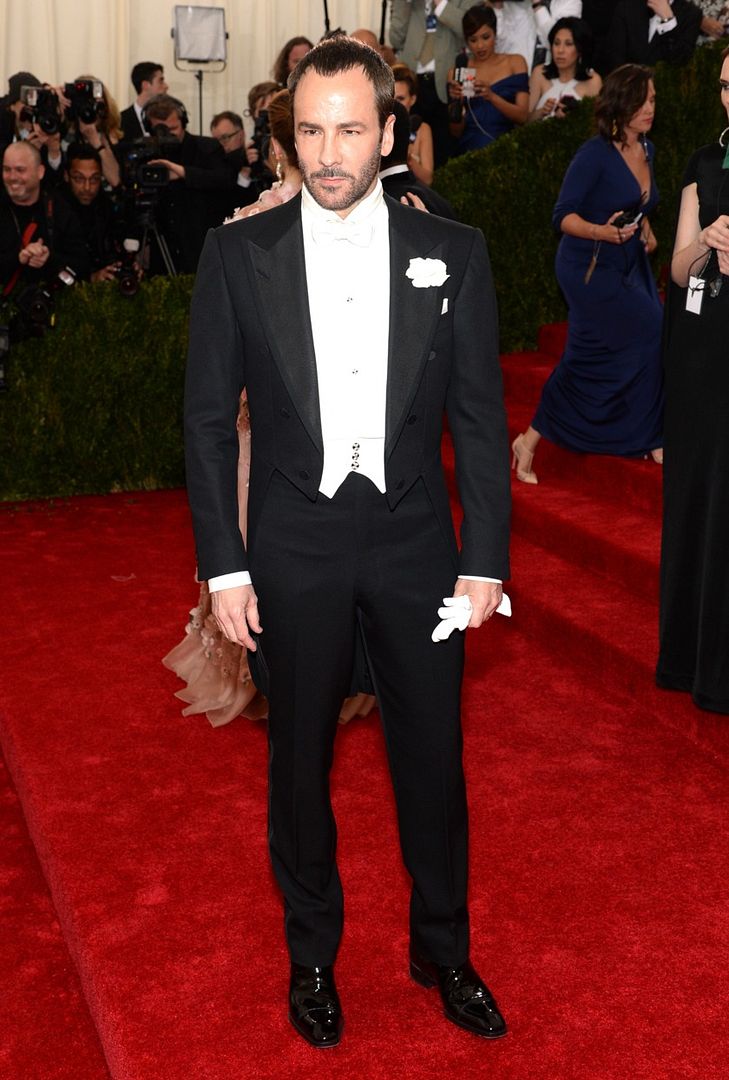 Tom Ford
You know I never care for the boys at these things but IT'S TOM FORD. Now this is where you bow down.
Johnny Depp in Ralph Lauren and Amber Heard in Giambattista Valli
He's always weirded me out and his costume is making me feel slightly uncomfortable (yes I called it a costume) but Amber just looks beautiful. Is the dress ground breaking? No. But it's stunning, she's stunning so you guessed it — FULL ON STUNNING.
Nicole Richie in Donna Karan Atelier
One of the many showing some good back last night, this was one of the best. This dress is the perfect hue to wear with her new hair color. Plus, I dig the fact that it's both appropriate for the occasion without going the traditional ball gown route.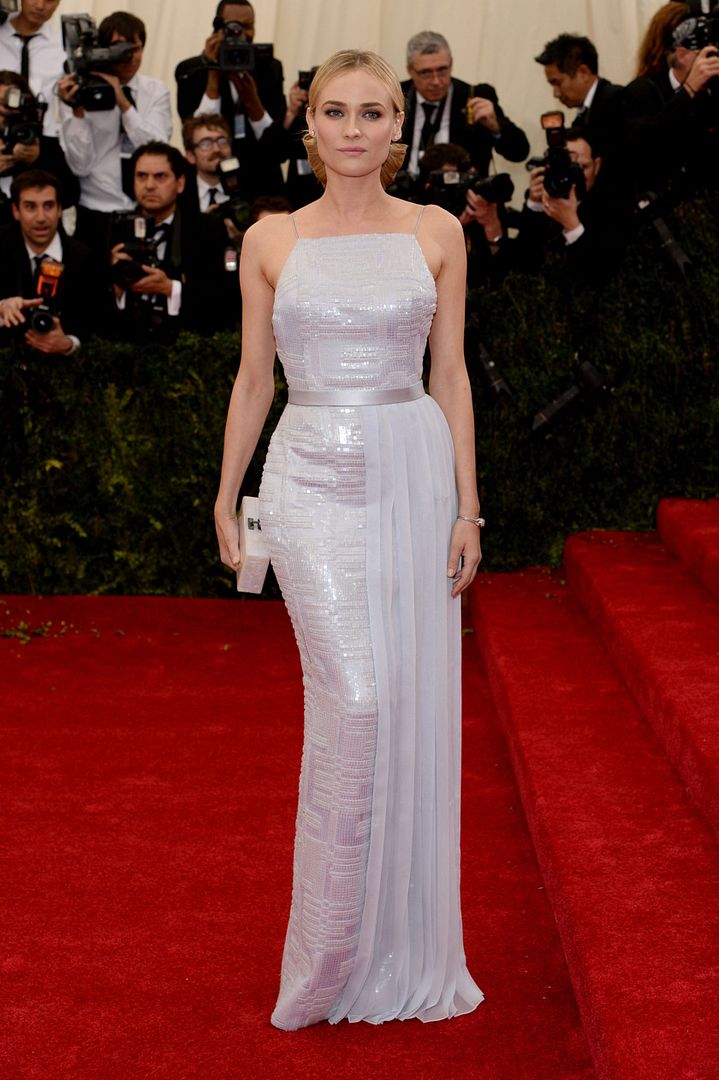 Diane Kruger in Hugo Boss
For some reason, I get the feeling that this is one of those instances that looks pretty in photos but KILLER in person. The dress is gorgeous (as is she) but not the wow factor I thought it would have (maybe I just need to go to the Met Ball next year so I can really understand these dresses in person, ya know…for work purposes).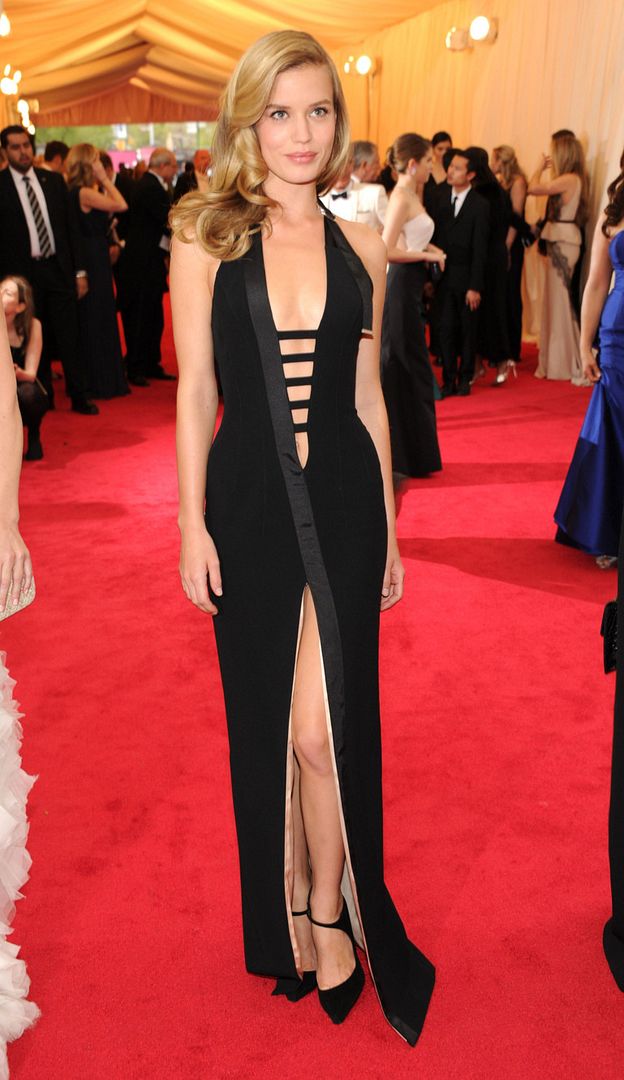 Georgia May Jagger in Thierry Mugler
If you ever wanted to know how to be sexy and appropriate at a fancy event, THIS is it (but I forgot to mention, you also have to be Georgia May Jagger).
Blake Lively and Ryan Reynolds in Gucci
Is it just me or is this like really good?
Mary-Kate Olsen in vintage Ferre and Ashley Olsen in vintage Chanel
The Olsens might just be the youngest, most conservatively dressed celebrities out there and although we may not understand their so-called-matronly red carpet choices, they're Mary-Kate and Ashley — they make things like this and we love them for it.
—
We have lots more to discuss, friends. Four more parts coming your way. Get excited and stay tuned.
Images via The Cut & Vogue
You might want to check out...