If you missed the SAG Awards last night, consider yourself lucky (unless you care about how celebs got their SAG cards then I guess it was the event of the season). Everything you need to know is right here and right here. So let's continue with part 2.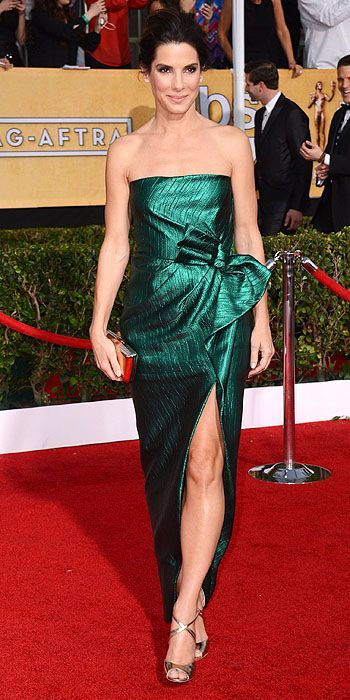 Sandra Bullock in Lanvin
Between Taylor Schilling and Olivia Wilde at the Globes and even Jane Krakowski at the SAGs, green seems to be a red carpet trend so far this year. This is an unbelievable shade of green but the silhouette overall is underwhelming (however, it's a step in the right direction from last week).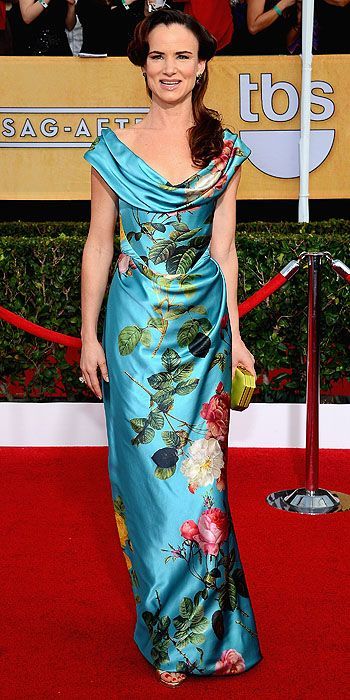 Juliette Lewis in Vivienne Westwood
So that's what happened to grandma's couch…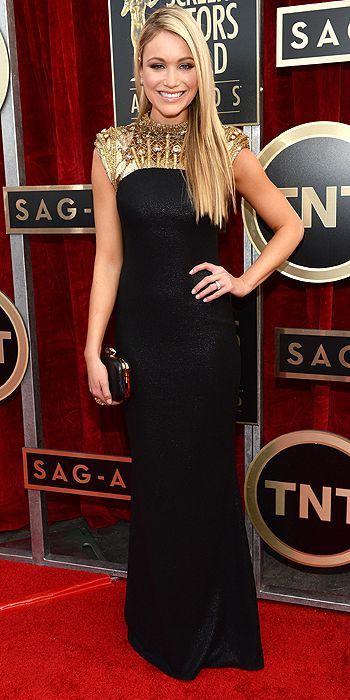 Katrina Bowden in Badgley Mischka
Reminds me of a not-as-cool version of Kate Hudson's McQueen number from last year's Golden Globes but it's still on the better side of what we saw on the red carpet last night. I wish she would have gone for a messy up-do or a sleek ponytail to really show off that neckline. There's really nothing more boring than long straight blonde hair…with bad extensions.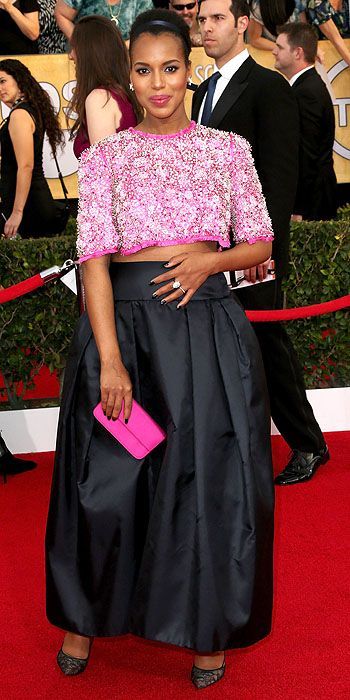 Kerry Washington in Prada
First off, bravo for wearing a crop top while pregnant. I can't think of a bigger risk to take. I absolutely love the idea of this outfit but the fit is totally off (the whole baby bump thing probably doesn't help). It also looks odd because typically when a pregnant woman is resting her hands on her stomach, she actually looks pregnant. You can't see her bump at all so it just looks like she ate too much in the limo.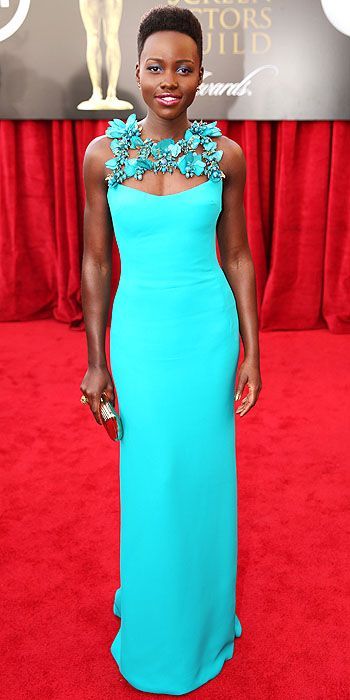 Lupita Nyong'o in Gucci
Best Dressed Pick
The first thing I thought of when I saw this was Sofia Vergara's necklace from the Golden Globes (which I wasn't a huge fan of). The more I look at this, though, the more I appreciate it. This color is interesting because it's so vibrant and beautiful but can easily go tacky (think: Katy Perry) but by the way she carries herself, she couldn't look tacky if she tried. I wasn't 100% sold on the blue eyeshadow but otherwise, it's another red carpet hit and makes me beyond excited to see what she wears to the Oscars.
Kelly Osbourne in Zac Posen
I never love what she wears on the red carpet but between the Golden Globes and last night's SAG Awards, she has been killing it. I also think I may have praised one Zac Posen dress in my lifetime so this has got to be number two.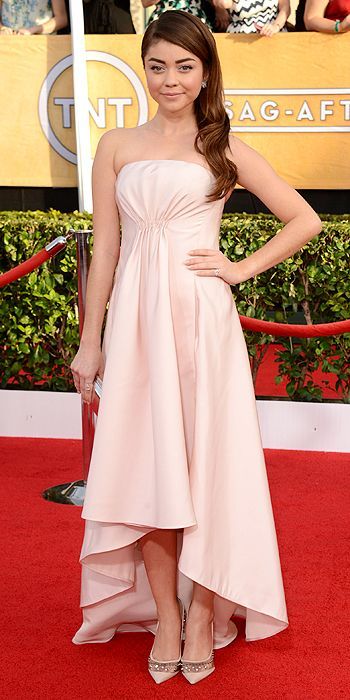 Sarah Hyland in Pamella Roland
Like Kelly, I also never like what Sarah Hyland wears on the red carpet (which I somehow feel guilty about because I love Modern Family so much). This is the first time I didn't totally hate what she wore, although I wish she had done the shorter version from the runway. It's slightly more casual but could easily be dressed up with statement earrings. However, she definitely wins for most improved.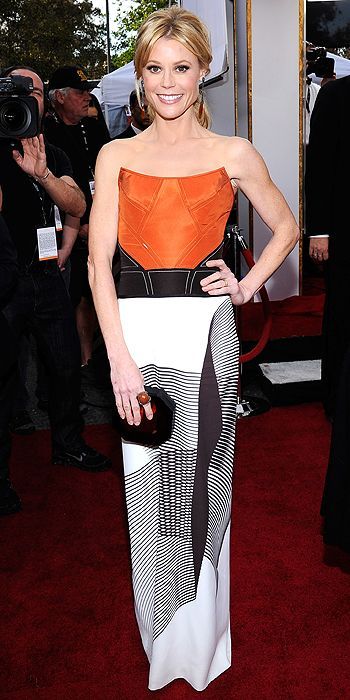 Julie Bowen in Carolina Herrera
I'm always excited to see what she wears to these events because you really never know what you're going to get. We've seen her in everything from a neon gown and all leather to ruffles on ruffles and a velvet situation. Clearly she likes a wide variety when it comes to fashion, and that's something we can all appreciate. This is definitely a fashion risk and one that paid off. The pointy neckline isn't my favorite but it's a unique choice for the SAGs and I dig it.
Malin Akerman in Naeem Khan
This is one of those dresses that should be reserved for editorial only. Way too much going on for the red carpet.
Sofia Vergara in Donna Karan Atelier
You know she is LOVING this look.
Kathy Griffin in Antonio Berardi
I guess no one told Kathy that peplum is so 2012.
Michelle Dockery in J Mendel
Insert sag pun here.
Mariah Carey in Saint Laurent
Leave it to Mariah to kill Saint Laurent (not kill it, just kill).
Sarah Paulson in Rochas
I thought this cold have worked with better styling. It's definitely better than the runway look (those sunglasses are pretty hilarious) but that hair looks like a mistake and it would have been more sophisticated looking with a red lip as opposed to pink.
Jennifer Lawrence in Dior
Finally…a decent Jennifer Lawrence Dior moment!
—
Alright now it's time to make your decision — best and worst dressed of the evening?
Images via People.com
You might want to check out...