Regardless of your best and worst dressed picks on the red carpet last night, you have to appreciate the fact that there were many risks taken. Not saying they all were pulled off (re: most of the OITNB cast) BUT it was an attempt that did not go unnoticed. So let's see who wore what at the 2015 Emmys…shall we?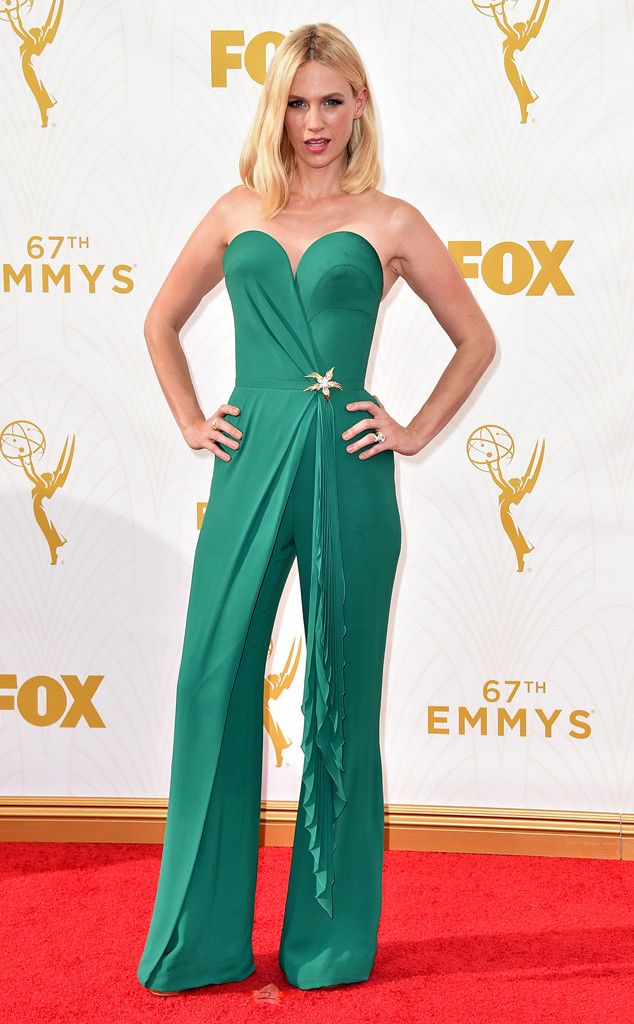 January Jones in Ulyana Sergeenko
On its own, I would never look at this jumpsuit and flip for it, but in this context (and the fact that January WORKS that red carpet), I love it. The color is unique, the silhouette is cool…my only complaint is that mermaid-meets-Madonna neckline, but otherwise — SLAY.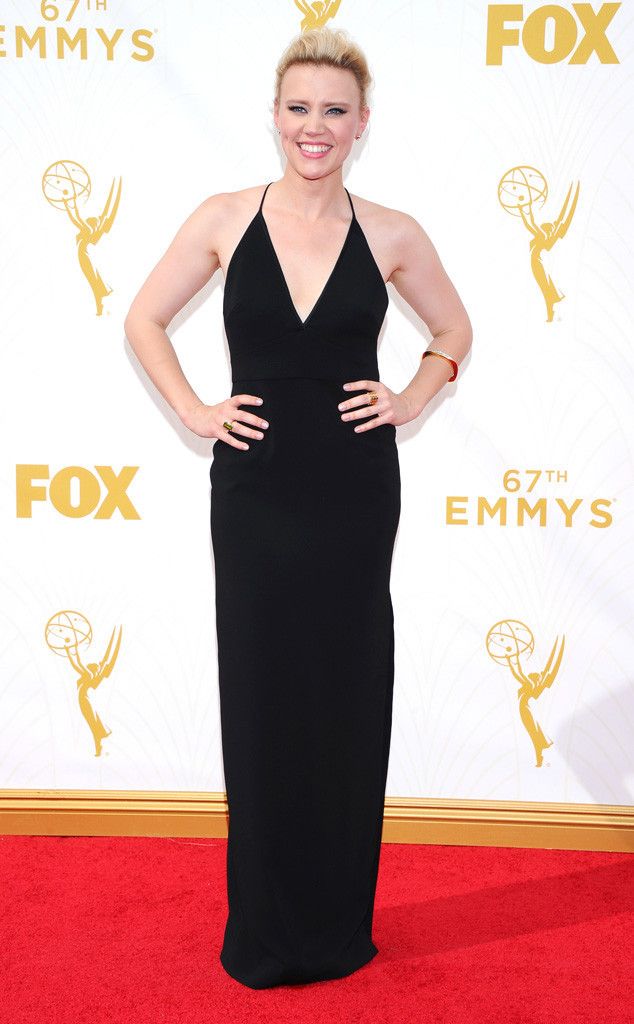 Kate McKinnon in Badgley Mischka
It's the funny girls that typically play it safe on the red carpet (and Kate is fucking hilarious). This is exhibit A. But that's not always a bad thing. Is this the most exciting dress in the world? Absolutely not. But does she look great? Indeed.
Maggie Gyllenhaal in Oscar de la Renta
I'm trying so hard to think of something nice to say so while I ponder, let me get out my frustrations — loathe the color, despise the fabric, dislike the silhouette, not a fan of the ruching up top. Will keep you posted on any compliments.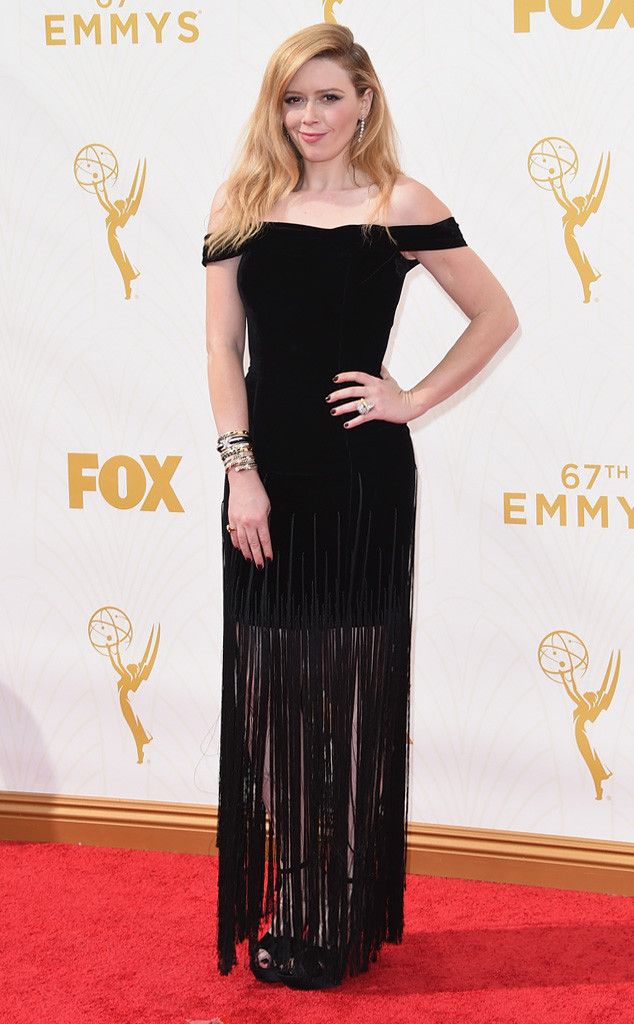 Natasha Lyonne
One of the many rocking the off-the-shoulder look last night (more to come). I like almost everything about this but it gives off that short skirt with a floor length sheer overlay vibe that's been done to death on the red carpet. I appreciate the fact that this isn't that…but I wish the fringe started lower so the under-skirt isn't needed (re: Proenza Schouler).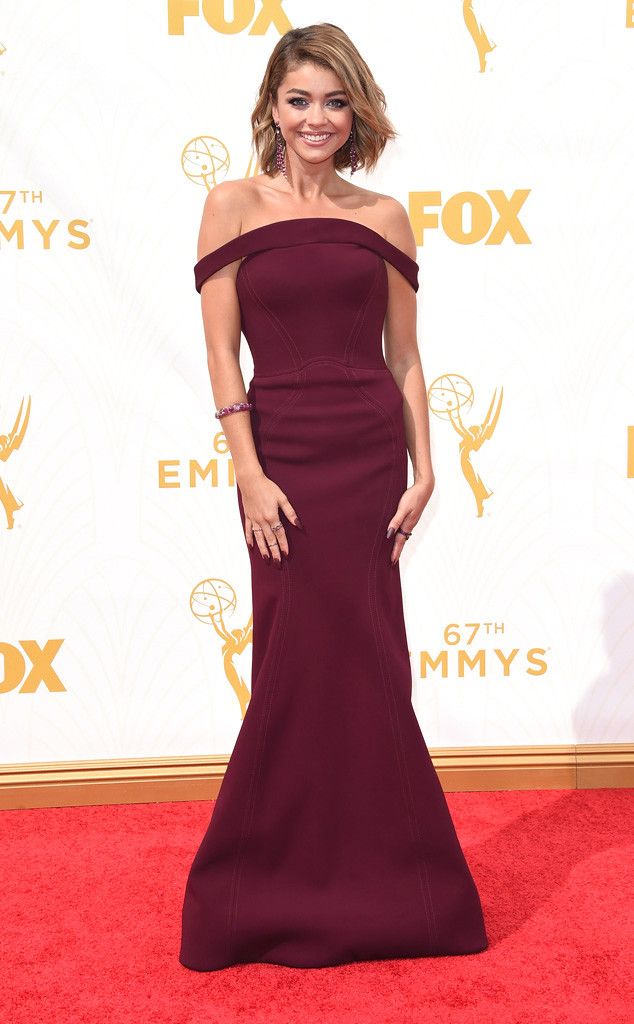 Sarah Hyland in Zac Posen
Off-the-shoulder round two (and probably my favorite look last night in that category). Her red carpet style is slowly yet surely improving (re: SAG Awards & last year's Emmys) and I think she's officially got it. It's quite the mature look, even with the exposed shoulders, but it fits her perfectly, you can tell she's happy in it and the hair / makeup is gorgeous. Best she's looked yet!
Taryn Manning in Rubin Singer
When you shouldn't get back to your roots. Also, I'm never opposed to a cape dress but this just looks cheap (and according to Neiman Marcus, that's absolutely not true).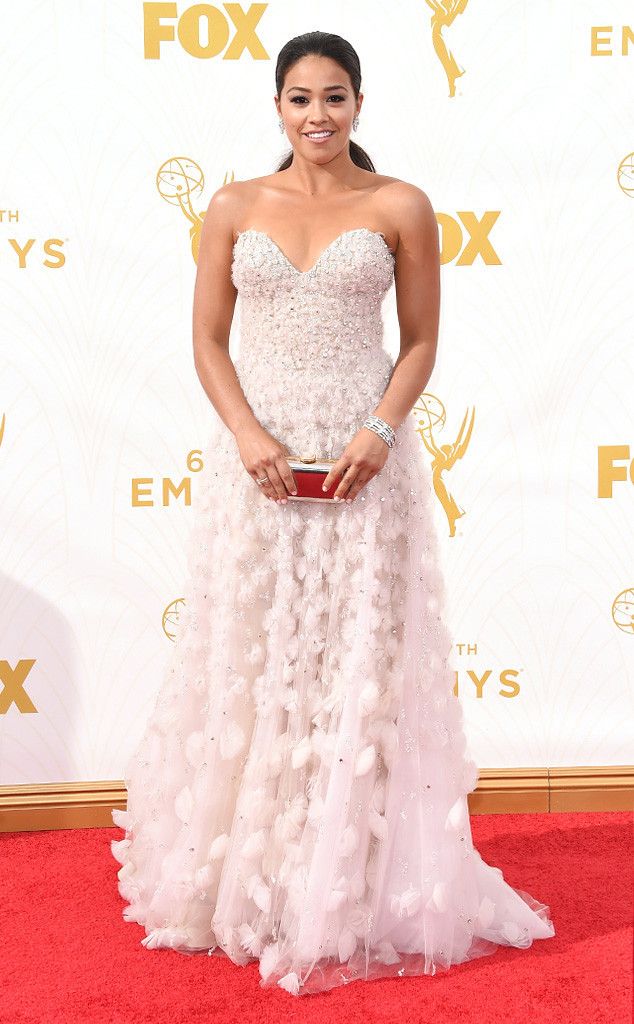 Gina Rodriguez in Lorena Sarbu
Been there. Seen that.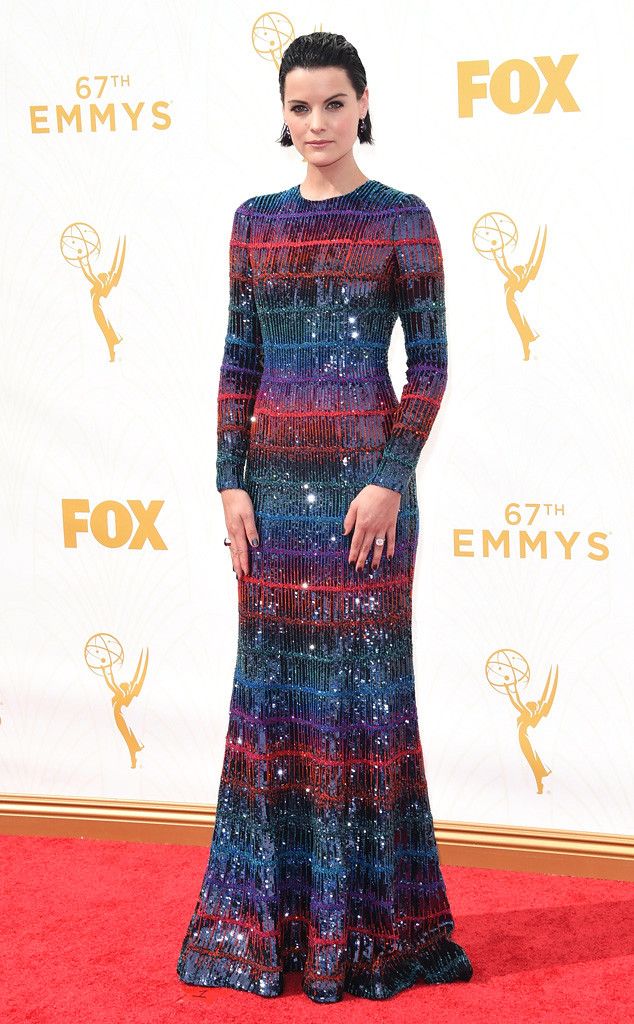 Jaimie Alexander in Armani Privé
Best Dressed Pick
When you have a new show debuting the night after the Emmys, what do you wear? THIS. It's one of those dresses that really needs to be put on the right girl and styled properly to work. It could go horribly wrong but this is so on-point. You know I dig that wet / slick back hair and it's the perfect beauty look to accompany this dress. KILLING IT.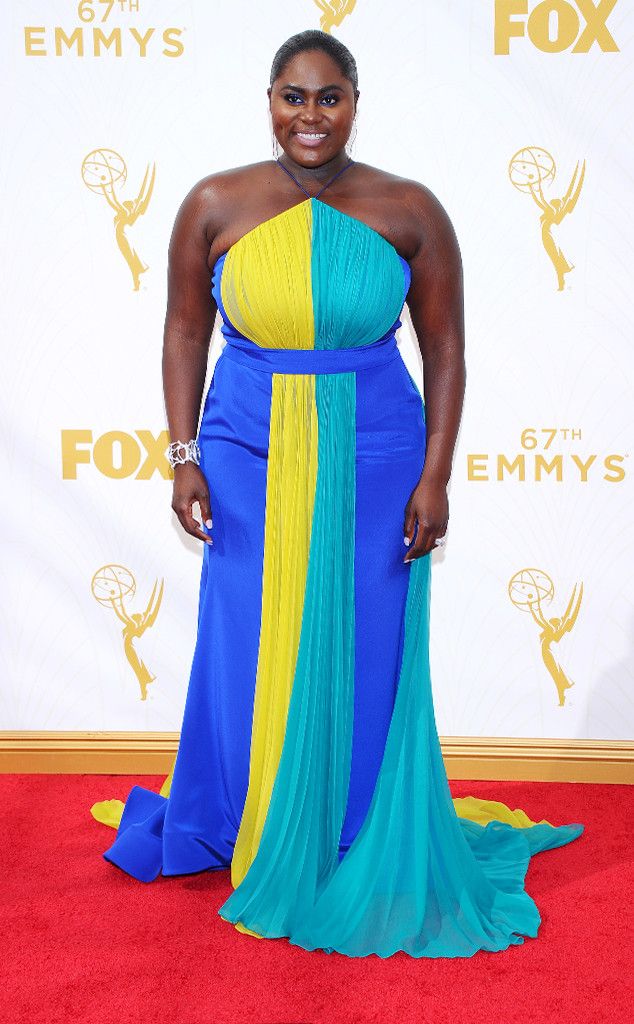 Danielle Brooks in Christian Siriano
I sort of feel bad for the cast of OITNB because Taylor Schilling and Laverne Cox are the only ones who ever get it right. Not sure if they're the only ones that can afford [decent] stylists or what the deal is but everyone else (for the most part) just looks ridiculous. This silhouette is perfect for Danielle but the color combination is just awful. HOWEVER, she was so happy in that dress last night. You can't really knock her for it, right?
Dascha Polanco in Leanne Marshall
Remember when I talked about that fitted skirt with the sheer overlay look? THIS is why I'm not a fan. Leanne might have won season 5 of Project Runway but this looks like something Tim would tear apart two episodes in. Not even Karlie Kloss could make this dress look good (and that's her job). Sorry, Leanne (but not sorry).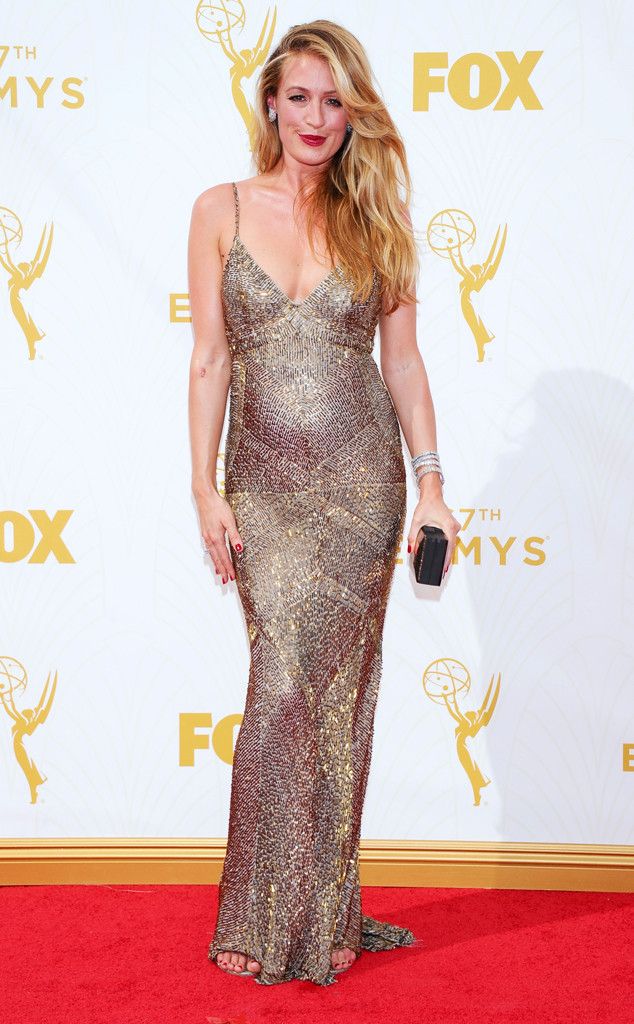 Cat Deeley in Monique Lhuillier
The perfect way to show off that little bump…the fit is FLAWLESS.
Amanda Peet in Michael Kors
She's typically all over the place when it comes to red carpet dressing so this is the most normal she's looked in a while. Besides off-the-shoulder, cut-outs were big on the red carpet last night and although this wasn't my favorite of the cut-out gowns…it's good…for her.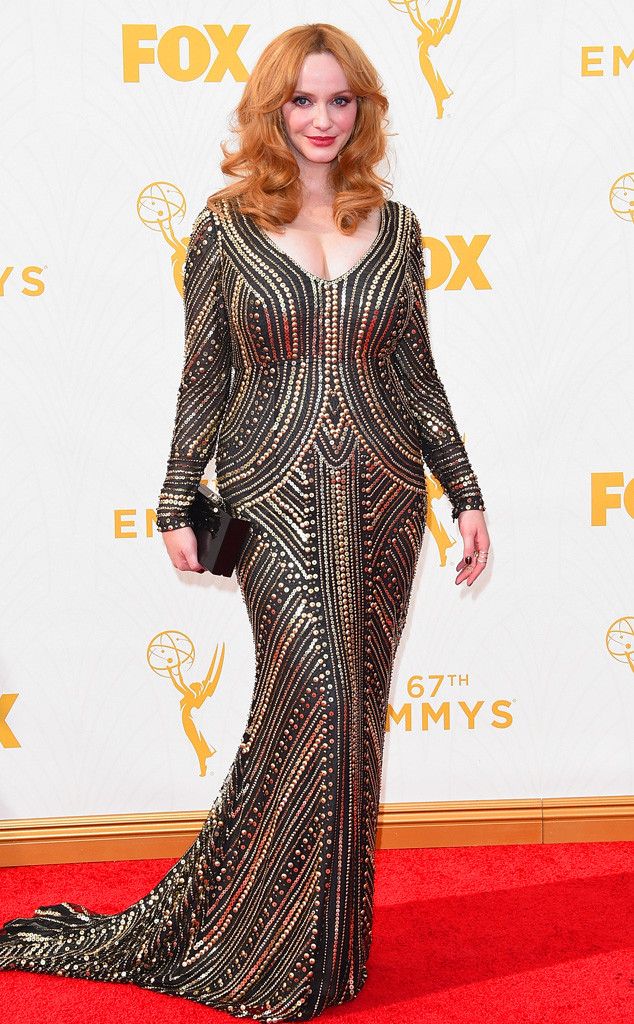 Christina Hendricks in Naeem Khan
Considering every single person being interviewed last night complained about how hot it was, a super heavy embellished long sleeve dress was probably not the smartest choice BUT it's such a badass piece…if it's offered to you and you feel good in it, you just have to go for it.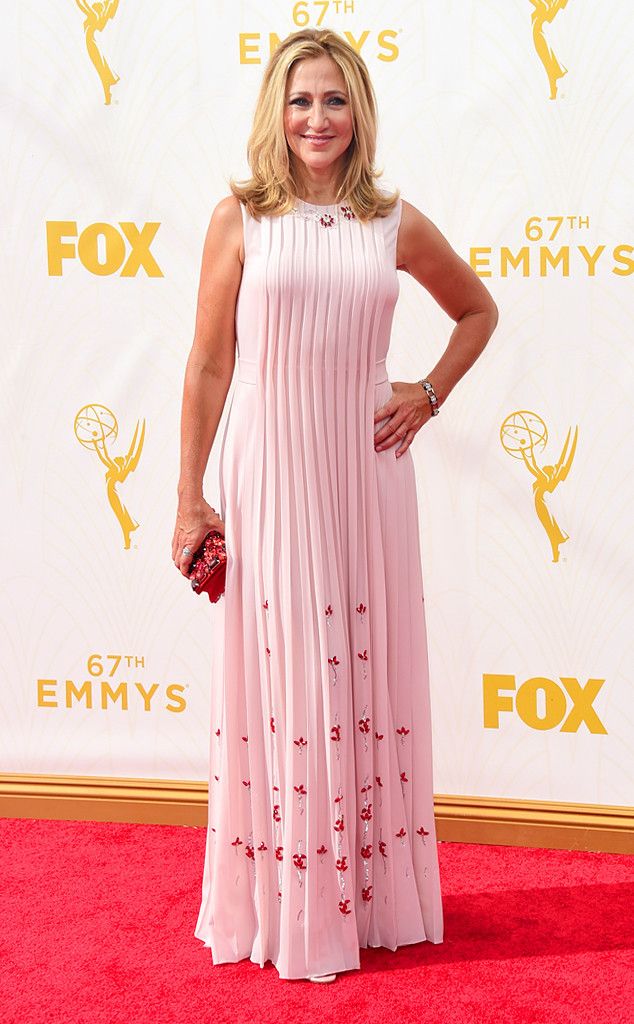 Edie Falco in Prada
I feel like this dress could be cool but she's not exactly making it cool.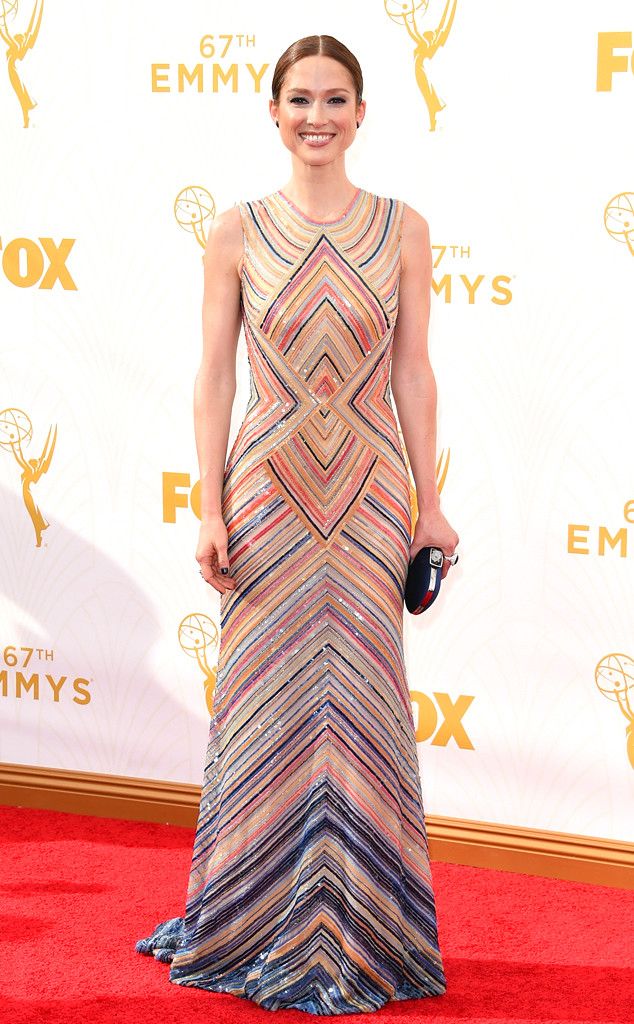 Ellie Kemper in Naeem Khan
I was pretty shocked to find out this wasn't Missoni but regardless…it's probably the boldest choice we've seen from a comedic actress in a while. And it's one that she pulled off! I thought it was smart for the sleeves to be removed (as it's not easy to pull off a long sleeve gown under a certain age…plus it was like 100 degrees). The center part for her up-do is really distracting to me for some reason…but otherwise, I'm into it!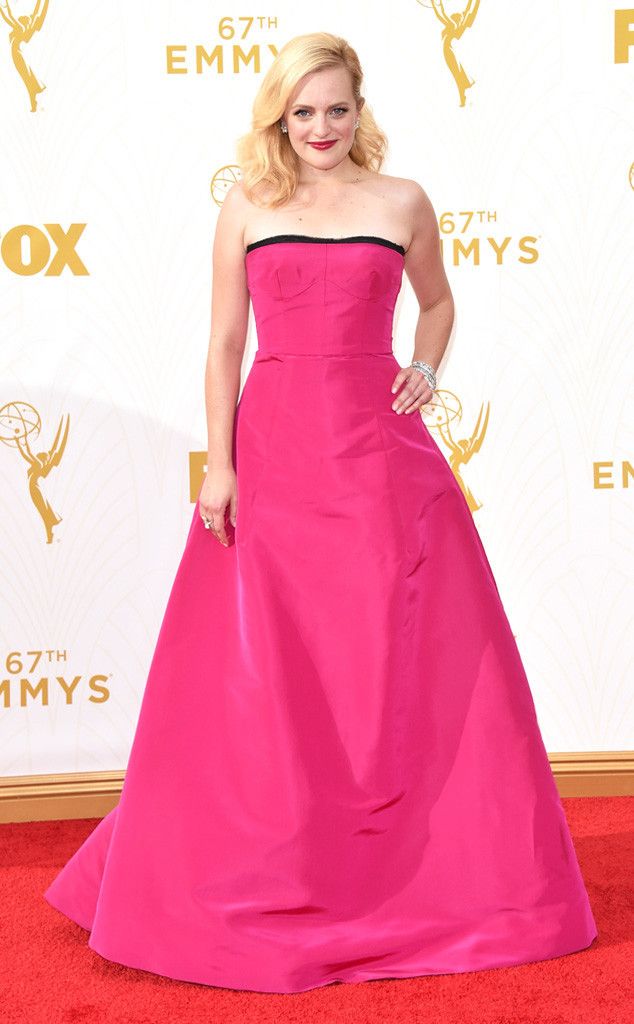 Elisabeth Moss in Oscar de la Renta
Either this just fits terribly or it's not the right silhouette for her. PEGGY, WE EXPECT MORE FROM YOU.
Joanne Froggatt in J Mendel
The only nice thing I have to say is that SHE TOO IS ROCKING THE CUT OUT TREND. That is all!
Heidi Klum in Atelier Versace
She hit the red carpet on the early side and I knew from the moment I saw her that I didn't have to see any other looks — she's hands down the worst dressed of the night. I don't think I've liked one look of hers post-Seal (and it's been over a year). This is like Real Housewives of Miami status…but maybe even worse (or as I mentioned last night — Big Bird couture).
Christine Marzano in Labourjoisie
I like the idea of this but I wish the shapes were closer together all over so that cluster in the crotch region wasn't so damn obvious!
Claire Danes in Prada
This is one of those gowns that's reserved for editorial or a model who is just going to WERK it on the red carpet. Claire just looks odd in this dress and that Waspy mom hair? WTF?
Chelsea Peretti in Gabriela Cadena
Not terrible.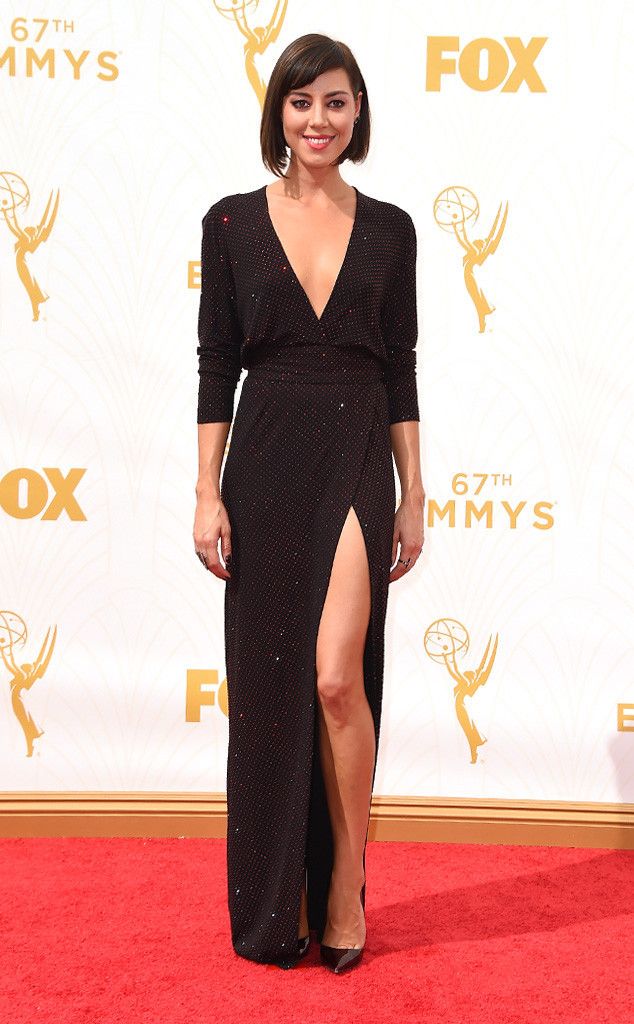 Aubrey Plaza in Alexandre Vauthier
I wish it was paired with a strappier shoe but otherwise…CHIC AS F.
—
That's all for part one. Be sure to let me know your favorites / least favorites from the post and look out for part two coming soon!
Images via E!
You might want to check out...