The Oscars are always bittersweet, as it's the most anticipated red carpet event of the year (besides the Met Ball, of course) but it also marks the end of red carpet season. This particular event has been less than exciting in recent years, but whether you liked the dresses or not, we saw more risks than usual last night…and guess what? I DIG IT. So let's talk about it!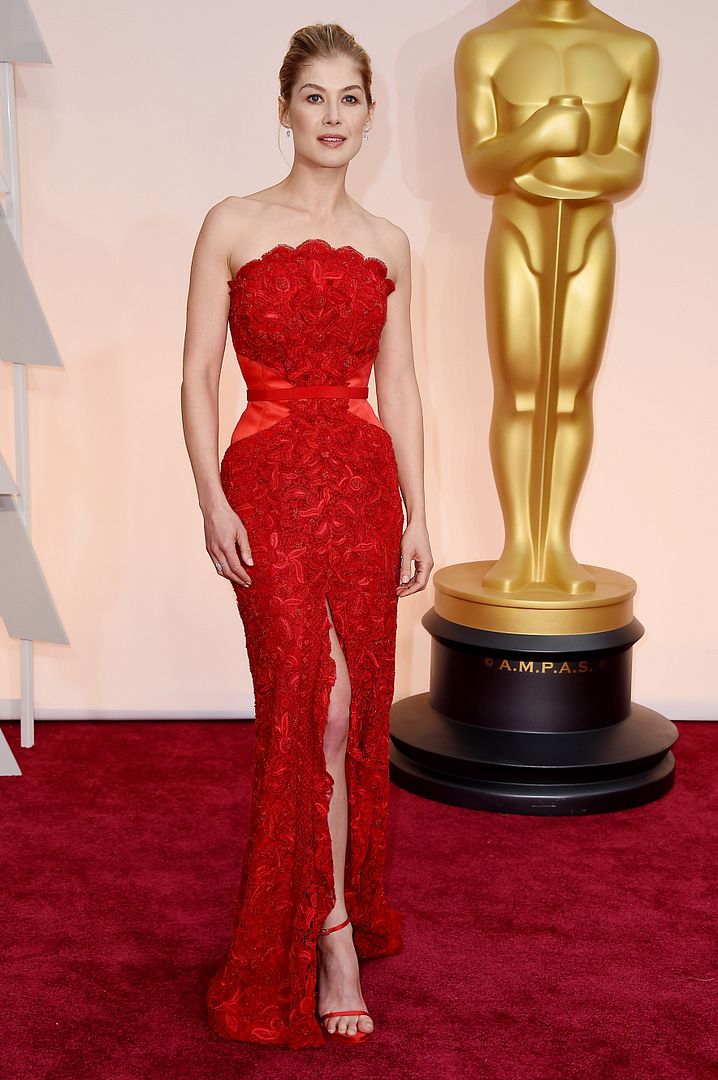 Rosamund Pike in Givenchy
Up until now, her red carpet season has been mediocre and this was a real WOW moment (which means a lot coming from me as I am not one for a red dress…or anything strapless). This is one of those perfect examples of why fit is everything. Do I love the dress on its own? Not really, but when it makes your body look like that, you have to at least appreciate it. BUT matching red shoes? Come on now.
Rita Ora in Marchesa
I appreciate the detail in the bodice but this looks like a standard Zac Posen dress with a little Marchesa touch. She's become such a style icon, you expect a lot more from her (or at least I do).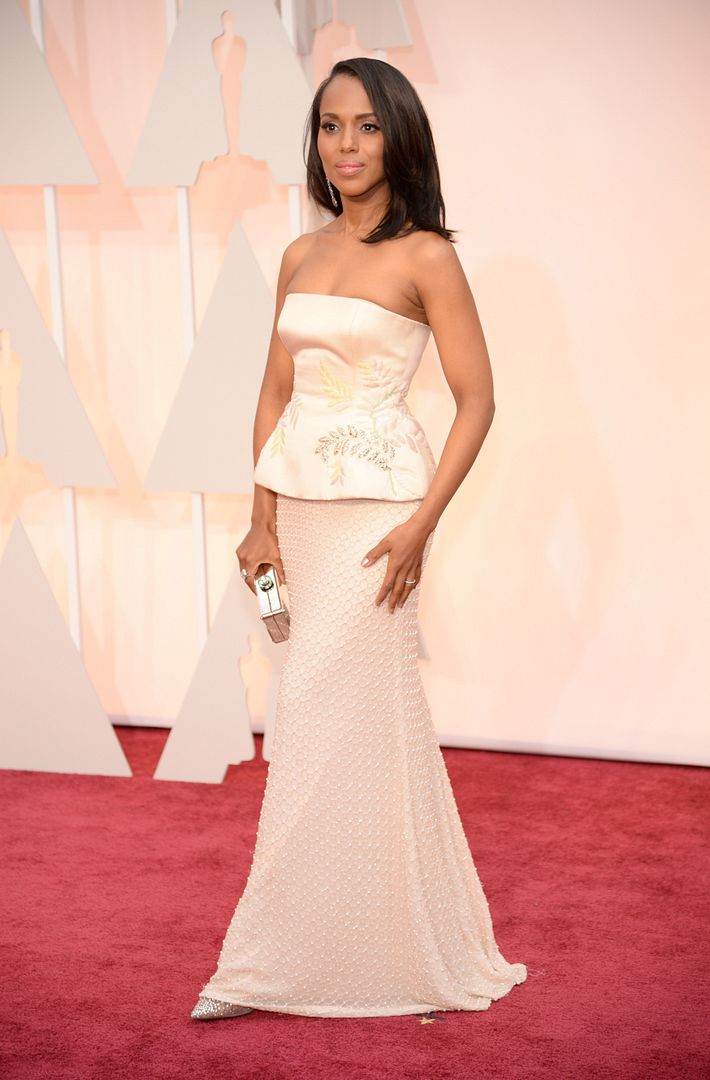 Kerry Washington in Miu Miu
She used to always kill it on the red carpet but in the last year or so, she's really lost her touch. Peplum in 2015? I thought we had moved on.
Jessica Chastain in Givenchy Couture
This is actually a super cool dress, but it needed some funkier styling to really make it pop. The necklace isn't doing it for me / she could have used a not-so-basic hair style but other than that, I'm not hating it.
Gwyneth Paltrow in Ralph and Russo
SO MUCH NO. Remember when celebs wore ridiculous outfits on the red carpet in the 90s? It's like that…but it's not the 90s anymore, GWYNETH.
Anna Kendrick in custom Thakoon
It's always so disappointing when you know something is custom and it's far from exciting. Like this was made for you…so go for it! I never love what she wears on the red carpet anyway, and this is actually a step in the right direction. I just which that step was done with Karlie-Kloss-long-legs (in this case it was more of a Kevin Hart step).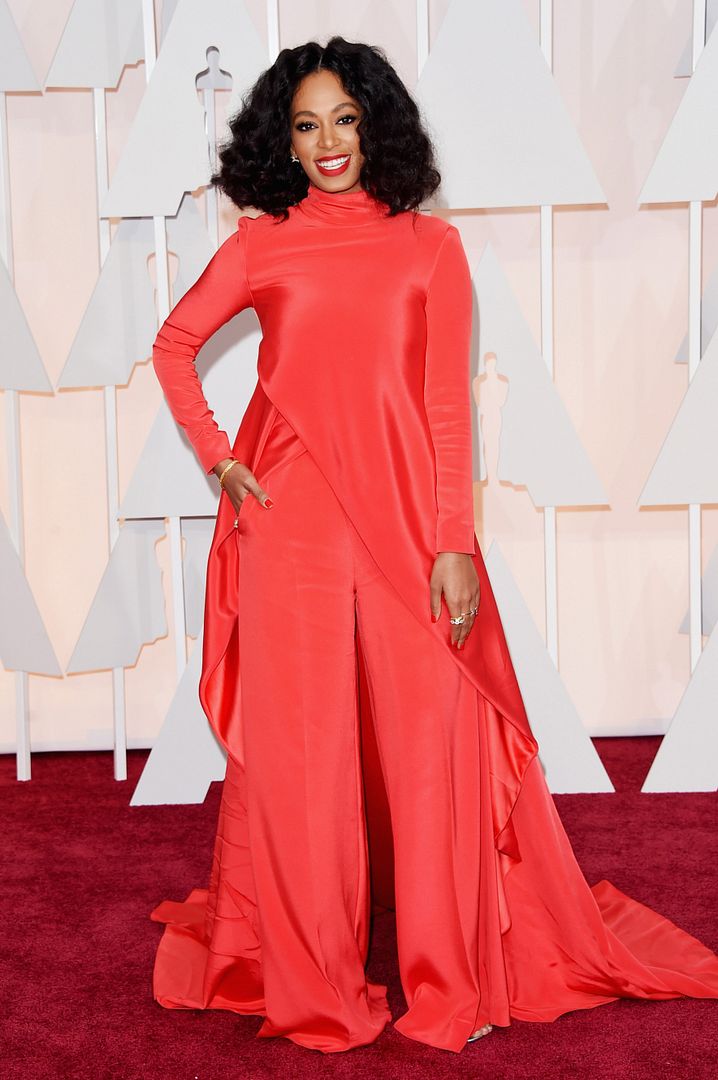 Solange Knowles in Christian Siriano
I'm into the idea of this cape shirt and pants situation but the color, the material and the fit is all so wrong. If this would have even been done as a trouser pant instead of wide leg, I might be able to get over the color and the material but damn…I can't believe this much fabric was allowed to happen.
Reese Witherspoon in Tom Ford
She's just one of those who always looks fantastic yet her red carpet style bores the shit out of me at the a same time.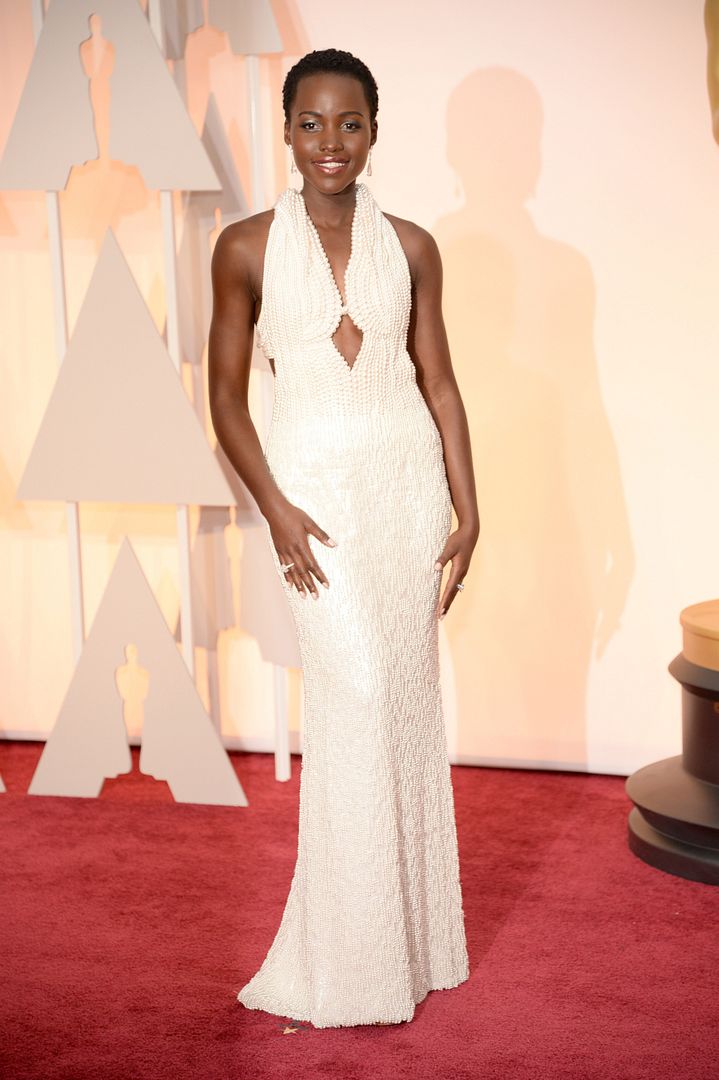 Lupita Nyong'o in custom Calvin Klein Collection
Best Dressed Pick
Just 6,000 pearls sewn on a dress. No big deal. Finally, someone has BROUGHT IT to the red carpet.
Jennifer Lopez in Elie Saab
I'm torn here, as I'm so thankful to see her I'm something other than an over-the-top sparkly Zuhair Murad dress but I also am growing quite sick of seeing her cleavage. We get it JLo, you're 45 and you have a sick bod. But we don't always need to see your boobs.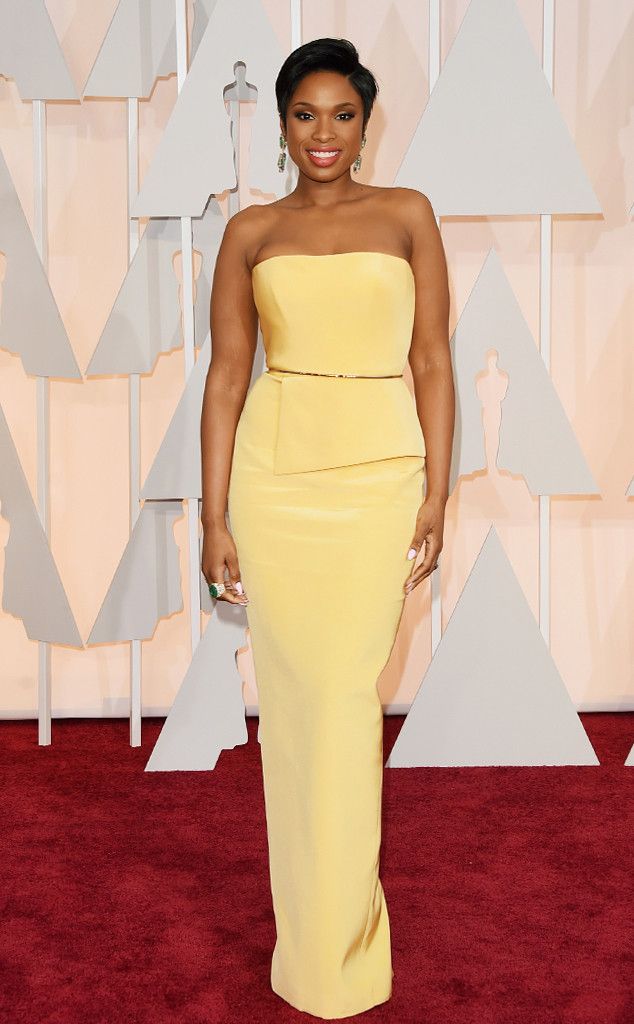 Jennifer Hudson in Romona Keveza
Silhouette looks great on her, as does the color (a color not many could pull off but it works here). And…she's putting a belt on it!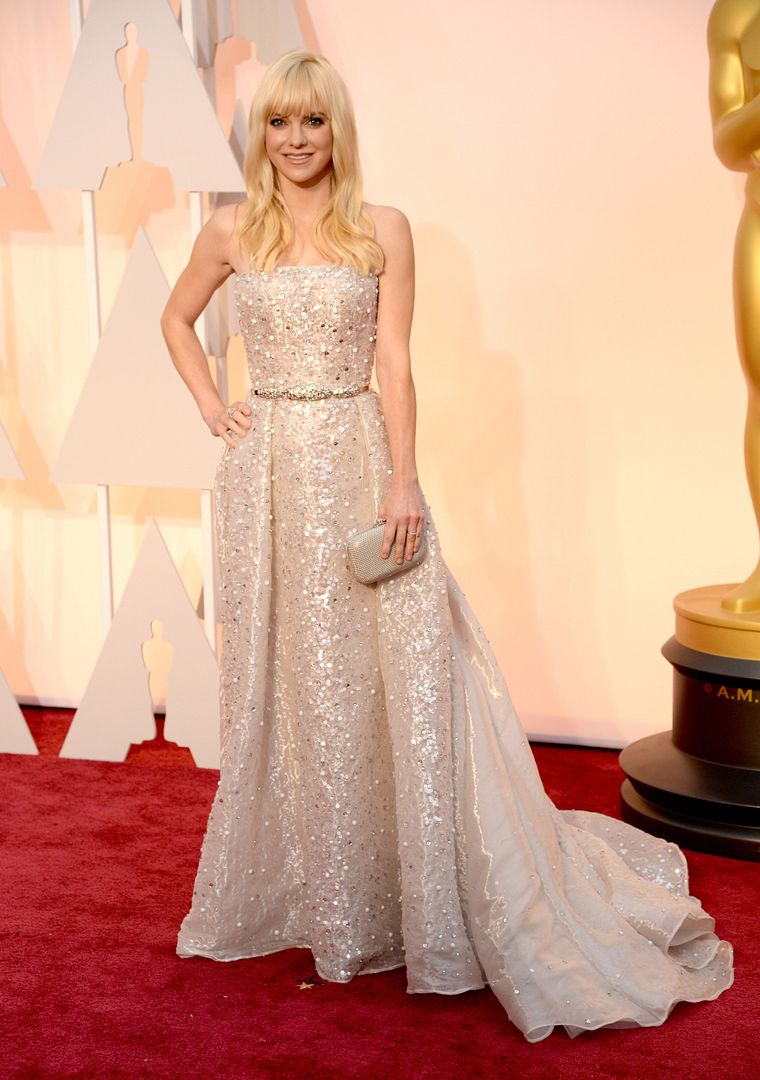 Anna Faris in Zuhair Murad
Insert standard Oscars dress here.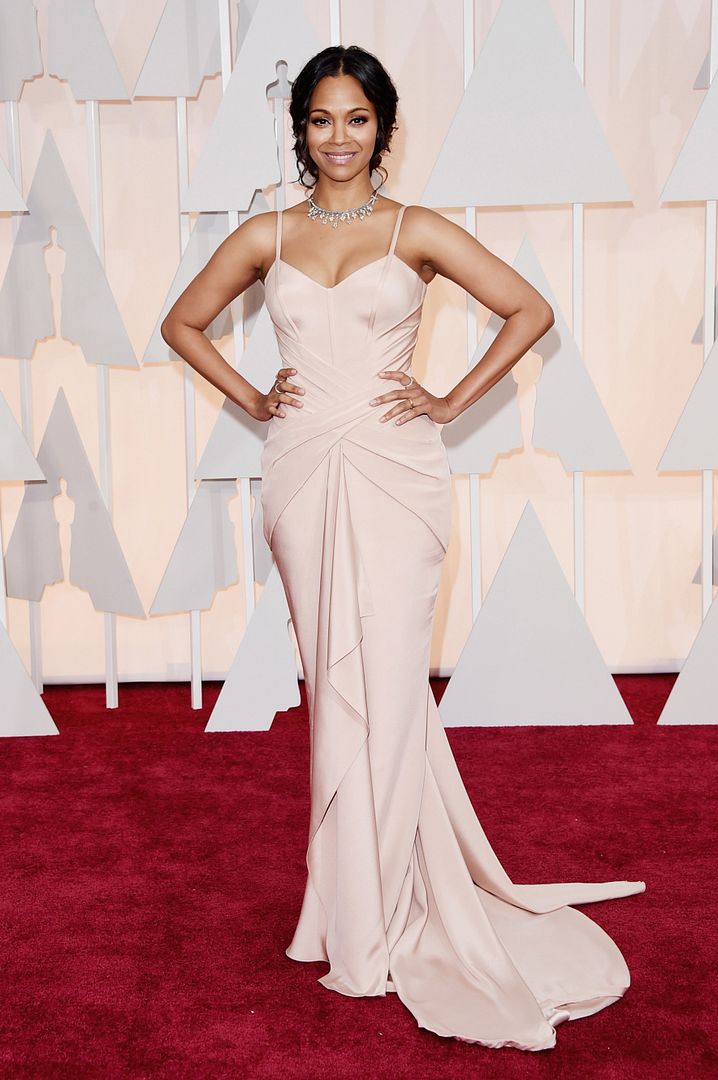 Zoe Saldana in Versace
I should feel sort of bad hating on a celeb's look right after they have a baby (re: Rosamund Pike at the Golden Globes) but when you're that famous and have access to every design house (and work out facility), I just don't see any excuse to look subpar at an event like this. Like Kerry Washington, Zoe seems to be losing her red carpet street cred. I mean, she's wearing spaghetti straps post-2004.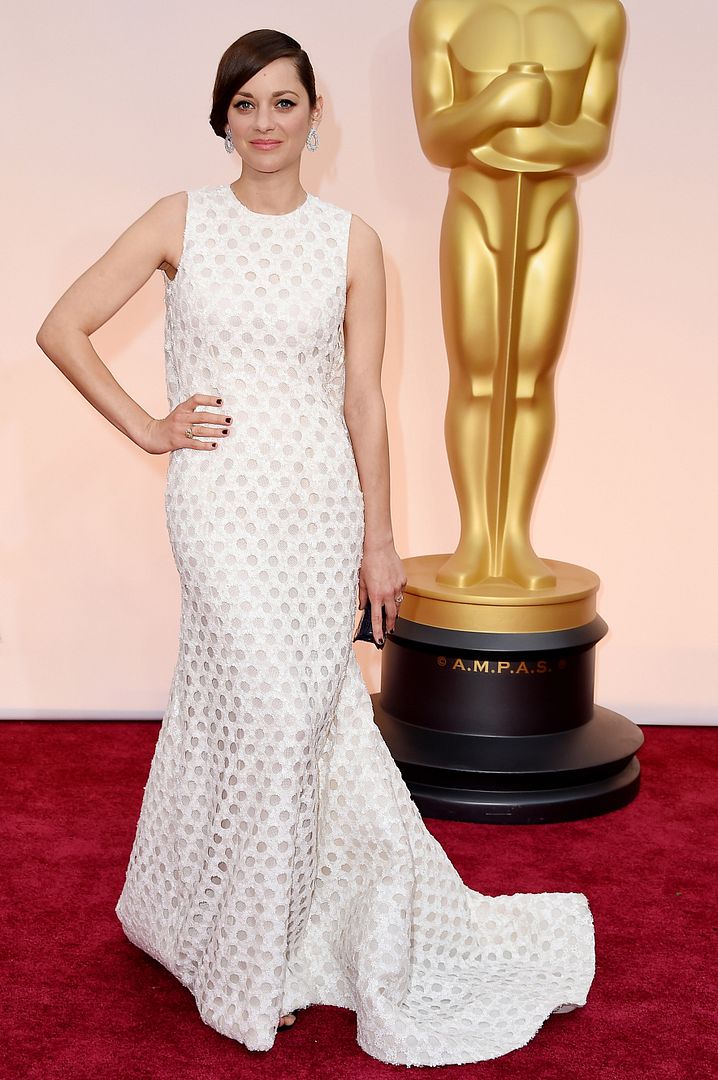 Marion Cotillard in Dior Couture
We know she can do better than this, although Dior has not had the best red carpet moments in the last couple of years. Jennifer Lawrence kept trying to make it happen and it just wasn't happening for her. Marion's had better luck with the designer but this just wasn't her finest style moment.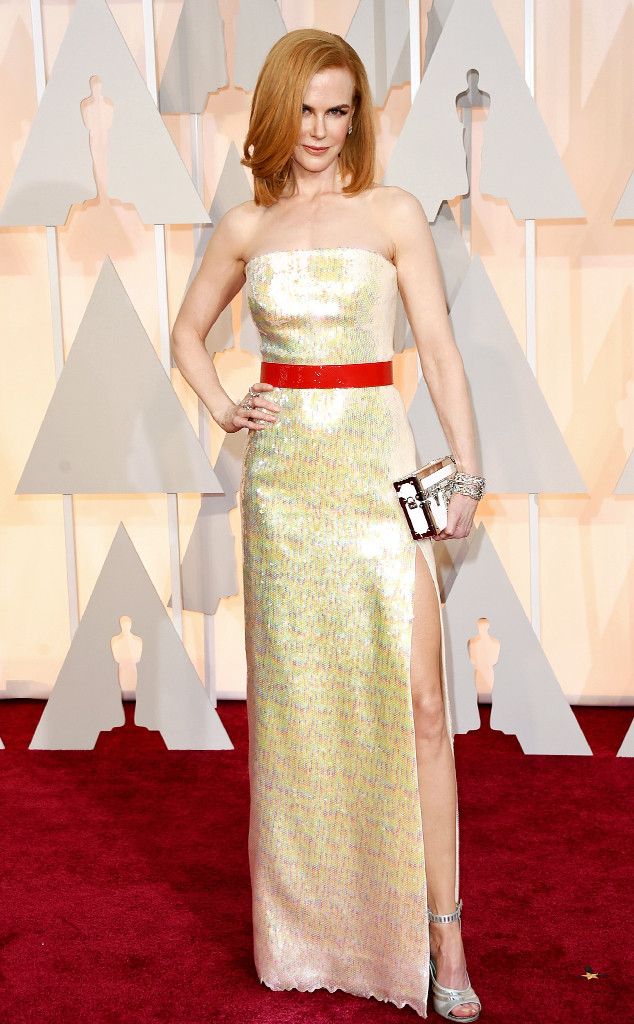 Nicole Kidman in Louis Vuitton
This is when you shouldn't put a belt on it. Also, this might be a cool dress in person but unfortunately, these people have to dress for the camera (because we're not the ones interviewing celebrities asking stupid questions on the red carpet)…and this dress is far from camera-friendly.
Lady Gaga in custom Alaia
If you break this down, it's not as terrible as it seems. Hear me out. Yes, the gloves are an odd choice (suddenly Amal Clooney's Golden Globes look doesn't seem so bad), but the dress itself is pretty amazing. Gaga is quite petite, though, so this is a lot of fabric for her. Having it a bit more cinched at the waist, as well as less length in the front, this would have been incredible (again, minus the gloves). Maybe one day she'll listen to me…one day.
—
What do you think of the red carpet so far? As always, be on the look out for part 2 coming soon!
Images via E! and The Cut
You might want to check out...