Is it just me or were the Grammys (actual show and red carpet) quite disappointing this year? This is the event where celebs go all out and have fun with their looks (because it's really the only major occasion where they can get away with it) and I was surprised to see that lacking on the red carpet (I guess when Rihanna, Katy Perry, Madonna and Nicki Minaj don't show…your red carpet will be lacking). Regardless…let's see if I can find a best dressed pick in here somewhere.
Selena Gomez in Calvin Klein
This was one of those looks that's perfect for the Grammys — it's sparkly, it's sexy (did you see the back?), it's very LOOK AT ME. Now is any of that my personal taste? No…but I get it for the occasion. I'm just shocked this is Calvin Klein though. Sequins and cut outs are not CK's signature look so that's just something I can't really get over…especially because this could easily be a pageant dress.
Kaley Cuoco in Naeem Khan
I should be obsessed with this right? It's a jumpsuit on the red carpet (a wide leg jumpsuit too!) I can't blame the simple cut-out because that can't be it (although I have voiced my opinion several times here for celebs to cut it out with the cut outs on the red carpet) but there's something here that's preventing me from deeming this a best dressed pick. It has to be one of those great dress jumpsuit, wrong girl situations. You have to really work a look like this, and it's just falling a little flat. Dig the hair though!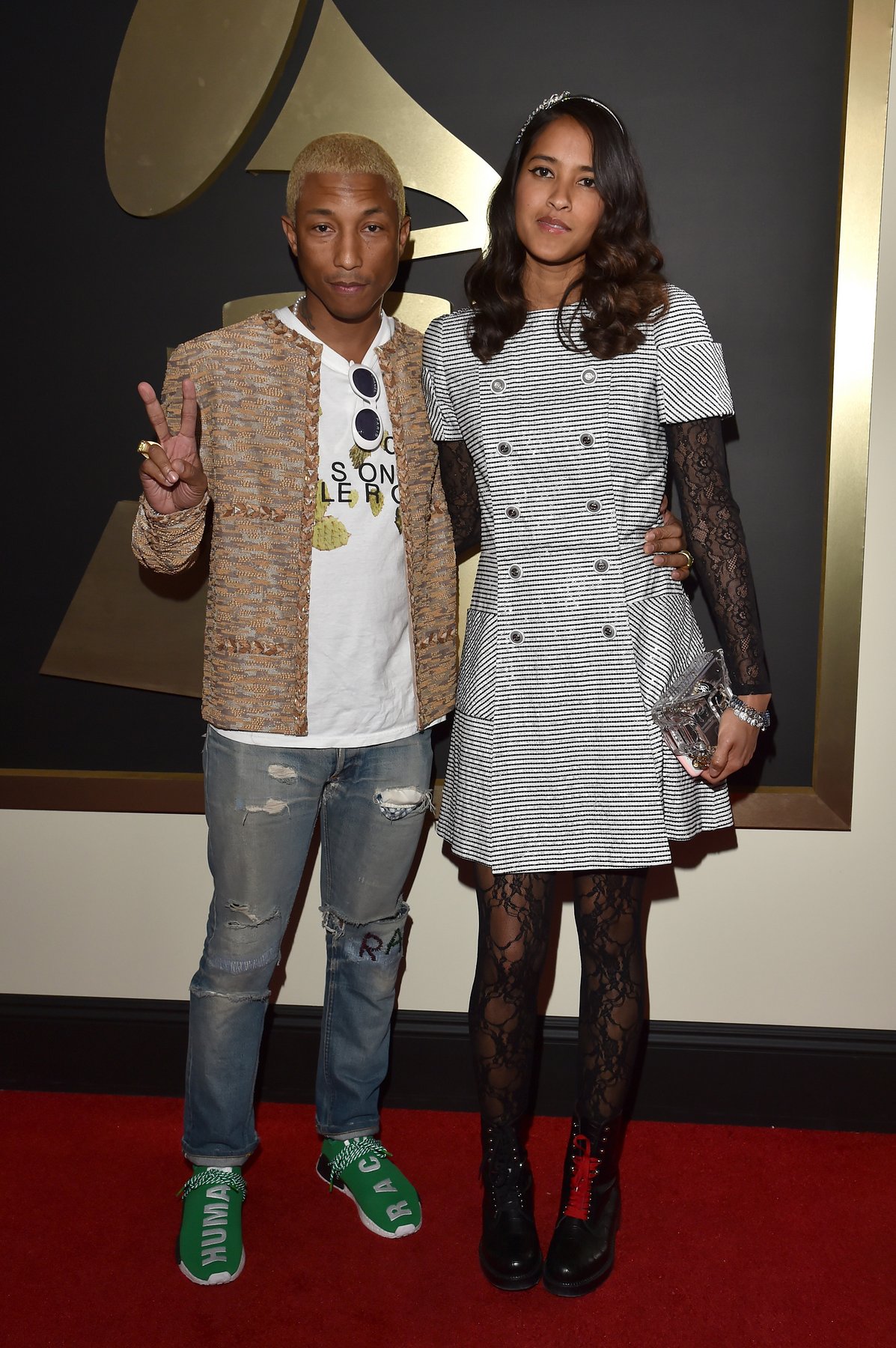 Pharrell & Helen Lasichanh
They can wear pretty much anything and just look so damn cute together (she's also wearing Chanel, which doesn't exactly hurt the situation). Even if their outfits have nothing to do with each other (unlike the VMAs last year), they still KILL IT. Also loving Helen's Blair Waldorf meets Helena Bonham Carter vibes here.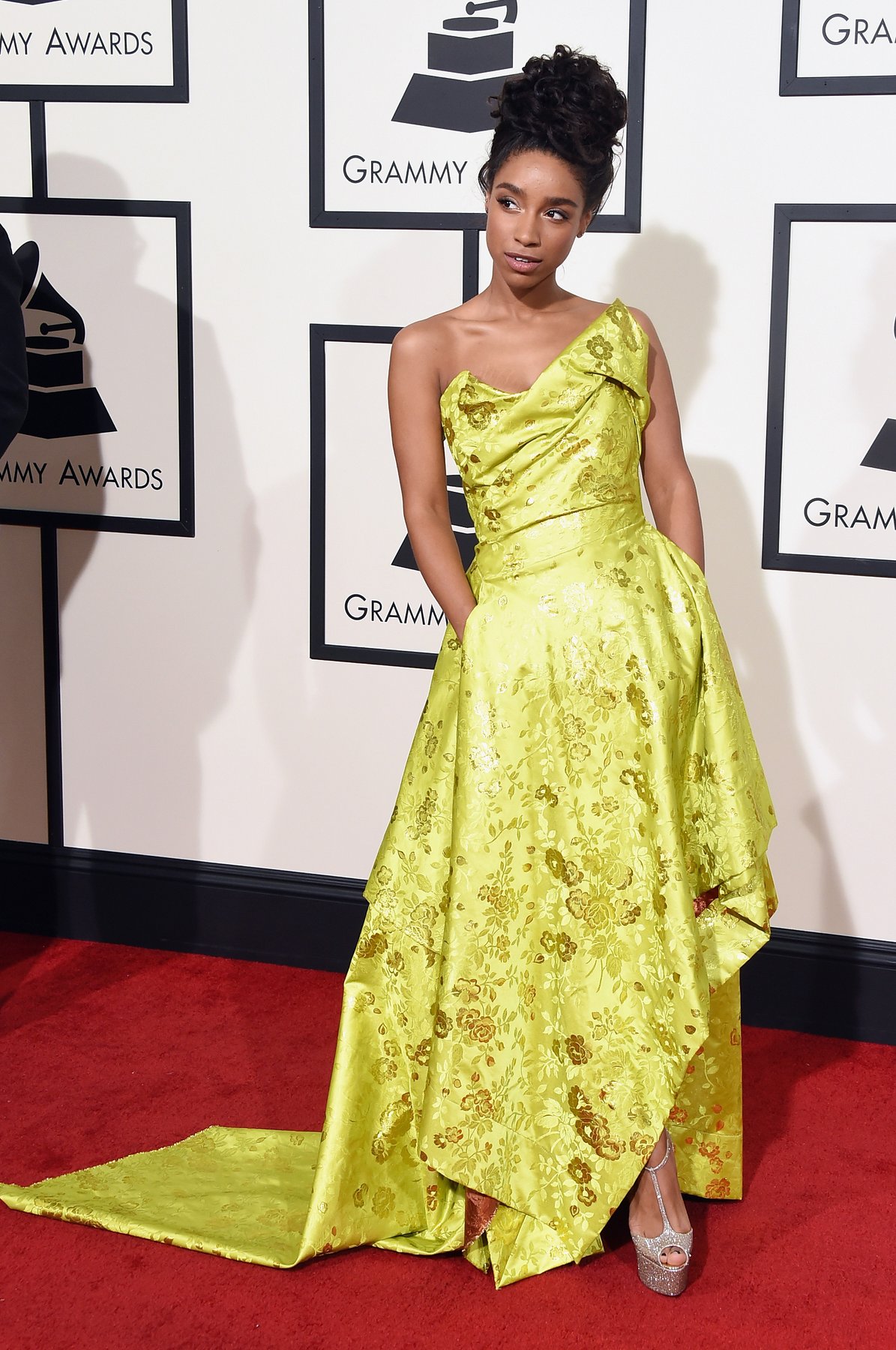 Lianne La Havas in Vivienne Westwood
Best Dressed Pick
You know I must really like this even if I'm not on board with those glitter platforms. It's a unique gown that she looks ridiculously amazing in (pockets are always a plus!) and the hair / makeup couldn't be a more perfect pairing.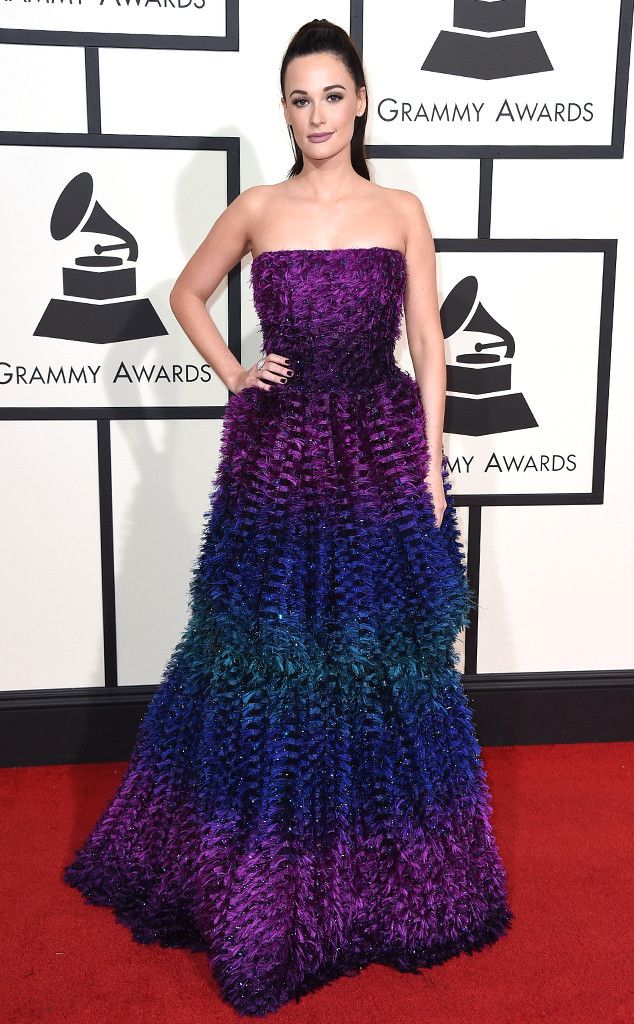 Kacey Musgraves in Armani Prive
Although it's strapless (my favorite!!!) it's still a pretty cool dress…it could even be a badass gown, if you so choose to go that route. And she could have (although probably not…she is a country singer after all) but styling this with that high pony just makes it pretty basic / Ariana Grande. If she had an edgier hair style (maybe even that slick back look I adore so much), that would have changed everything. But this as is…I'm not totally sold.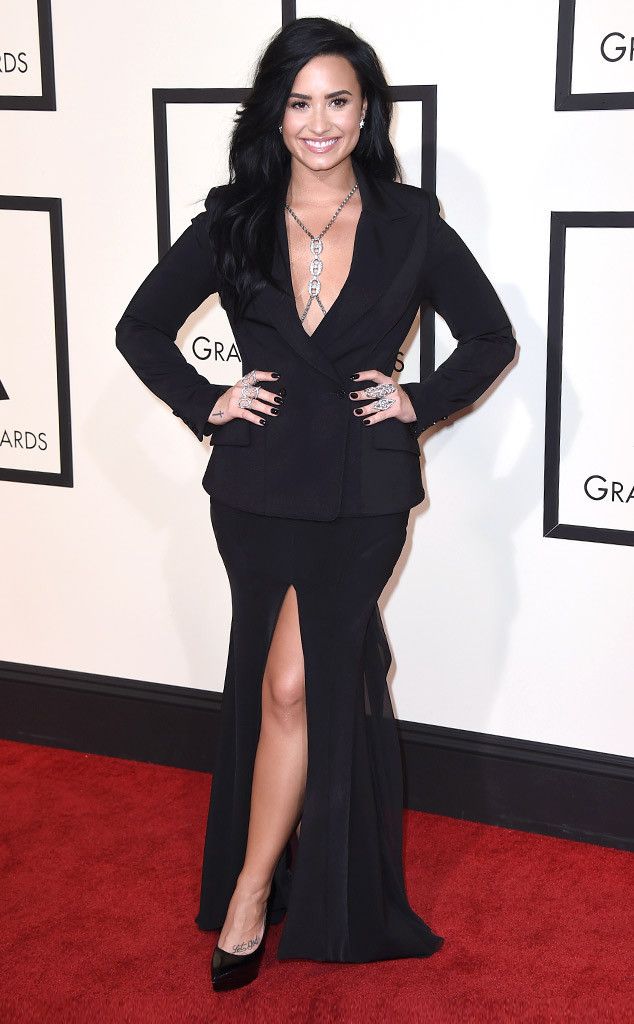 Demi Lovato in Norisol Ferrari
This definitely comes off better in pictures than it did on TV because I sort of hated this at first (especially when I saw it from the waist up). It looked like she was trying to be sent home from the office for dressing inappropriately. When you break it down, though, the elements should work — she's showing just the right amount of skin without going too far and the Loree Rodkin body chain gives it the perfect amount of edge for this occasion. It could be a Kacey Musgraves situation where the hair is completely ruining it for me. If her hair were shorter or out of her face, it would break up all the darkness here. And trust me…no one loves black on black more than I do, but when you add all that hair on top of it, it takes away from the look rather than bringing it all together. But hey…she looks CONFIDENT (get it?) so who cares what I have to say, right?
Anna Kendrick in Emanuel Ungaro
I'm not excited about it…but it doesn't make me angry either (so I guess that's a win).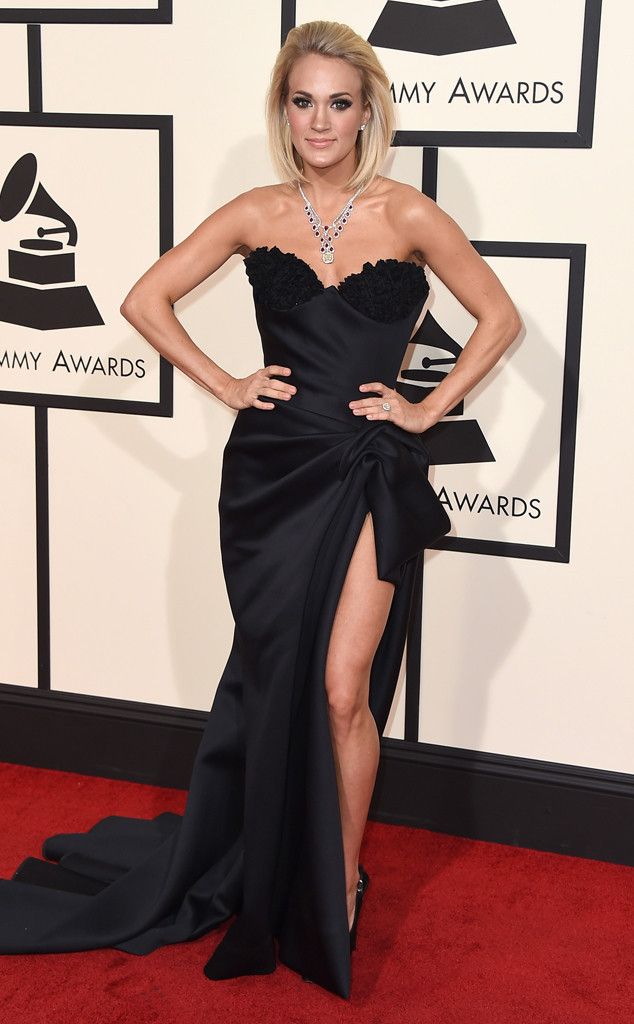 Carrie Underwood in Nicolas Jebran
And Miss Oklahoma goes to…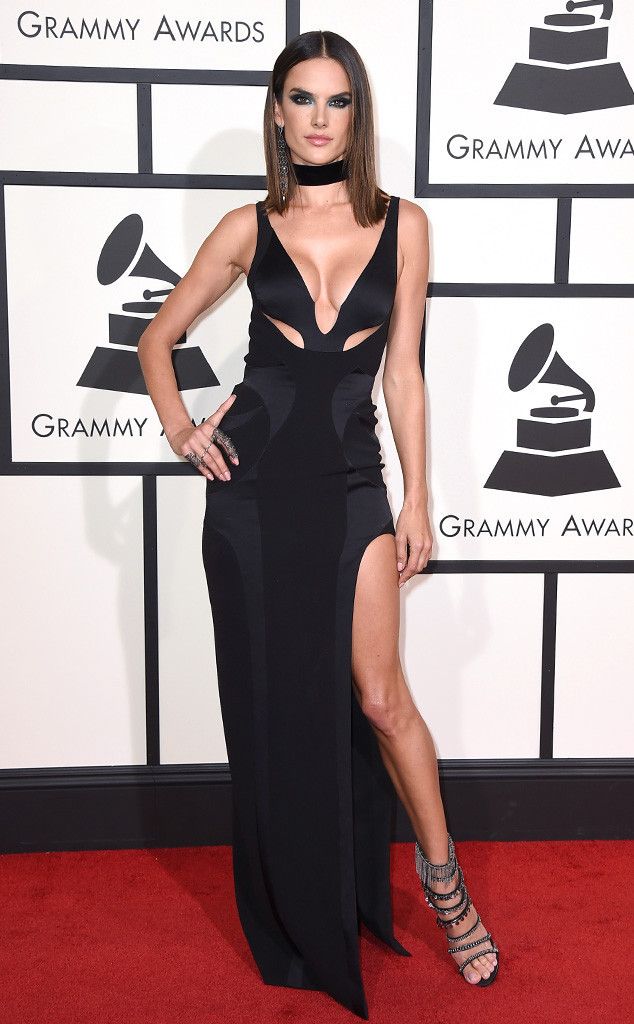 Alessandra Ambrosio in Versace
The neckline of the season, finally making an appearance on the red carpet (although according to the runway, not actually part of the dress). Regardless of that, it's Alessandra Ambrosio…she gets paid millions of dollars a year to make things look good, and it's working. Are there things I would have done differently? Sure. Although at complete opposite ends of the body, I would choose the earrings or the shoes…not both. Other than that, the dress fits perfectly and it's a cool look to wear to the Grammys that isn't so…sparkly / tacky. I rarely like a ton of eye makeup or stick straight hair but they both totally work here. We might just be on on our way to a best dressed pick (I said might…).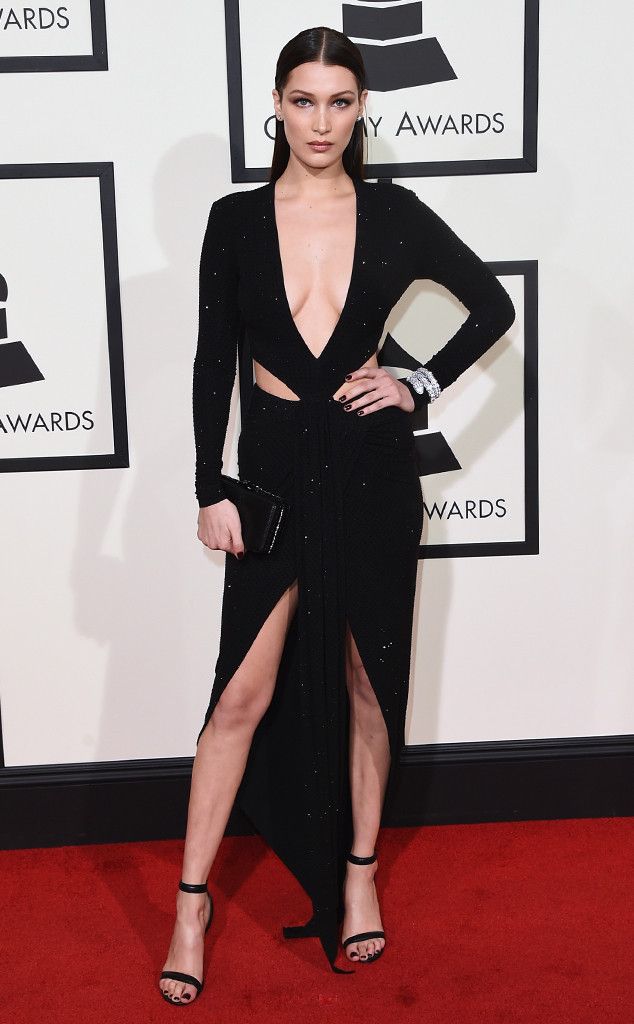 Bella Hadid in Alexandre Vauthier Couture
Best Dressed Pick
There it is! This is what you wear when your bf is nominated and performing but you don't want to totally be on the sidelines. Perfect for the Grammys without being vulgar. Wouldn't style it any other way. Minimal, chic and sexy all at the same time…THANK YOU BELLA, for making the Grammys red carpet not a complete disaster.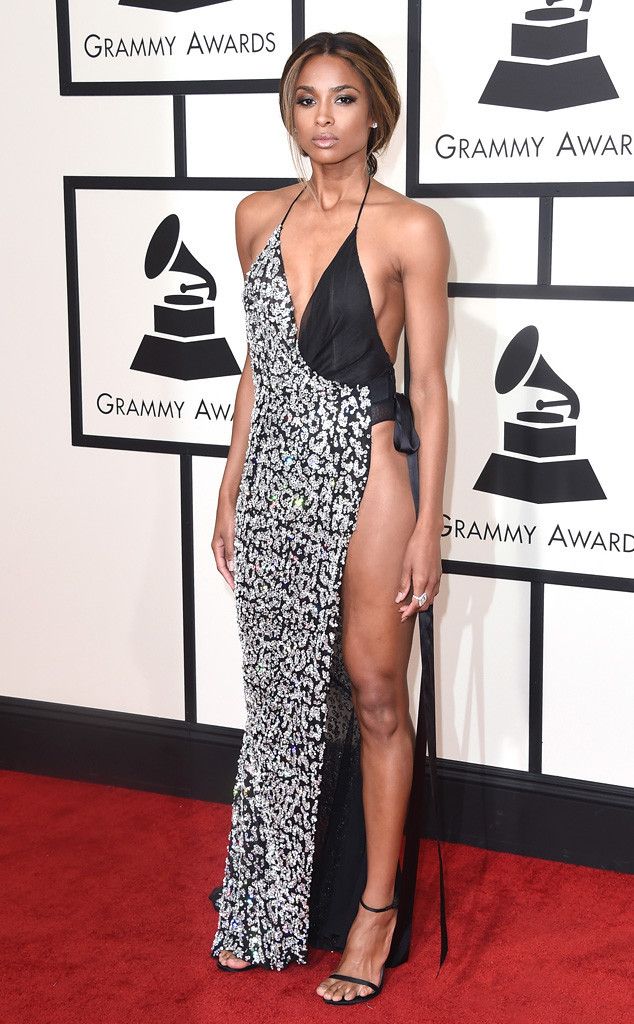 Ciara in Alexandre Vauthier Couture
Before we get to Ciara, let me start off by saying I'm starting to believe Alexandre Vauthier is going to be the new Versace on the red carpet. He's already dressing a ton of celebrities for different occasions, but his designs are really ideal for the Grammys. He's not afraid to design clothes that show a lot of skin, but if they're on the right girl who can really work that look and not make it look distasteful… they will land you on a best dressed list (re: Bella Hadid). Now you know I've been living for Ciara's style as of late, and this is almost no exception. I know it's the point of the dress but I'm just not a huge fan of the super slit. A high slit, I'm so down. But once it goes above the hip bone it's just a little too much thigh for my personal taste. Other than that, SLAY.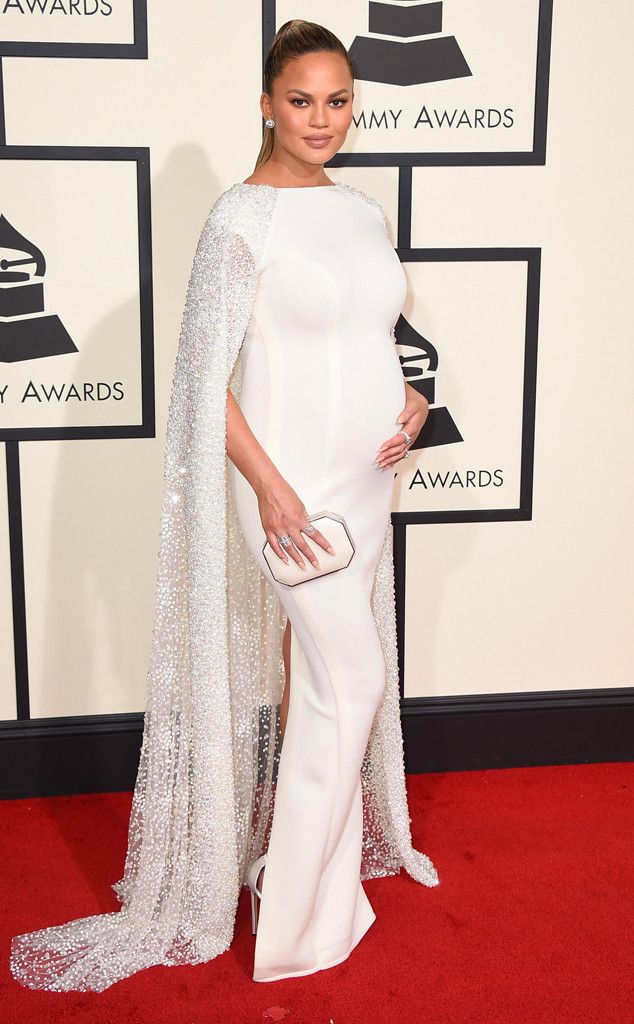 Chrissy Teigen in Yousef Al-Jasmi
Although capes have been quite overplayed on the red carpet in the last year or so, this is a pretty fantastic one. And she claims she's taken all of her pregnancy style advice from Kim Kardashian which can't be true…because Chrissy looks DAMN GOOD.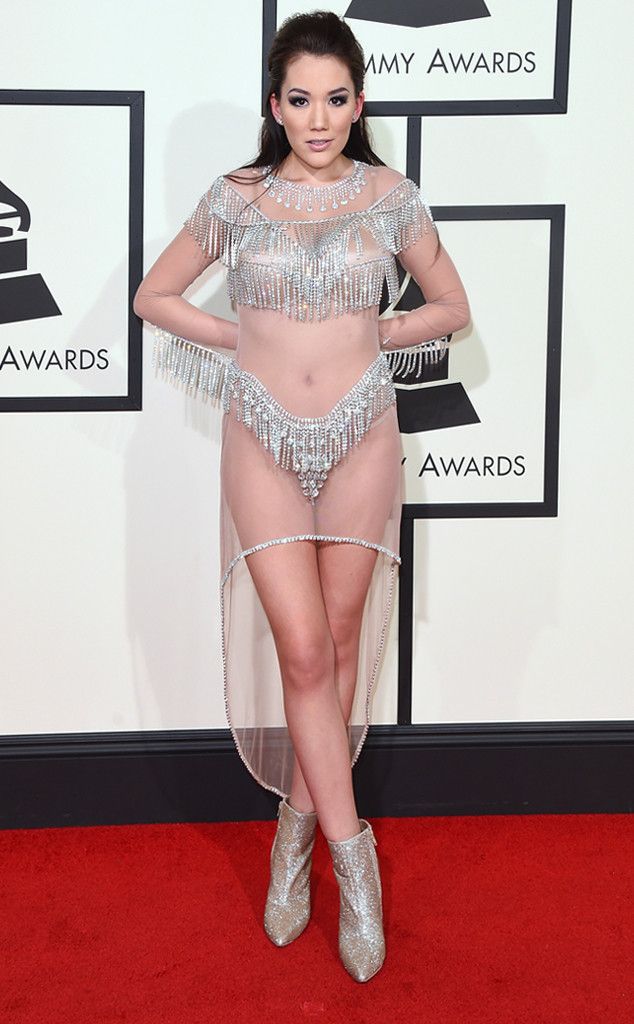 Manika in ARThur Christine
When you're hoping someone cancels their performance last minute so you can step in (which happened but you still weren't chosen).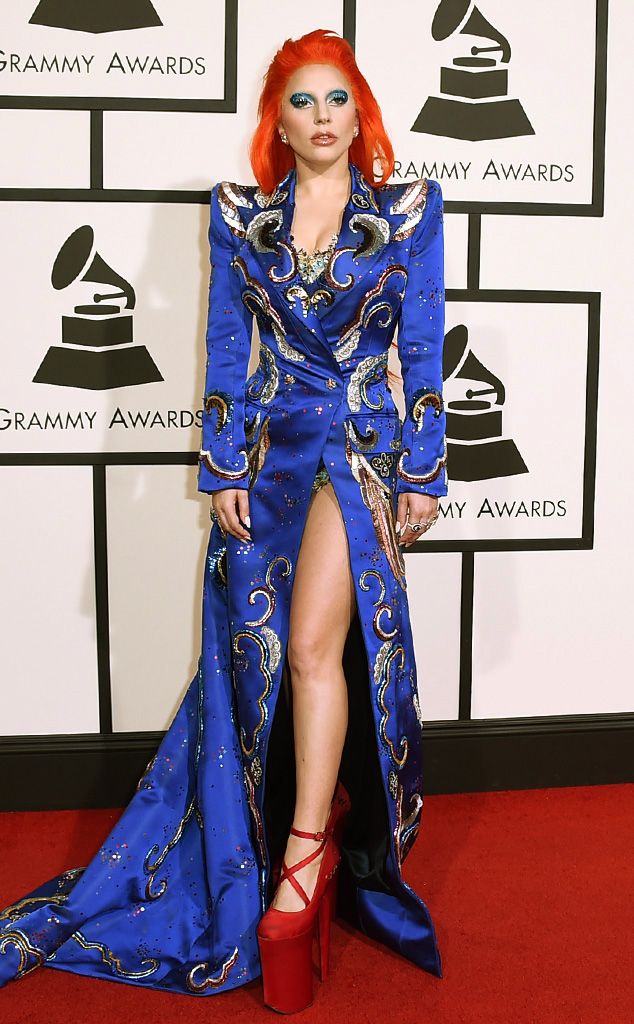 Lady Gaga in Marc Jacobs
GAGA IS BACK, BITCHES.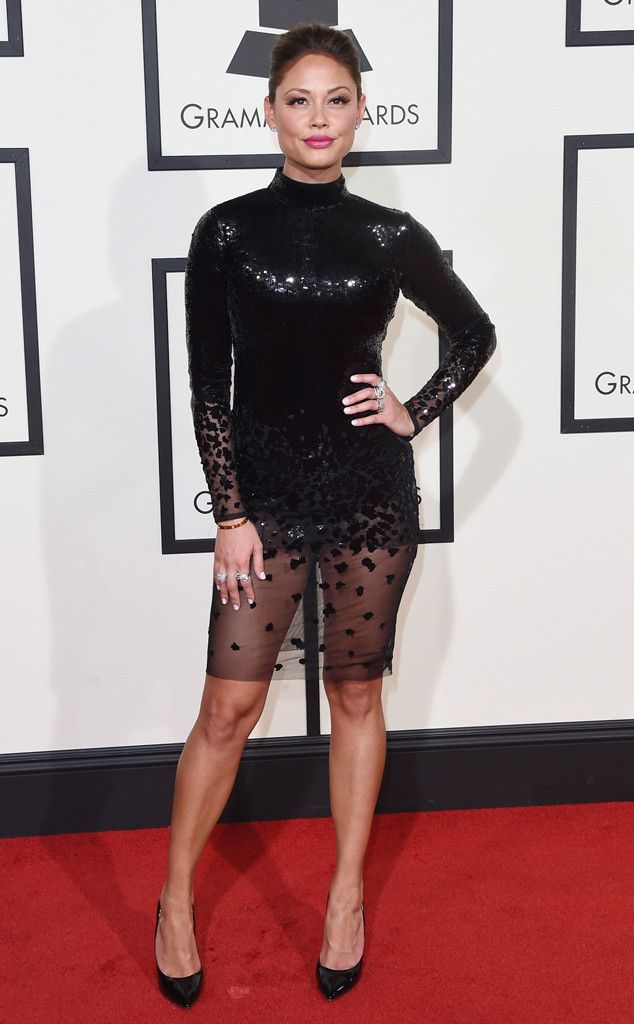 Vanessa Lachey in Michael Cinco
V's definitely had some work done (and I can call her that because I can almost see her's…)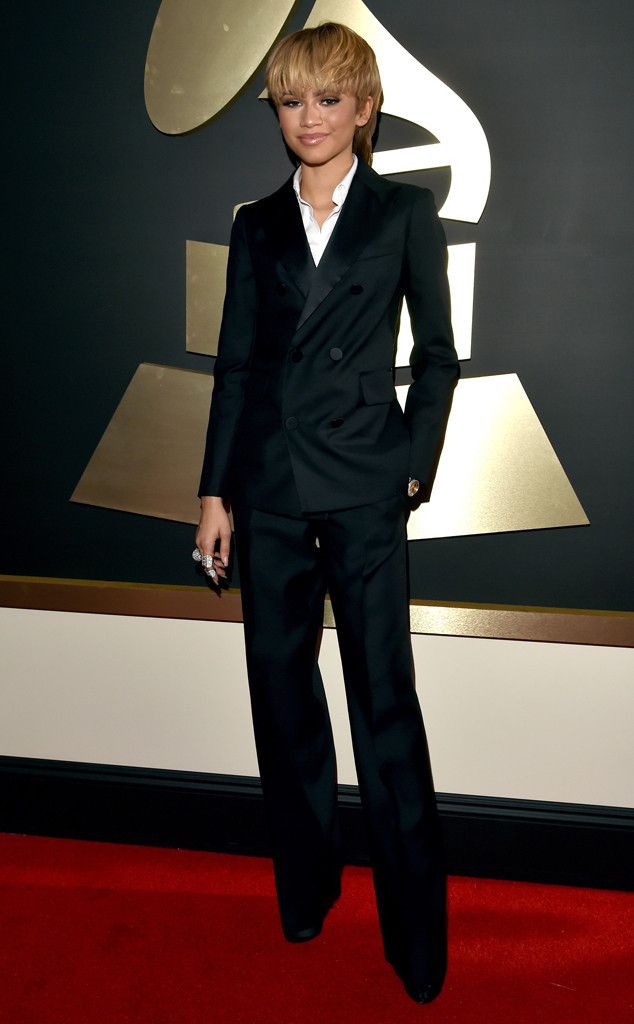 Zendaya in Dsquared2
I live for pants on the red carpet…but pants that actually fit. And when you do a suit on the red carpet, you have to put a spin on it (whether it's color, texture, silhouette, wearing nothing underneath the jacket…give us something!) This just looks like a traditional ill-fitting suit…paired with a mullet. Yes, a mullet.
Janelle Monae in Jean Paul Gaultier
Put this girl in black and white anything (even better when couture) and she WILL DO NO WRONG.
Faith Evans in Stello
Let's all have a moment of silence for the road kill on Faith's shoulder.
Dencia
I'm hoping to find a Dencia DIY Dairies YouTube channel and this is her first (and last) video. And in case you're wondering (because I know you are) those are actual Hello Kitty plush dolls attached to her onesie.
Adele in Givenchy
I'm sure this dress was more amazing in person but it really isn't doing much for anyone in photos. And isn't that what matters most (and definitely not the music)?!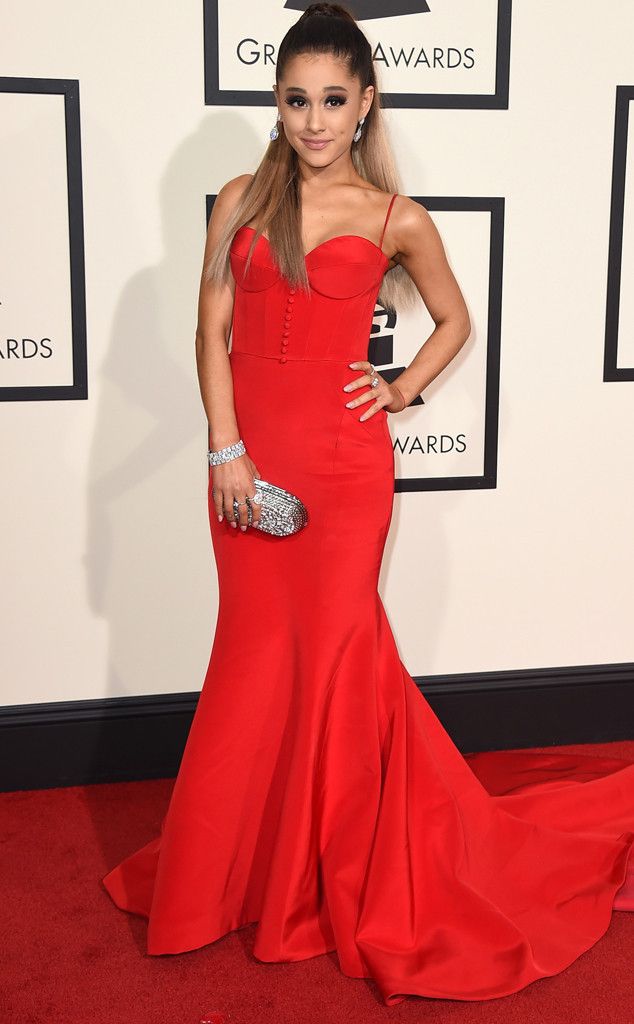 Ariana Grande in Romona Keveza
Between the color, the material, and pairing bright red with anything bejeweled…this looks way cheap. I would say that regardless of who it's on, but it doesn't help that she's one of those celebrities I look at and immediately feel annoyed. And when are we going to stop with the ponytail? Maybe it's the hair that annoys me and not the person (no, it's both).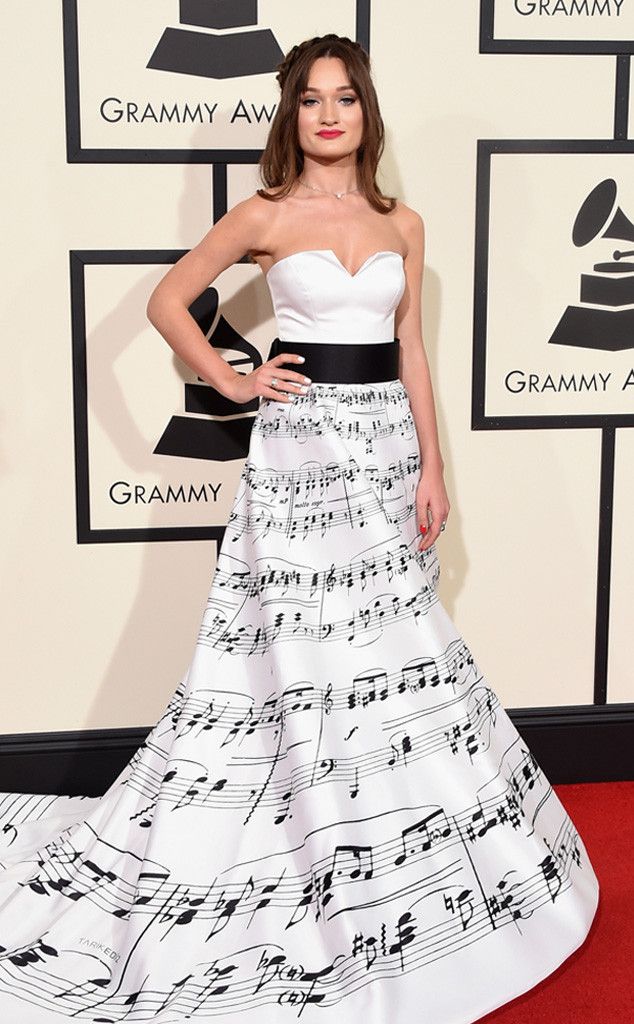 Diana Gloster in Tarik Ediz
Katy Perry already did it (and did it much better…)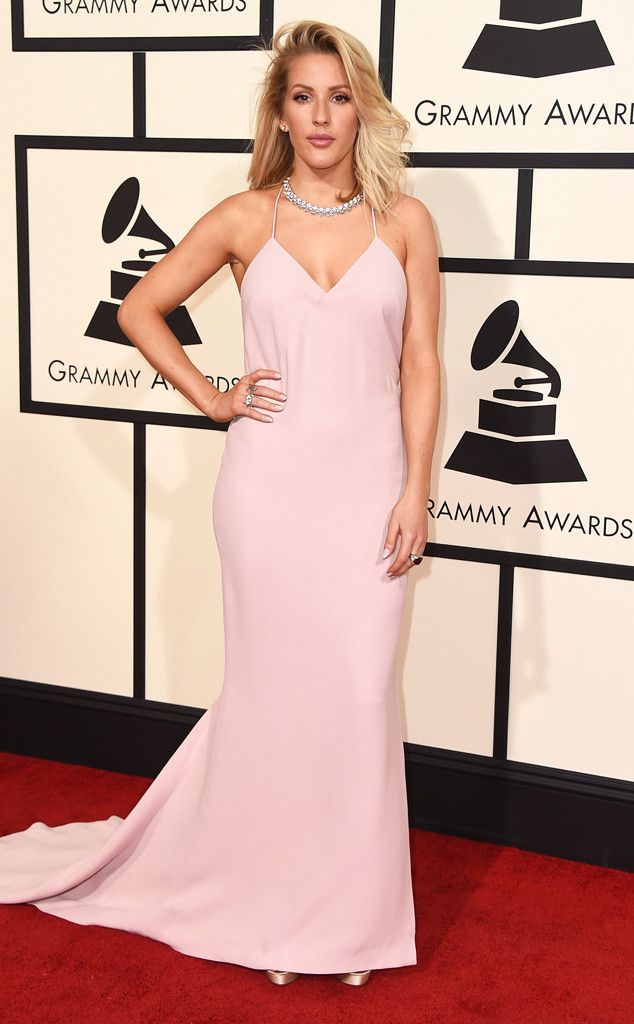 Ellie Goulding in Stella McCartney
From the front, it's just meh. But from the back you're like OKAY! This is one of those colors that might look completely different in person and vary from photo to photo, but coming from the baby pink we see in this image, I would have loved to see this in more of a nude / blush (which you know I love) and without the necklace. I assume the necklace was chosen to add some interest to the front but I really believe less is more (okay fine, she could have done some necklace…but one a little less bold).
Florence Welch in Gucci
If literally anyone else wore this I would say WHAT THE HELL WERE YOU THINKING?! But Florence is kind of weird and bohemian (I actually mean that as a compliment) so I couldn't think of a better person to wear a pink long sleeve ruffle top dress with sequin stars and a sparkly dragonfly.
Tove Lo in Malene Birger
Believe it or not, I actually like where she's going with this — the juxtaposition of that lingerie look with tattoos and a Givenchy septum ring (the rust eyeshadow is also a nice touch). I get it, but I'm not feeling it. I appreciate the septum ring but I just find it too distracting…even something slightly smaller would have been perfect. But seeing it hang over her lip like that just isn't doing it for me.
Taylor Swift in Atelier Versace
My feelings towards Ariana Grande are how many feel about Taylor Swift. I'm actually cool with her, but that doesn't mean I'm going to take it easy on her red carpet looks. First off, Taylor…we know you have a great bod  and all…but we're getting sick of seeing your midriff (give us some variety dammit!) And speaking of variety (or lack there of), didn't she wear a similar skirt silhouette last year to the Grammys? Taylor, we know you like showing some stomach (or as Nene would say, ribs) and we know you love skirts that reveal like a curtain on opening night…but we also know you can rock more than two silhouettes. All you have to do is show us!
And I can see Anna Wintour now sitting front row somewhere at fashion week with her sunglasses on still thinking to herself, bitch stole my look.
—
So that's really it, friends. If Rihanna didn't have bronchitis (feel better, Ri!) we might be having an entirely different conversation. But don't you think the Grammys red carpet was a little underwhelming this year? And is it just me or did it feel almost like the Country Music Awards? I felt like I do during the Teen Choice Awards…I DON'T KNOW ANYONE.
As always…be sure to let me know your best and worst dressed picks in the comments!
Images via E!
You might want to check out...