Now that it's officially the first Tuesday in May (definitely not as catchy as The First Monday In May) it's time to discuss all of the noteworthy looks from the Met Gala last night. Between models, celebrities and designers, there is SO much to talk about (meaning lots of posts coming at you today)…so I say we just get to it!
Emma Watson in Calvin Klein
I love that Emma loves a dress with pants sort of situation and although I typically adore what she wears, this layered corset top with low rise pants and a long skirt with a train is just too many layers. BUT it does have a purpose — it was a collaboration with Eco-Age using all sustainable fabrics! So… that's fun, right?
Jenni Konner, Jenna Lyons & Lena Dunham in J. Crew
SQUAD GOALS.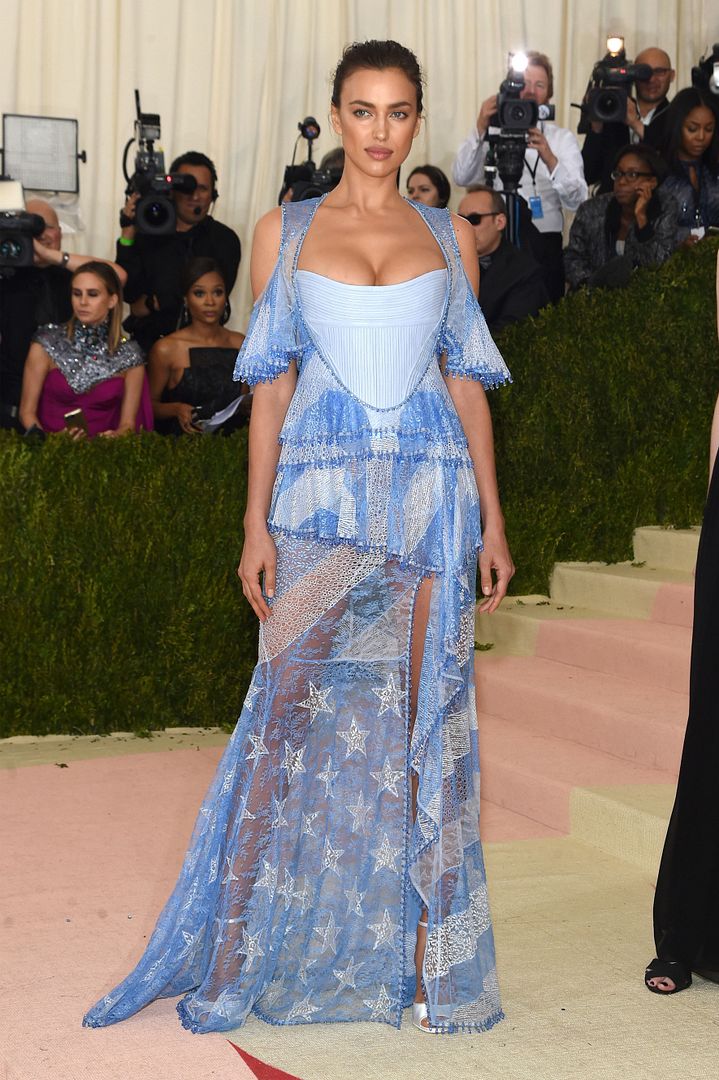 Irina Shayk in Givenchy
I guess I'm going to get this over with early but HANDS DOWN the worst look of the night. Is this a blue and white laser cut ruffled shoulder cut out corseted AMERICAN FLAG?! If so, how is this okay? If not, HOW IS THIS OKAY?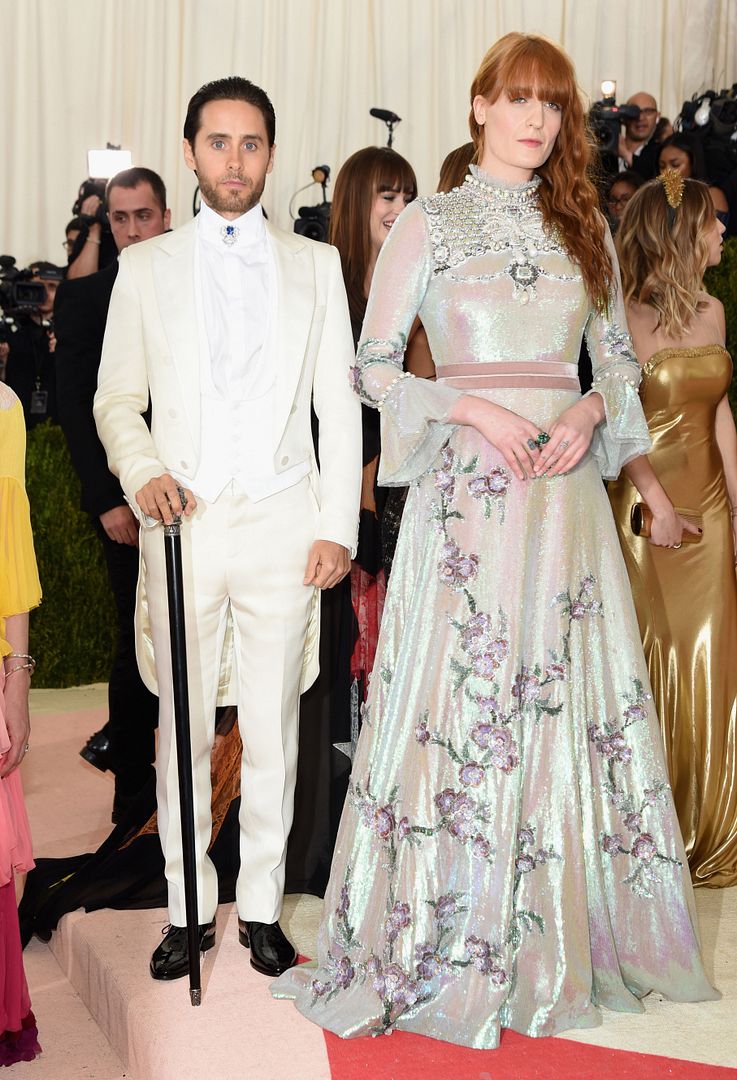 Jared Leto & Florence Welch in Gucci
I kind of love everything about this. Jared with the cane plus Florence in this over the top gown…it just works. According to Gucci's Instagram, Jared was rocking a hand carved black lacquer cane with silver and crystal embellished cat head detail while Florence's custom dress was adorned with an embroidered beaded bear on the back, as well as sequin cherry blossom branches throughout and a fully embellished Renaissance inspired neckline with black diamonds, pearls and crystals. It's safe to say Alessandro Michele was not messing around here.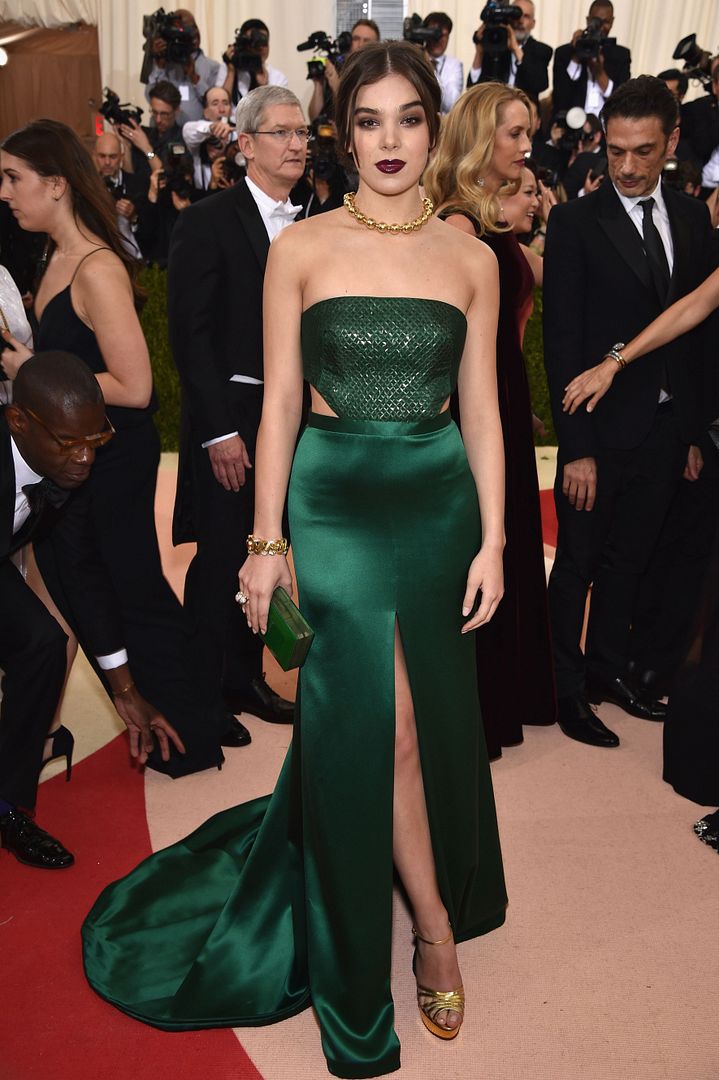 Hailee Steinfeld in H&M
Considering she usually wears some pretty fantastic looks on the red carpet, this was beyond disappointing. Ill fitting in the bodice (and regardless, it's just ugly), paired with that unnecessary necklace, drab hair and crazy heavy eye makeup…WHY? Who let this happen?! Although that super dark lip was the "it" look last night, this is NOT the way to do it.
Bella Hadid in Givenchy
Looks like Riccardo recycled Zoe Saldana's 2010 Oscars dress and hoping no one would notice in black (sorry Ricky but I notice everything).
Emma Stone in Prada
Everything about this (although probably just the beauty look) screams Margot Robbie, and considering I'm obsessed with Emma Stone, I don't want it to scream anyone but EMMA! (It also screams I CAN'T EAT A DAMN THING TONIGHT WHICH SUCKS BECAUSE MADONNA RAVES ABOUT THE BREADSTICKS).
Grimes in Louis Vuitton
Of everyone in Louis Vuitton last night (Vuitton Army is the new Balmain Army), this was the least exciting (but the most Grimes…)
Emily Blunt in Michael Kors
It's the right silhouette for a bump but you gotta OWN IT (and she just looks like she wants to get the hell out of there…which is understandable when you're at such an event…sober).
Dakota Fanning in Nina Ricci
Sleepwear as ready to wear…PRESENT.
Emily Ratajkowski in Prabal Gurung
One shoulder, a high slit AND black and white? WHAT WILL WE SEE NEXT?! Florals? For Spring?
FKA Twigs in Atelier Versace
The face jewelry is super cool (very Givenchy runway although not necessarily on theme for this year's Manus x Machina) but my main issue here is the color. It could be the photo but even so, it's a little too warrior princess as opposed to fashion in the age of  technology.
Ashley Olsen Mary-Kate Olsen
Do you expect anything other than THIS?
Doutzen Kroes in Balmain
The most boring of the Balmain Army: 2016 Met Gala edition.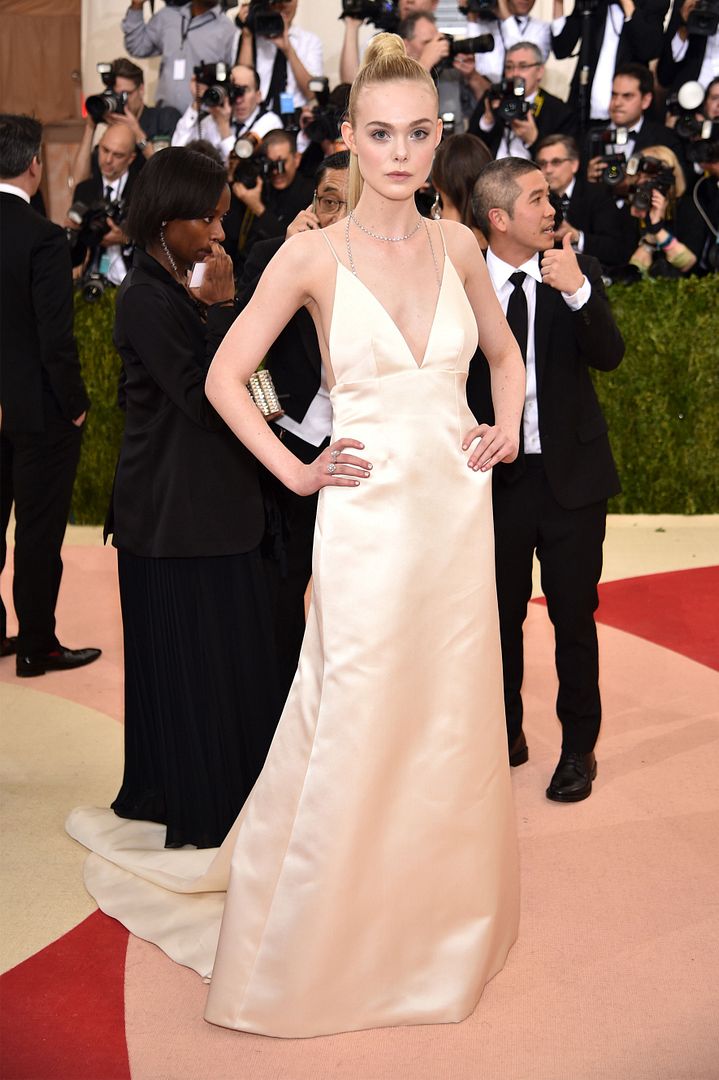 Elle Fanning in Thakoon
Although it's a little big and I hate that material, she looks pretty damn chic. There was no shortage of sleek ponytails last night and I'm 100% on board.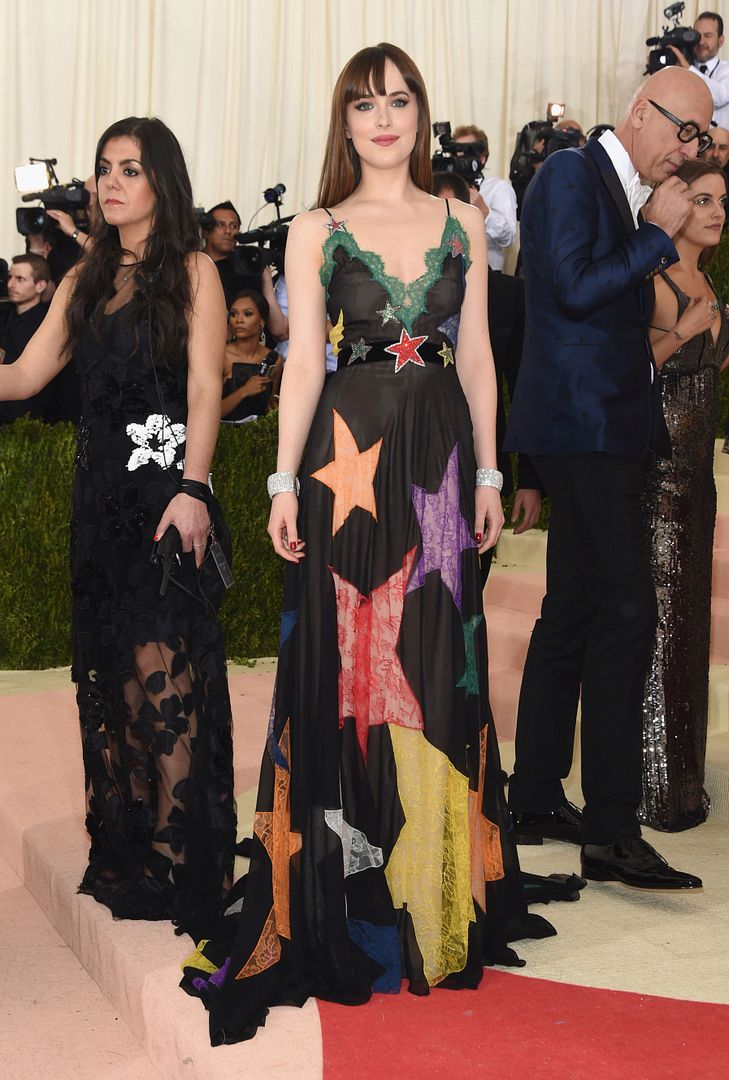 Dakota Johnson in Gucci
Yes, the dress isn't cool, the makeup is terrible and the styling makes zero sense…but how can you even focus on any of that with those bangs?!
Anna Wintour in Chanel
This has got to be the coolest Anna Wintour has ever looked. I was convinced this was Givenchy but it doesn't matter because she looks FIERCE.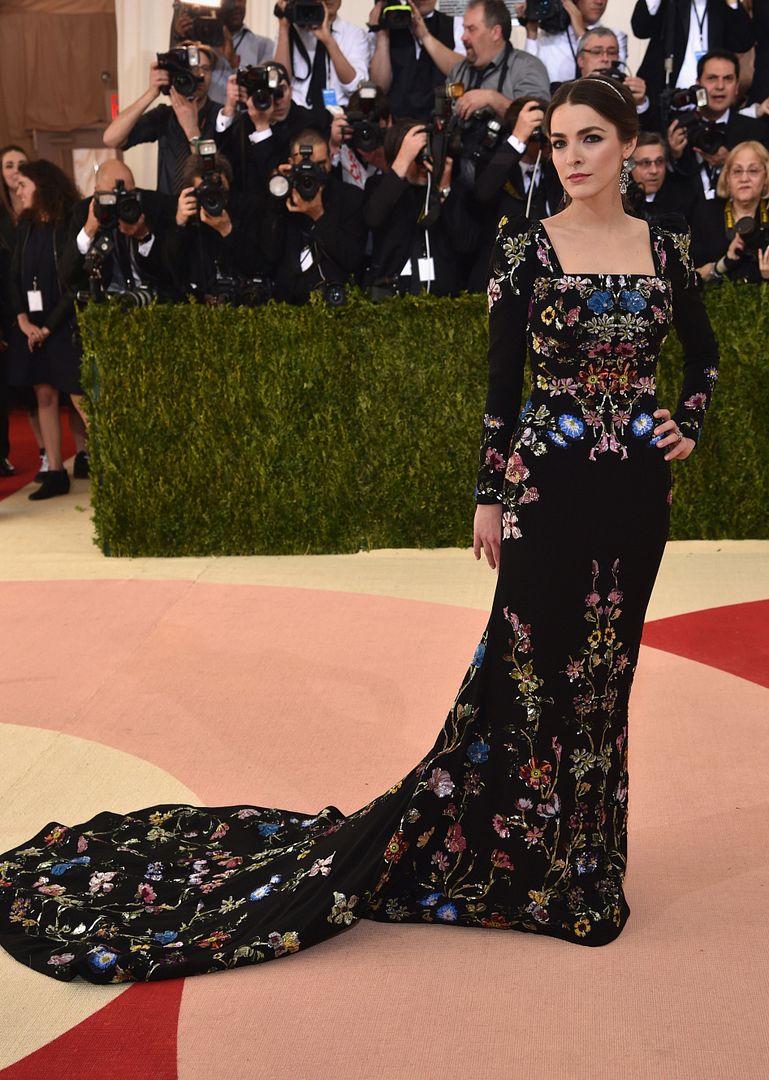 Bee Shafer in Alexander McQueen
She always looks too sophisticated for her age but when Anna Wintour is your mom, it's probably too risky to even consider taking a risk.
Chloe Grace Moretz in Coach
Why even bother?
Blake Lively in Burberry
I think what's most interesting about this year's theme is to see each designer's take on man vs machine. Some cases are more stand out than others (which we'll get to in a later post) and although this gown is accented with hand-dyed / sewn perspex petals…it doesn't come off all that exciting, so the work gets a little lost. When there's celebs walking the red carpet in light up gowns and half-robots (coming soon), a few petals just aren't going to cut it.
Chloe Sevigny in Simone Rocha
Sadly not the only time we see sheer gloves on the Met Gala red carpet this year…
Adriana Lima in Giambattsita Valli
A little casual for the Met Ball…don't you think? (and this is coming from someone who is almost always underdressed)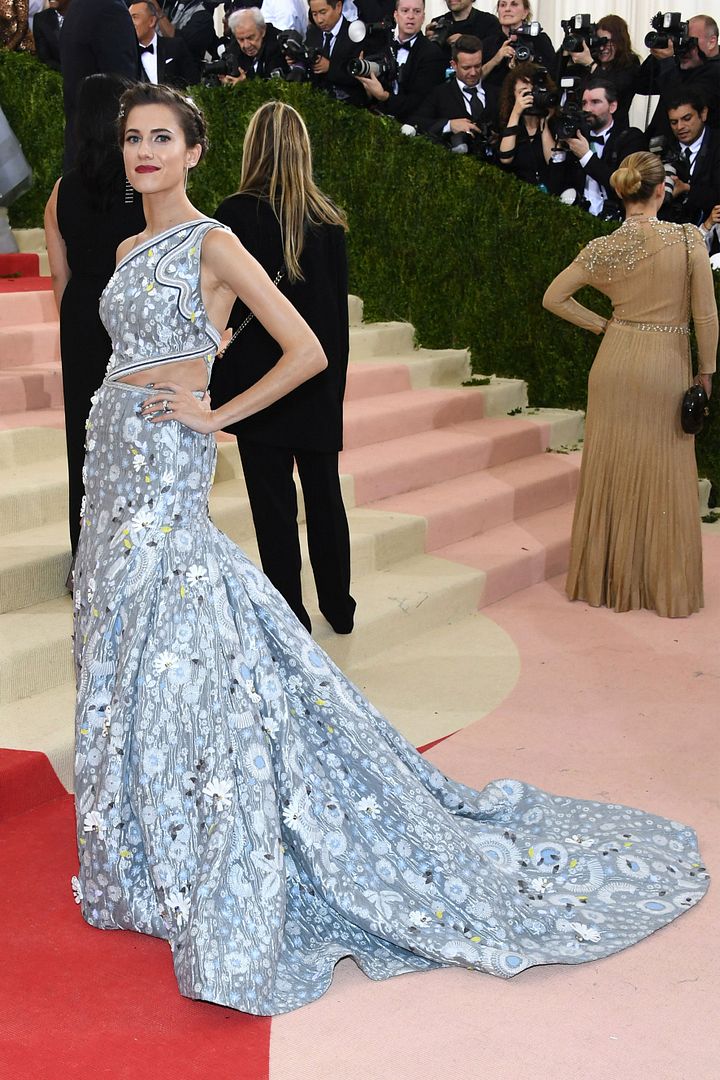 Allison Williams in Peter Pilotto
I'm a huge fan of Peter Pilotto and his prints unbelievable. The print of this dress is beautiful but the silhouette isn't my favorite. Maybe without the cut out and a little less fabric at the bottom (yes, I will even let her have the dreaded one shoulder look) I could get on board, but as is…swing yet a miss for me. BUT it was embroidered with 3D printed flowers and Swarovski Crystals so at least it's on theme, right?
Amy Schumer in Alexander Wang
WOW AMY. JUST WOW. Fit, silhouette, everything is perfect. Just a personal thing, I would have preferred black (or just not red as it's my least favorite color and there's A LOT of it here) but other than that…definitely NOT a trainwreck 😉
Anna Kendrick in Derek Lam
And the first wah wah of the night goes to…
Alessandra Ambrosio in Balmain
The Balmain Army is just getting started!
—
What do you think of the Met Gala red carpet so far? We have exactly 100 looks to get through so don't you worry…there's still plenty more to come!
Images via The Cut & E!
You might want to check out...