You thought part one and part two were shiny? Just wait until you see these extra metallic celebs from last night.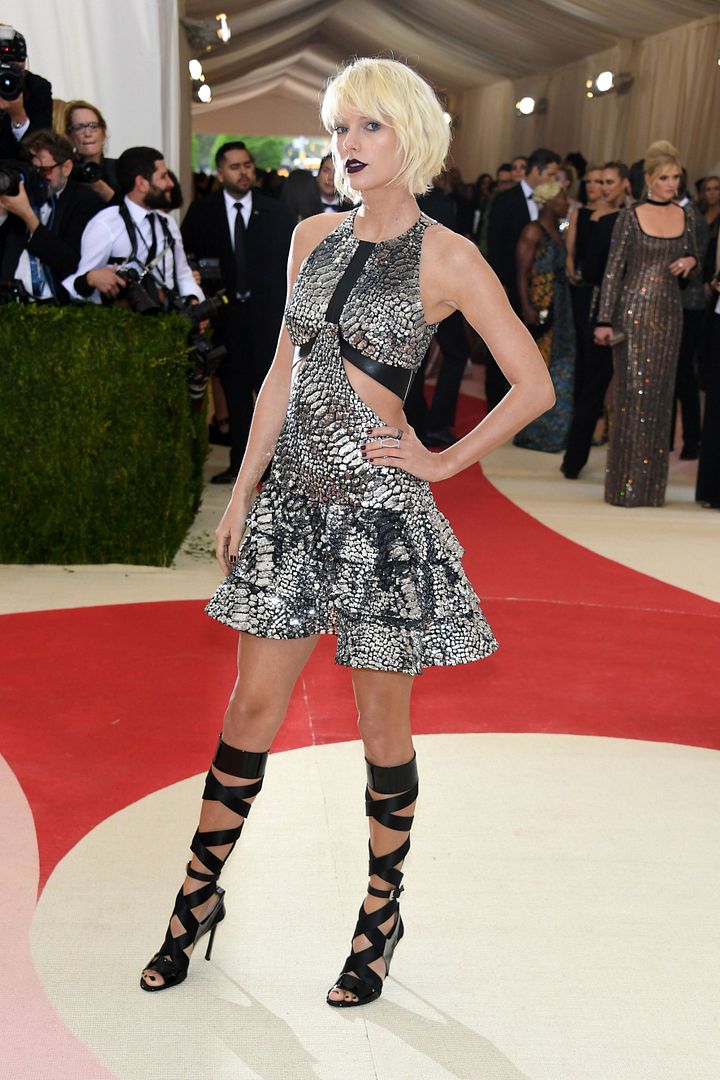 Taylor Swift in Louis Vuitton
Are you sick of me saying I'm sick of side cut outs yet? Good, because I'm sick of saying it. I'm not mad at the texture of the dress but between that, the leather, the ruffles, the boots and the cut outs, something's gotta give (just not the lips…those can stay!)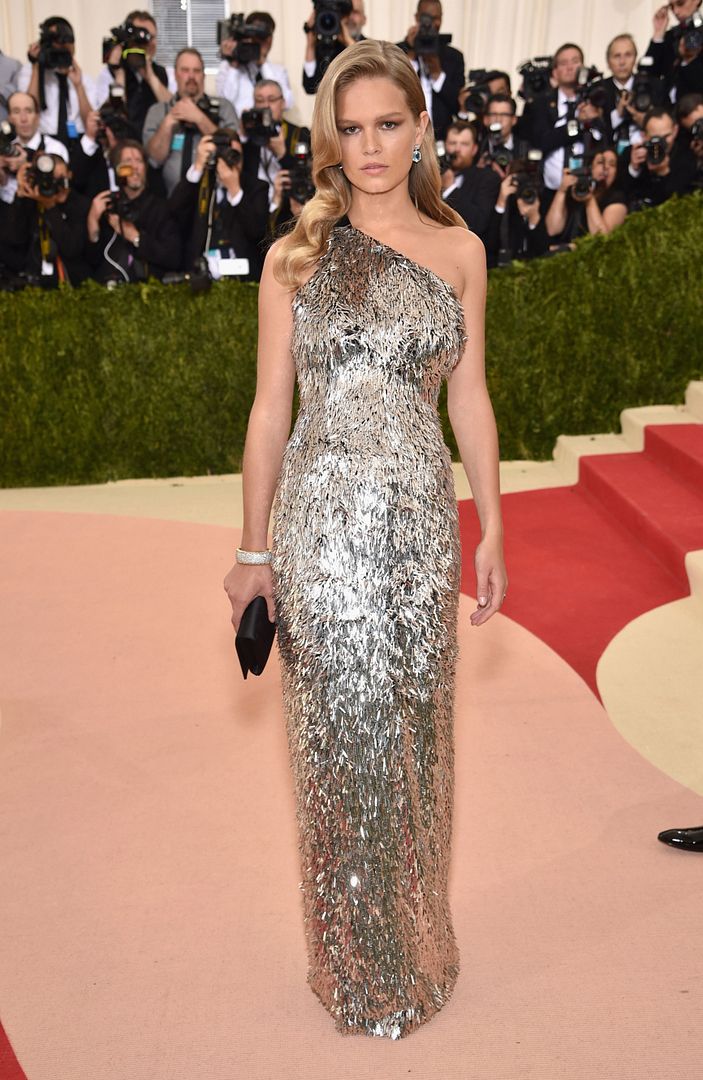 Anna Ewers in Hugo Boss
Obsessed with the texture but that damn one shoulder… (kills my vibe every time!)
Sienna Miller in Gucci
Are we so spoiled with red carpet dresses now that a fully sequin / beaded Gucci gown is boring? Looks like it…
Naomi Watts in Burberry
Been there. Seen that.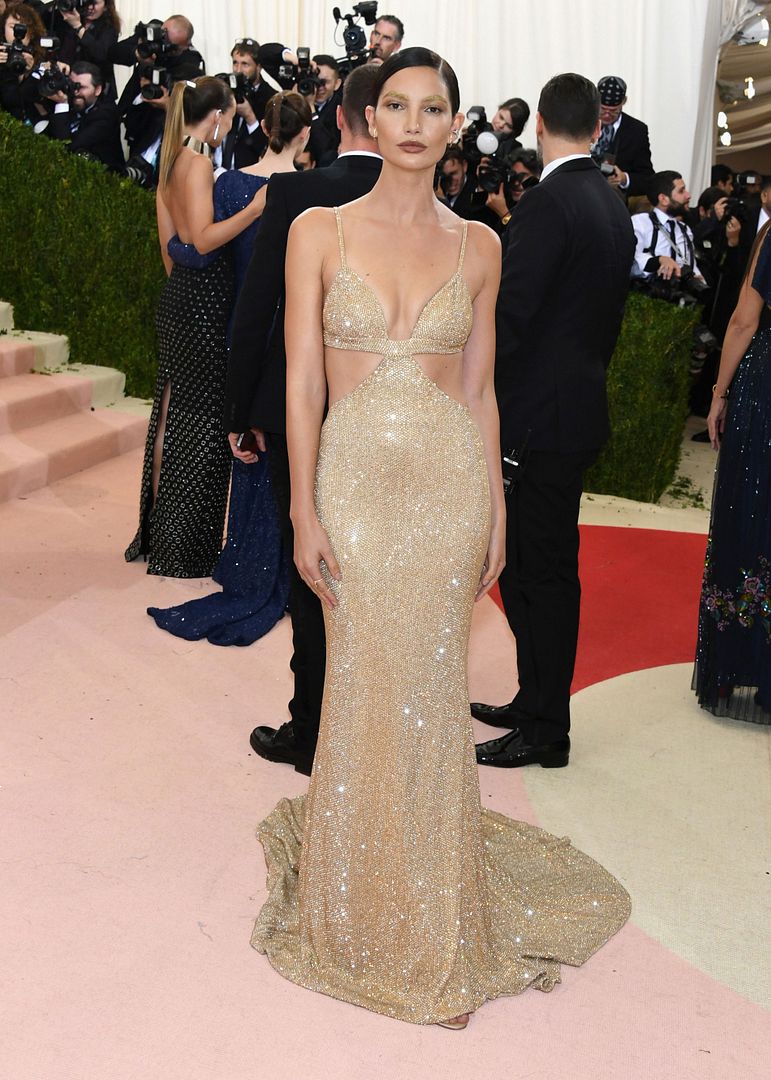 Lily Aldridge in Michael Kors
Channeling Brie Larson at the Golden Globes perhaps? And just curious how you felt about the brows trend last night? Lily was just one of the few lacking them (which was actually on trend). Kim Kardashian and Katy Perry were a few others (more on them shortly). Of the three, it looks like Lily did it best as she seemed to be going for a gold brow (which I've already mentioned I still need to try). But you need to get a super dark brow then brush with gold so you don't look completely washed out (re: Lily). At least we have a lip to break it up…Kylie Lip Kit perhaps?
Kris Jenner in Balmain
Speaking of a Jenner…she was probably the worst dressed of the Kardashian / Jenner clan / Balmain army last night. Not her most flattering look and that severe eye makeup isn't doing anything for her.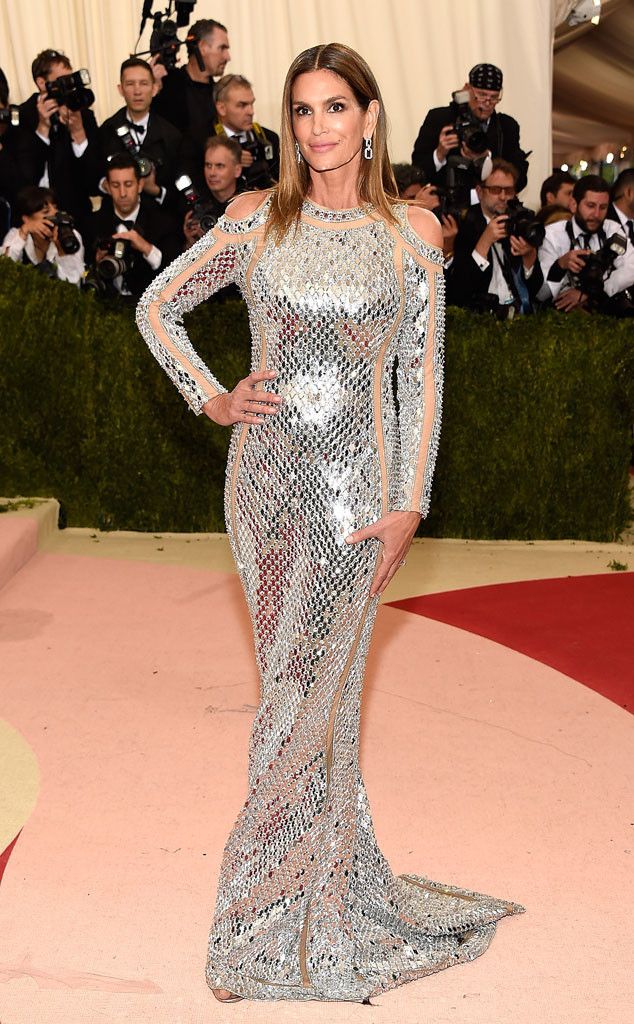 Cindy Crawford in Balmain
One of the many to wear a crushed up disco ball last night…yes she's Cindy Crawford and duh, she looks amazing. But with so much silver on the red carpet for this Met Gala, it takes more than just some shine to stand out. This is easily forgettable.
Hailey Baldwin in Topshop
See Cindy's comments + I hate the shoes.
Demi Lovato in Moschino
Looks cheap (sorry Jeremy Scott).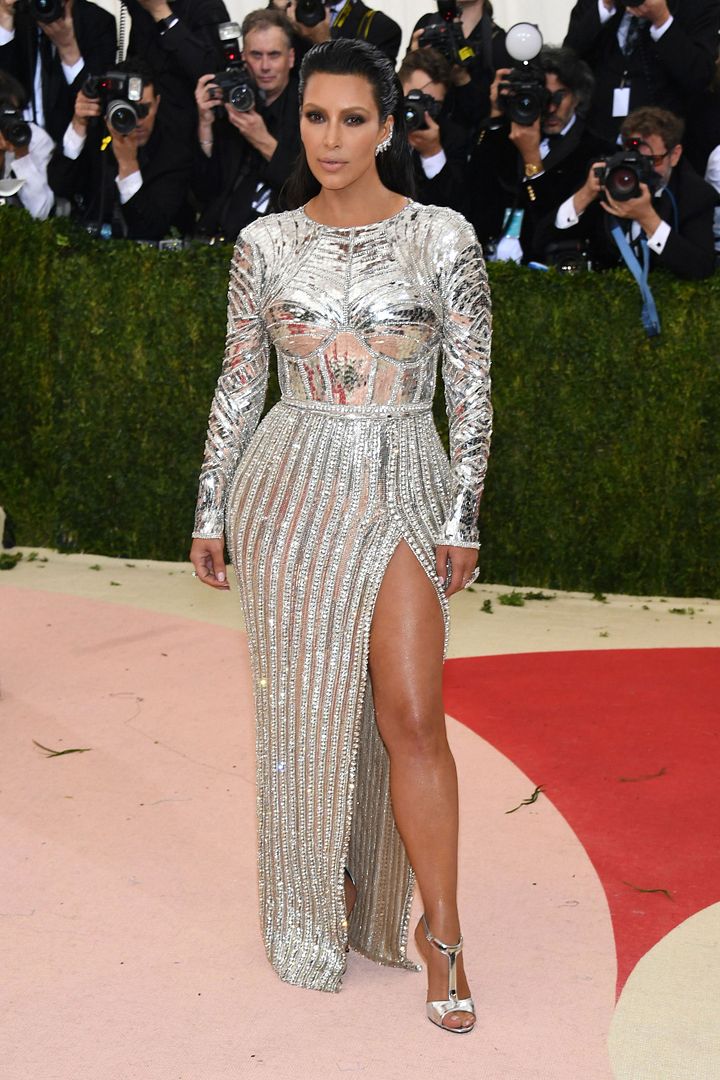 Kim Kardashian in Balmain
I hate to give this girl more attention than she already gets but I have to say, she looks like a GLAMBOT (and I unfortunately mean it as a compliment). Dress fits her perfectly and it was definitely one of the best crushed up disco balls of the night.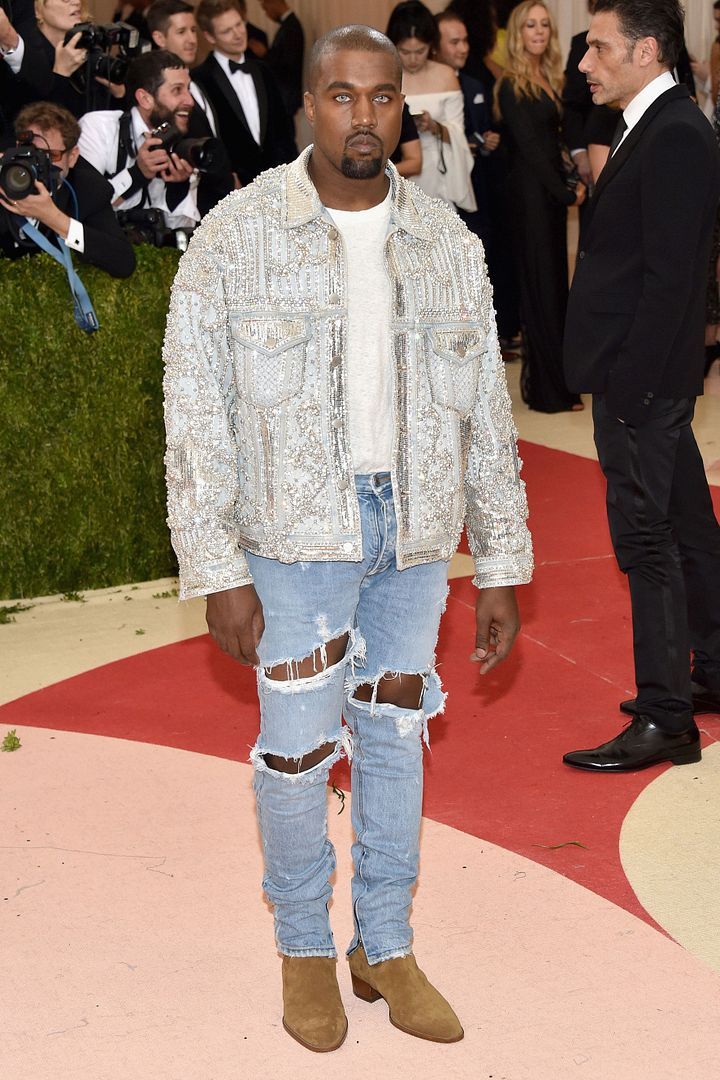 Kanye West in Balmain
VIBES.
Lauren Santo Domingo in Giambattista Valli Couture
She kind of looks like the ultimate party decoration, right? (but in a totally fantastic way)
Rachel McAdams in Valentino
This dress probably had one of the more interesting concepts of the evening (although not super obvious at first). The SS15 couture organza gown was embroidered with golden lamé lyrics inspired from the poem, Divine Comedy by Dante Alighieri (which I had never heard of until I stalked Valentino on Instagram). Cool concept though right? I do wish the sheerness had started a little lower but who am I to tell Valentino what to do? It did take over 3500 to make this dress after all…
Nina Dobrev in Marchesa
Haven't we already seen this dress at the Met Gala? (re: Leighton Meester, 2012).
Naomi Campbell in Roberto Cavalli
Unlike Madonna or JLo, Naomi knows how to show some skin without looking vulgar (having a silk lace Cavalli gown embroidered with micro-beads and crystals that fits you like a glove definitely helps!)
Zendaya in Michael Kors
If you thought I hated one shoulder dresses, just wait 'til you hear how I feel about a single sleeve look (hint: I despise it). So even if she didn't have a bowl cut, I still wouldn't be into this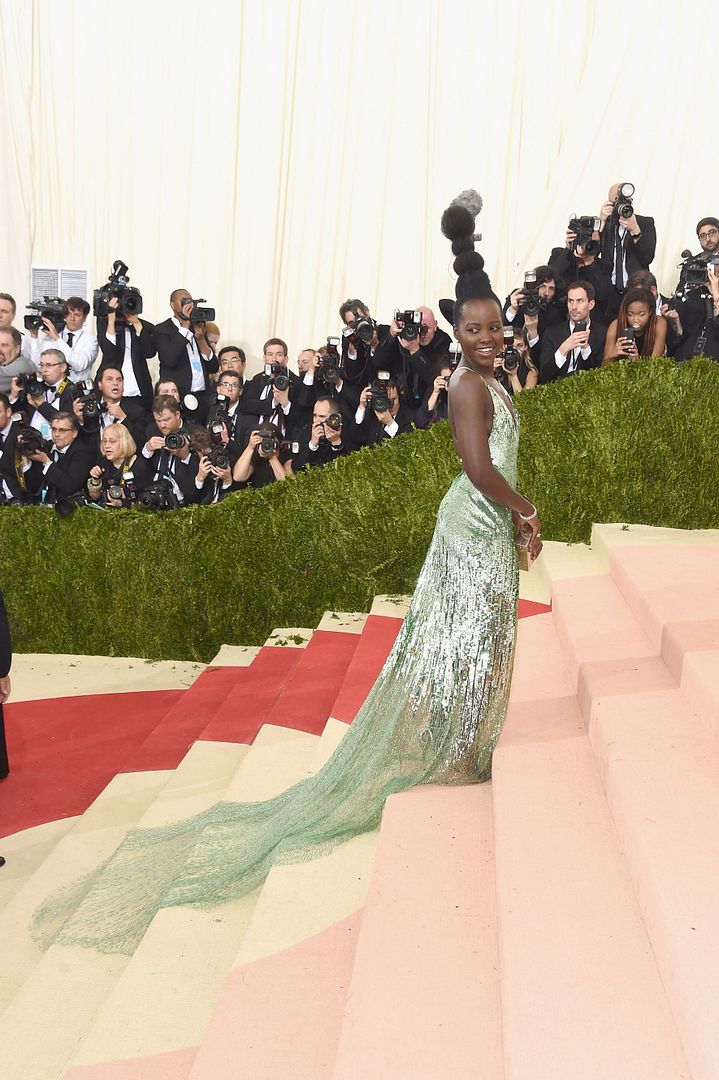 Lupita Nyongo in Calvin Klein
I just have to tell myself there's some significance with the hair (like a robot did it or something) but regardless of the beauty look, I find it sort of ballsy to wear a sparkly green look to the Met Ball…again (although that Prada was much crazier than this and had nothing to do with the theme, it's still an odd move to me).
Lady Gaga in Atelier Versace
If she was performing and had a different hair style, I would say YOU GO GAGA. But neither of which are true here so I have to appreciate it but not love it. The jacket on its own though is BALLER, as it's made with laser cut leather and laminated with gunmetal and micro crystals. BAM!
Lara Stone in Tom Ford
It's such a big deal that Tom Ford only dresses one girl per red carpet and with this being the red carpet event of the year, don't you think he'd pull out all the stops for that one dress? Apparently not…
Joan Smalls in Balmain
That strong neckline is everything but like I've been saying, with so much shine on the red carpet…a strong neckline is only going to take your sparkly dress so far.
Jemima Kirke in Chanel
Remember the first episode of Girls this season when Marni had her makeup done at her wedding (and it was hilariously terrible)? This had to be Jemima's beauty inspo…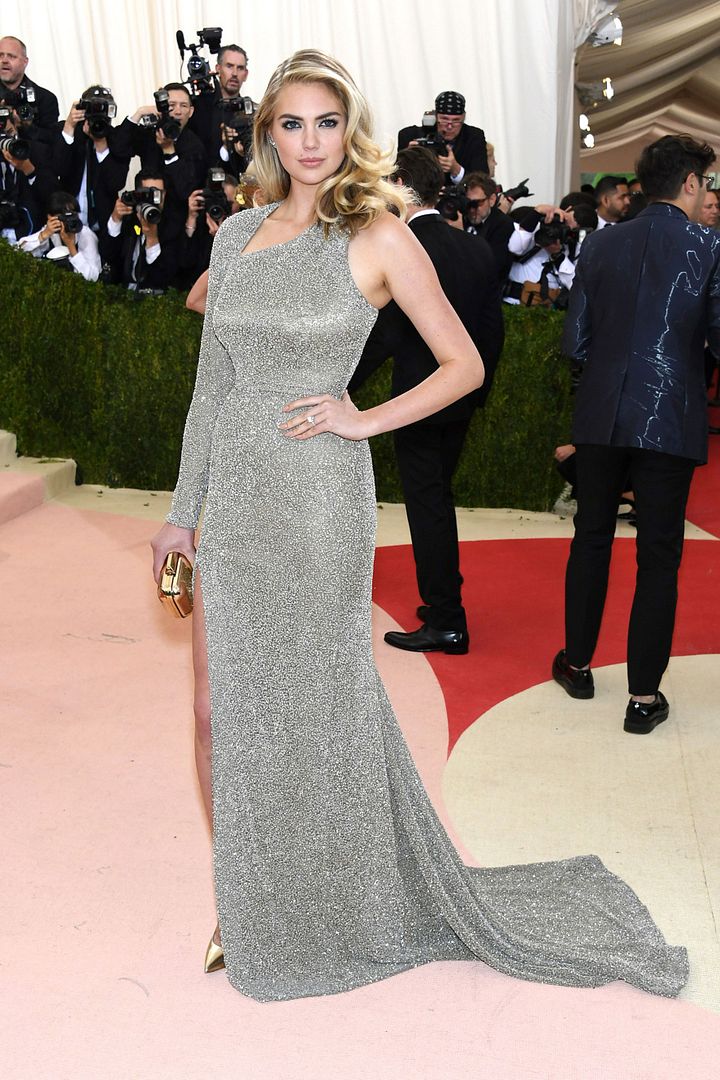 Kate Upton in Topshop
See Zendaya comments, minus the bowl cut.
—
Will be sharing the most "on theme" looks of the night plus my best dressed picks in two more posts…coming soon!
Images via E! and The Cut
You might want to check out...