I haven't written about the fashion at the MTV Movie Awards for quite some time (not since Amanda Bynes was still [kind of] relevant) but after seeing some actually cool styles last night, I thought CCF could use a little red carpet love today. Of course it's MTV, so there's still plenty of tacky for us to discuss…(don't you worry!)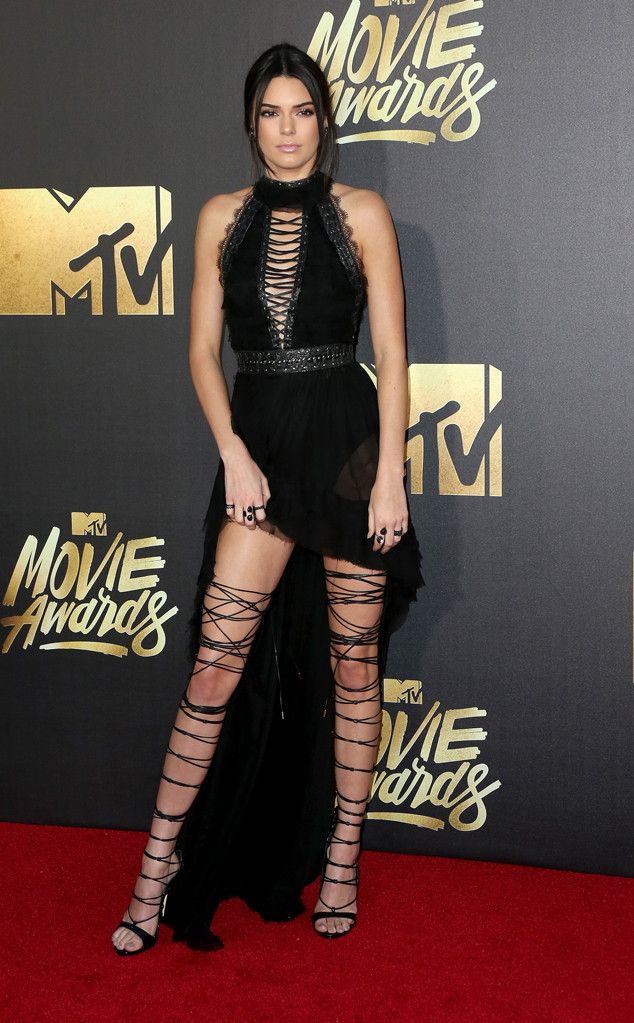 Kendall Jenner in Kristian Aadnevik
Best Dressed Pick
Typically when there's a look where a lot is going on, I immediately hate it. Considering there's crazy ass lace up Dsquared2 sandals, an extreme high / low raw edge hemline, scalloped lace trim, a lace up top and a leather belt, you'd think I should despise this right? To top it all off with an open back, exposed zipper and funky ponytail…my head should be spinning out of control. And it is…but with joy. I absolutely love this (guess it shows the power of Kendall Jenner and Monica Rose). This all could look very tacky on the wrong girl but for someone who's half-Kardash, she somehow [surprisingly] always looks polished. Side note, I want to grow my hair out just so I can wear my hair like that (#ponytailgoals).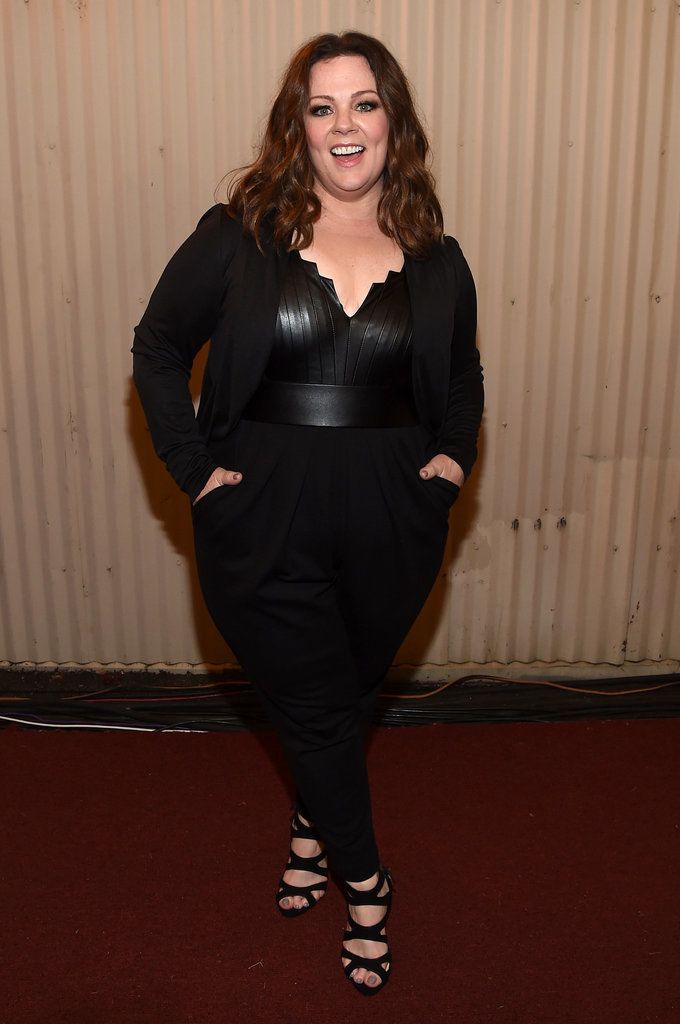 Melissa McCarthy in her own design
Best Dressed Pick
I don't think we've ever seen her look better. Melissa looking CHIC AS FUCK.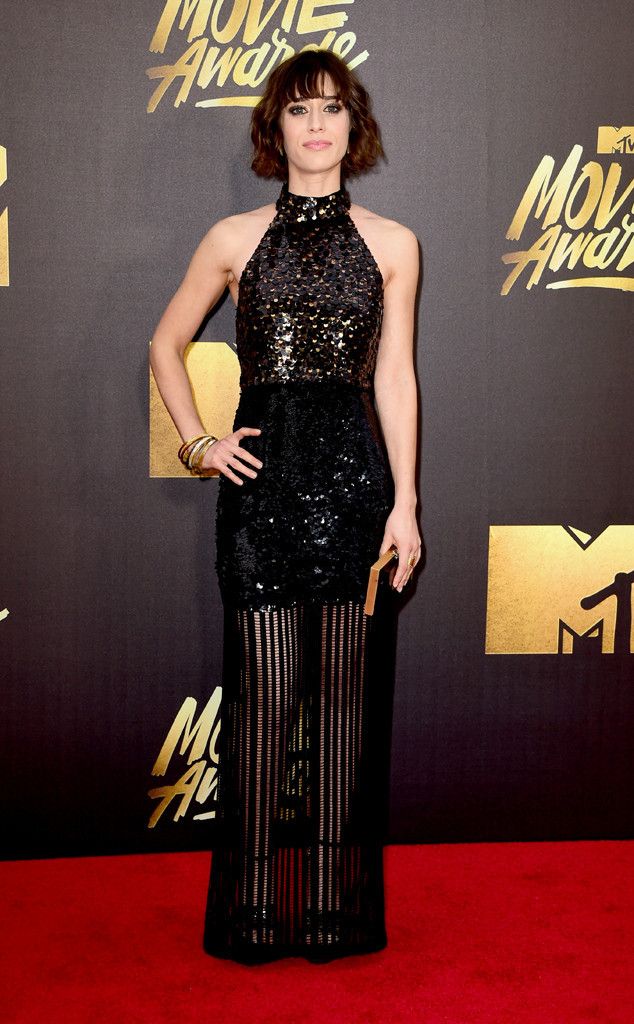 Lizzy Caplan in Sally LaPointe
You don't need to wear a ball gown to any awards show that involve the letters MTV and although this is on the dressier side of things, it still works for the occasion. A little edge, a hint of sex appeal with the see-through skirt, the sparkle…it's the way to go. I've been over the sheer skirt trend for quite some time BUT this is an updated way to make me not totally hate it. Not a fan of the bangles and the hair but otherwise I'M IN.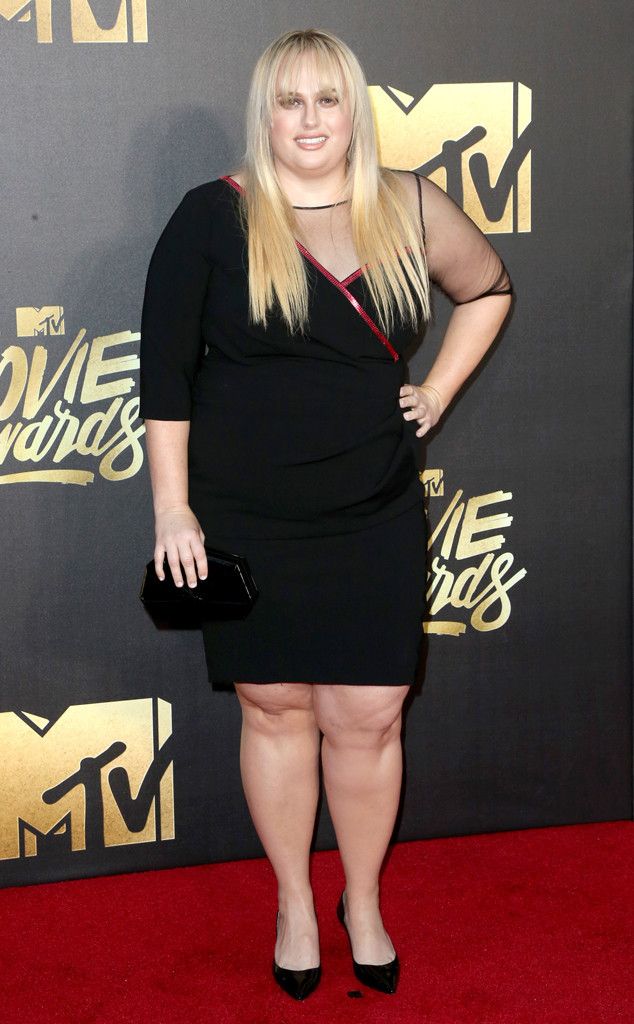 Rebel Wilson in Marina Rinaldi
I don't think I've ever not laughed at something Rebel Wilson said. Girl is hilarious (I think I've probably cried several times because I can't stop laughing at / with her) but one thing that isn't funny about her is this outfit. I wold loathe this dress on any person, even on a rack, or on the floor. It is just an ugly dress and nothing can save it.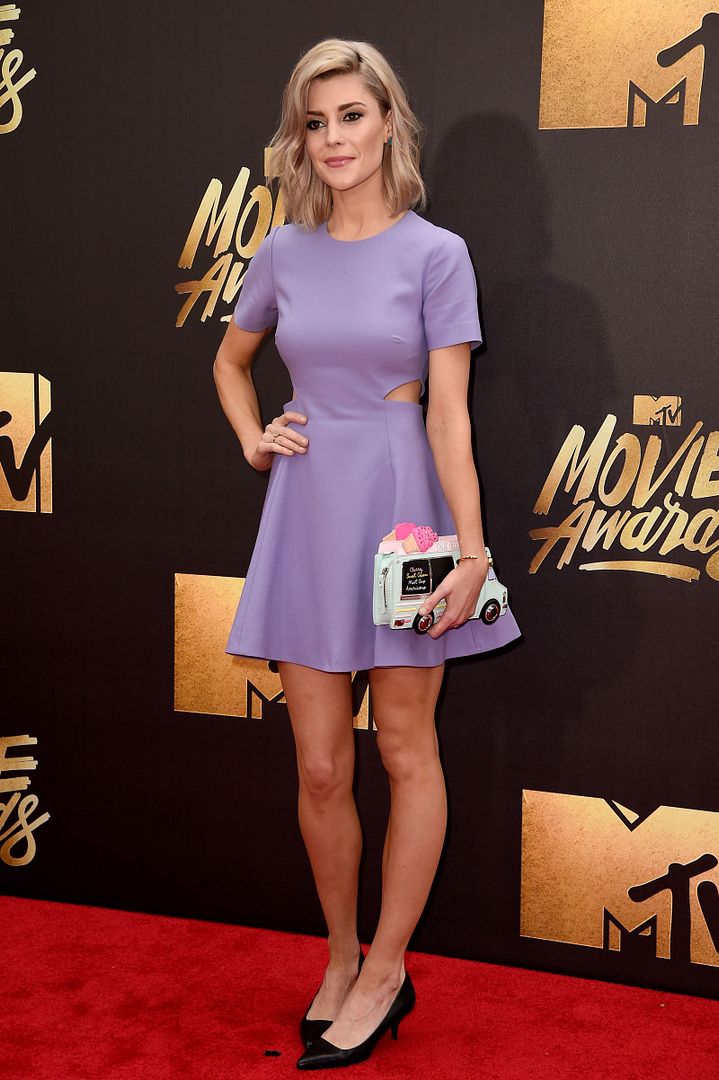 Grace Helbig in Elizabeth and James
It's very cutesy but it's really not bad. Yes, it's lavender with black shoes and there's side cut outs which is like so 2013 BUT for the MTV Movie Awards, it could definitely be worse. I'm not mad at the cutouts if we had a different shoe (the black kitten heel pumps were not the best choice). However, the purple looks great on her and the Kate Spade ice cream truck bag is a nice touch.
Jessica Chastain in Givenchy
This is one of those (that I say all too often) where it probably looks much more exciting in person. It seems like there's some great detail in this dress but it's not really coming off on camera. And although I love some sophistication brought to such a [typically] tasteless event, don't you think a Givenchy gown is a little much for such an occasion?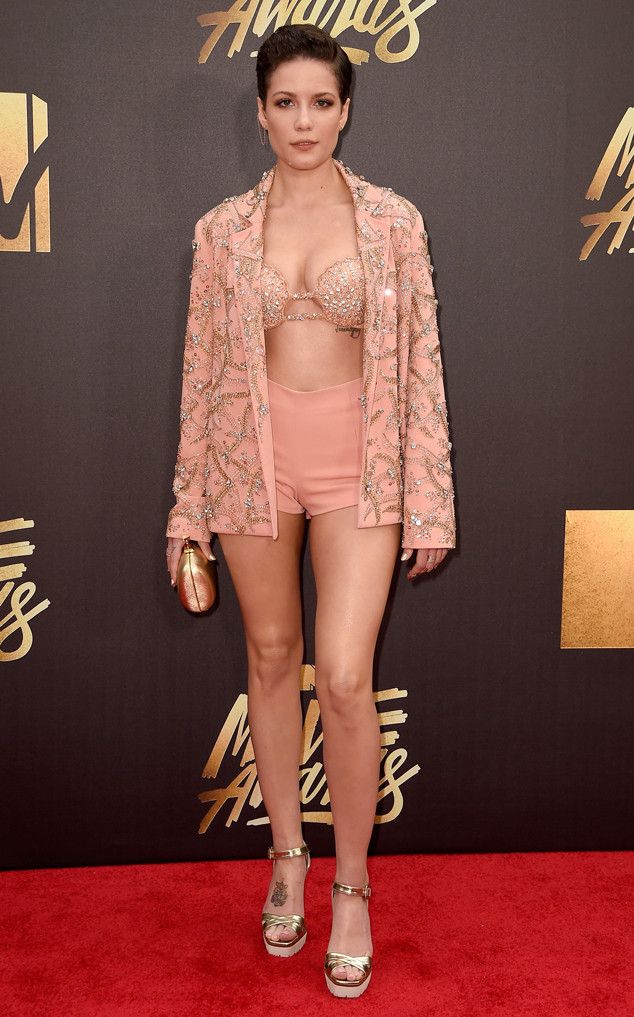 Halsey in Idan Cohen
If I were Jessica in Givenchy and saw Halsey in basically a bra and underwear…I'd feel super out of place. And same goes for Halsey…thinking, maybe I should have worn pants? Regardless, it's sort of comical to see such opposite ends of the spectrum on one red carpet (sort of like spring time in Chicago where you could see someone in shorts and a t-shirt and another person in a puffer coat with full winter accessories…all walking down the same block in the same day).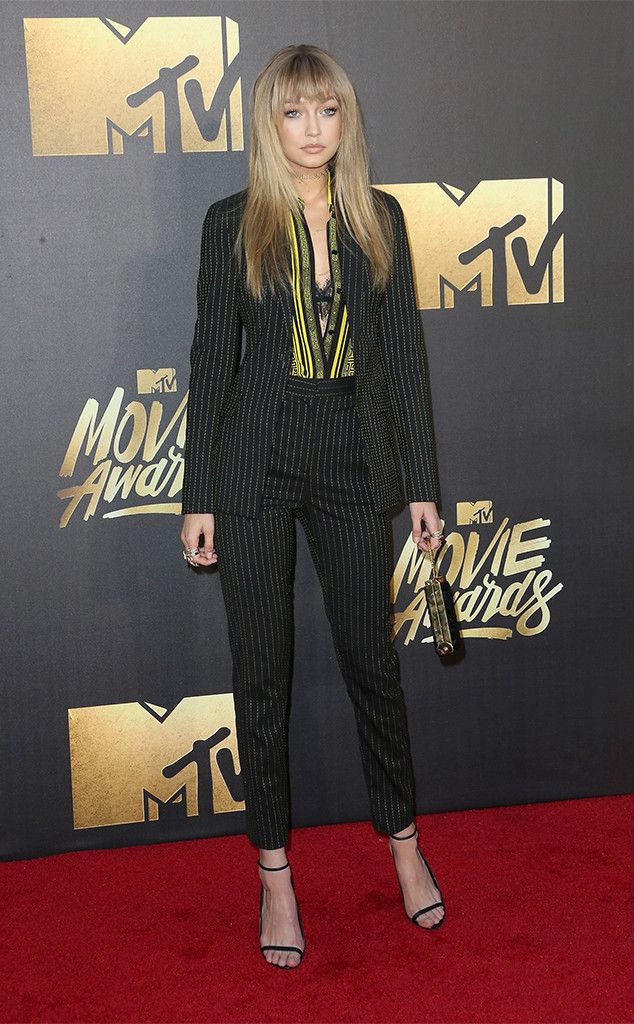 Gigi Hadid in Versace
As long as it's done right, I'll always adore a woman in a suit on the red carpet (and when it's Monica Rose behind the look, it's always done right). The super minimal sandals are the perfect pairing when there's a lot going on (pinstripes, yellow, lace, etc). I appreciate the little Anine Bing peekaboo bra, as when you're going for a suit (especially at something like the MTV Movie Awards) you can't cover up too much! Loving it all, but just not feeling the bangs…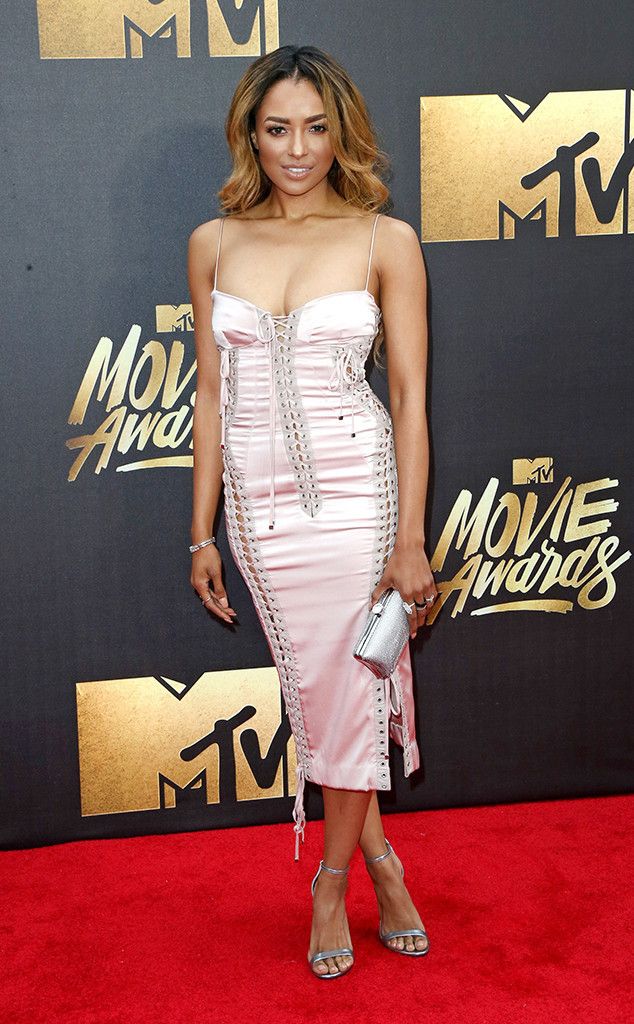 Kat Graham in Dolce & Gabbana
Everything about this screams Christina Aguilera circa 2002…and trust me, you don't want to relive those days (that year was not fashion's most proud moment).
Halle Berry in Noam Hanoch
We get it, Halle. You're almost 50 and you look better than most of us in our 20s ever will…but that doesn't mean we need to see your bellybutton. I am down for a little midriff, don't get me wrong, but it has to be above the belly button. If that skirt portion just started slightly higher, I'd probably be really into this. Whether you're 20 or 50, I just don't want to see your damn bellybutton (especially if there's a ring in it, but that's another story for another day).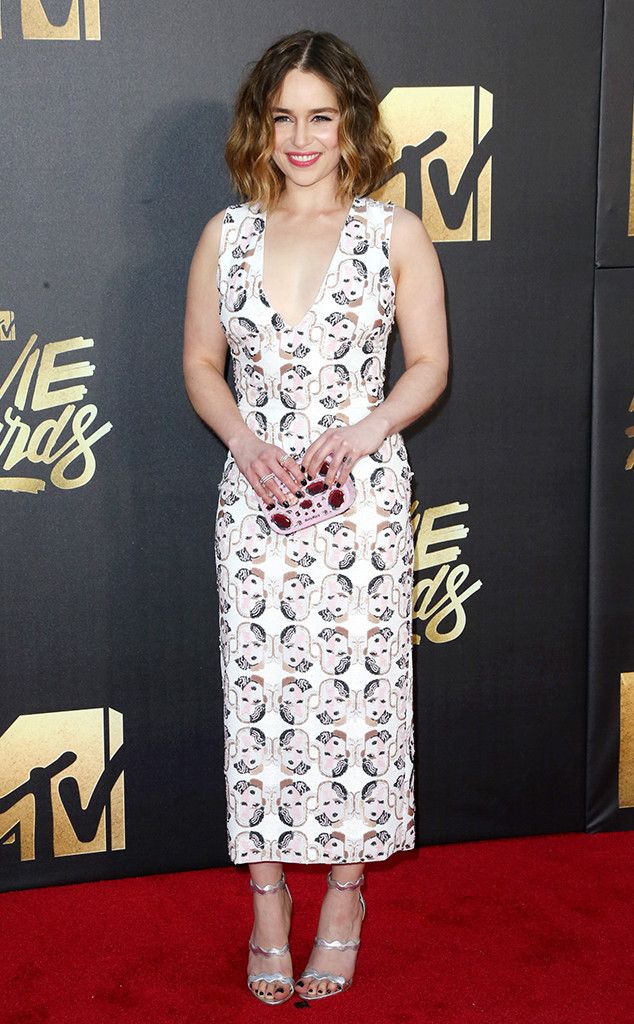 Emilia Clarke in Miu Miu
It's weird, it's cute, (so, very Miu Miu).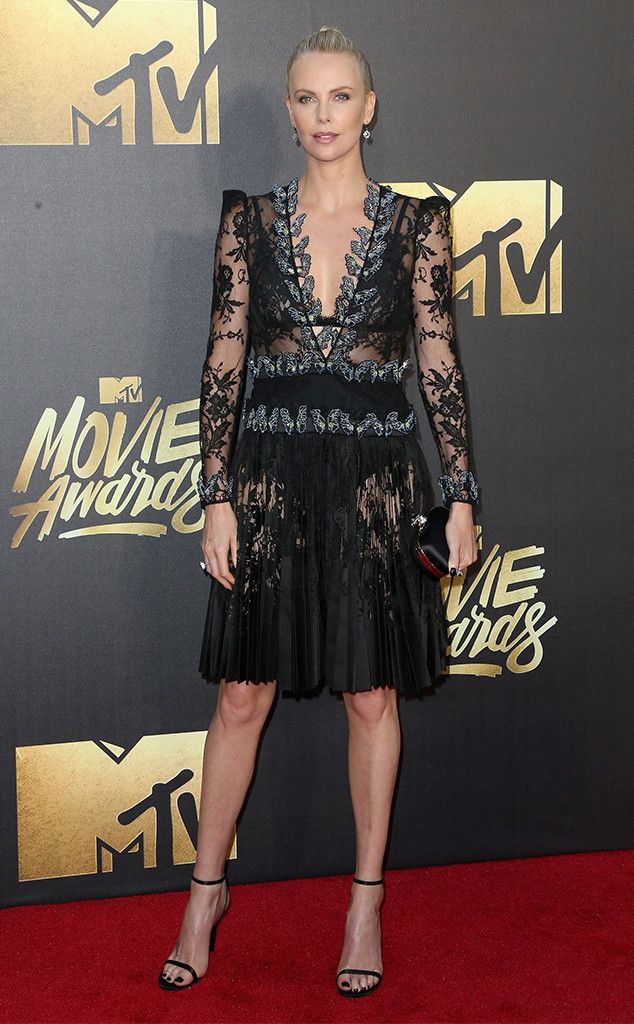 Charlize Theron in Alexander McQueen
Like a high / low hemline and side cut-outs, I've been over the exposed granny panties / bodysuit sort of look for a while now (we just saw it over and over…and I couldn't take it any more) so I guess if it has to make a revival, I'm fine with it being in McQueen form and on Charlize (she does look incredible) but let's try to move on, people!
Cara Delevingne in Balmain
This is such a strong, cool silhouette…she kind of looks like a super hero. My only complaint is the nude portions up top are shiny…and that just looks odd to me. If it completely looked like her skin, I'd say best dressed pick for sure but that sheen is throwing me off. Sorry, Olivier.
Brittany Snow in HANEY
Next level MEH.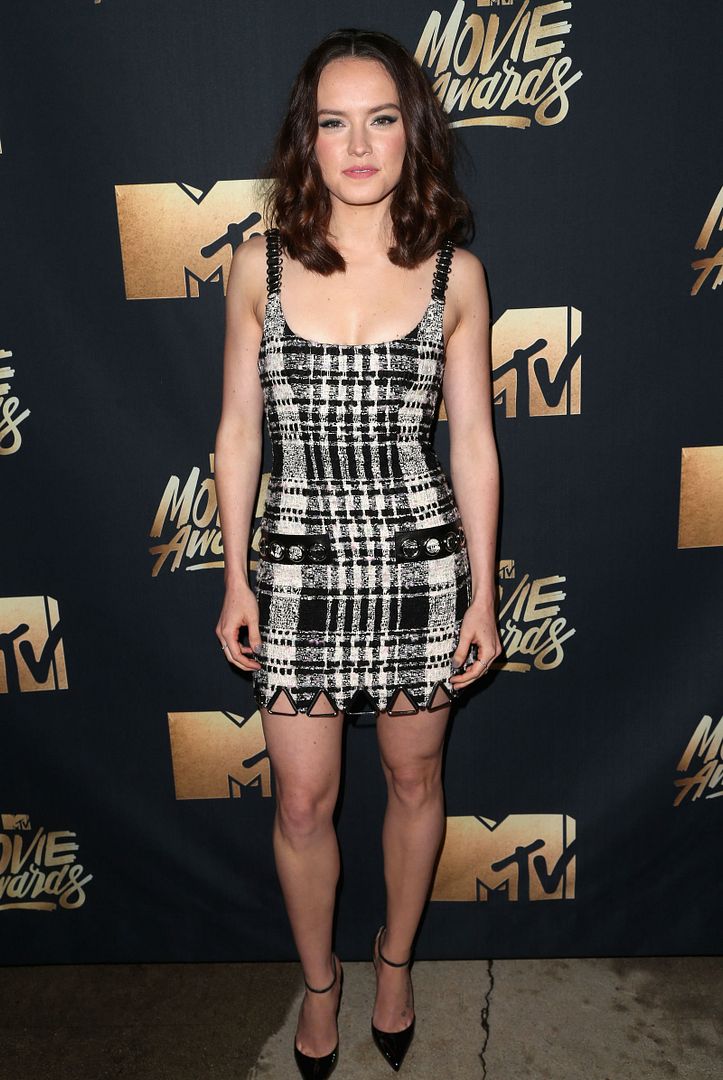 Daisy Ridley in Alexander Wang
I want to be into this as I think it could be awesome but it's one of those instances where you really have to own the look to pull it off…and I'm just not getting those vibes (she's more like renting the look).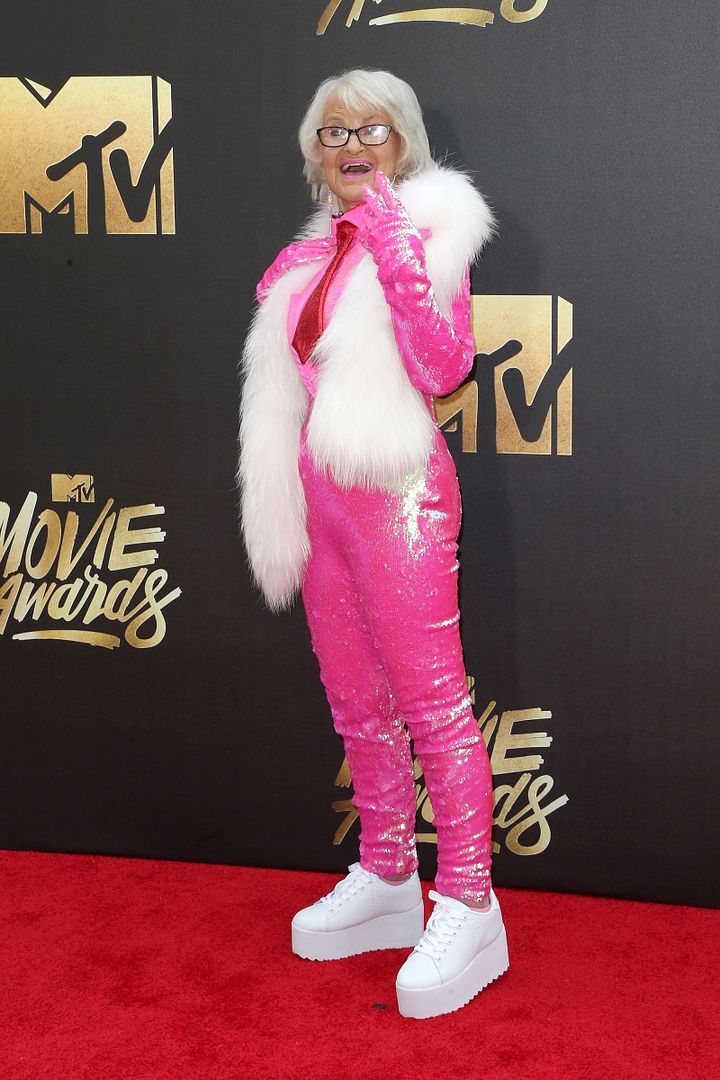 Baddie Winkle
This is probably how I'd dress my Barbie for the MTV Movie Awards in 1997.
—
What did you think of the MTV Movie Awards red carpet this year? Worth discussing? Any favorites? Least favorites?
Images via Elle, E! and PopSugar
You might want to check out...