When the red carpet comes to a close, I always immediately know who my best dressed picks are. This year, I really had to think about it (and not because there were so many amazing gowns last night). There were some interesting looks, though (better than boring!) so we'll just have to see if I can figure out my favorites as I go along…
Cate Blanchett in Armani
When I first saw her walk the red carpet I was like WHY IS THIS HAPPENING? NOT TO CATE. NOOOOOO! Then the more I look at this, I do appreciate it. The floral appliqué isn't necessarily my taste but it's pretty incredible and took a ton of work to make this gown happen. The fit couldn't be more perfect…yet another element that makes me get a little more on board. It's not my favorite Cate look but I don't hate it as much as I thought I would (and that, my friends, my round about way of giving a compliment).
Amy Poehler in Andrew Gn
I want to applaud her for trying something outside her usual strapless gown or Stella McCartney number…I really do. But this has gone too far. If you want to be one with nature, this is NOT the way to do so.
Charlize Theron in Dior Couture
After quite the disappointing red carpet, it was a pleasant surprise to see this right before it was time to actually watch the Oscars. If you're going to show up at the end of the carpet, you better have a show-stopping look…and this did just the trick. The neckline is dramatic, the necklace makes even more of a statement and the double straps are a nice touch. I really want to be obsessed with this but as it always seems to come down to…THE HAIR ruins it. Sorry Charlie, but that coif isn't doing anything for you (or more importantly, for me).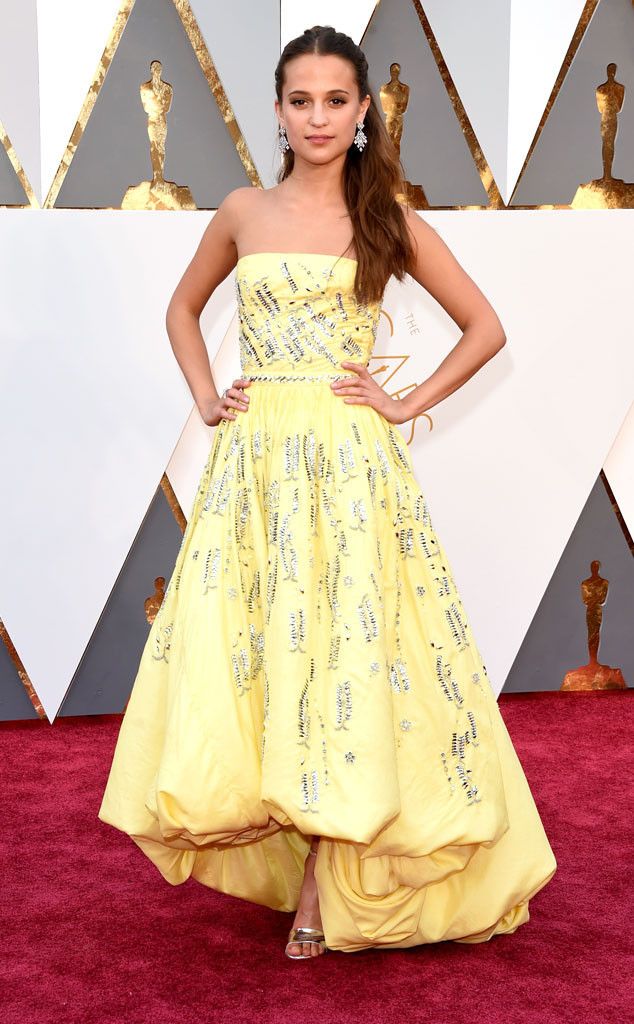 Alicia in Vikander in Louis Vuitton
This has got to be the most talked about look of the night…and not in a good way. When she first stepped on the carpet, I was a little puzzled by the pale yellow and embellishments (as I don't find that to be the best combination) but I was okay with it. Thought it was a little Belle from Beauty and the Beast but was definitely wanting more. Keep in mind that at this point, you could only see from the waist up. Then the cameras panned down…and we saw that billowing bubble hem. And it was literally Belle from Beauty and the Beast. I just don't understand how Louis Vuitton could ever put their stamp of approval on something like this (unless it was done for a little girl's birthday party and in that case, that little girl is a BOSS) but it happened.
Chrissy Teigen in Marchesa
If anyone else wore this dress, I would say meh but considering she's really owning that bump (not necessarily just at the Oscars…her pregnancy style has been so on point) it all just works. The fit is spot on and I never thought I would enjoy that much nude tulle on an expecting mother, but I'm surprisingly into it.
Emily Blunt in Prada
Cute(ish).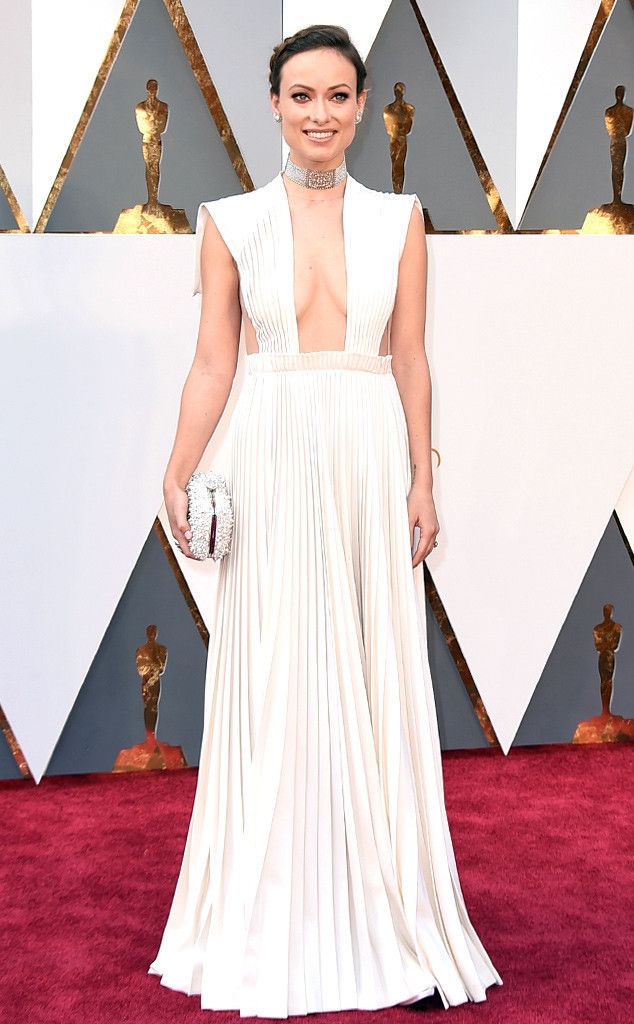 Olivia Wilde in Valentino Couture
When I first saw this I thought it would be a best dressed pick for sure. I loved it on the runway (especially with that harness) so of course I would adore it now, right? Then I read a Tweet about this looking like overalls gone wrong, and I couldn't get that out of my head. Now, I wish the straps were a little wider and covered just slightly more upper abs / boob (so it looks more like a top rather than only straps) BUT her accessories are so badass, it makes up for everything. Best dressed from the neck up, that's for sure!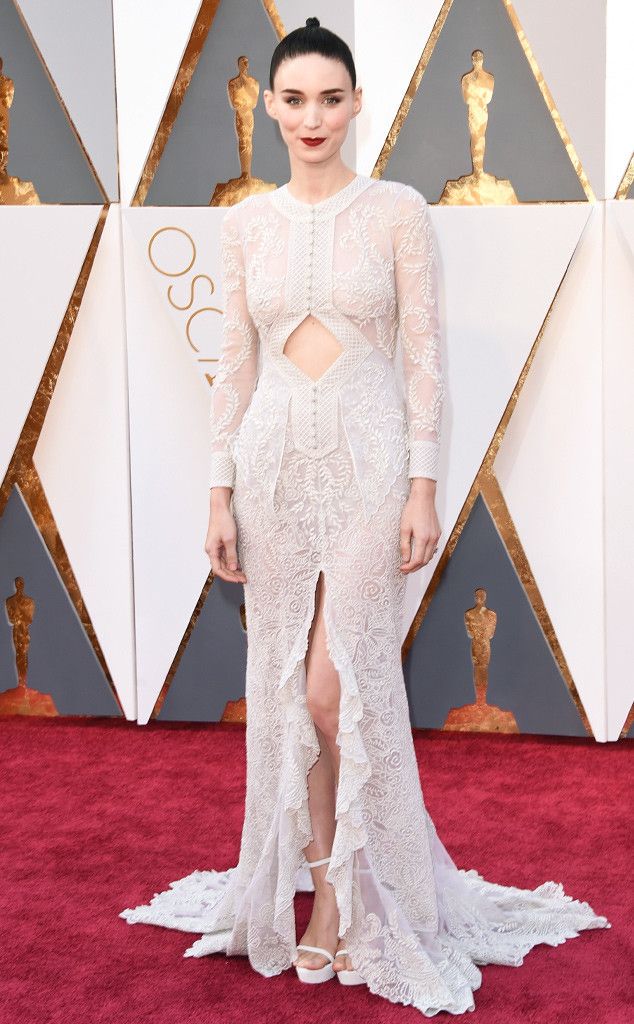 Rooney Mara in Givenchy
Yes, she wears a lacey / textured neutral dress to pretty much every major event. Yes she did a severe parted hairstyle like this for the Golden Globes. And yes, this is the biggest smile we've ever seen from her. Although she does always look kind of the same, it's a look I DIG. Unlike those who always wear a strapless gown or that Zac Posen silhouette we see all too often, it's a look that's very forward and has details any any fashion enthusiast would appreciate. My two complaints here are the cut out (it's cool / different but not necessary) and the shoes (I wish she did a single sole heel…not feeling the platform). But other than that…THANK YOU, ROONEY.
Tina Fey in Versace
This is the most flattering silhouette I think we've ever seen her wear. Hey, if I put on any dress that gave me that waist, I'd take it!
Sofia Vergara in Marchesa
Usually all I see are BOOBS but now all I see is FABRIC…and boobs.
Priyanka Chopra in Zuhair Murad
It's a little faux Givenchy but I don't totally hate it.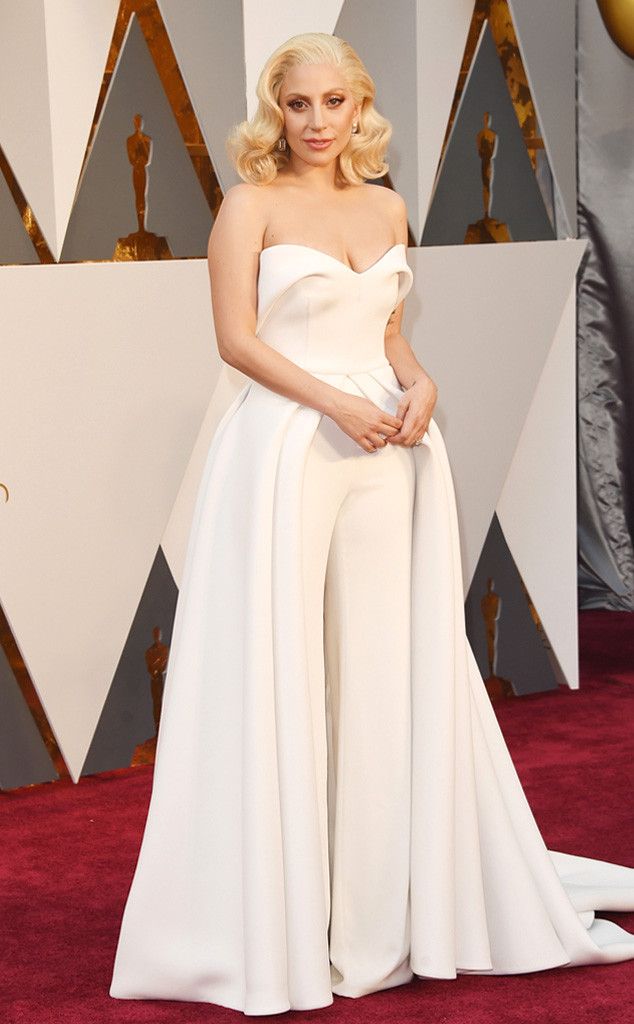 Lady Gaga in Brandon Maxwell
Best Dressed Pick
According to Brandon's Instagram, Gaga is wearing a GOWN SUIT. Not only am I excited to see such a thing on the red carpet, but now I know such a thing exists (and I should probably get married in a one, right?)
Jennifer Lawrence in Dior
I actually think this dress is very cool and I prefer it floor length over the tea-length that was shown on the runway. But there's two very minor things throwing off this entire look — the hair and the necklace. I'm 100% down with the fresh bright blonde but there's a bit of a Bump-It vibe happening here (only slightly…nowhere near Katy Perry level). Just wish it was a little more sleek at the roots. And a multi-layer necklace is all wrong for this. This would be a great contender for a choker (nothing too crazy but just something higher up on the neck would be nice). I told you these were minor…but it's the little things that can make all the difference!
Isla Fisher in Marchesa
Grandma's bedspread.
Daisy Ridley in Chanel Couture
I wonder if this is the exact same color as the runway version because the hues look slightly different in each photo (definitely more blue on the runway, which I really like)…but regardless, I'm a fan! I just wish it was styled with a bit more edge (slick back hair, an ear crawler, things of that nature).
Jennifer Garner in Atelier Versace
I feel like she wears the same dress in a different color every year (or I just never remember what she wears because it's so damn boring).
Naomi Watts in Armani Prive
This is a situation where I'm torn because she obviously looks gorgeous (the fit couldn't be more perfect), however I'm not into the dress on its own. It should be on a best dressed list…maybe just not mine.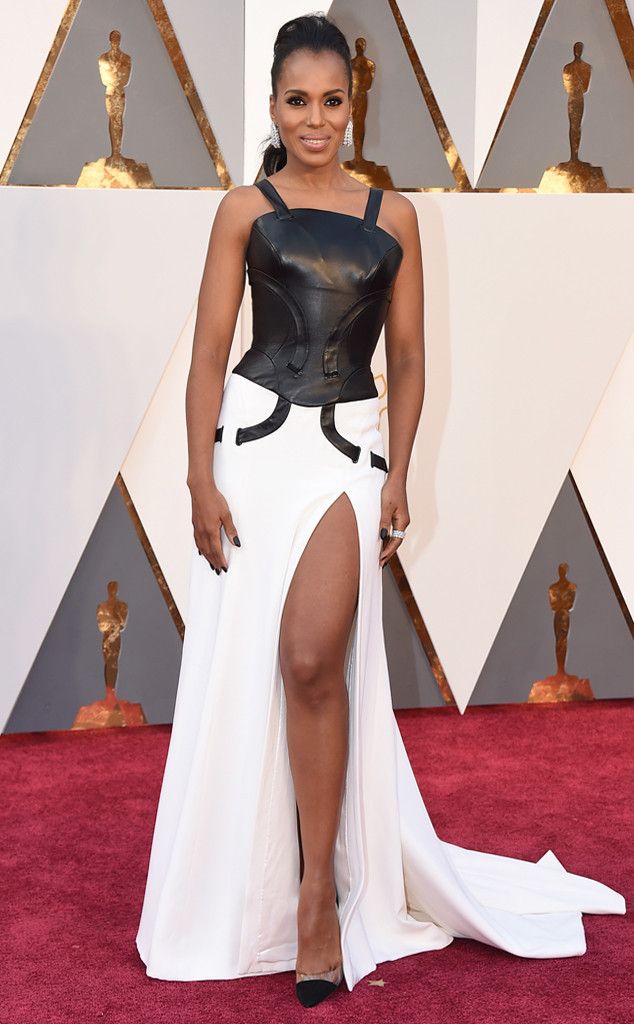 Kerry Washington in Atelier Versace
I miss when Kerry Washington didn't wear ugly shit on the red carpet.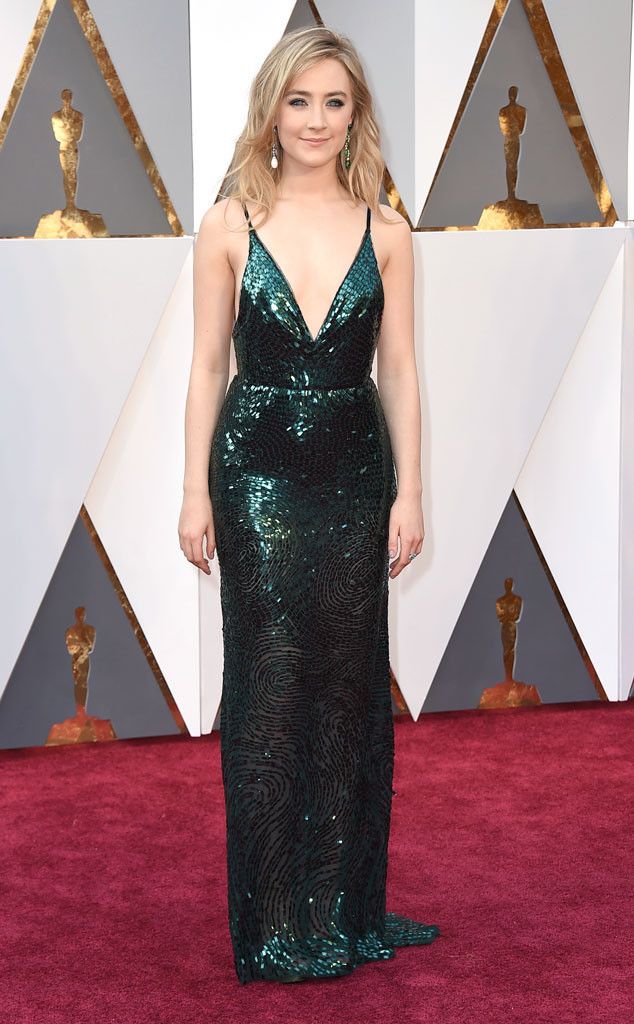 Saoirse Ronan in Calvin Klein
Like Naomi, this dress isn't my taste but she looks great. I do appreciate the variation of beading patterns on the bottom versus the top, though! Nice touch, CK…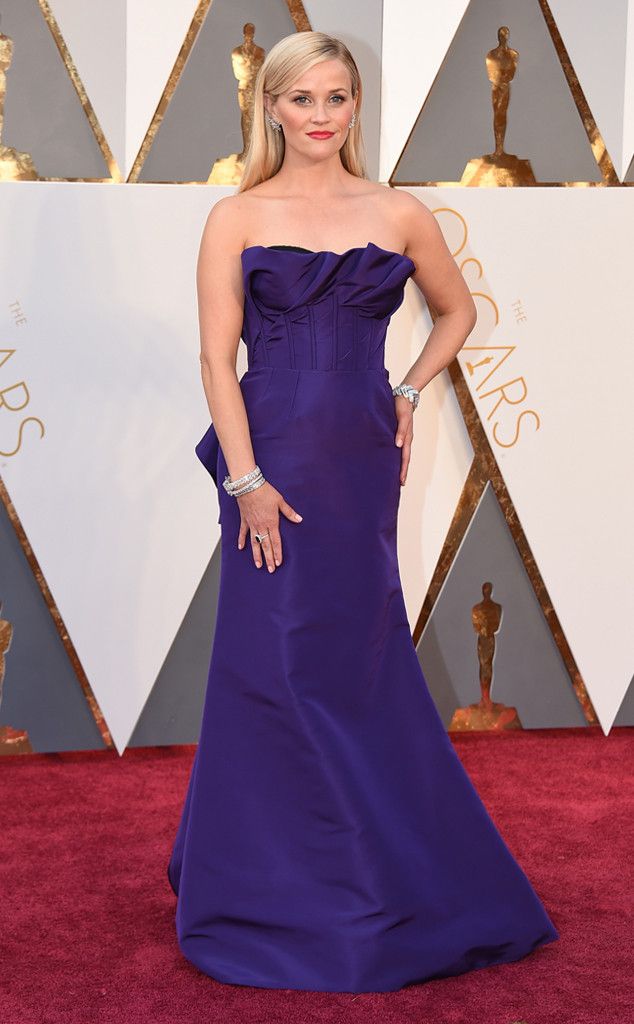 Reese Witherspoon in Oscar de la Renta
You know when I tell you I appreciate the details? This is an example of where I don't.
Olivia Munn in Stella McCartney
You know my feelings towards one shoulder dresses, but for some reason it doesn't bother me here. She looks almost statuesque. The fit is beautiful, that is her color and it's all good (sort of boring…but still good).
Kate Winslet in Ralph Lauren
Is it just me or is that material ridiculously unflattering??
Heidi Klum in Marchesa
Still waiting for a post-Seal Heidi Klum fashion moment that isn't overly tacky. So far, no luck.
Brie Larson in Gucci
All eyes are on Brie this red carpet season, yet I haven't liked anything she's worn (at least to the major events). Her Golden Globes gown was almost there, I really had nothing nice to say at the SAG Awards and now I'm somewhere in-between. That belt could be so baller if worn with the right gown but such a statement paired with so many pleats and ruffles (and a bold color on top of it), it just gets lost. And the hair might be perfect for your flower girl or even your Bat Mitzvah…but not for an adult at the Oscars.
Julianne Moore in Chanel Couture
Chanel Couture once worn by THE Kendall Jenner…how can you not love? All half-Kardash aside, though, it really is a sick dress…I just wish she did simpler earrings. Any embellishments on straps or along the neckline can clash with big earrings, and although these are definitely not my first pick for ear decor, I'm still pumped to see Chanel couture not once but TWICE on this year's Oscars red carpet.
Margot Robbie in Tom Ford
That much of a python effect (and in gold) can easily look tacky. Like if Heidi Klum wore this I'd be all BYE FELICIA! But Margot finds a way to make this look classy and cool. The hair is probably technically sort of inappropriate for the Oscars but I love undone locks so I'm ALL ABOUT it. Would have made more of a statement if just tucked behind her ears / shoulders, but other than that…I'm down. Also that extreme tassel clutch is DIVINE.
Rachel McAdams in August Getty
For some reason, I'm really into this halter silhouette. It's one of those simple, minimal styles that when done right looks super chic. Unfortunately it's happening in that shiny satin that shows every wrinkle and it drives me INSANE. Color's gorgeous, silhouette is key but the material I just can't get behind.
—
So I thought I would have more best dressed picks but I guess we only have one complete look to put on the list this year. I would say Margot, Charlize, and Rooney are all runners up. But after all this, I need to hear from you now. Favorites? Least favorites? General thoughts on last night's red carpet??
Images via E!
You might want to check out...