Awards season has officially commenced! The 2017 Golden Globes red carpet was decently exciting last night. Although we still saw a lot of the usual sparkly / strapless gowns, there were quite a few risks…which I always appreciate (whether or not they were actually pulled off…stay tuned to find out). Even at the Golden Globes, it always seems to be about the movie stars…but now that TV has gotten kind of good (thank you Netflix / Amazon Prime!) it's exciting to see the TV stars really step it up. But that's just my opinion…let's see what you think!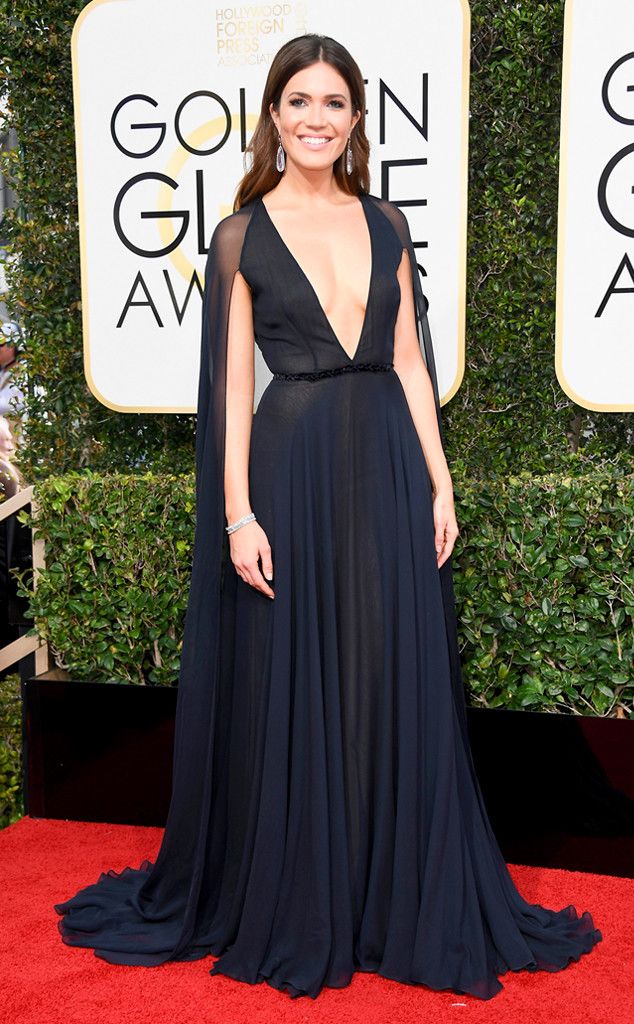 Mandy Moore in Naeem Khan
Best Dressed Pick
I thought we'd kick things off on a positive[ly best dressed] note with Mandy Moore. Typically I'm drawn to edgier, more unique looks, and although a cape dress is hardly unique at this point, you have to admit she looks stunning. The fit is spot on, the hair and makeup perfectly complements the gown (when many times it's so wrong…you'll see soon) and overall she just looks like she's loving it (and so am I!)
Sienna Miller in Michael Kors
This one was a bit confusing for me (and before you're like WTF JENA?! Please know that I'm not a fan) BUT this is a great example where styling is key. I'm not sure if I've ever hated on a Sienna Miller look (she is a style icon after all) and although I like many of the elements here (the dress, the hair, the earrings…and yes, even the pearls!) none of it is working all together. Maybe the hair with an edgier dress or some funkier jewelry with this gown in particular…but as is, it's just a mash up of things that make no sense to me. And how this happened to Sienna Miller of all people is beyond me!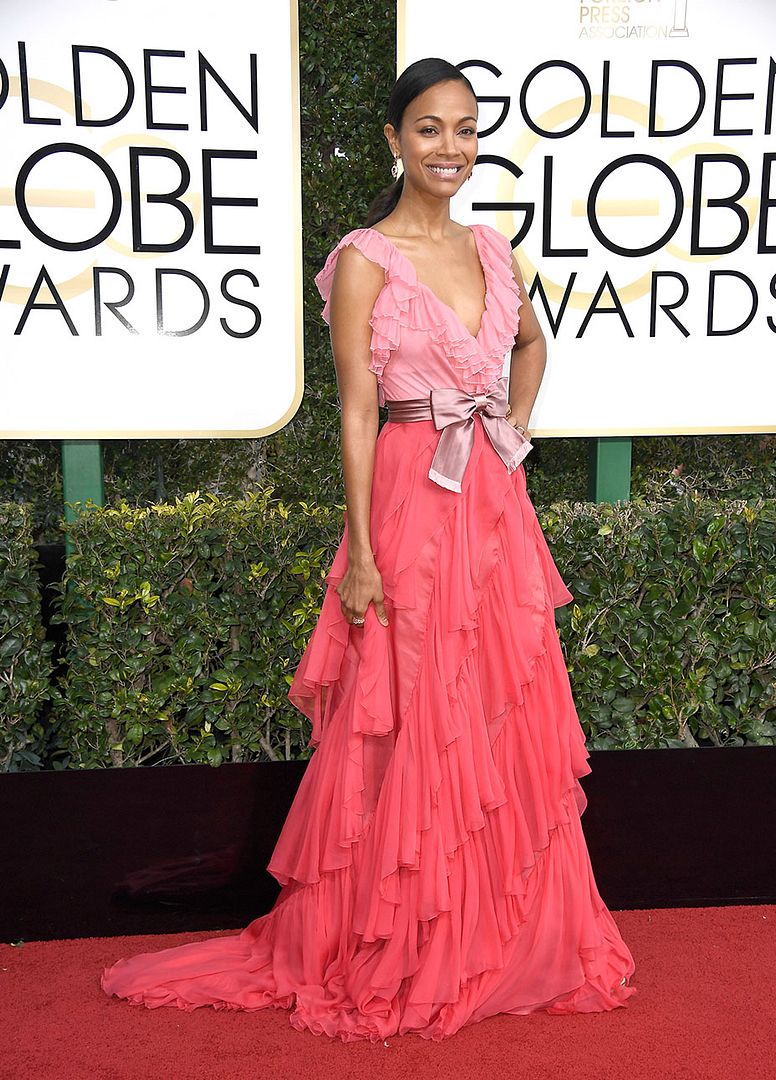 Zoe Saldana in Gucci
I love me some Gucci but that's just way too much material. If she were a character on Sesame Street, she'd be Ruffleupagus for sure.
Winona Ryder in Viktor & Rolf
When you have one of the biggest TV shows right now (and one of my personal favorites — Stranger Things), you should really bring it to the first awards show of the season…and this is one dress that anyone (even a D-list celebrity) could wear on any red carpet. One of the more disappointing (and definitely forgettable) looks of the night. She could have wrapped herself in Christmas lights and it would make more sense…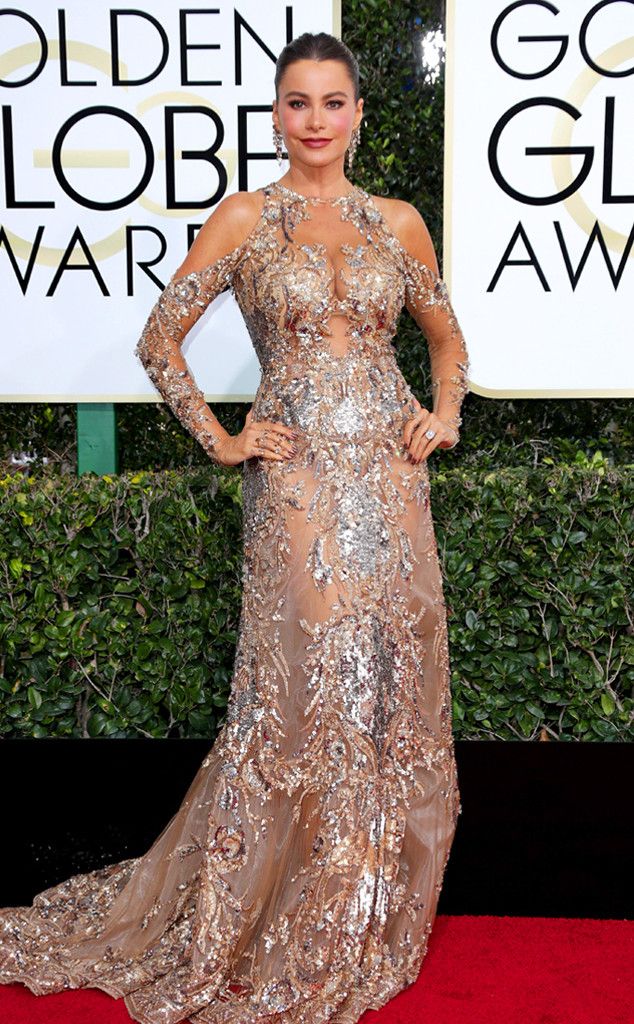 Sofia Vergara in Zuhair Murad
Rocking the biggest trend from the 2016 red carpet circuit (the naked dress) with what might already be 2017's biggest RC trend (shoulder cut outs…oh just you wait). At least it's not a mermaid dress, right?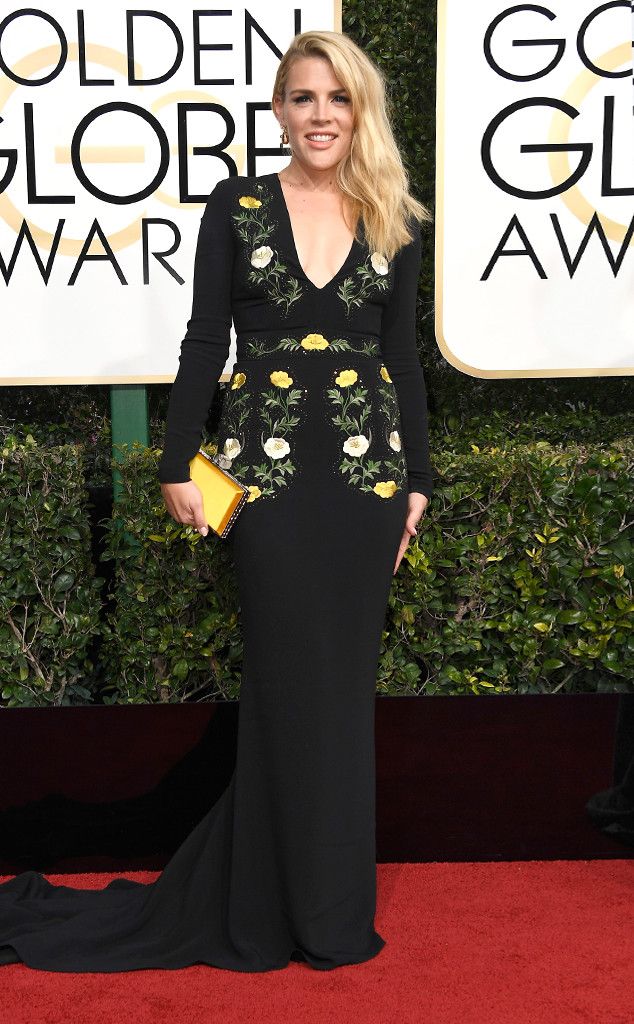 Busy Philipps in Stella McCartney
Not bad, Busy. Not bad. It's not groundbreaking but it works!
Naomi Campbell in Atelier Versace
I feel like I'm being hypnotized when I look at this dress (and it's not working because I still hate the dress).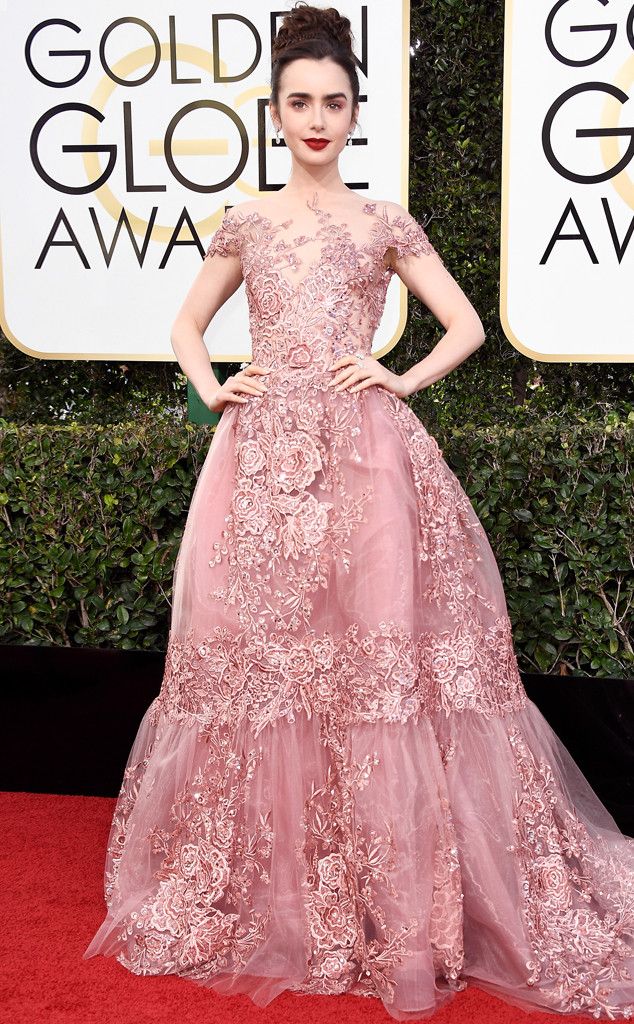 Lily Collins in Zuhair Murad
This was almost a best dressed pick, as the dress is unreal (that color!!) and the makeup is gorgeous (that lip though…and of course the brows) but the hair…not what I like to see with a dress like this. If something is super pretty and feminine, I like to see a cooler hair style…especially on someone young and stylish like Lily Collins. Other than the hair, this is pretty amazing (did I mention the brows?!)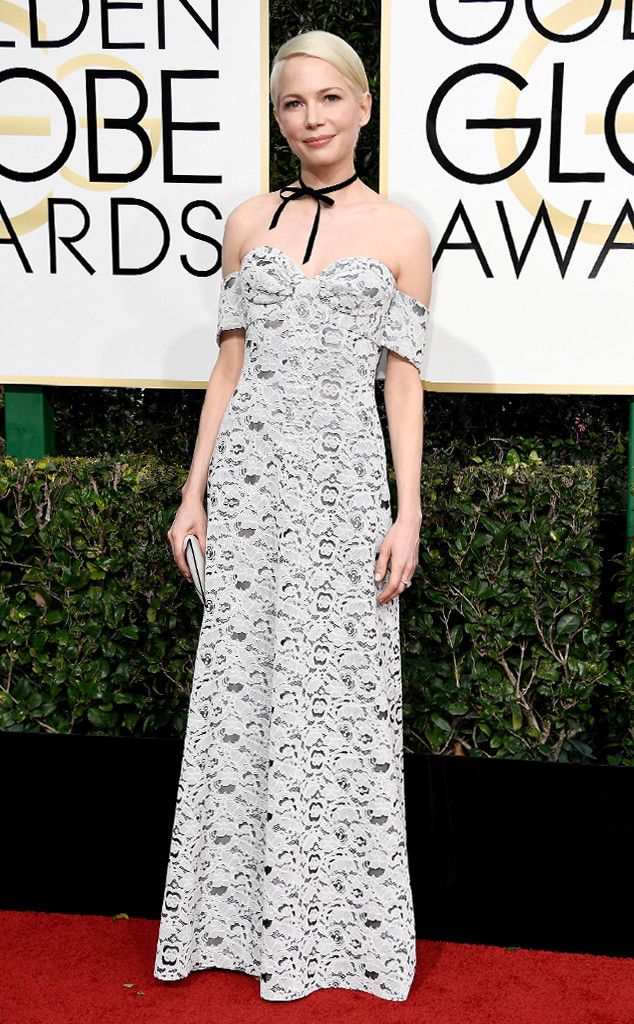 Michelle Williams in Louis Vuitton
This dress is one of those that you probably have to see in person to appreciate, but doesn't really translate in photos (sometimes the detail is hard to read on tv / in pictures). Regardless, if this were paired with a thick, showstopping choker, this could have been super cool…but the cheap-looking tie isn't doing anything for this look.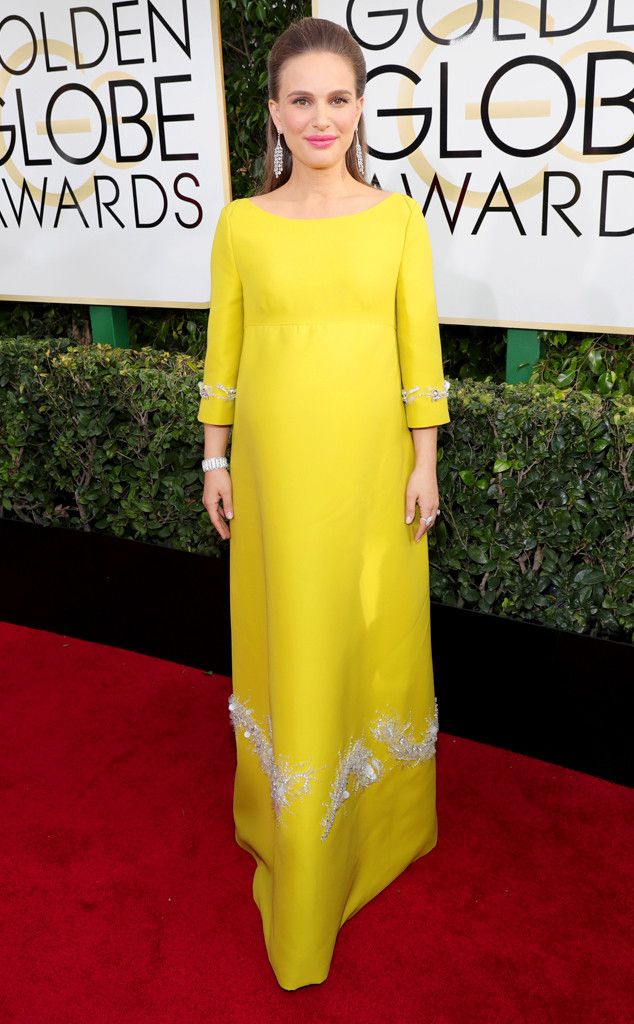 Natalie Portman in Prada
Is it just me or is she always pregnant on the red carpet? She is giving major Jackie vibes (and isn't that the point?) If it were any other situation, I probably wouldn't be into this but it's perfectly appropriate for the event and her role (and dare I say yellow is the new black?)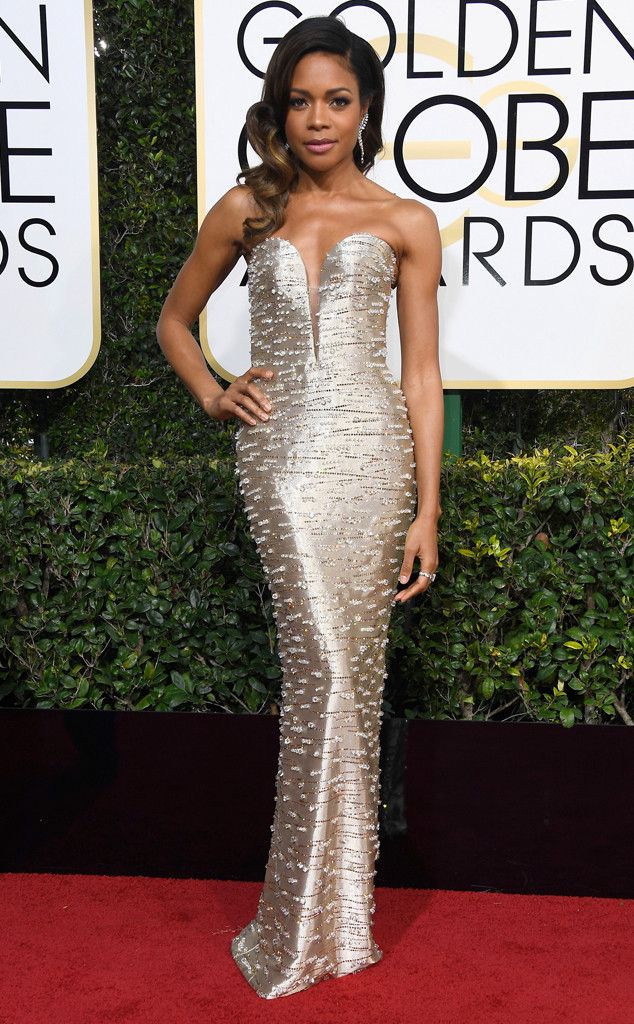 Naomie Harris in Armani Privé
As Kristen said during our Fox segment this morning, Naomie looks like a bubbling glass of champagne (and I can't think of a better way to describe this…also I wish that's how people described me…#goals).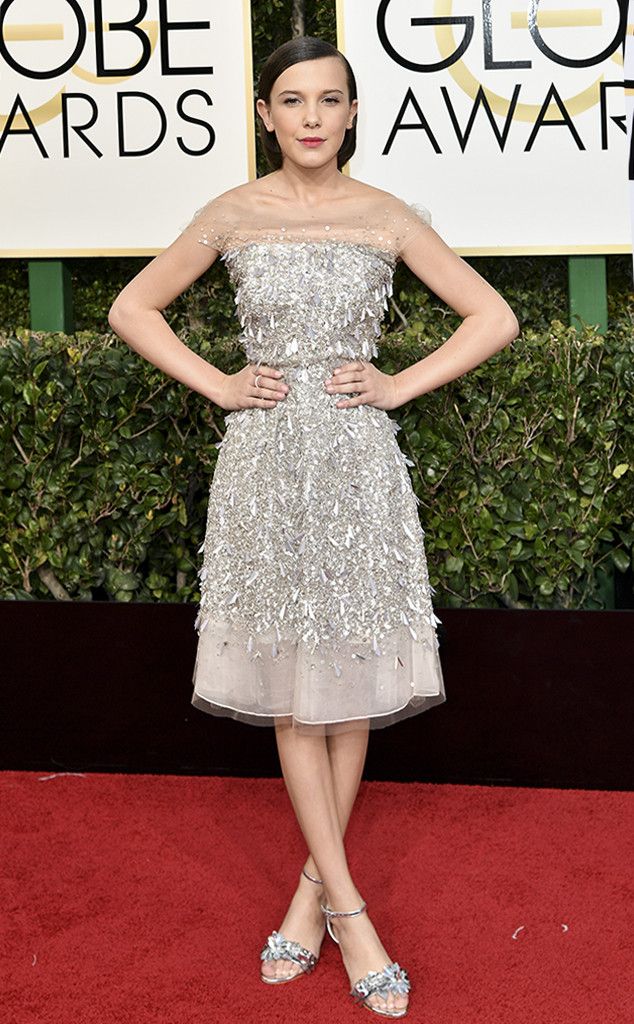 Millie Bobby Brown in Jenny Packham
Best Dressed Pick
If there's anyone whose style you should be watching right now, it's Millie Bobby Brown (and not just because I'm a Stranger Things super fan / suddenly crave Eggo waffles on the reg). I love when the young girls wear things that are age appropriate they but still have fun with fashion — Millie is a great example of that. This dress is fun and girly and I love the styling with the Sophia Webster block heels and that slicked hair. Eleven is my spirit animal. And Millie is my fashion icon.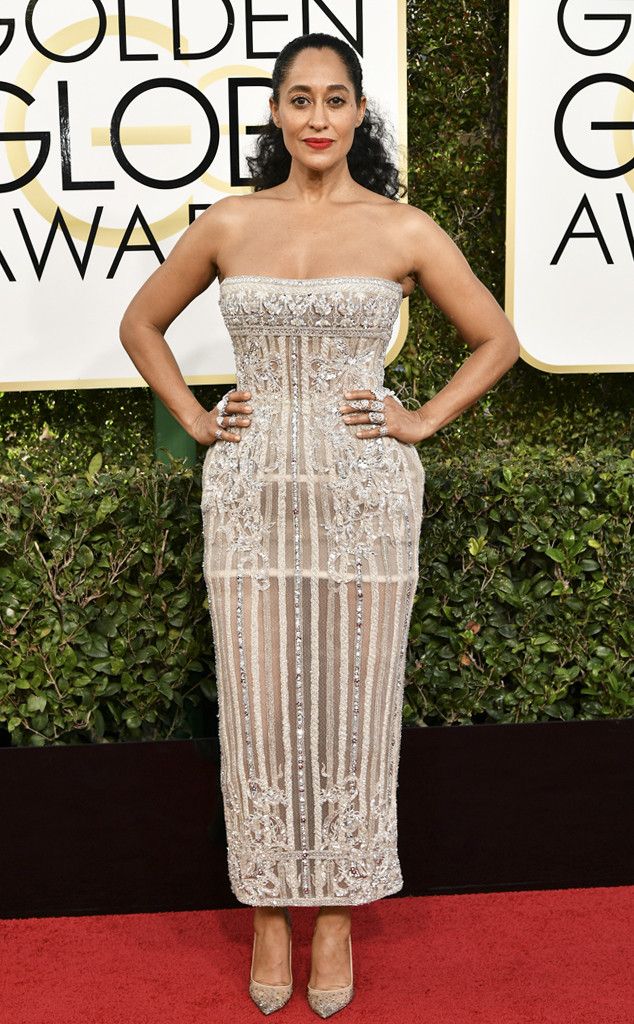 Tracee Ellis Ross In Zuhair Murad
I would've loved to see this with a strappy shoe and for  the lining to not be so obvious (it just hits at an odd place) but other than that, I'm not mad at this.
Sarah Paulson in Marc Jacobs
It's not the worst thing that's ever happened to sequins (but certainly not the best…)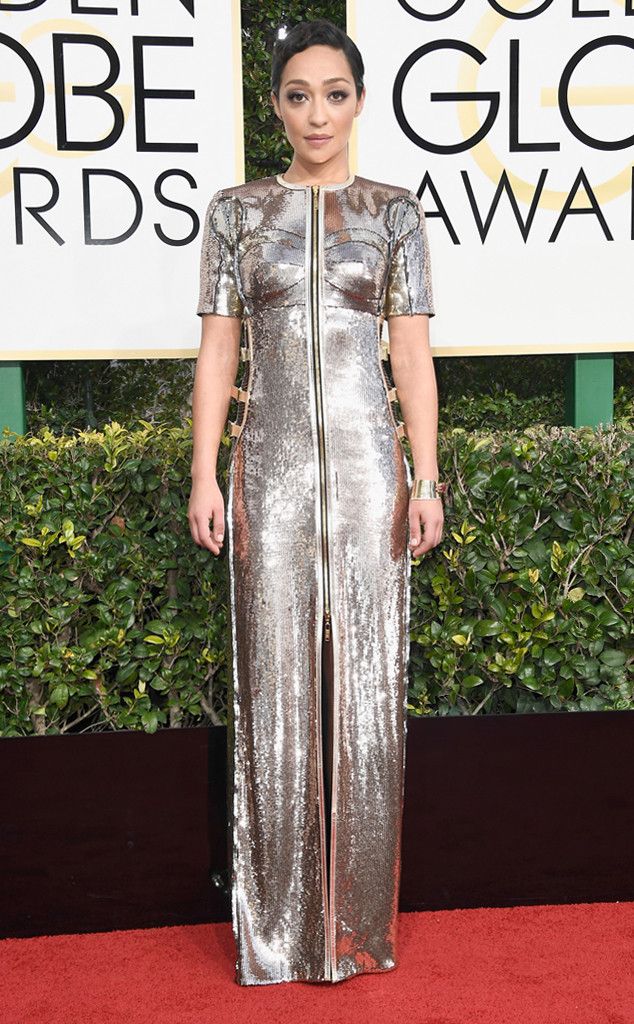 Ruth Nega in Louis Vuitton
Manus x Machina all the way!
Reese Witherspoon in Atelier Versace
It's almost like she knows she's been pretty boring on the red carpet the last 8 or so years…and that her yellow Nina Ricci dress from 2007 is still one of the most talked about red carpet looks of all time. So this is her way of saying WATCH OUT 2017…REESE IS BACK, BITCHES.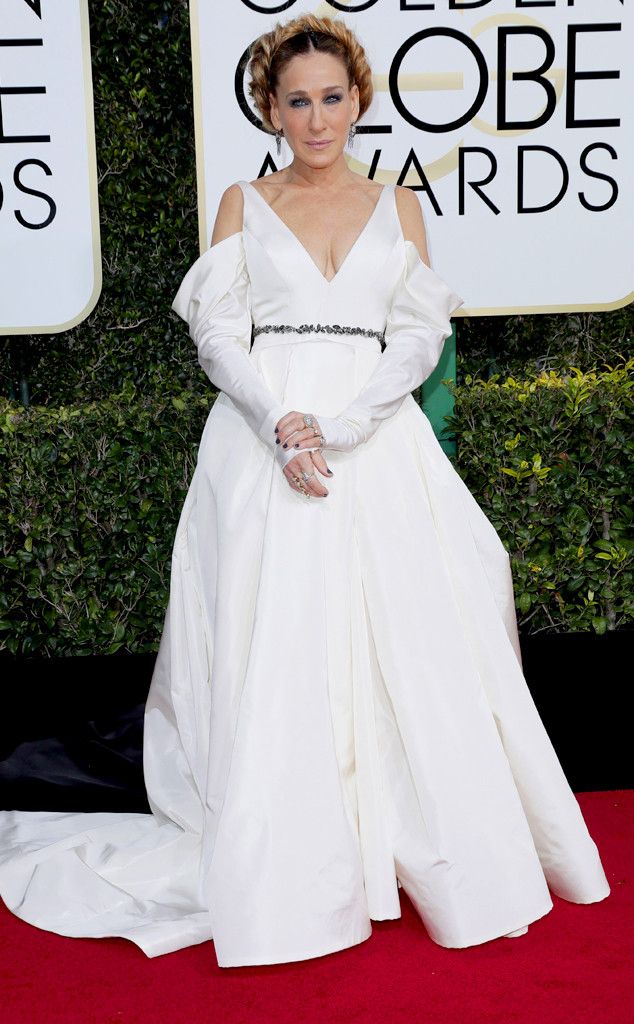 Sarah Jessica Parker in Vera Wang
There's no one who puts more thought into a red carpet look than SJP…and I appreciate it. I really do. But sometimes I wish she wouldn't take a theme so literally. It's great that she wanted to pay tribute Carrie Fisher…but this is just bad. Also…SHOULDER CUT OUTS AGAIN (but wait…there's more!)
Nicole Kidman in Alexander McQueen
You have to keep in mind that shoulder cut outs are just something I don't like (along with wedge sneakers, anything one shoulder and animal print). So if I see it on the red carpet, it's likely going straight to my worst dressed list. This is no exception. If this were just sleeveless (so removing everything from the ruffle down, including the ruffle) OR just had full sheer long sleeves (still…no ruffle) I'd be all over this (because whatever is happening around her hands, I'm very into). But as is (with those damn shoulders), I can't get behind it.
Thandie Newton in Monse
I adore a good backlace (back necklace) and although I'm not sure this is the ideal dress for one, she still looks damn good. It's not easy to pull off cool and elegant at the same time but Thandie is doing just that.
Teresa Palmer in Armani Prive
I'm not normally into something so sophisticated but I'm loving everything about this — the velvet, the shoulders, the lip…who knew something so classy could also be so badass?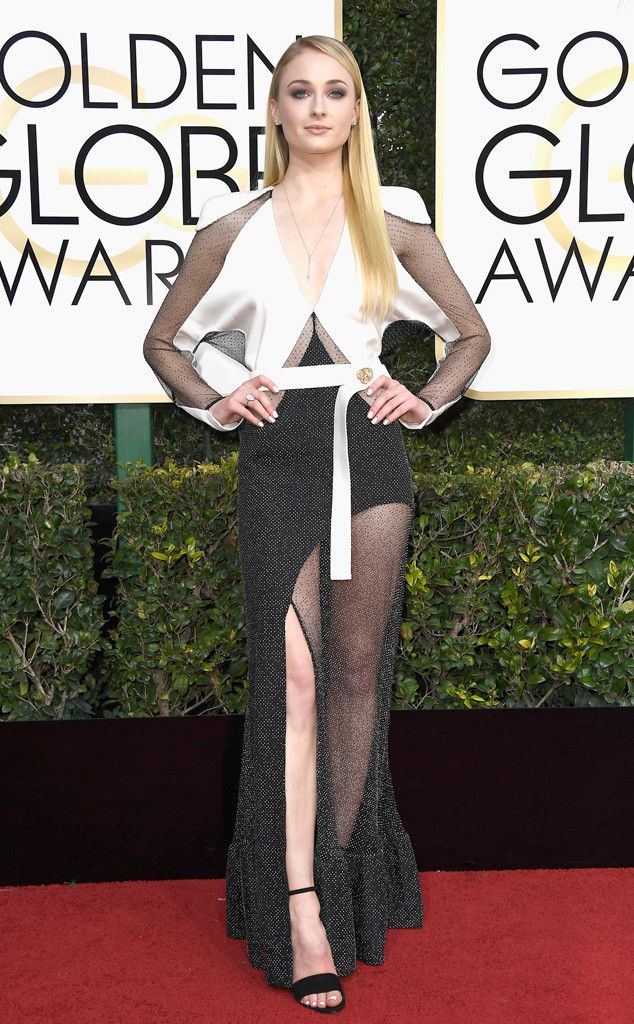 Sophie Turner in Louis Vuitton
This is one of those looks where in some photos I absolutely love it and in others, there just seems to be too much going on. This is one of the photos where I'm not feeling it (but this, on the other hand…WOW).
Ryan Gosling in Gucci
I never give the dudes enough credit on the red carpet (mostly because they tend to be pretty boring…sorry guys) but this was the one red carpet where I really took notice. They really killed it this year…and Gosling was no exception (Gucci can do that to ya!)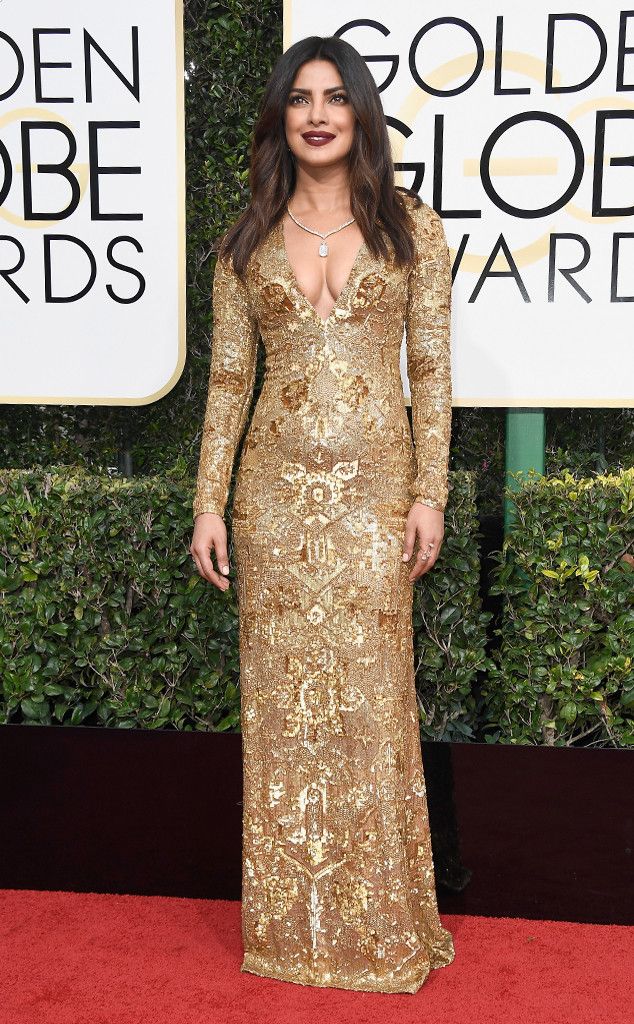 Priyanka Chopra in Ralph Lauren
Another big trend of the night would have to be dark lips (which I'm a huge fan of!) and no one did it like Priyanka Chopra. I could've done without the necklace but otherwise…damn, girl.
—
That's all for now, friends. Be on the look out for part two coming soon. In the mean time — who were your best and worst dressed picks from this year's Golden Globes?
Images via E!
You might want to check out...