As much as we love to praise fashion for being innovative and new, when it comes down to it, fashion always repeats itself. Trends from decades past come and go (shift dresses from the 60s, bohemian from the 70s, and shoulder pads from the 80s to name a few) but the styles are always made more modern so it doesn't look like you haven't gone shopping since 1986.
Tomorrow I leave for San Francisco and because I've never been, I can only think of one thing when I think of San Fran…and as a 90s kid, that would be Full House of course. With styles from the 90s making a huge comeback, I thought it would only be appropriate to discuss this revival trend.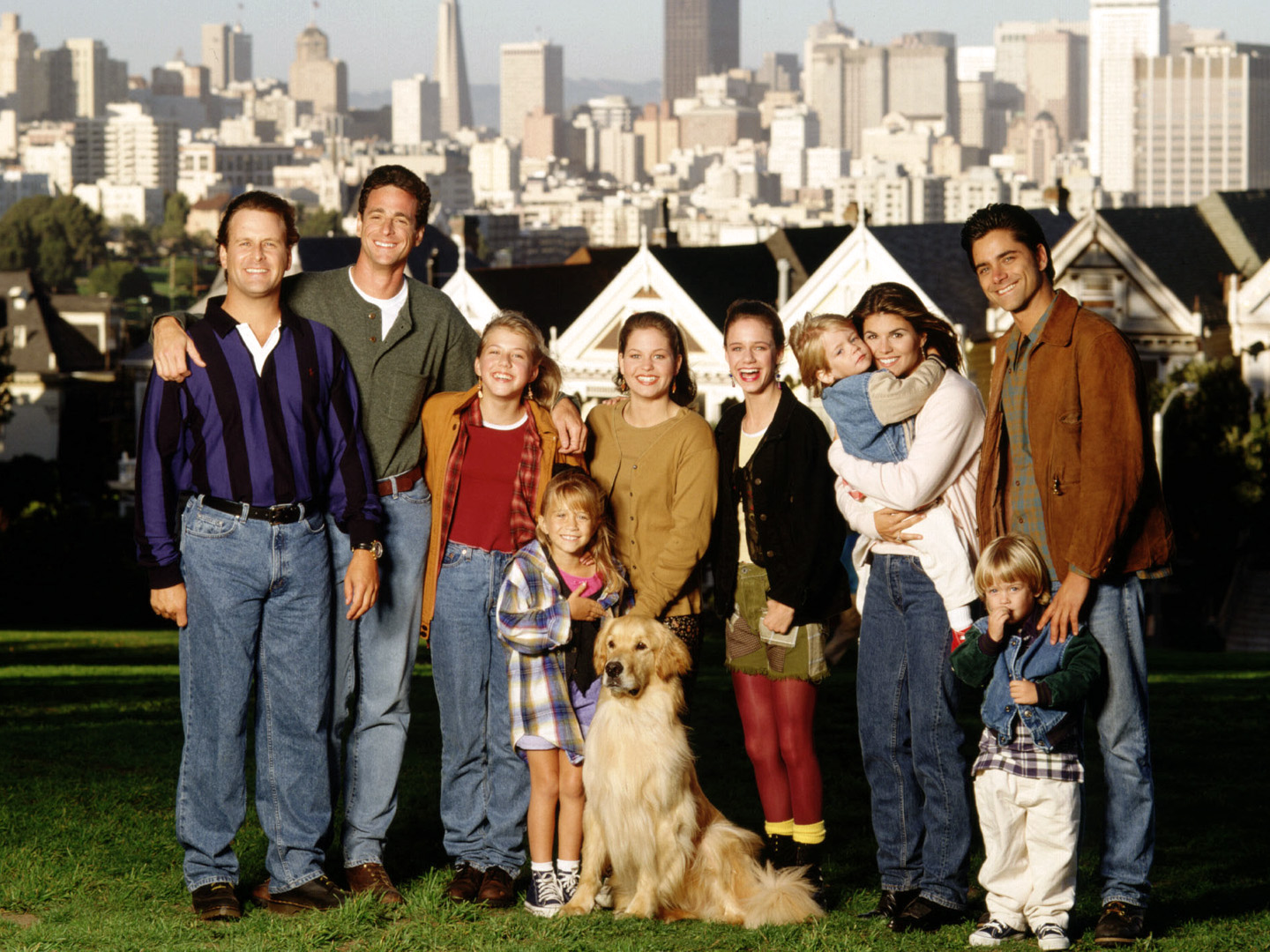 I realize that traveling to Northern California may not scream I LOVE THE 90s to most people, but to me it totally does. So let's take a look at some of the 90s trends that are happening right now, where they started and where you can get the look. Ready? You got it dude!
TREND: Spaghetti Straps
SEEN ON: Rachel Leigh Cook in She's All That, Joie Spring 2014
WHY IT'S AWESOME: What started as "that style the provocative girls are wearing" turned into just a normal thing that everyone wore. If you had your bra strap sticking out, you got extra points with the "in" crowd, but points docked with the school principal.
GET THE LOOK: Aqua Spaghetti Strap Dress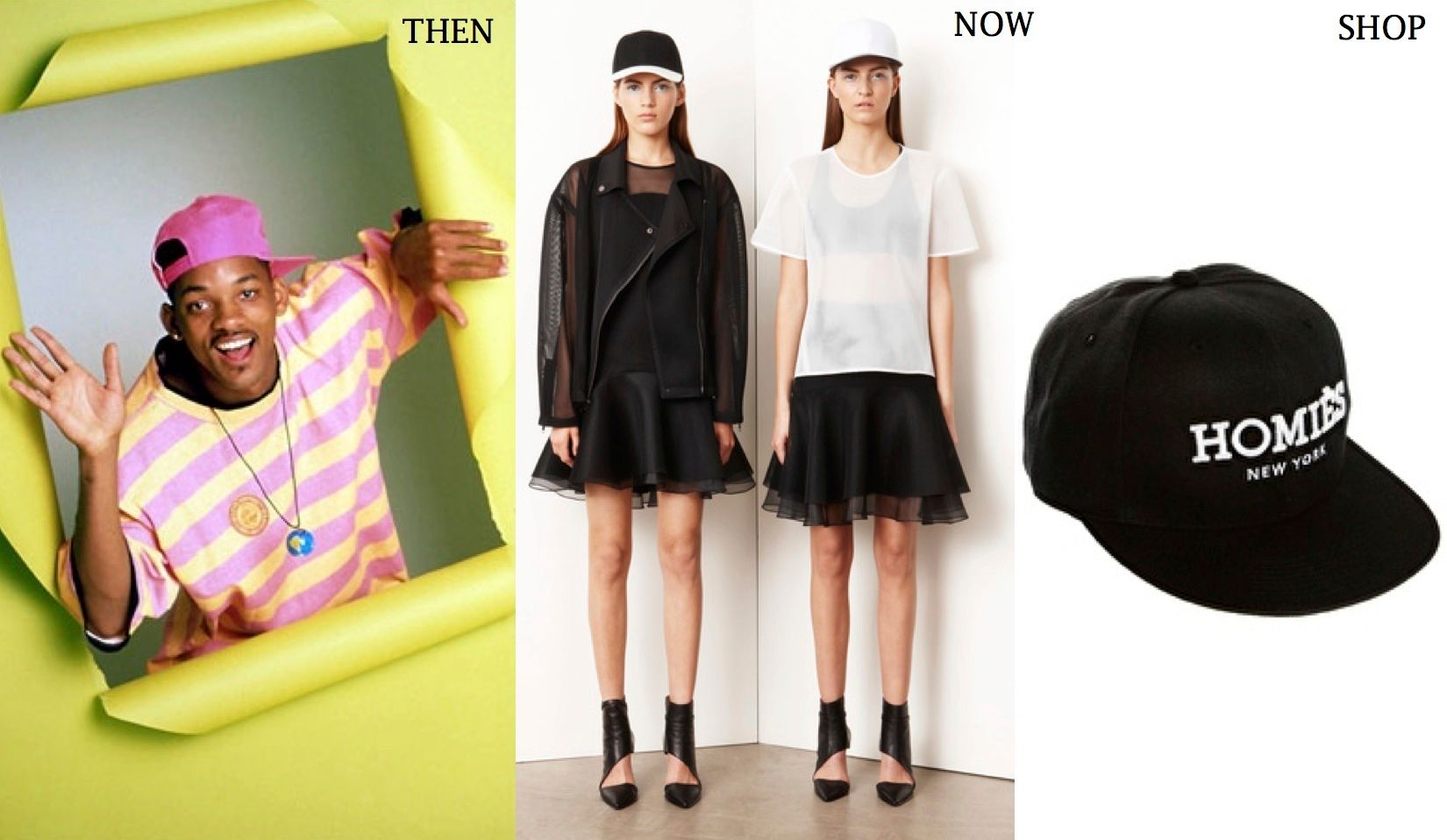 TREND: Snapbacks
SEEN ON: Will Smith in The Fresh Prince of Bel-Air, DKNY Resort 2014
WHY IT'S AWESOME: Although the neon snapbacks of the 90s have turned into more of a streetwear trend for today's look, it's a really easy way to dress something down and add an instant cool factor….but it's also a really easy way to make you look like you're trying to be Rihanna.
GET THE LOOK: Reason Homies Snapback Logo Cap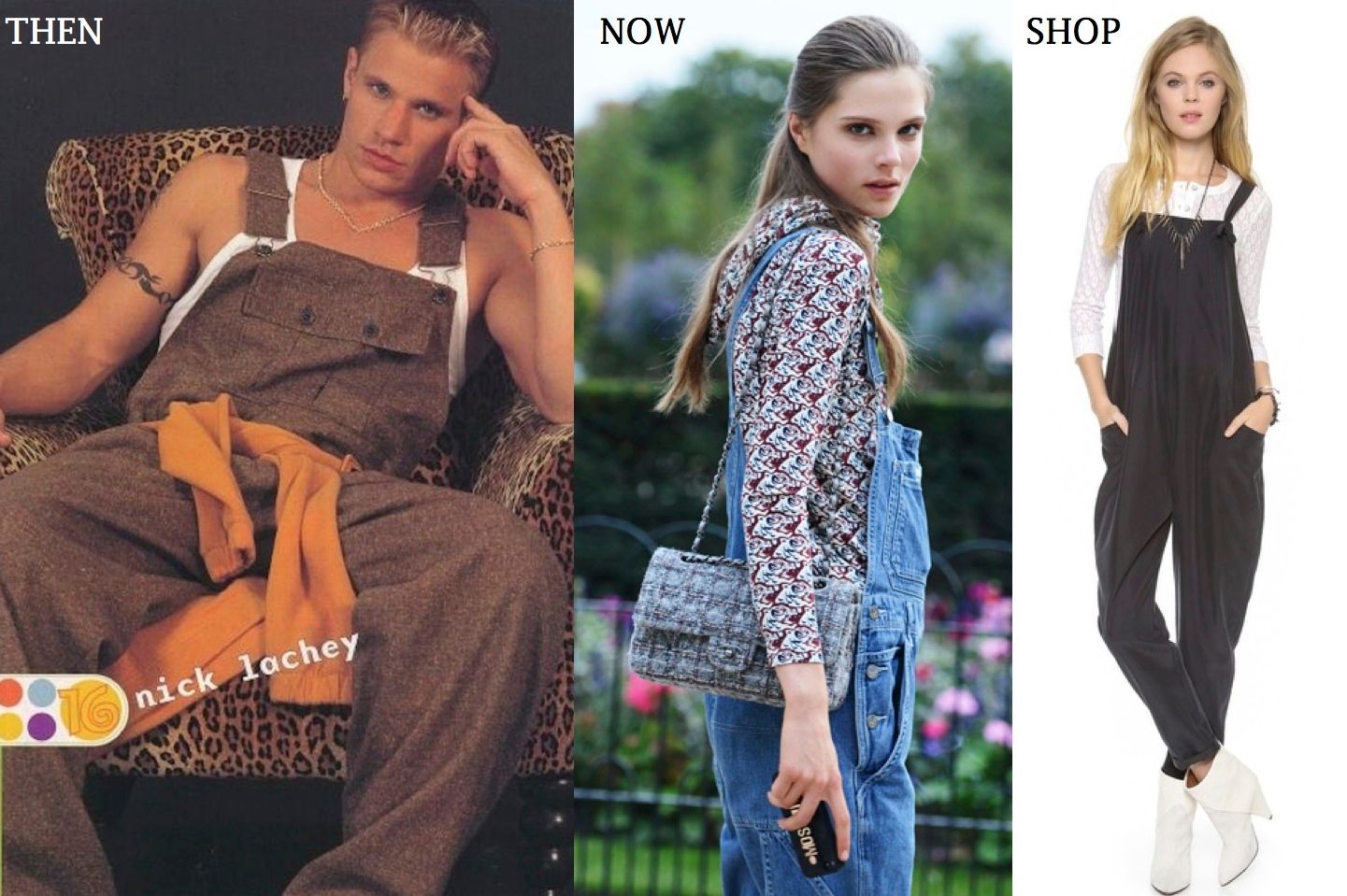 TREND: Overalls
SEEN ON: Nick Lachey, The streets
WHY IT'S AWESOME: We've already had the overalls discussion so I won't get into too much detail but do know that I'm considering some leather overalls for this Fall…and I'll also consider tying a sweater around my waist and posing on a leopard chair while listening to 98 Degrees.
GET THE LOOK: HATCH The Overalls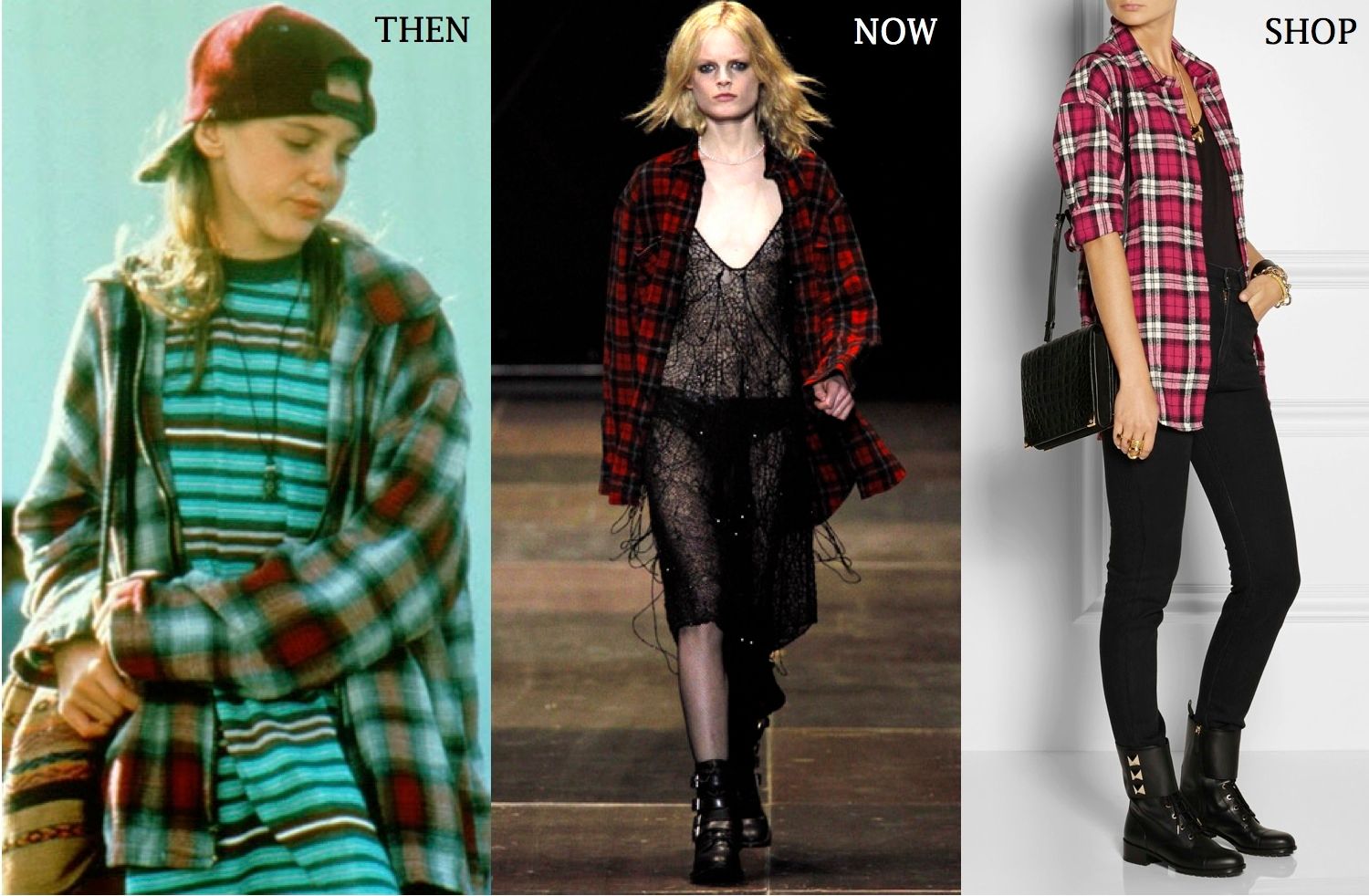 TREND: Grunge
SEEN ON: Larisa Oleynik in The Secret World of Alex Mack, Saint Laurent Fall 2013
WHY IT'S AWESOME: Grunge is easy to incorporate into your wardrobe because there's so many elements of the look that you can do a plaid shirt, flat boots with hardware, or ripped jeans and you won't look like you stepped out of 1995. With the modern take on this style, though, you could wear all three at the same time and still be perfectly current. Fashion is funny that way…
GET THE LOOK: R13 Plaid Flannel Shirt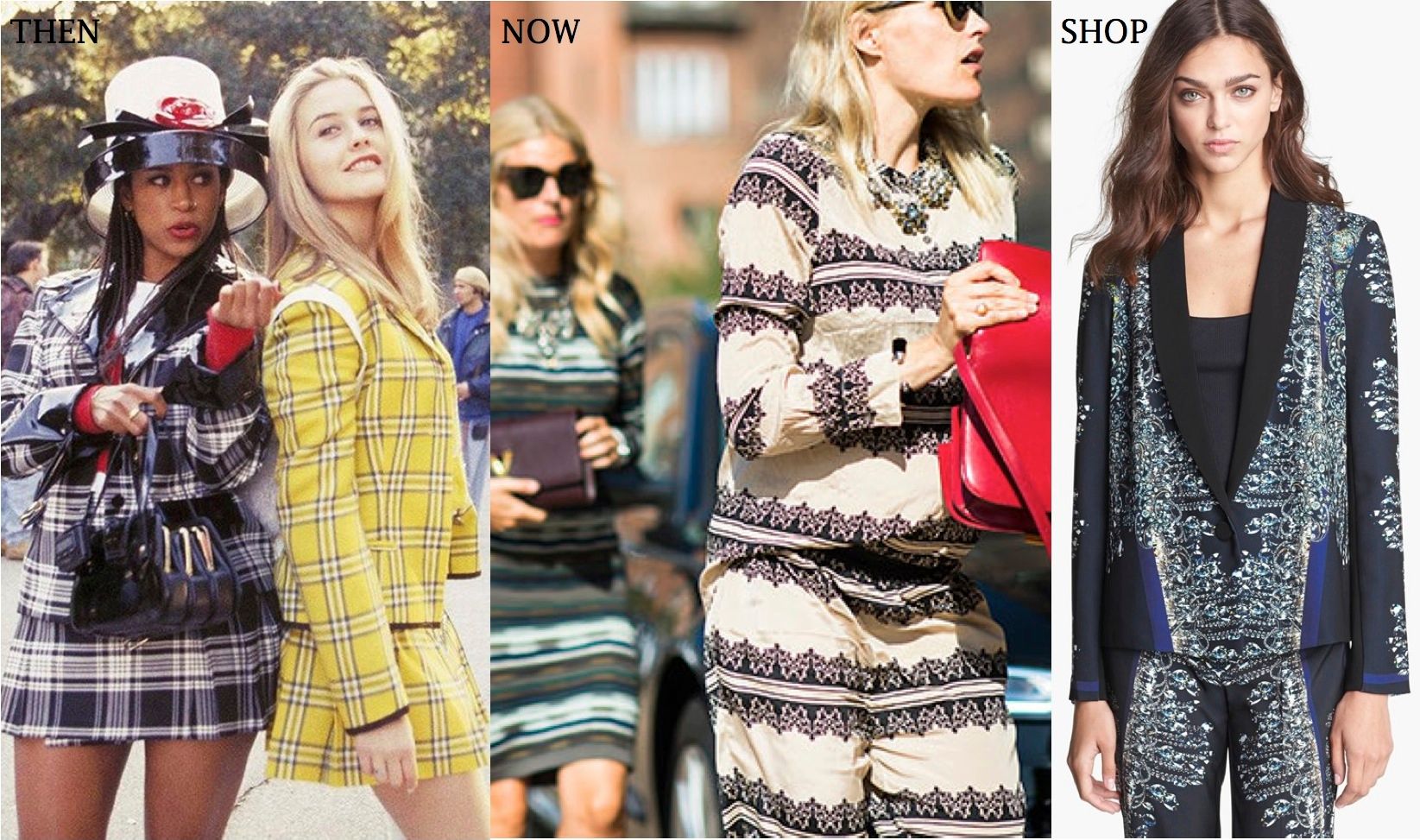 TREND: Matching
SEEN ON: Stacey Dash and Alicia Silverstone in Clueless, The streets
WHY IT'S AWESOME: Both mixing prints and matching prints have been on trend the last few seasons so either way, you can't go wrong. But sometimes it makes even more of a statement to wear a head-to-toe look. Printed skirts with matching crop tops were really happening this summer, printed shorts suits and pants suits prior so now you can really do whatever the hell you want with your prints, as long as you don't overdo it (unless you're being Cher Horowitz for Halloween and in that case, go for it).
GET THE LOOK: Clover Canyon Russian Enamel Jacket + Clover Canyon Russian Enamel Pants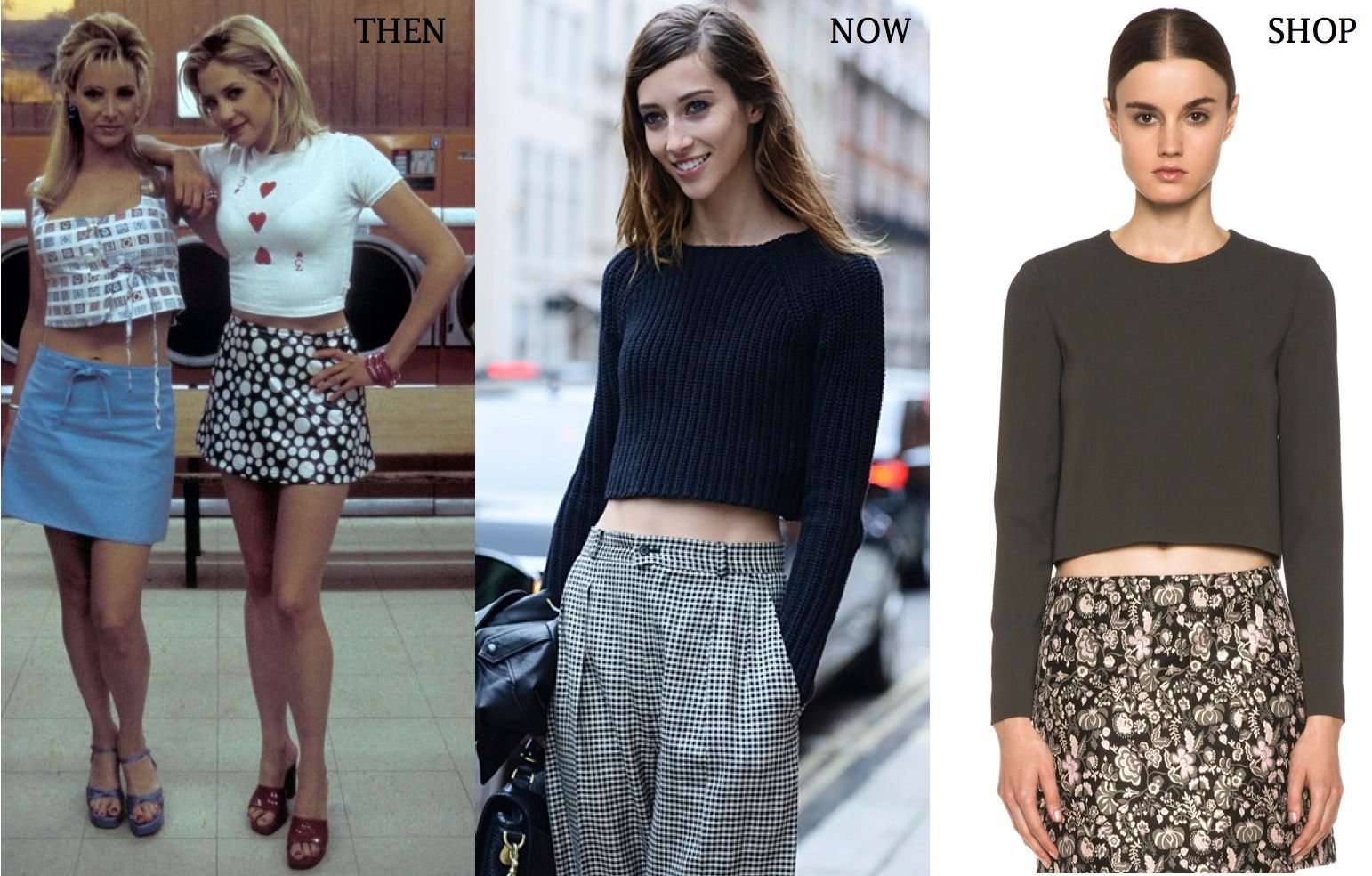 TREND: Crop tops
SEEN ON: Lisa Kudrow and Mira Sorvino in Romy and Michele's High School Reunion, The streets
WHY IT'S AWESOME: Like I just mentioned, printed crop tops were especially on trend this summer but crop tops have been no new phenomenon the last few seasons (and it's not going away for SS14 so get used to it). I personally will only wear a crop top with something high-waisted (no one wants to see your bellybutton, especially if it's still pierced…although that would make your 90s look extra authentic) but if you choose to go a different route, just make sure it's tasteful. If you're looking for a way to incorporate this trend into your Fall wardrobe, try a cropped sweater with high-waisted silk or leather pants (bonus if they're silk AND leather).
GET THE LOOK: MSGM Open Back Crop Top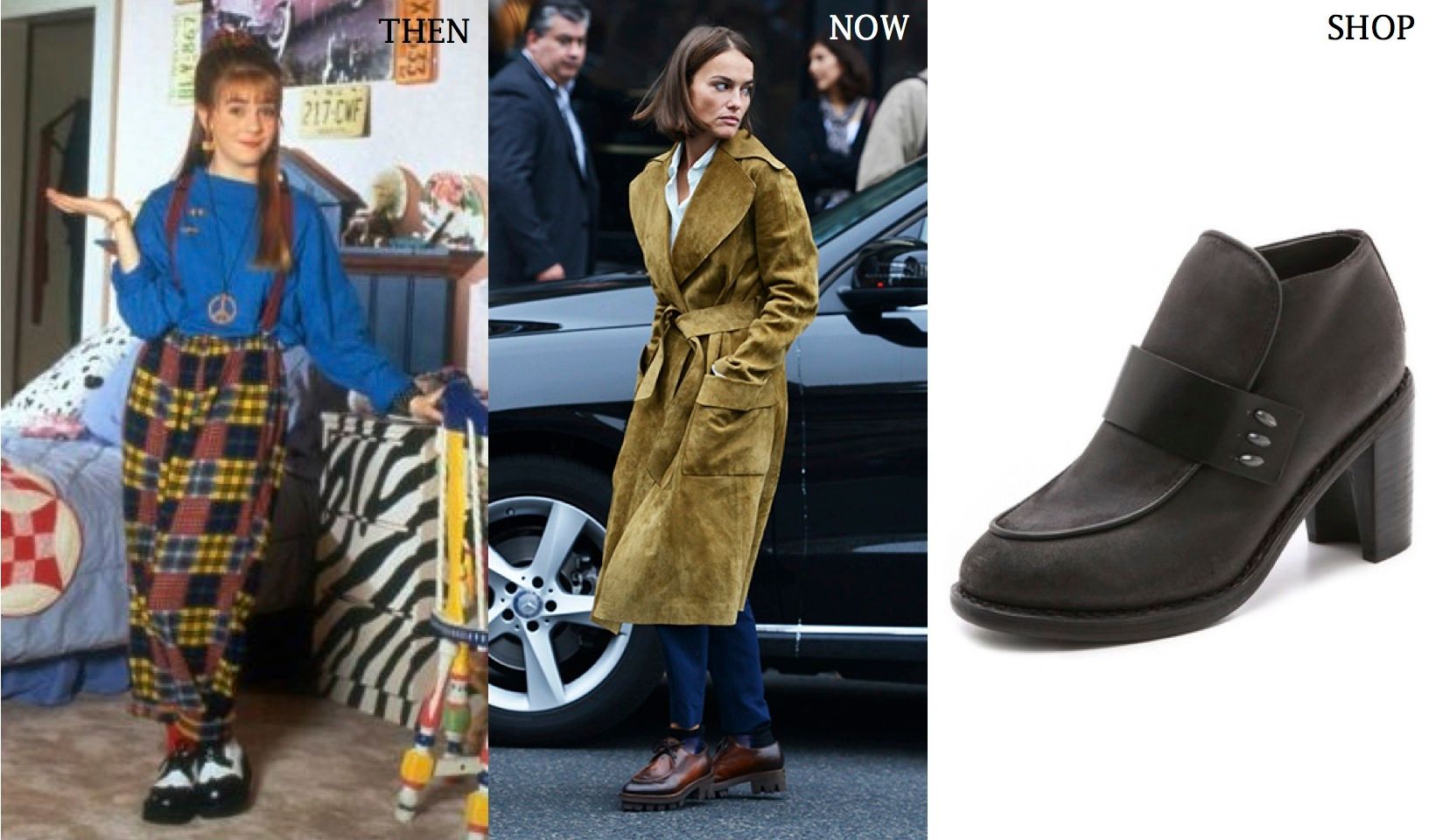 TREND: Ugly Shoes
SEEN ON: Melissa Joan Hart in Clarissa Explains It All, The streets
WHY IT'S AWESOME: Every once in a while, I come across something that to "society's standards" is ugly…but that's kind of why I like it. Although I'm still not totally on board with Birkenstocks, I might be able to handle this chunky oxford loafer thing. Still undecided. But I have decided on the fact that Clarissa should have explained why she opted for an outfit that makes her look like a clown from the waist down. Just saying.
GET THE LOOK: Rag & Bone Lytton Loafer Booties

—
So now that you've gotten in your dose of nostalgia for the day, it's time to take it to the comments. Are you on board with the 90s revival? If so, which are your favorite trends? If not, feel free to bash the 90s in the comments section below (just not on 90s TV or movies…if you say anything bad about Clueless I will take it personally).
Shop the look here:

Images via Pinterest, HelloGiggles & Style.com
You might want to check out...