I hope you've eaten breakfast by now because if not, you're about to get really hungry. In my latest Food Pairings adventure, I thought my latest experience at Ada Street goes quite well with Nicolas Ghesquière. You're probably wondering why. So let's find out.
THE ATMOSPHERE:
If you've been to Ada Street before, you're familiar with its somewhat odd location and interesting vibe. If you haven't, this restaurant is in the Elston Industrial District (the closest landmark I can think of is the Home Depot on North Ave). Not exactly where all the "hot" restaurants are but that's part of the appeal. Then you walk in down this long hallway and enter the somewhat small yet cozy, dark restaurant. My favorite part about the atmosphere is that inside it feels cool and intimate then their back patio has this entirely different feeling — it almost feels like someone's backyard (if that someone had a ping pong table and a Michelin quality food at their fingertips). It's quite the contrast but that's what makes Ada Street so special.
THE FOOD:
I've eaten at Ada Street three or four times now, but last week was my first time at the chef's counter (very cool by the way). Because we had a prix fixe menu (a little something special for the bf's birthday) I ended up having a few dishes I haven't had previously. Always a plus. We started with the tuna tartare (one of my go-to restaurant eats, and Ada Street happens to be in the top 3 of my tartare list…yes, I have one of those). Raw fish, avocado in any form and homemade tortilla chips — you can't go wrong.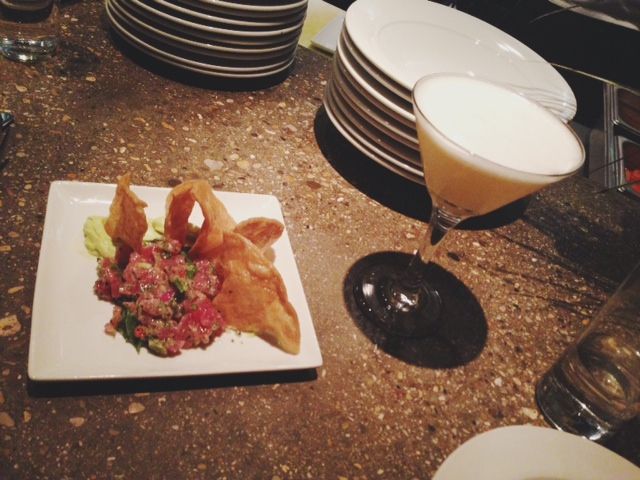 Then some crispy chicken thighs arrived with some Cannellini beans in a chimichurri sauce (which I decided would also make for one hell of a salad dressing). My only complaint here is that I had to share. To balance out the fried goodness, we also had the spaghetti squash salad with toasted hazelnuts. You can really put toasted hazelnuts in anything and I'll eat it. They're just a nice, semi-sweet and crunchy surprise. Our main course was one I actually was skeptical of because I'm not a huge fan of duck — the cavatelli with duck confit, poached egg and spinach. I guess it was inevitable that I'd at least like it a little because I prefer all my food to be accompanied by a runny egg. I was surprised to find out I actually liked the duck. Touché, Ada Street.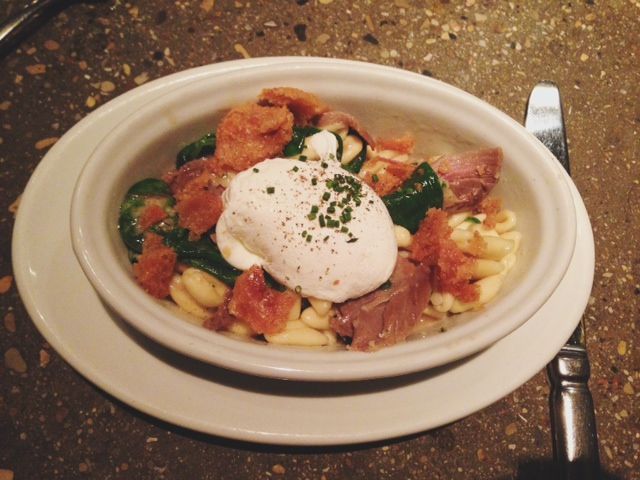 Then onto my favorite topic — dessert. I was hoping they'd bring out the chocolate with sea salt and toast (the dessert that has been on my mind since my previous Ada Street adventure last summer). So, that happened. Then my mind was blown with a kind of bread pudding I've never experienced before (and I've experienced quite a few bread puddings in my life time). Pretzel bread pudding with maple whipped cream (insert two thumbs up emoji here). The perfect balance of sweet and salty goodness to end one hell of a delicious evening.
THE DESIGNER:
So now Mr. Ghesquière, it's your turn to shine. This Food Pairings post is a little different because I typically pair with a designer/brand, not a Creative Director specifically. But I couldn't think of anyone better to go along with my Ada Street experience better than Nicolas Ghesquière and because he [unfortunately] does not have his own line [yet] it just had to go down this way.
Whether at Balenciaga or Louis Vuitton, Nicolas really understands [what I think is one of] the most important element[s] of style — balance. Between proportions and type of look (feminine, edgy, etc.) it's never just one way. So you always get the perfect balance and there's always a sort of element of surprise. Like a cocktail dress with an extra long  tuxedo vest? Nicolas is all like "why the hell not?"
Plus, I find Nicolas Ghesquière to be this fashion gem. Those in the industry know his name and are all about him. People don't ever bash his work, they only praise it. Your average Joe (or Jane) will probably recognize names like Marc Jacobs and Michael Kors but most likely not Nicolas Ghesquière. Exactly why I like to call  him a "fashion gem" almost like how Ada Street is this "hidden gem" in the midst of one of Chicago's industrial areas (not exactly restaurant row).
And for those reasons, my friends, are why Mr. G and Ada Street go so well together. Now, brush up on your Ghesquière history and don't forget to save room for dessert.
Runway images via Style.com
You might want to check out...