If you ever wanted to get to know jewelry designer Alexis Bittar then today's your lucky day. This Saturday was the Alexis Bittar trunk show I had mentioned last week and we had a nice little convo where I learned more about his fine jewelry collection, how he balances being CEO and Creative Director of his business (now something Burberry's Christopher Bailey is juggling) and his favorite thing about Chicago (hint: it's NOT the weather).
The morning started off with a breakfast at Zodiac Room in Neimans, where Alexis spoke about his fine jewelry collection and there was even a trivia game at the end (which as a big gamer, I enjoyed way too much…even more so because I won a Bittar bracelet!) Following the breakfast I had a one-on-one with Alexis before the trunk show began.
The one question I had to ask first was about the fine jewelry and if it was always in his plan. Alexis has been designing since he was 22 (he's now 45) but fine jewelry wasn't even a reality until five or six years ago (with the actual design process going on for the last two years). He already designs 400 pieces, 4 times a year (he must have a lot of ideas because I can't imagine cranking out 1600 designs per year!) but coming from the man himself, "In the world of jewelry, why wouldn't I extend into fine?" And Alexis isn't just doing fine jewelry for the hell of it, he actually has something very unique to bring to the table. He knew he had to "tone down" what he'd done in the past to fit into a fine jewelry category (typically fine is more conservative) but he never compromised on his aesthetic. It started with reinventing the tennis bracelet because it's something no one is really doing, then it turned into a 100+ piece collection.
So then why now? After designing for more than two decades, why launch fine jewelry in 2013? What I appreciate most about Alexis is that he's not only the creative type but he does have a great business sense (hence his CEO position…not easy to be both Creative Director and CEO of such a large company). His answer to this was simple, you have to make sure everything in your business is running smoothly and the structure is right in order to branch out to a completely new category. After designing for so many years he says "It has to do well right off the bat." And I don't think he has anything to worry about.
Another fun fact about Alexis is that he's collaborated with many designers in the past (Michael Kors, Jason Wu, and Phillip Lim to name a few) so I wanted to know if he had a favorite or most memorable. Because it was his first, he mentioned that Burberry was the most memorable. He designed the brand's first ready-to-wear jewelry collection in the late 90s which is pretty freakin' awesome as your first collaboration. Can you imagine? Besides designer collaborations, Alexis has many other design aspects to add to his resume, including a furniture line for the Cooper-Hewitt Museum as well as a home line that was carried at Barneys and Bergdorfs. If you're wondering why there's no longer a home line, Alexis says, "I feel like I could probably design anything but I just need to focus because my brain keeps going. I dropped the home [line] to just focus on the jewelry." But will Alexis Bittar only be a jewelry company for much longer? Not exactly…be on the look out for Bittar handbags launching late next year.
So now to my favorite questions to ask…always have to know how other people feel about my favorite city, Chicago. Alexis gives the same answer as many do — the people (I know…we're just that great). "There's something about the area…people's manners are just incredible. People are genuinely authentic. I've never been more warmly embraced than in the Chicago area."  And what he'd like to say to the Chicago girl? "There's this appreciation for art and fashion. At the same time I feel there's this unspoken impression that you need to stay within a certain kind of range…like there's an limit to one's individuality. I can tell there are women who are itching to get out of that range and I just want to tell them…go with it." You tell 'em, Alexis!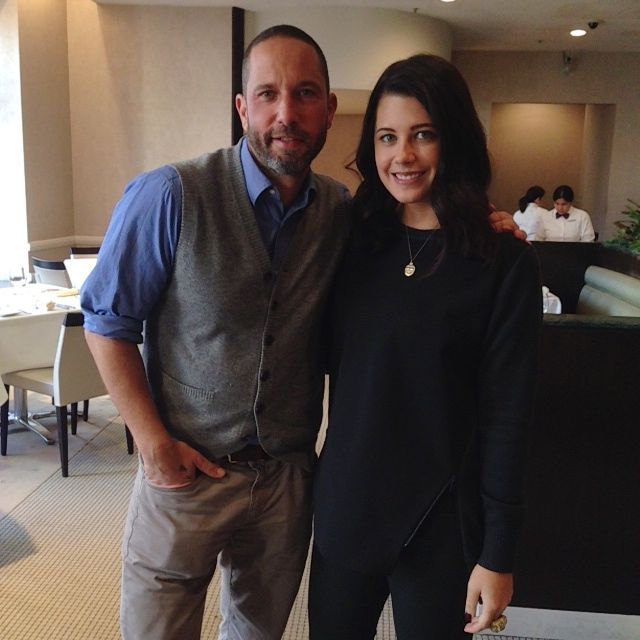 So anyway if you're itching for some fine jewelry, you can check out the Alexis Bittar fine collection exclusively at Neiman Marcus (as well as his contemporary line where you can find 1600 different pieces a year which is just insane). And a special thank you to Alexis Bittar for taking some time to chat with me.
And if you can't get enough Bittar…

In partnership with Neiman Marcus
You might want to check out...