I recently met up and coming designer Chloe Mendel at an event in Chicago. I was immediately intrigued by her knowledge of fashion (being J. Mendel's daughter will do that to you) and even more impressed that she's still in school…and already coming out with her own clothing line. When she told me the line will be white t-shirts, I was already sold. I'm a huge fan of t-shirts and I love them even more when they make you do a double-take.
Animal Royalty is the prodigy of friends Mat Devine and Chloe Mendel, with the debut collection consisting of 4 t-shirts along with fur accessories. I made my first Animal Royalty purchase just last week (keep reading to see more) and I am pumped about this collection. Best part? Chloe says they'll be releasing new styles on a constant so be looking out for more from Animal Royalty soon.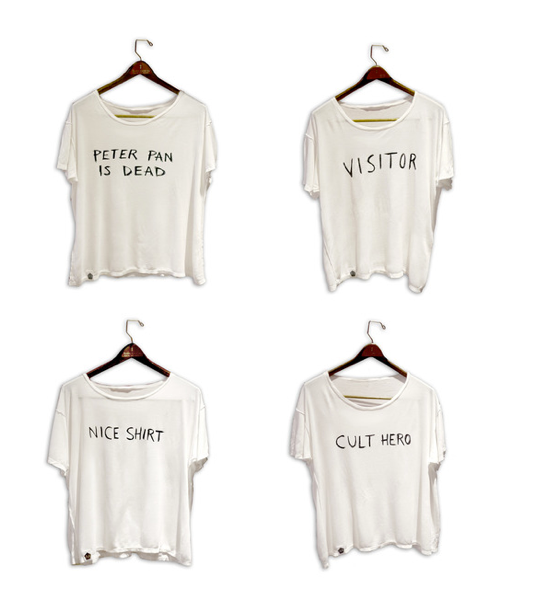 To really get to know the Animal Royalty brand, check out my interview with Chloe below.
First and foremost…why t-shirts? 
Mat and I create products that we both use and love. A good t-shirt is a good t-shirt; there's no doubt about that. We wanted to create our ideal t-shirt which is flattering, comfortable, with a slightly dark and provocative twist (our inside-out stitching and cryptic sayings). Very much representing who we are.
How did you come up with the phrases for these t-shirts?
Well "Nice Shirt" was something Mat had sharpied across his tee while he was in college. This was the starting inspiration for Animal Royalty's debut collection. We write down phrases all the time and have compiled a list which will never end. Anything that crosses as sarcastic, cryptic provocative or dark we write down or text each other. 
Where did the name Animal Royalty come from?
Our relationship of human to animal has always bewildered my mind. I saw "Animal Royalty" written across Mat's mirror and it really resonated with me. The more we talked, the more it made sense that "Animal Royalty" represents what we both love about life and fashion. Animal being the raw and royalty being the chic.
What inspired the fur accessories?
As a kid my dad always let me design my own clothing and accessories and I loved fur. I even came out with a baby-pink fox bag called "The Chloe Bag" when I was nine years old! When I had noticed Mat wearing a raccoon tail on a key chain hooked onto his belt, I knew if we developed it well they would be perfect for Animal Royalty. Plus I am very fortunate to have access to high quality fur.
Are you looking to expand the accessories part of your brand?
Yes we are expanding on accessories for sure! These shirts and accessories are only a taste of what is yet to come from Animal Royalty.
Who is the Animal Royalty customer?
The ideal Animal Royalty customer is someone who is not afraid to be unique. We look for creative individuals with a good sense of humor; our friends, good people.
I have a feeling Animal Royalty is going to be huge, and you heard it here first! Already wore my t-shirt and I can't wait to see what Chloe and Mat do next.
Shop the collection at animalroyalty.com.
You might want to check out...