If you appreciate humor in fashion / sequins / are in the market for some light-up sneakers, then this is one designer you need to know now.
I've mentioned several times here on CCF that fashion should be fun and some designers and various fashion folks just take everything too seriously. But not Ashish — not a serious bone in his body (or at least in his collections). I briefly talked about the designer a few months back when discussing funny fashion but he's so good he really deserved his own post. Plus, he just launched a line with Topshop so you know what that means? ASHISH FOR LESS!
So who the hell is this guy anyway? (there's a lot more to Ashish Gupta than just a whole bunch of sequins walking down the runway…although that is his signature). It's no surprise he graduated from Central Saint Martins (basically the Parsons of the UK) but he had sort of a rocky start. Apparently he was going on some interviews in Paris when his portfolio and all of his personal belongings were stolen at Gare du Nord (including his passport…so let's just say getting back into the UK was no longer an option). Because he's from India, he decided to go back and make a small collection to hopefully sell to some friends. An editor at Tank magazine discovered Ashish and loved his designs so she bought something herself. After that, Browns placed an order and the rest was history. So if anyone at Browns or Tank is reading this — THANK YOU.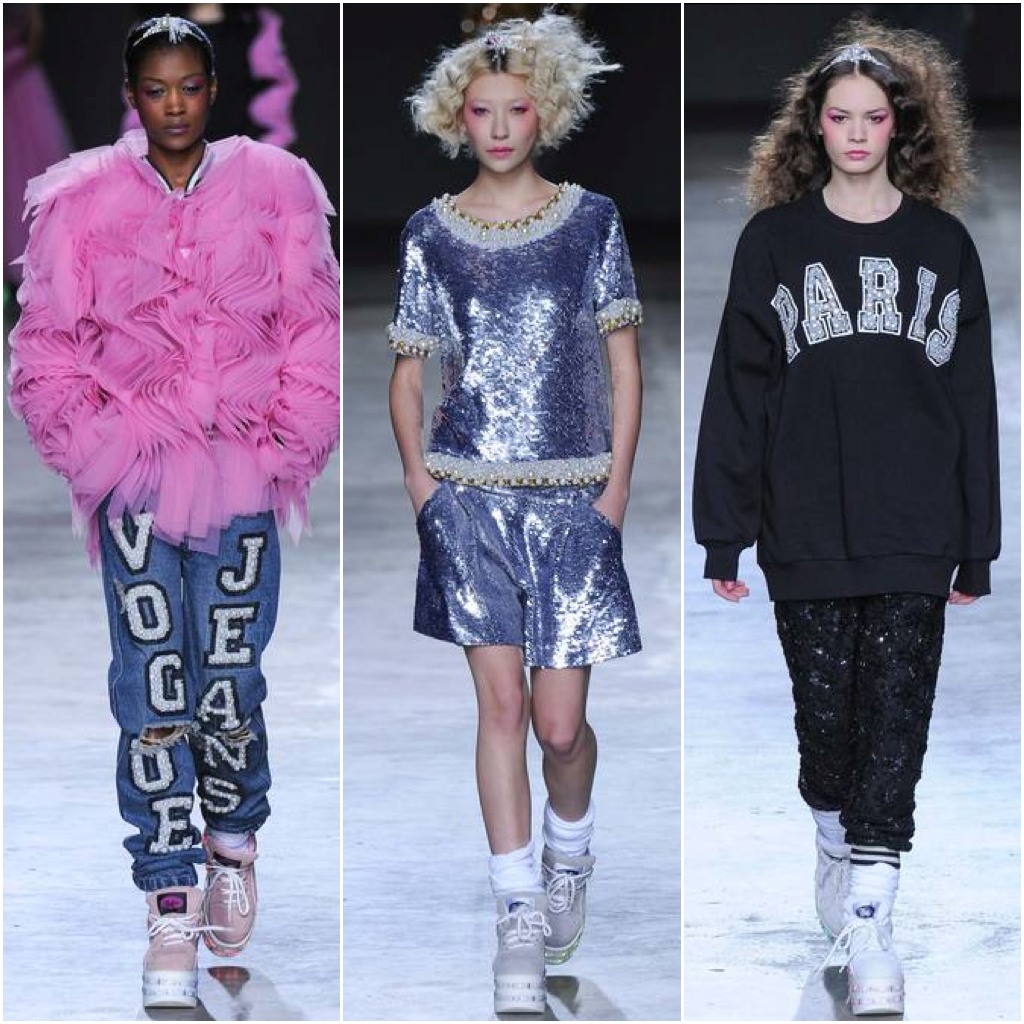 So anyway, now that you know about Ashish and how fantastic and talented he is. Let's talk about his collaboration with Topshop. Like I said, he's known for sequins (Remember this? And this? All Ashish, baby!) but his collection for Topshop actually has zero sparkle…yet still, all the humor. Makes sense considering it's a line for less and Ashish isn't the cheapest designer on the block, so he had to do something to keep the cost down. So if you've ever been in the market for some funny beachwear, get to Topshop or Nordstrom like now (or do what I do and click that magical little "add to cart" button…it really is a wonderful thing). For those in the UK, I'm pretty jealous…because it looks like you're getting something that we aren't.
An LED backpack + light-up sneakers and sandals. I realize life isn't fair but this is REALLY unfair.
So that's all for today. I'll continue to rave about Ashish at other times, trust me. But for now, here's a few of my favorite current Ashish items as well as my top picks for his Topshop collaboration.
Sheesh, Ashish — you're so damn good!
What do you think of Ashish? Insanely awesome or too out-there for you? (but still insanely awesome…)
Images via Style.com
You might want to check out...