For the last five days, I've been exploring the wonderful city of Sydney. And because there's only so much I can say with a filtered photo and a caption, I wanted to give you a few updates on what's been going on down under (warning: it's mostly eating and shopping).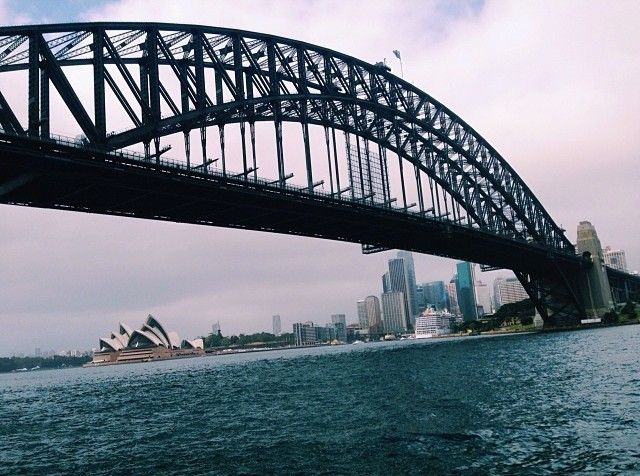 This is my second time in Australia (first time was just less than four years ago) and because I'm not doing a bunch of traveling (which was five cities in three weeks last time around) I have more time to visit the different neighboords and see more of Sydney.
My friend Eva (who I'm visiting) has been here since the beginning of January, so I feel like I have my very own tour guide to show me all the cool stuff around town. Besides my temporary residence in Bondi Beach and downtown Sydney, so far we've been to the Paddington, Surry Hills, Darlinghurst, Balmain, Alexandria, and Newtown neighborhoods. I'd have to say Paddington and Bondi Beach are my favorites (Paddington for shopping, Bondi Beach for eating/beaching). But instead of just telling you, why don't I show you?
To start things off, breakfast (AKA brekkie) is something they take very seriously here…and I'm very on board with that. I rarely eat a good breakfast (it's cereal or oatmeal for me at best) so having a full on breakfast isn't something I'm used to but something I could definitely get used to. Like I said, my life mostly consists of fashion and food so along with brekkie, shopping has been a frequent occurrence (gotta get my Aussie designer fix while I can!) The other day we visited The Strand Arcade (a Victorian-style building from the 1800s that's now a shopping center) where I checked out the stores of some of my favorite higher-end Australian designers (Dion Lee, Lover, and Manning Cartel) as well as a store I realized I visited almost four years ago — The Corner Shop (where I found out some interesting news about my boy Ryan Storer). He apparently is only carried by a few retailers in the world (two of which are Net-a-Porter and The Corner Shop). The first thing I saw when I walked in was the most fabulous ear cuff. I knew it had to be a Ryan Storer (I also knew it had to be mine). It was the last one in the entire store. And that's what I like to call #fashionfate. Besides shopping and eating, there's been a lot of beaching (I am staying in Bondi Beach after all) so of course I couldn't be happier (although all the brekkie isn't exactly making me love being in a bathing suit but that's another story for another day). And then to make the beach look even better, there's a coastal walk that has the most incredible views of not only Bondi Beach but Bronte and Tamarama as well (and watching the surfers isn't half bad either).
The other day we took a ferry to Balmain (not that Balmain). Of course, brekkie was involved…and so was a lot of uphill walking (which my calves are so not used to). We also had some pastries (literally right after brekkie…just what the doctor ordered) from Adriano Zumbo (who's apparently a super famous pastry chef here in Australia). I don't care whether or not you're a celebrity chef, but when you make a sticky bun with cream cheese, apples and nuts folded in…I'm going to like you. Because there wasn't much shopping in Balmain, I had to get my fix elsewhere. Paddington has a ton of Aussie designer shops (including Josh Goot, Sass & Bide, Ellery and Zimmerman to name a few) so like The Strand, it was exciting to be in the free-standing shops of such awesome designers. Pictured above is a Josh Goot purchase that may or may not show up in a What Why Where post this week. Besides shopping and eating, you know I love street art. There's a ton of it here (with even more in Melbourne) and as much as I dig art in the streets, I'm grossly obsessed with dogs. So dog street is pretty much my jam. Plus, there's a ton of real dogs around here so I'm quite the happy camper. Moving on from dogs to pigs, I checked out one of the most unique restaurants in town — The Grounds of Alexandria. Something that would belong in Wicker Park or Logan Square if it were in Chicago, this place has it everything (yes, I realize this sounds like the start of a recommendation from SNL's Stefon) — incredible coffee, the most delicious food (but you can't really go wrong with a fried chicken sandwich…which I had to order), an enormous patio/garden (at least the same size, if not bigger than the restaurant), complete with a lemonade stand, BBQ stand and my favorite — Kevin Bacon. The Grounds has a pet sheep named Bradley and pig named Kevin Bacon that pretty much run the joint. When I said this place has everything, I really meant it.
—
So, that's all for now.
And for more Aussiegrams, be sure to follow me @ChiCityFashion. Today I'm off to Melbourne (so be on the look out for a lot of street-art-a-grams).
You might want to check out...