Every September and February, our Instagram and Twitter feeds flood with #MBFW and #NYFW posts (and if you're lucky enough #LFW #MFW #PFW) because it wouldn't be fashion week without a whole bunch of hashtags. But then there's that one on the other half of the globe who gets their turn but once a year and a little later than everyone else — it's #MBFWA (or Mercedes-Benz Fashion Week Australia). You know how I feel about Australian designers so this had to happen.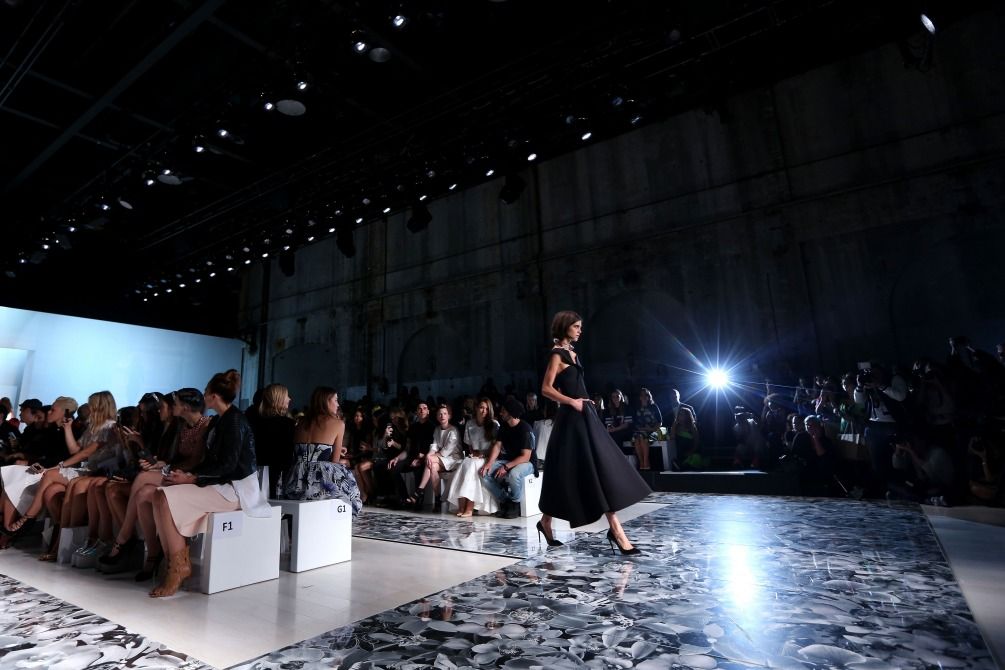 Of course there's too many shows and incredible talent to fit into one post but with Australian Fashion Week coming to an end for the SS14-15 collections (remember, their seasons are opposite ours) why not highlight the best of MBFWA?
One of my favorite designers, Dion Lee, went with a much more muted palette this season (especially when I was used to seeing prints like this). And because shirt dressing is so big right now, I thought this was the perfect interpretation that was both approachable and original at the same time.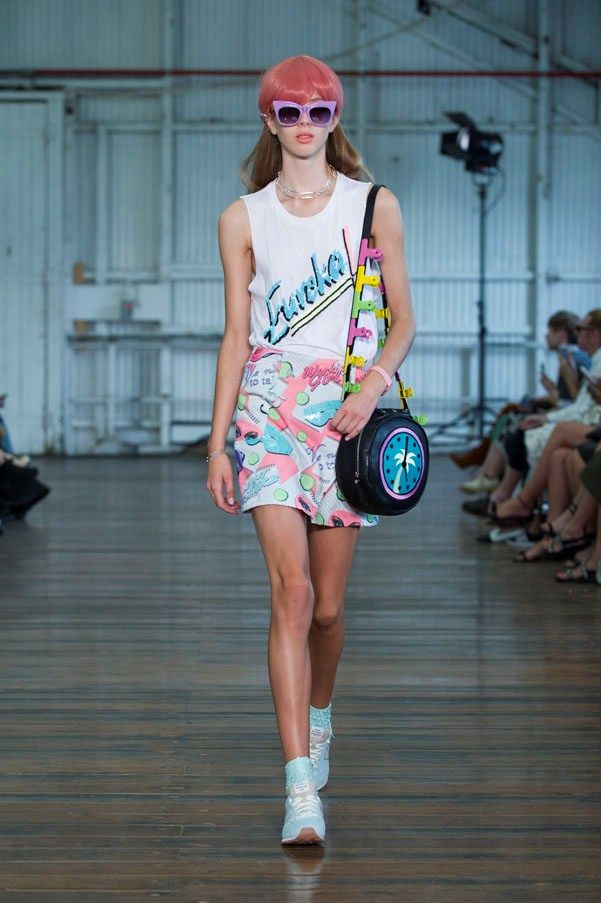 Moving in a completely different direction…Emma Mulholland is clearly the Jeremy Scott of the Southern Hemisphere. I wish I could get my hands on this before Coachella this weekend but with about 7,500 miles between us, that's probably not going to happen. In the mean time, I'll just lust for a tank that says Eureka while putting multicolor hair clips on the straps of all my handbags.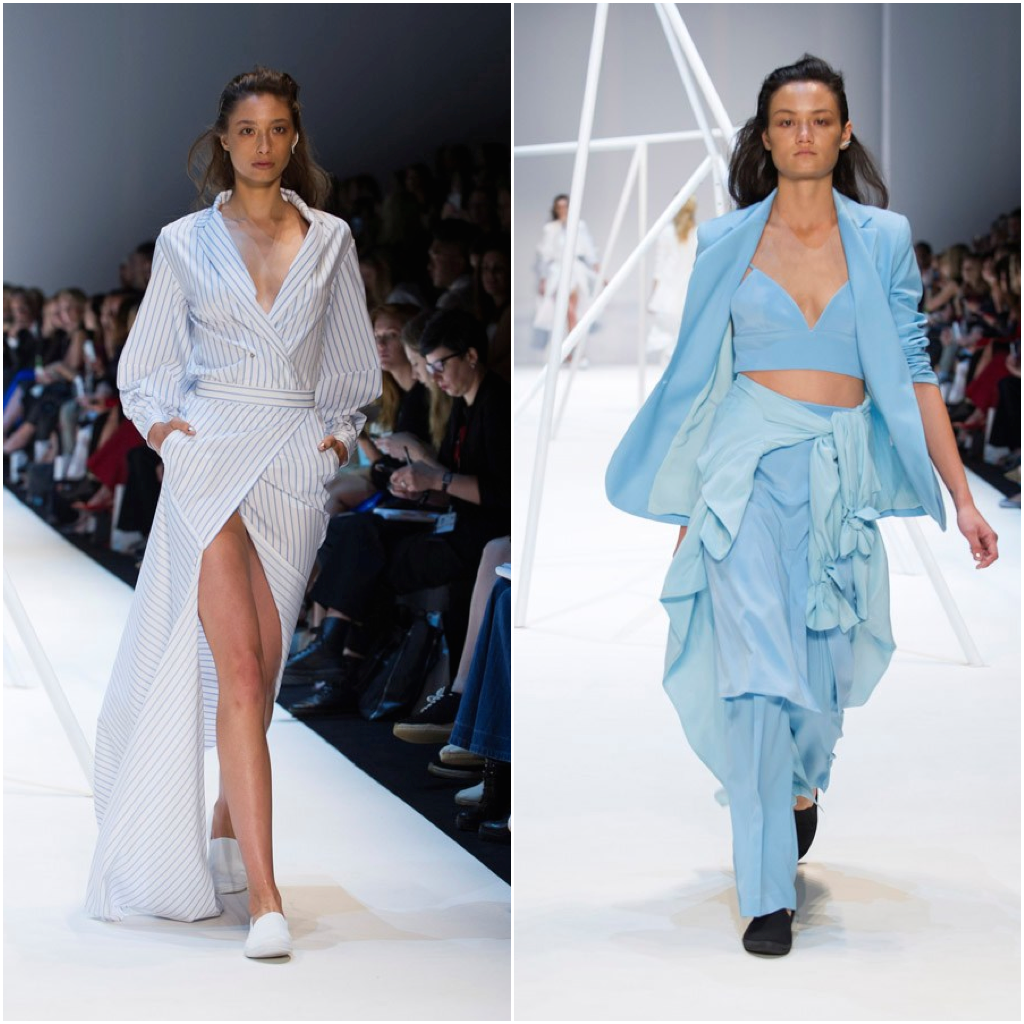 Back to shirt dressing, Michael Lo Sordo is also on board for Spring but in an even more unique way (it's like a high/low-slit-wrap-stripe-shirt dress all in one). But there's something about a shit ton of light blue fabric that's really just resonating with me. Plus I have a feeling at least one of my Coachella looks will involve a bra top with something tied around my waist (but unfortunately won't look nearly as cool as this).
Because everything's so casual in Australia, I can't help but think this Strateas Carlucci number would fly at a black tie event over there. And because I love how they do things, I'm thinking the next time I have to get "fancy" this is what I'll be wearing. Take that, society!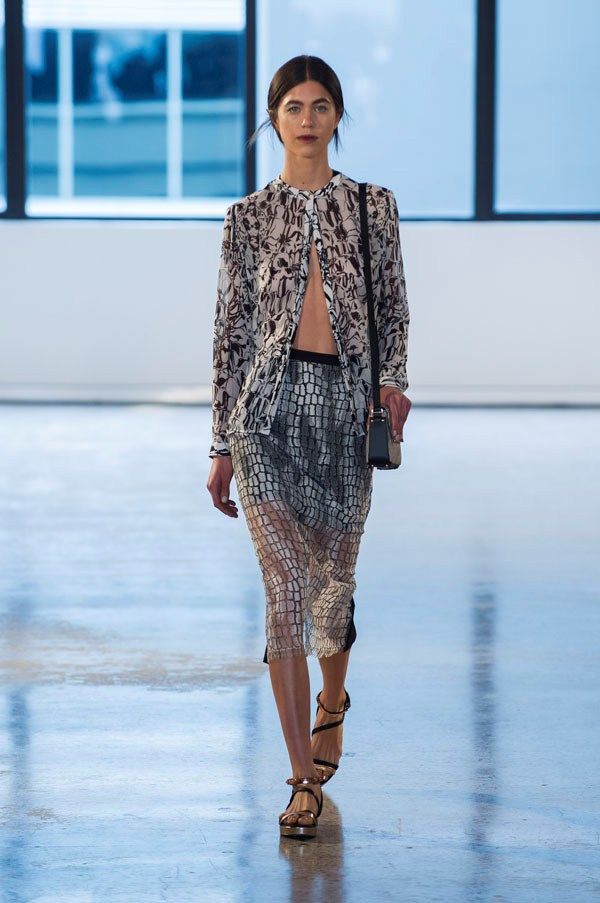 Looks like Alexander Wang isn't the only one doing the half-unbuttoned look, Ginger and Smart is bringing the trend down under. That along with mixed prints and a partially sheer skirt? I am so in.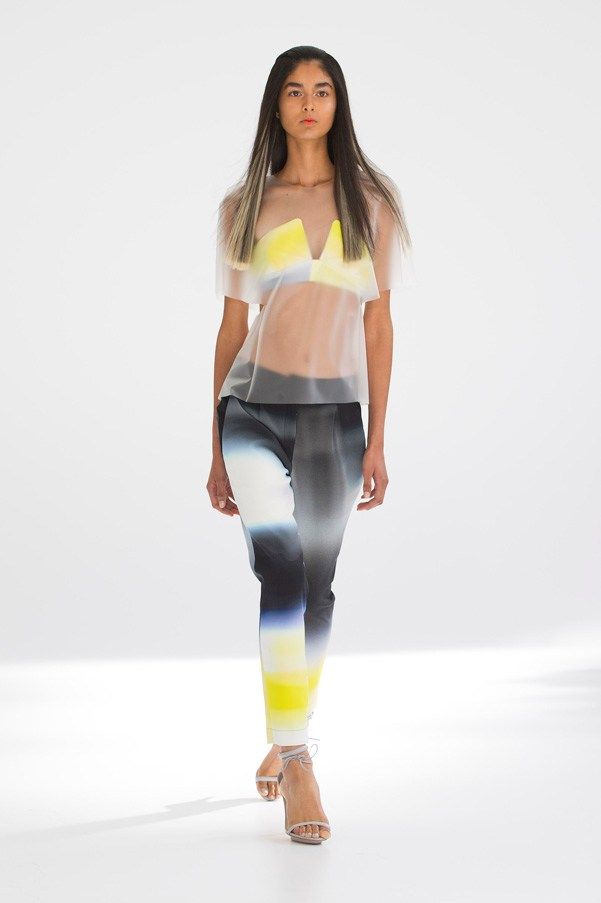 I wasn't familiar with Haryono Setiadi prior to this fashion week but if this is what we're working with, I think I might have found myself a new Aussie designer to obsess over. Matching prints has been a huge trend the last few seasons but this is a subtle way to do it (while still making a huge statement — you are half-naked on top, after all).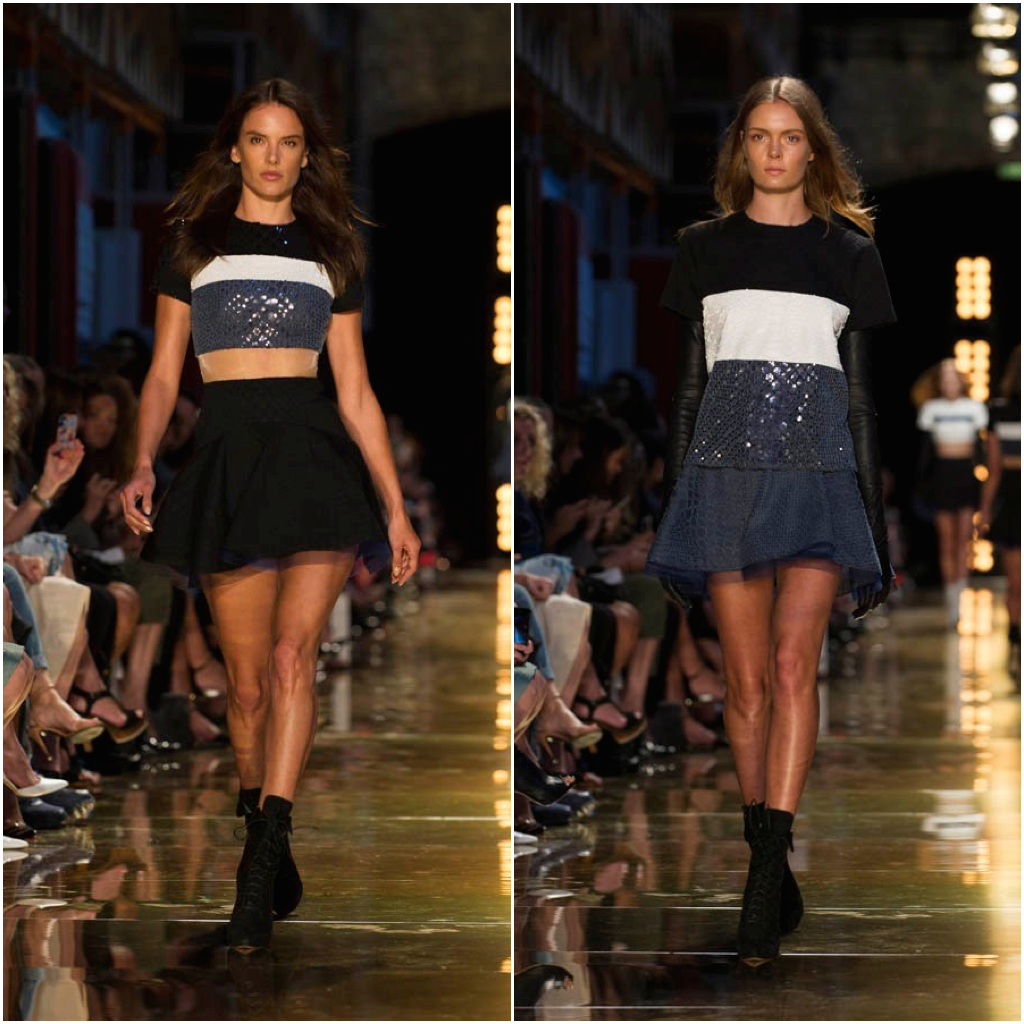 Alex Perry has become one of the most talked about Australian designers as of late (might have something to do with the fact that Giuliana Rancic wore his design to the Grammys this year) so it's no surprise he got Alessandra Ambrosio to walk in his show. But as much as I dig her outfit, that one on the right is calling my name.
If this doesn't make you want a jumpsuit then I don't know what will. The contrast neckline is genius and Karla Spetic really took it to another level with those sneakers. Who would've thought to pair a fancy jumpsuit with plain white kicks? BRAVO, KARLA.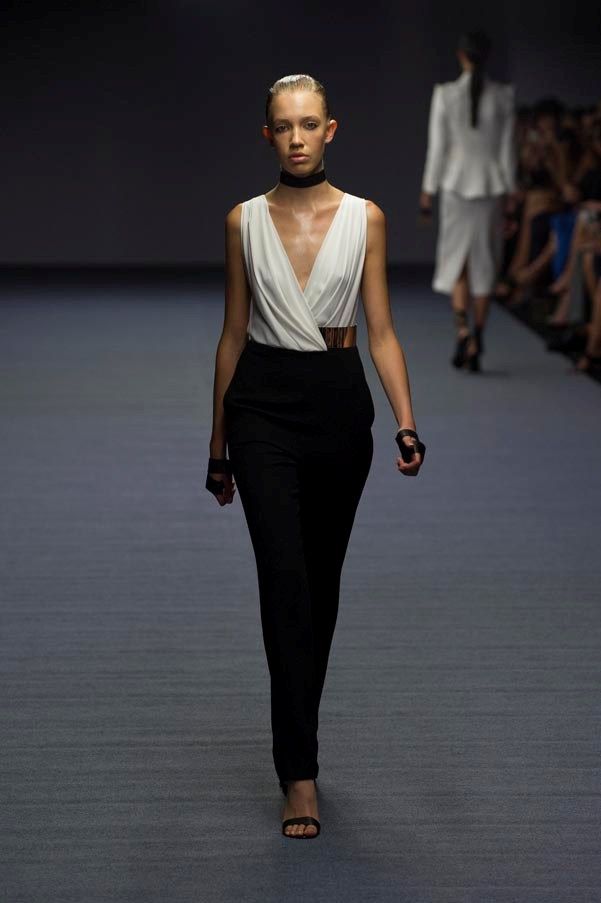 But Karla isn't the only Karla doing killer jumpsuits. Cue Carla Zampatti and her Givenchy-esque ways. Black and white + a deep V + a hint of gold = sign me up (ps. this is the extent of my math skills).
Shifting gears into best metallics at MBFWA — hello Kahlo! I appreciate a little 90s revival (although I'm not a size 0 so I will not be sporting a super cropped top with low-rise anything this Spring) and the jacket-as-a-cape thing is the perfect dash of sophistication to an otherwise grungy look. Then for look 2 — just give me rose gold anything and everything all day errday.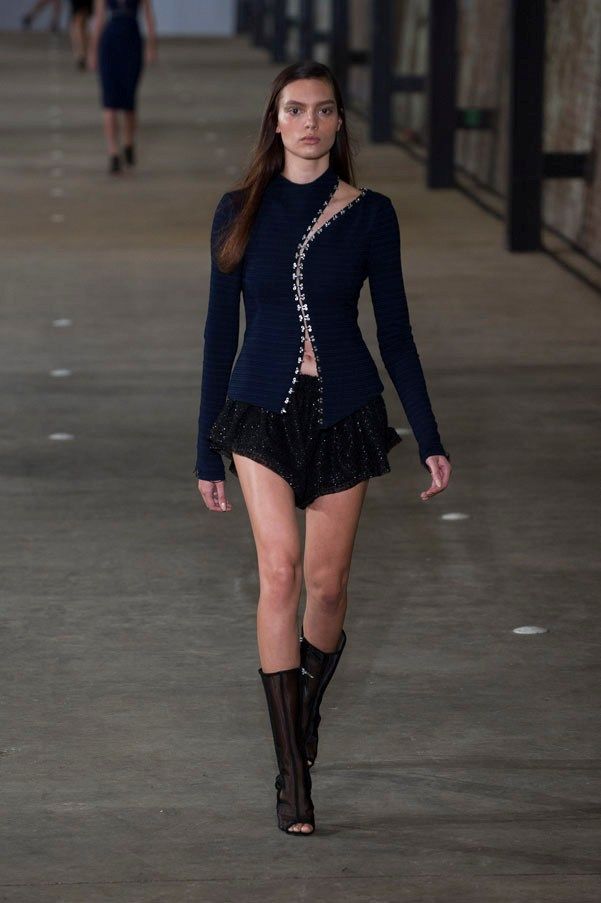 Leave it to Bec & Bridge to make a jacket that looks like this. The best part about this designer is that you can get cool clothes with a bit of edge and without going broke (a little more about them here). So yes, this jacket will not be in the four digits and that's something to be thankful for.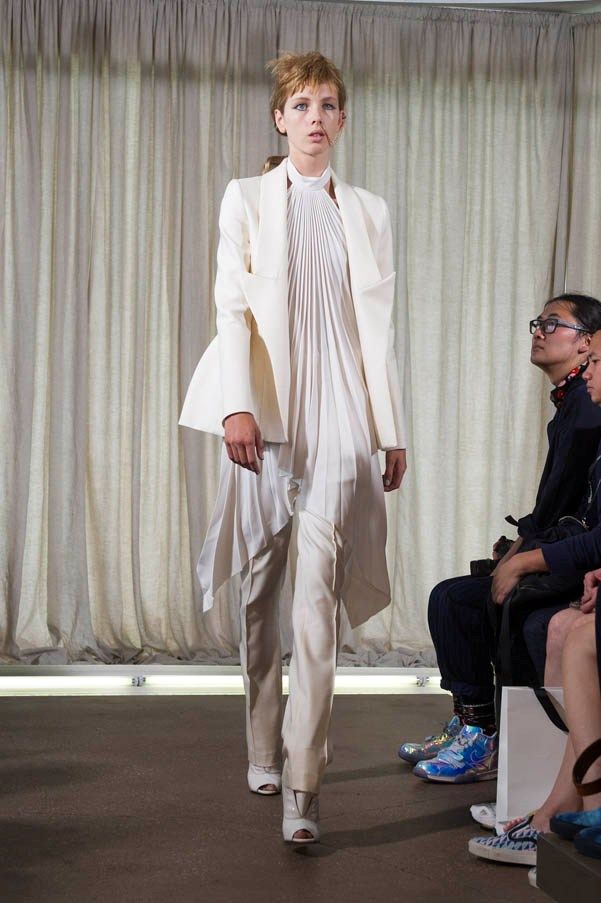 DRESS WITH PANTS ALERT (also Phil Oh and slip-on sneakers in the front row alert). Ellery always does a fantastic job with sharp silhouettes in the perfect neutrals. I still regret not buying this shirt in Australia so maybe I'll learn my lesson and "add to cart" when the opportunity arises for this one.
—
So those are just a few of my favorite looks from Australian Fashion Week SS14-15 (or in social terms, #MBFWASS1415…oh I heart you fashion). But now it's your turn — anything striking your fancy? Learn about any new designers you'll be convincing your local boutique to start carrying?
Images via Harpers Bazaar Australia + Mercedes-Benz Fashion Week Australia
You might want to check out...