One of the biggest vintage shopping events of the year, Randolph Street Market is getting a special surprise this weekend!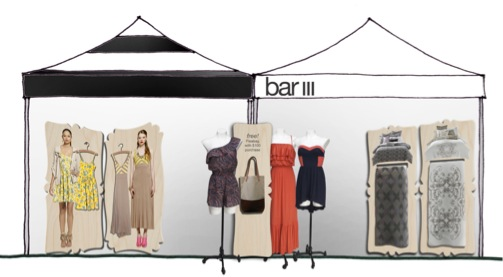 Blogger Aimee Song of Song of Style, Macy's most popular contemporary label, Bar lll, and the country's top flea markets are coming together to bring Bar lll at the flea. Setting up shop at various vintage and flea markets throughout the country, Bar lll at the flea will be at Randolph Street Market this Saturday and Sunday!
The tour kicked off in NYC with Shenae Grimes, Corey Kennedy, Marissa Montgomery and Hannah Bronfman. Last week the tent touched down in LA with celebrity stylists Tara Swennen and Nicholas Bru. Now it's time for Chicago!
At each city, the brand will set-up a tent offering attendees clothing (both menswear and womenswear), jewelry and even home goods from the latest Bar lll summer collection. As an added bonus, customers who spend $100 or more will receive a limited-edition designer Bar lll tote.
So come by the Randolph Street Market this Saturday, May 26 (10am to 6pm) and Sunday, May 27 (10am to 5pm) and check it out!
You might want to check out...