If you live in Chicago, I'm sure you have passed by a mural at some point that involves a bear wearing boxing gloves. If you haven't, then you most likely never leave your neighborhood (and in that case you might as well live in LA). Regardless of where you reside or what you see in your 'hood, we can all learn a little something from the Bear Champ today.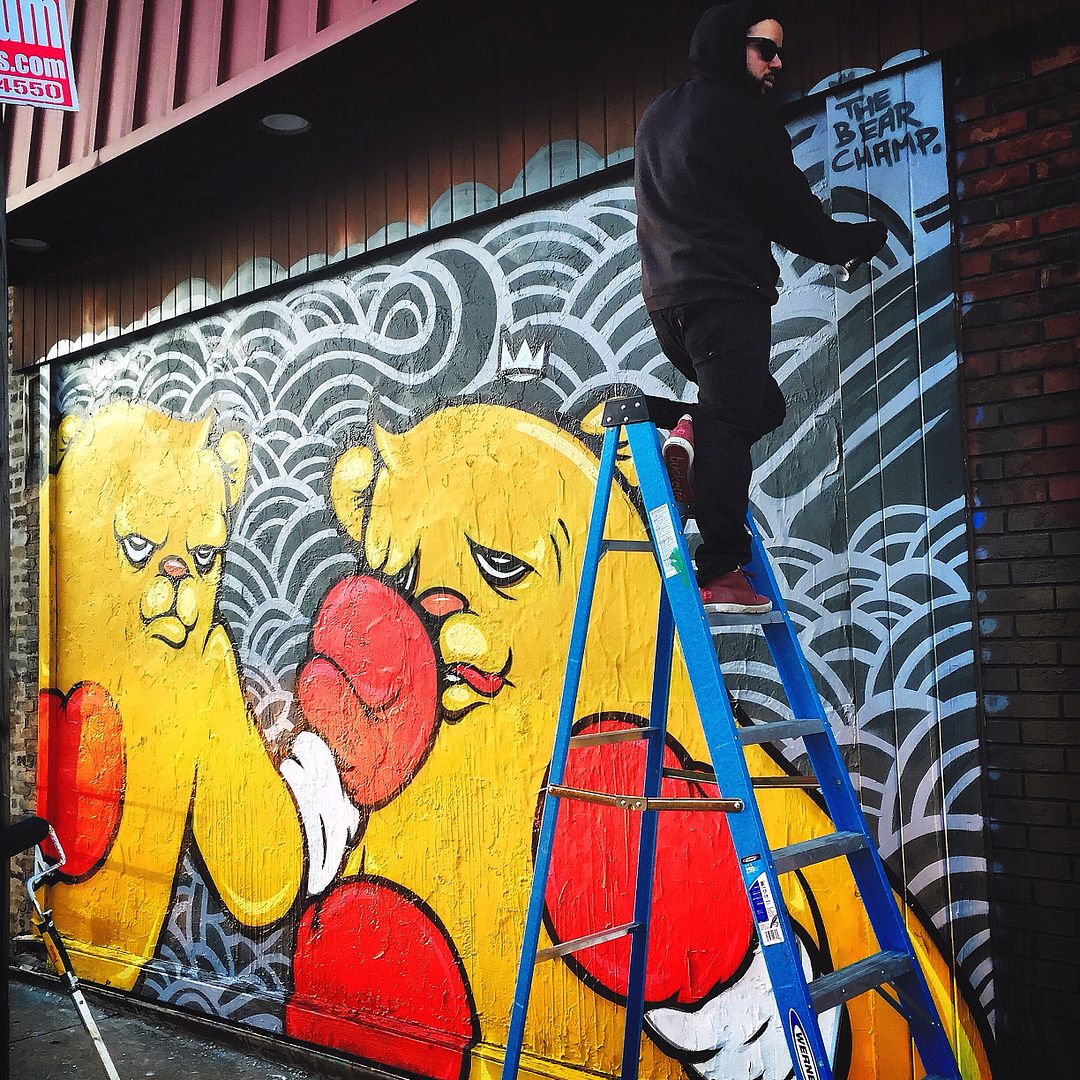 When I first started going to Owen + Alchemy (which has now become a weekly ritual due to Anne's awesomeness) I noticed this wall across the street with a painting of a leaping yellow bear wearing boxing gloves. It caught my attention, I thought it was fun, and I never really thought anything of it…until I started seeing these bears all over the place. They're in multiples, paired with other street artists, in different neighborhoods. Then I became extra curious. WHO IS BEHIND THESE DAMN CUTE BEARS?!
So then I did a little research and found out it's Chicago-based artist JC Rivera. What I found the most fascinating about JC is that he's not trying to hide his identity (unlike many street artists) as all of his work is commissioned. No illegal wall tagging for this guy!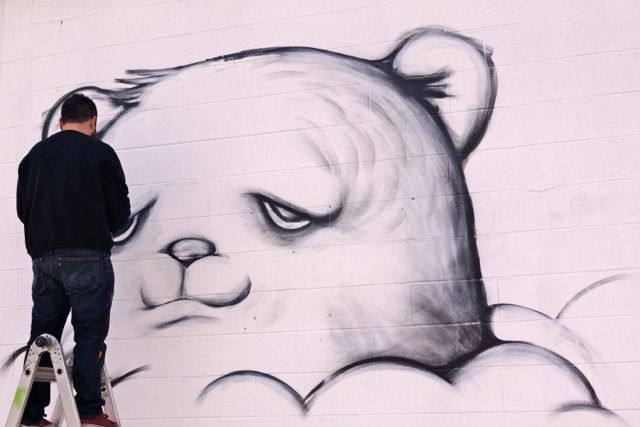 After the research I did a little stalking, and I actually got to sit down with JC and find out how he came up with a bear in boxing gloves in the first place. And if you think the timing of this is in correlation with that Floyd Mayweather fight tomorrow night, you're wrong (can't believe I even made that reference…who am I?) It's actually because JC has a fun collaboration coming out today but you'll jut have to keep reading to find out.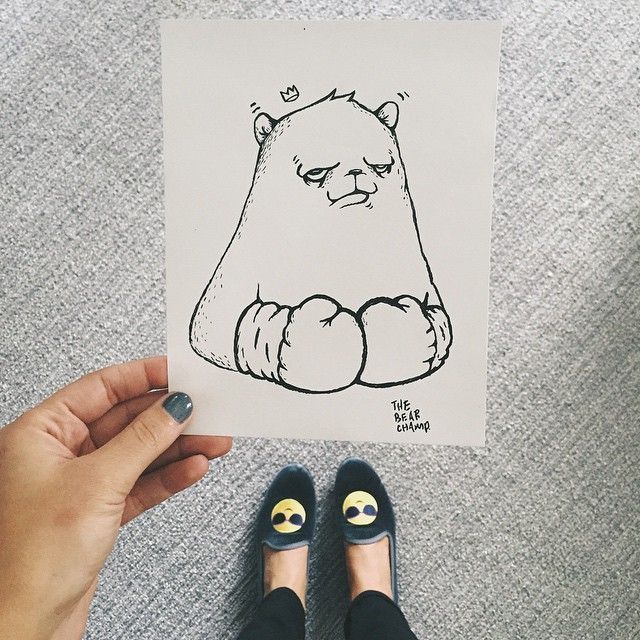 Like many creatives, JC was doing his art on the side. He was a retail manager by day and in 2010 finally decided to make his art his career. But before that he wasn't even in Chicago. He came to Chicago from Orlando and before that via Puerto Rico. I always like to ask — why Chicago? The response I got was one of the answers we see many times on CCF Loves — he wanted a big city, but small enough where you can still be noticed. I feel that.
So, Bear Champ — where did this guy come from? JC tells me he wanted to be a boxer growing up but his overprotective mother wasn't a fan of that choice. He also says, "The character also means the everyday struggle. Keep rolling with the punches. Fight for what you believe in." Like I said, we can all learn something from the Bear Champ today!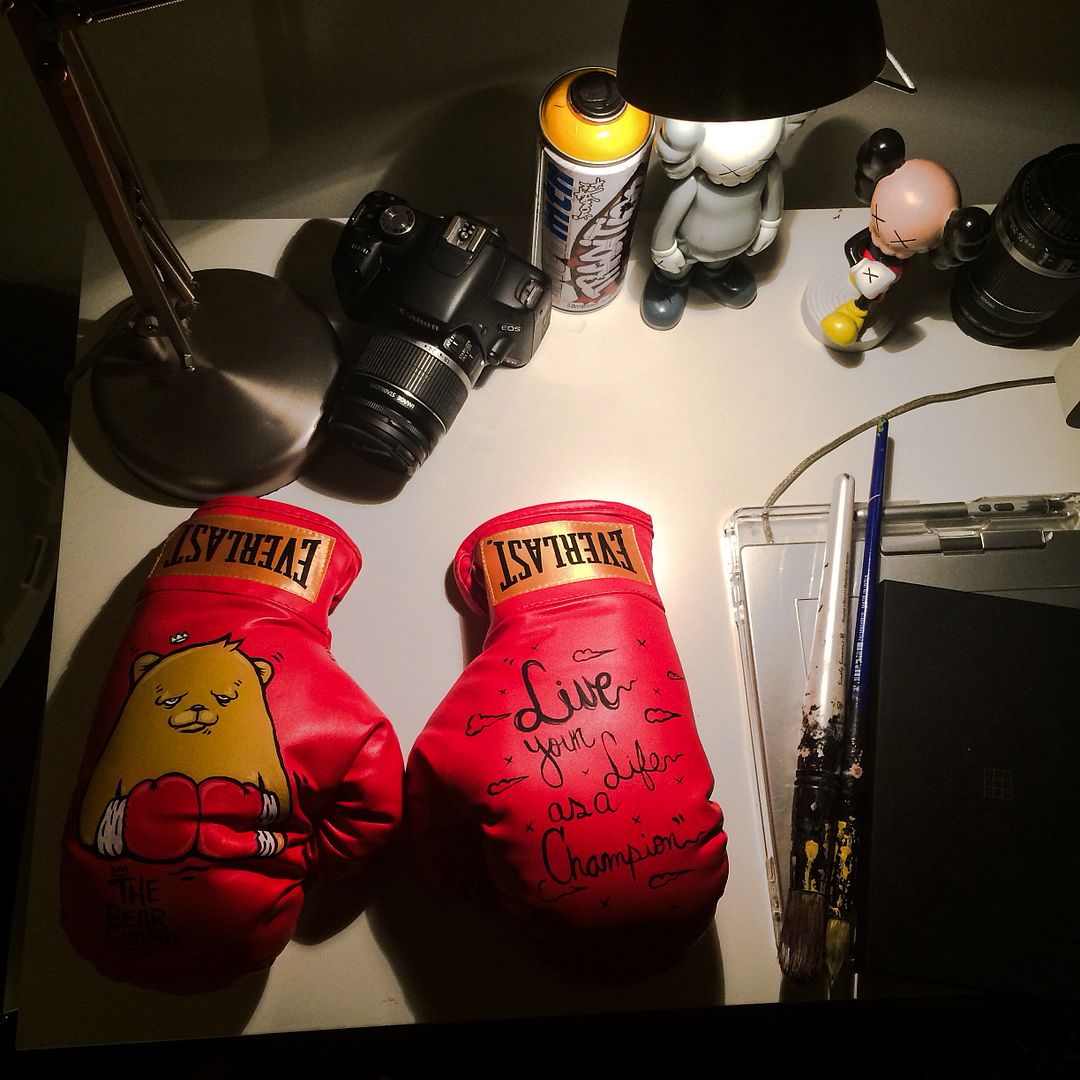 What's especially unique about JC is that people mostly see him as a street artist, but he's actually a very talented toy designer as well. Although lately he says murals have been taking up most of his time and he'll get back to the toys very soon. I hope so because I could really use one of these little guy's around the house.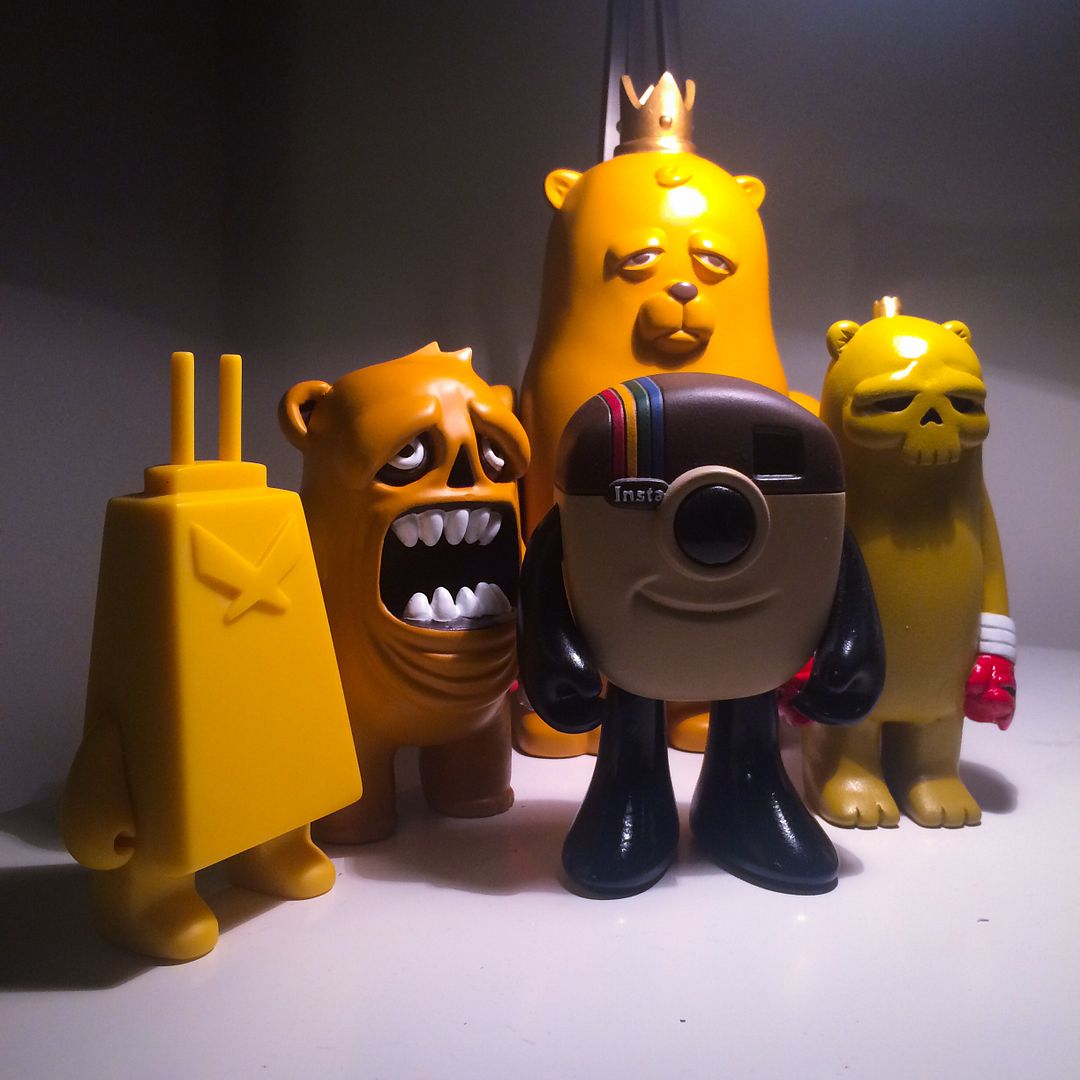 When I asked him the piece he's the most proud of, he says the one he painted at Havas Worldwide, as he painted the entire background with brushes. So JC, want to come paint CCF HQ (AKA the extra bedroom in my apartment?)
Although JC is more than a street artist, he really enjoys the random interaction with people walking by while he's painting (myself included…yes I did find out where he was painting one day and I may or may not have just showed up). He's also commissioned to do work outside of Chicago, so to make your mark in other cities around the country is pretty damn cool. And if you happen to wonder what other street artists inspire him? I'm really happy I asked that question because now I know about Nosego and his work looks INCREDIBLE (still love you, though, JC).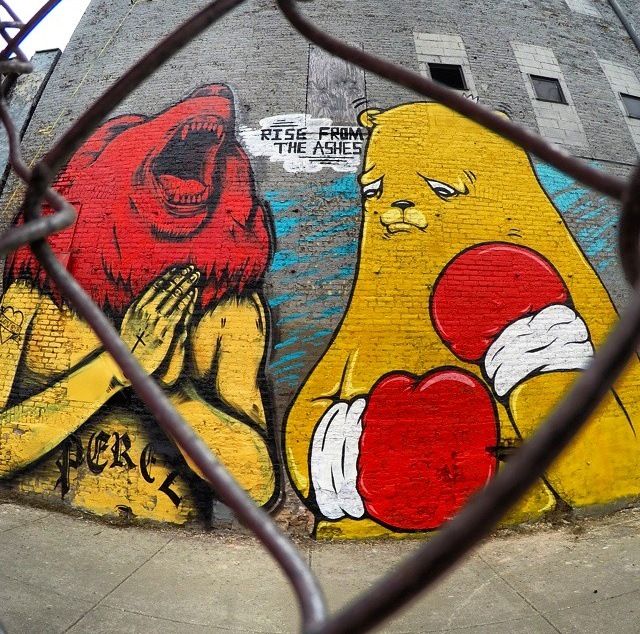 So lastly, what can we look forward to in the future from JC Rivera and the Bear Champ? He does have a collaboration with Bucketfeet coming out today (as I sort of mentioned last week). It's even available at Nordstrom! Besides that, he's doing a Solo show at Gallery F (the place to be if you're a street artist) in November. He just launched a few pieces of Bear Champ clothing on his website (sweatshirt already purchased…don't you worry). We also have the second chapter of the Bear Champ story coming soon. And guess who can't wait for it? ME.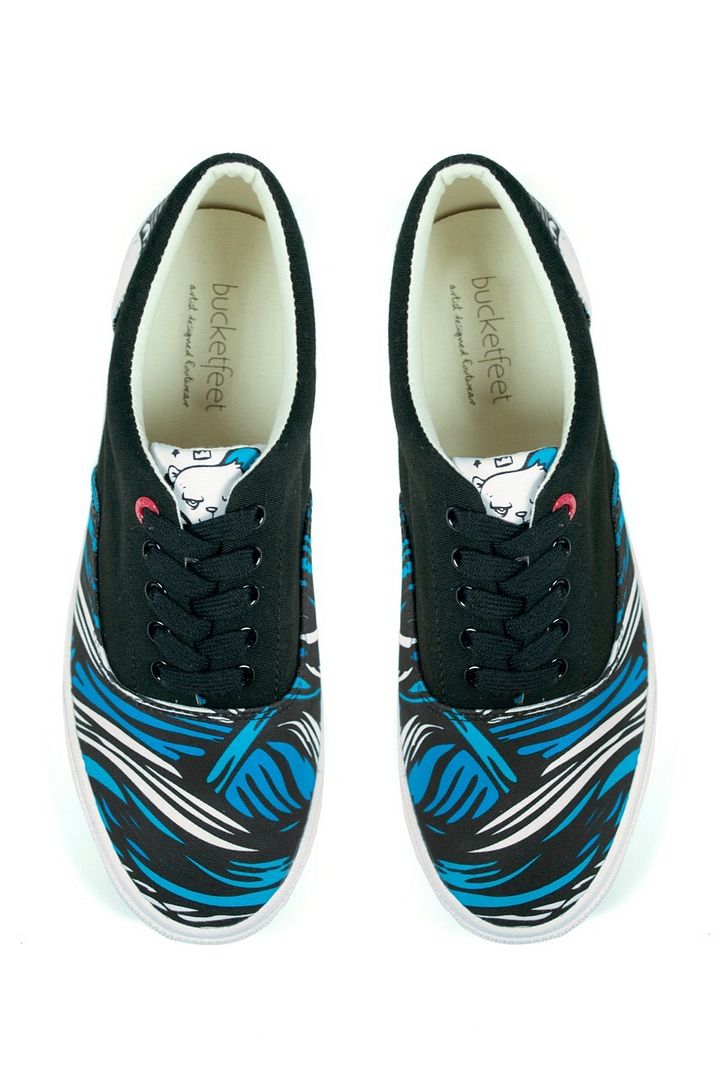 You know I love street art. Bears seem to be having a moment right now. And as much as it's nice to look at art, for me…it's more meaningful if you can wear it. Which is why I'm pumped for JC's clothing (which I'm hoping that department will be expanding) and Bucketfeet collaboration. So what do you think of JC's work? Have you seen the Bear Champ around town? Any favorite murals so far? For more JC, follow his adventures on Instagram.
Photos by Danny Cantu, Drew in Chicago, Peter Hindsale & courtesy of Bucketfeet
You might want to check out...