Everyone has their own opinion of who was best and worst dressed of the night. Although there were some dresses that were not my favorite, I would rather write about my favorites…and I want to hear what you think too!
Here are my picks for the best dressed of the night at the 2010 Golden Globes. Note, this is in no particular order.
Kate Hudson in Marchesa: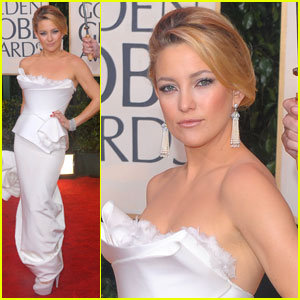 It's difficult to ever put a Marchesa gown on the worst dressed list. The color is simply white but the structure slightly complex with a sculptured look, like most Marchesa gowns. Kate totally rocked it (and she was styled by Rachel Zoe) which is why she made my best dressed list.
Zoe Saldana in Louis Vuitton: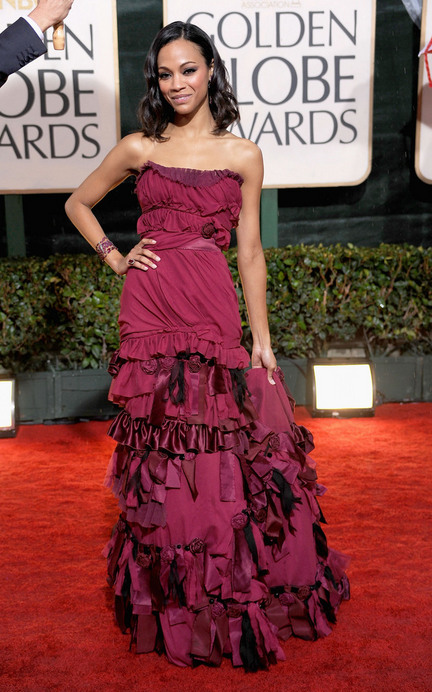 People either loved this dress or they hated it. I, for one, am a lover of this Louis Vuitton masterpiece. I think the color looks great on her skin tone and she can actually pull off a strapless dress with her body type, unlike a few Golden Globes attendees that will remain nameless. [Girls, if your boobs are bigger than a D, please don't wear strapless things. Thank you.] Anyways, I love the ruffles and textures of this amazing Louis Vuitton gown, which is why it makes my best dressed list.
Jennifer Garner in Atelier Versace: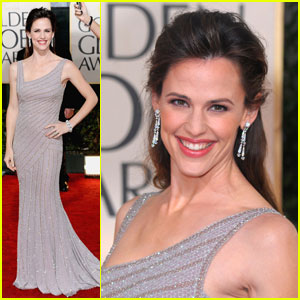 My jaw dropped when I saw Jennifer Garner walk down the red carpet. This dress is absolutely stunning. It fits her perfectly and she looks gorgeous wearing it. I love the asymmetry in the front and I wish I had a picture of the back because it was my favorite part of the dress. I can't find one online so if anyone does find a picture of the back of this fabulous dress, please let me know. I love Jen Garner, she's one of Rachel Zoe's clients, and she totally rocked this Atelier Versace gown…this is why she's on my best dressed list.
Olivia Wilde in Gucci: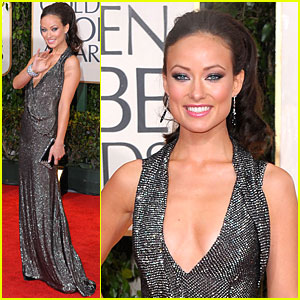 Another jaw-dropping gown. Olivia Wilde is already gorgeous with her dark hair and piercing blue eyes, but throw on this sparkling Gucci dress with a plunging neckline and you have perfection. The best part about this dress is that after the Golden Globes, she is auctioning it off and all of the money will go directly to helping Haiti. Stunning dress, beautiful woman, and a philanthropist? This is why Olivia wilde made my best dressed list.
Lea Michele in Oscar de la Renta:
Let's just say I'm a little biased because Glee is one of the greatest shows on television 🙂 but Lea Michele really took a risk by wearing this Cinderella-like gown and she totally rocked it. It wasn't too over the top because it was all black, the sweetheart necklace corset top fit her perfectly, and the feather-like bottom detail is so beautiful. I love anything Oscar de la Renta does, I think Lea Michele is great, and Glee is awesome…which is why Lea made my best dressed list.
So ladies [and gentlemen if you read this], what do you think? Do you agree with my picks? Who were your favorites? Least favorites? I want to know. Leave me your twitter name and I will retweet your responses!
You might want to check out...