A lot of people have a tough time incorporating color into their wardrobe, and I always say the easiest way to do so is by utilizing bright accessories. But now with so many colorful shoes, jewelry and bags on the market…the accessories world can be a bit overwhelming. The simplest way to utilize color is the most intimidating for a lot of women. Can you guess what it is?
Lipstick is such an easy way to take your outfit to the next level, but I know many women find the look too severe and fear trying a bold lip. I know because I used to be one of those girls and thought I'd look like an idiot with red lipstick. After trying Bobbi Brown's Red 10, I was immediately hooked! Now, I have an extensive collection of pink, red and orange lip colors that I can't get enough of. If I ever think my outfit needs an extra punch of color, I put on a bold lip and I'm good to go. I especially love lips because I find eye makeup too complicated and it's much easier to throw on a fun lip color than to try to blend eyeshadow and apply eyeliner.
For those who have never ventured in the lip color department before, I get that it's a big step…but I promise it's a step worth taking.
Although my lipstick collection is nothing compared to my salon-worthy collection of nail polish, it's still ever growing. However, I do have my favorites. Between the color, the moisture and the long-lasting wear, these are my go-to's when it comes to a good lip color.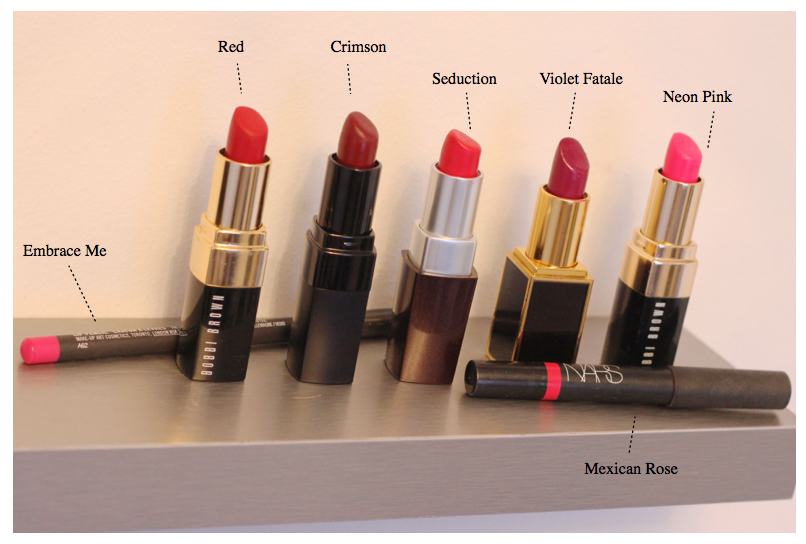 Like I mentioned before, Bobbi Brown Red was my first venture into a bold lip. It was scary, I admit, but I'm so glad I made the jump. It's a great classic red (more of a blue-red than an orange-red so it's ideal for a darker complexion) however I recommend trying on various shades to see what fits your skin tone and hair color best.
For the Fall/Winter season, I enjoy a deeper hue every once in a while and Bobbi Brown's Crimson happens to be my only dark color lipstick. It's just such a perfect shade…I find no reason to look for a replacement!
If you are looking for more of an orange-red (as opposed to a true red), Laura Mercier Seduction is where it's at. It can be worn in any season, it goes with just about everything (even a Proenza manicure) and the consistency of this specific lipstick is ideal. You rarely have to re-apply, which is a huge plus in the lipstick world.
I had been on the hunt for a good purple lipstick for quite some time and when I came across Tom Ford's Violet Fatale (seen here), my search was finally over. Not only is it the most luxurious lip color I've ever used, but this specific shade is EVERYTHING. It doesn't hurt that the packaging is super glamorous. And yes, that matters.
I never thought I'd be wearing bright pink lipstick in my adult life, but Bobbi Brown Neon Pink made me think otherwise (especially in combination with MAC's Embrace Me lip pencil, worn together here). With minimal makeup and just a bold eyebrow, this look is so Cara Delevingne it's insane.
If you really just don't know where to begin, try NARS Mexican Rose lip pencil. It's easy to apply, lasts for hours and the color looks good on everyone. Bold lips for beginners (or even those who are advanced and looking for something new) BUY THIS NOW. You won't regret it.
What are your go-to lip colors? Are there any you're looking forward to for the new season?
You might want to check out...