Because I'm itching for a red carpet post and the Golden Globes aren't until January 13 (same night as Girls season 2 premiere…why would you make us choose?!) I wanted to round up the best red carpet looks of this past year.
Please note these are only from major red carpet events. There's a movie premiere or some magazine party just about every week. But THESE are the red carpet events that really matter (plus I just can't keep track of the other ones).
Gwyneth Paltrow in Tom Ford at the Oscars
She really set the standard high for anyone daring to attempt a cape on the red carpet. This was just perfection.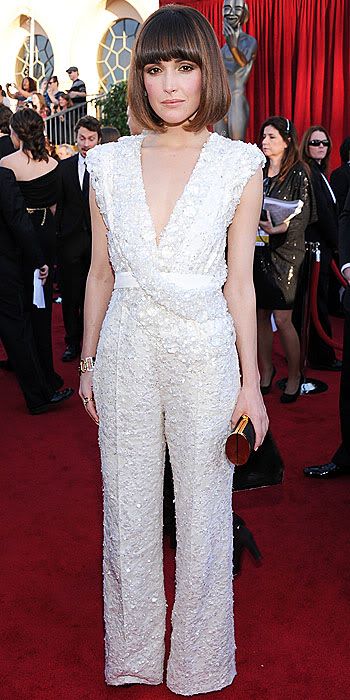 Rose Byrne in Elie Saab at the SAG Awards
All white was a big trend this year on the red carpet, however jumpsuits were not. This was a rare sighting for an event like this but it was very refreshing. Not everyone can pull off a jumpsuit but Rose Byrne killed it here.
Zoe Saldana in Givenchy Couture at the SAG Awards
In even more all white news, Zoe's Givenchy Couture dress wasn't liked by all…but it was liked by me and that's all that matters right? This is the perfect example of no matter how beautiful the dress, it must be on the right girl. This look would not have worked on pretty much anyone but Zoe (or a model) and I love seeing Givenchy Couture on the red carpet.
Carey Mulligan in custom Prada at the Met Ball
This was one of the most talked about dresses at the Met Ball, especially because she sold the dress on eBay for charity shortly after. This is one of those looks than can please the "fashion people" and the general public at the same time, which is not easy to do on the red carpet.
Diane Kruger in Prabal Gurung at Cannes
She pretty much owned Cannes this year with her red carpet looks. I don't think she had a bad one (but does she ever?) My favorite was this look from Prabal Gurung Fall 2012. The detail is insanely beautiful and this dress was well deserving of a red carpet moment.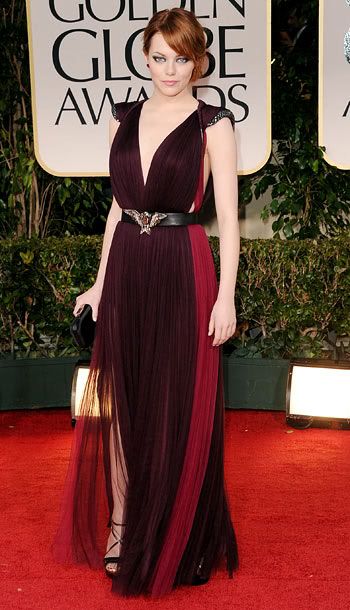 Emma Stone in Lanvin at the Golden Globes
It was a bold move to wear a huge eagle belt at a fancy event like the Golden Globes. I appreciate some edge on the red carpet and Emma Stone really can do no wrong.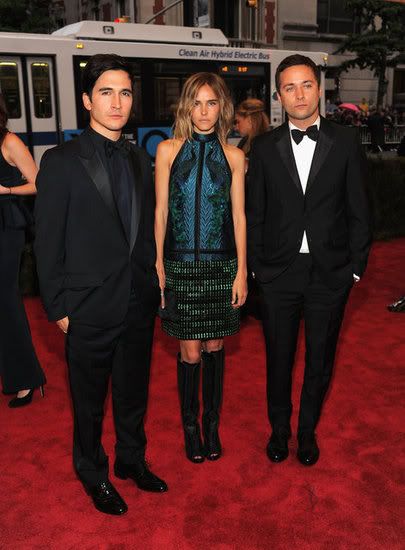 Isabel Lucas in Proenza Schouler at the Met Ball 
I remember searching high and low for this picture because I obviously had to see who would be wearing Proenza for this huge fashion event (the trio must have shown up late because this photo was not easy to find). This is not your typical red carpet look, which is a huge part of why I love it. Like I said a few weeks ago, I've been into the knee-high boots and dress thing lately. So clearly, I dig this.

Jessica Alba in Michael Kors at the Met Ball
I mentioned in my original post that I can't believe how much I love this dress. I've never been into one shoulder garments but for some reason I can get past it here. And that reason is probably that she's absolutely beautiful…and Michael Kors himself is totally photobombing.
Julie Bowen in Monique Lhuillier at the Emmys
I'm rarely wow-ed at the Emmys but Julie Bowen really took it to the next level for this event. The silhouette here isn't anything spectacular, but the color is stunning on her. To make things even better, the styling is perfect (I do actually love the messy hair) and she looks genuinely happy to be wearing this dress (which is something we can never say when it comes to Kristen Stewart).
Leslie Mann in Naeem Khan at the Emmys
Many celebrities play it safe when it comes to these things so it's not often when I find myself surprised. This was one of the few looks this year that really surprised me, but in a good way. The color was unique, the turquoise jewelry was unexpected and I am just a SUCKER for a dress with pockets.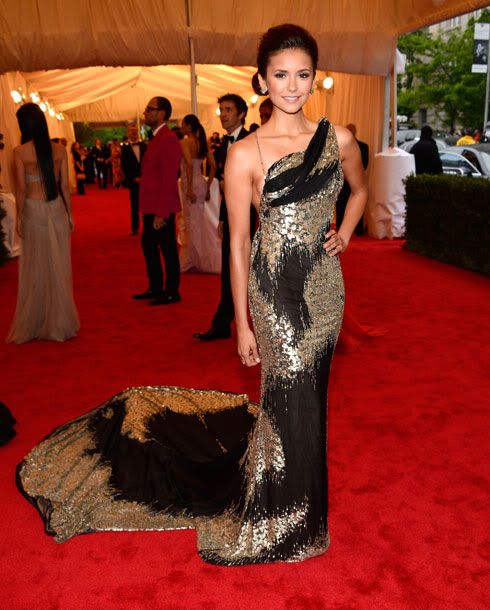 Nina Dobrev in Donna Karan Atelier at the Met Ball
This was one of those moments that really put her on the fashion map. She looks super glamorous and that dress fits her like a glove. I don't watch that vampire show she's in but I would consider it if the clothes looked like this.
Solange Knowles in Rachel Roy at the Met Ball
This was the year of Solange (sorry Beyonce). The girl is not afraid to take a risk so I cannot wait to see what she wears in 2013.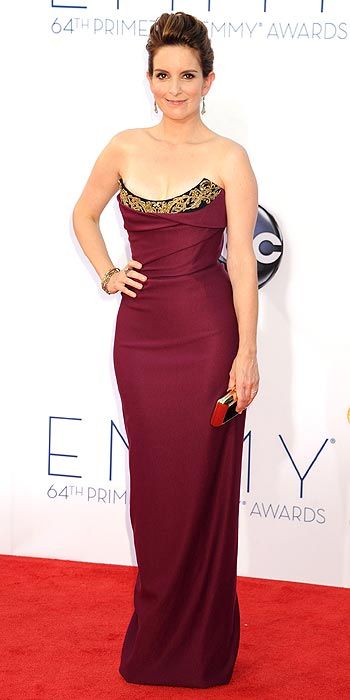 Tina Fey in Vivienne Westwood at the Emmys
Tina Fey rarely makes any best dressed list, so after she wore this Westwood gown to the Emmys I thought she deserved a standing ovation (or a mention in this blog post). This is the best she's ever looked on the red carpet and I was so thrilled to see her in something other than black (and not in this).
Karolina Kurkova in custom Rachel Zoe at the Met Ball
Of any red carpet event this year, Karolina Kurkova in Rachel Zoe was my absolute favorite. I can't think of another instance where I couldn't stop thinking about a red carpet look, but this happened in May and I still can't get her out of my head. It was glamorous and almost badass at the same time. Just so damn good.
Publicist in Prabal Gurung Spring 2012 at the Met Ball
The ultimate fashion photobomb of the year goes to this girl (who Fashionista.com revealed as KCD's Nicky Deam). Hey if I were wearing that awesome dress at such a huge event, I'd do the same thing. You go girl.
What were your favorite red carpet looks this year?
Photos via People, InStyle, Fashionologie, Entertainment Weekly
You might want to check out...