I originally wanted to call this post "The best part about it being 40 degrees in October" but that seemed a little lengthy (and to you lucky ones out there, it's not 40 degrees in all parts of the world). But for my fellow Chicagoans, although this weather is a bit surprising (even for us), it's a little depressing to know that Winter snow, below freezing temperatures and the oh-so-popular puffer coats will all be gracing us with their presence very soon. Because I'm all about spinning a negative into a positive (unless you happen to get caught in the rain in your new suede and calf hair boots…there's no positive to that), today we're going to talk about the 5 best things about it being 40 degrees in October (and if you wake up early enough, 35 degrees).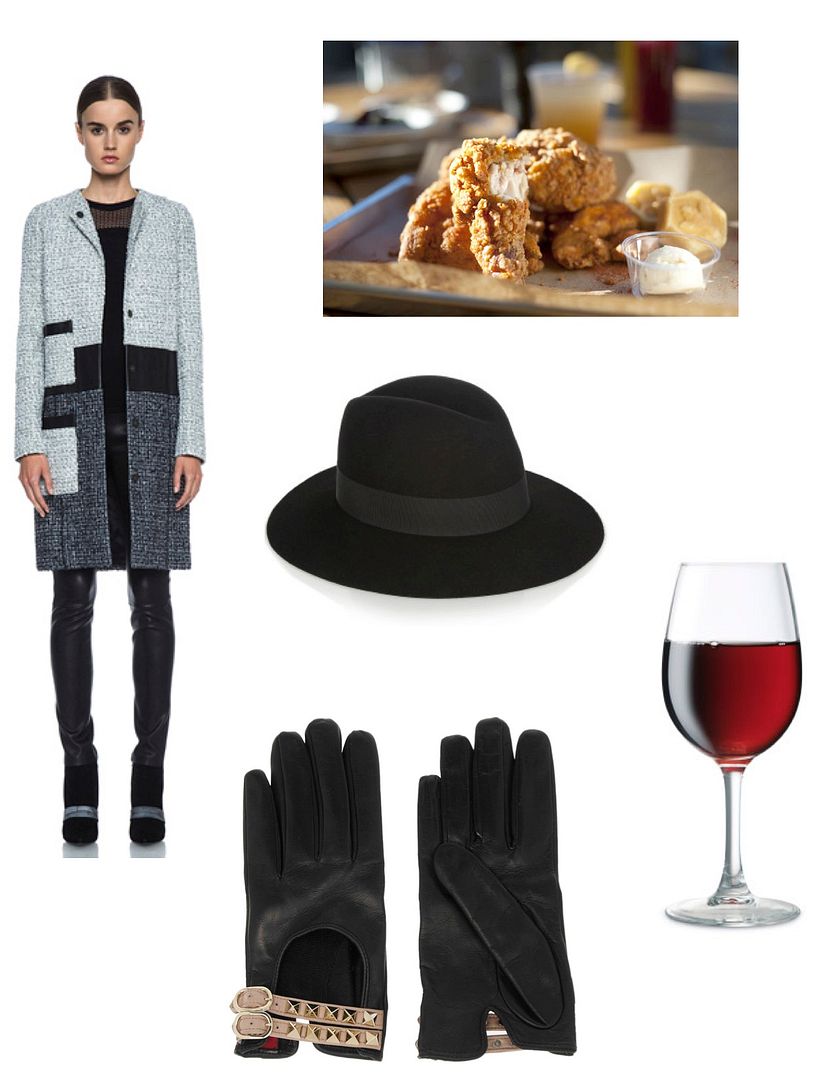 Fried chicken and fashion? Don't mind if I do. But let's just get right to it. Why SHOULD you be happy it's Fall/especially cold out for this time of year?
1. COATS: This one is pretty straight forward but when it's cold out, it's your number one priority. I used to hate wearing a coat growing up (which is odd considering I grew up here…not the warmest place in the world) but once I started getting into fashion and realizing there's life beyond North Face fleeces and puffer coats (which I discovered the hard way you should not purchase in light colors to avoid being called a marshmallow) I now know that coats can actually be really fun. I already beat it into your head that oversized coats are happening (both here and here) but there are so many other options out there, there's no reason not to sport a stylish coat this season. Please retire those fleeces and puffer coats and keep on scrolling for coats so awesome that you'll never want to take them off (even if you're wearing a ballin' outfit underneath).
2. FOOD: It's about that time where it's totally acceptable to gain a few pounds…and how can you not when there's a restaurant called Honey Butter Fried Chicken (pictured above) that is just so freakin' delicious? Chicago isn't necessarily known for having the healthiest food around so when you're surrounded by the best fried chicken you've ever had, burgers that will make your heart melt and an unrealistic amount of pizza options (as opposed to anything remotely green, we'll leave that to the West Coast) you're going to just go for it. But it's okay. Everything in moderation, of course. And if you cross that "moderation line" when the temperature is below 45, it's going to be okay. I don't exactly crave kale salads when I can't feel my hands (but I will take the Matzoh Ball soup at Eleven City Diner to warm me up any day of the week). Moral of the story is, if anyone gives me an excuse to eat more (even if the excuse is just weather) I will take it.
3. HATS: Hats are the best invention ever because it encourages infrequent hair washing, and that's something I can get behind. Not only that, they somehow just make you instantly cooler (or at least appear to be cooler…they aren't magical hats, after all). As much as I'd love to live in a Saint Laurent fedora this Fall, it's not exactly the warmest way to go about wearing a hat (also not really in my hat price range). If you're more about practicality, something in the beanie variety is the way to go. It was one of the top trends seen on the streets during fashion week in February (probably because it was indeed February) and with their growing popularity comes many more beanie options. And before you know it, "add to cart" has turned into "why the hell did I just order 9 beanies?" It happens to the best of us. Don't be embarrassed. Embrace it. Ready…set…GET YOUR HATS ON.
4. DRINK: [But don't drive!] 'Tis the season of spiked cider, Pumpkin Spice Lattes (which I've heard aren't so bad with a shot of Whiskey), mulled wine and my favorite…red wine. Drinking makes you warm. I'm cold. I don't have a blanket (nor do I have a Snuggie) with me at all times. So what's a girl to do? You know the answer. Now I'm not encouraging binge drinking here by any means (because that won't necessarily keep you warm, just knock you out) but when holiday season is approaching (which according to the Walgreens seasonal section started in mid-August) a comforting beverage is a must. I'm trying out a coatigan this season so if that doesn't keep me warm enough, then a glass [or two] of red is going to happen. Hey, I'm just trying to be practical here.
5. GLOVES: Like coats, I also used to hate gloves. Because when I think of them I think of huge ski gloves that make it impossible to grip anything (except for ski poles, I guess) or chunky mittens which makes high-fiving or throwing up the number 4 pretty easy, and that's just about it. But when you see options like Valentino rockstuds, a Rochas wool-and-leather combo, quilted leather or even touch screen cat gloves (no longer will you have to remove your cat gloves to send that super important Snapchat) you know that things are looking up in the glove department. Only downside though…they kind of defeat the purpose of getting a manicure (unless you go fingerless…which just straight up reminds me of Lindsay Lohan).
–
So basically if I see you walking down the street in a chic hat, carrying a glass of wine and eating a burger in your studded gloves while keeping warm in an oversized coat…I'm going to stop you, give you a hug, and insist that you share.
Shop the post, yo.