When it comes to certain trends, you definitely need to have some guts to try them out (and even more to pull them off). I consider things like a full-on pajama-like outfit, a bright monochromatic suit, and a completely sheer top to be in this category. If you're looking for an easy trend, go black and white. If you're looking for something a little more…ballsy…then just wear a bra. Seriously.
Images via Carolines Mode, WhoWhatWear, Tommy Ton
Okay I don't mean literally wear one of your bras with nothing over it (although I'm sure Rihanna has done it) but there are a lot of great bra tops, bustiers, bralettes (whatever you want to call them) out there right now. Although I've seen this trend done in many ways, I think the most tasteful way to go about it is paired with something high-waisted. Whether you prefer a skirt, pants or shorts — at the belly button or above is ideal (although that girl in the striped shirt is killing it and the whole belly button thing doesn't bother me at all). But if you think about how most women are shaped, our waist is typically the smallest part of our torso so that's the area of skin that should be exposed. If you've got abs and want to show them off, go for it. I personally don't so I keep that area fully covered at all times (no bikini Instagram pics from this girl!)
This trend is risky because it can easily go trashy. If you finish reading this and go out in a bra and low-rise jeans, I'm just going to quit right now. Like I said, pairing your bra/bustier top with something high-waisted is not only tasteful but it can also be super feminine (see Dree Hemingway and Selena Gomez below). If being girly isn't your thing, Rihanna is killing it in barely any clothes at all, without looking too feminine…but as always, looking like a badass.
Images via Vogue, Yahoo, Style Bistro
I'm just going to go ahead and say that if most people dressed like Rihanna they would look straight-up trashy so if this is your first attempt at this trend, pairing your bra top with a longer high-waisted skirt (like Dree) would be a great way to ease into it. That way, you aren't exposing too much skin and you can see how comfortable you are with this trend. Another way to incorporate the trend without showing a lot of skin is wearing your bra top under a jacket or vest. Again, if you pair this with something high-waisted, you won't feel like you're showing too much skin.
Although I've only worn this trend twice (both to music festivals — Pitchfork and Lollapalooza) if you take note from the streets and celebrities, you can wear bra tops to many occasions (although I would not suggest wearing one to a black tie event). I wore this PJK bra top with matching skirt to Pitchfork over the weekend and I'm not going to lie, it's one of the ballsier outfits I've worn in public.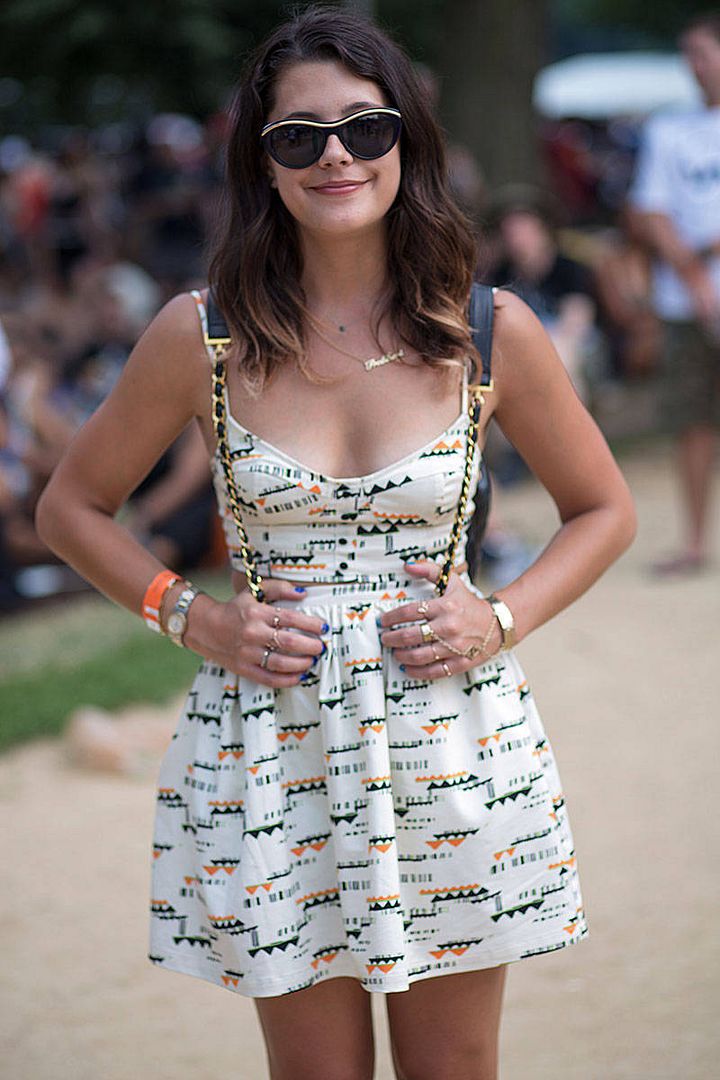 Image via Elle
I think my concern wasn't necessarily showing too much skin, it's that I never wear skirts. Not because I don't like them, but mostly because I feel like they're not very "me." But I've been wanting a matching printed bra top and skirt for the summer and once I found it, I decided I was going to make it work…no matter what. #dedication
If you want to take your crop top to the next level, try a bra top. To get you started, here's a few of my favorites. But remember…keep it classy.
You might want to check out...