One fashion program I hope never goes away is the CFDA/Vogue Fashion Fund. Every year since 2004, they give a grant and mentorship to one promising designer after an extensive round of interviews, presentations, etc. (fun fact: Proenza Schouler's Lazaro Hernandez and and Jack McCollough were the first ever winners). Last night was the CFDA/Vogue Fashion Fund dinner where this year's winner was announced…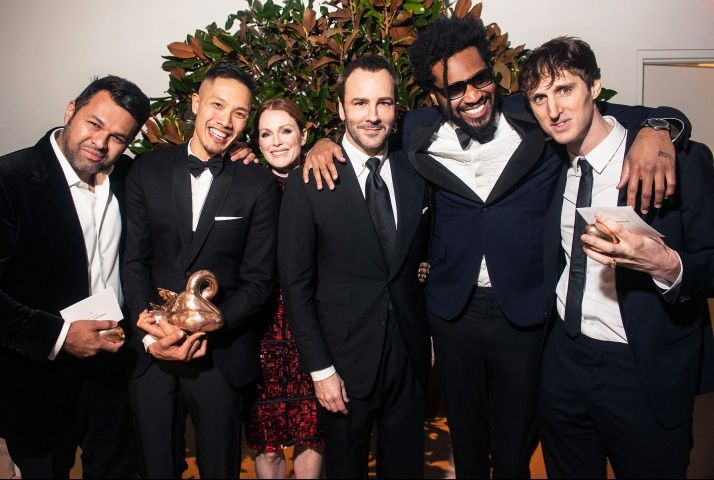 Juan Carlos Obando, Dao-Yi Chow, Julianne Moore, Tom Ford, Maxwell Osborne, and Marc Alary
Congrats to Dao-Yi Chow and Maxwell Osbourne of Public School (don't spend that $300,000 in one place) and runners-up Juan Carlos Obando and Marc Alary. They all not only get funding for their companies but each of the three will be provided with a business mentor…pretty sweet deal if you ask me. Now if you don't know much about the CFDA/Vogue Fashion Fund, I highly recommend checking out the documentary, Seamless (and not just because Jack and Lazaro are in it, although that is a big plus). But in general, I like to support emerging talent so to have an organization like this who does it on such a large scale is really fantastic to have in the fashion industry. Plus, it gives me an excuse to look at fun party photos of people wearing awesome clothes. Such as…

Creatures of the Wind designers Shane Gabier and Christopher Peters (who happen to be Chicago-based!) with model Fei Fei Sun.

Apparently Sebastian from The Carrie Diaries is dating Vanessa Hudgens (I can't tell what's more strange…the fact that I watch The Carrie Diaries, this relationship or the fact that either of these two are at this dinner).

I too would like a hug from Prabal Gurung.

Clearly this is the badass group — Alexander Wang, Vanessa Traina Snow, Jack McCollough, Lazaro Hernandez, Julia Nobis and Joseph Altuzarra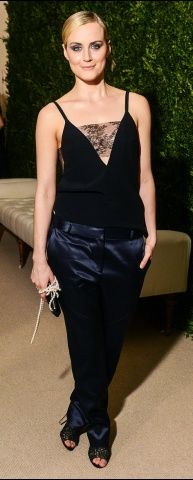 Taylor Schilling in no orange but in Thakoon.

Lauren Santo Domingo killin' it in Proenza Schouler Spring 2014, pictured with Elisabeth TNT (who proves an up-do can actually be pretty cool)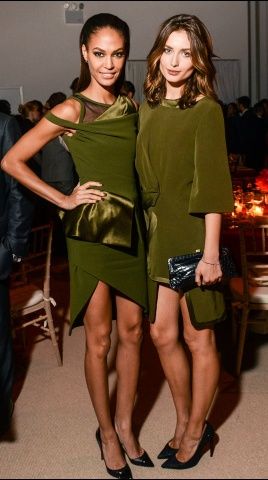 Joan Smalls and Andreea Diaconu making green the new oxblood in Prabal Gurung.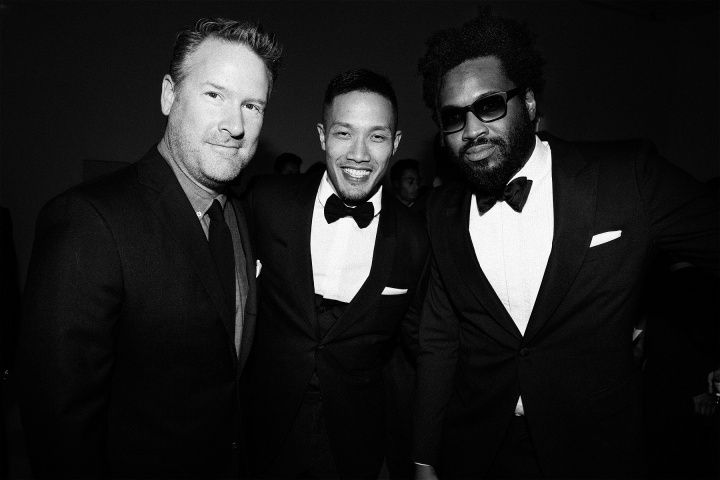 And one more congrats to Dao-Yi Chow and Maxwell Osbourne (pictured here with Todd Snyder).
—
Menswear does not get enough street cred in the fashion industry so I'm really happy to see such talent having the opportunity to take it to the next level. I also happen to like menswear labels that make things women could wear too (hello leather sleeve sweater). So get to know Public School…because they're going to do big things. That's what a CFDA/Vogue Fashion Fund winning can do to ya!
And in case you're interested, here's a look at some of my favorite Public School pieces for Fall/Winter.

Images via Vogue.com
You might want to check out...