As fashion month comes to a close, there's a lot to talk about — highlights from fashion weeks across the globe, new top models, Fall 2014 trends, Anna Wintour sitting second row at Valentino (insert gasp here) but these things are no longer important after the Chanel show happened.
Unless you abstained from the Internet in the last 24 hours, you've probably seen at least one image of Karl Lagerfeld's whimsical supermarket that set the backdrop for the Chanel Fall 2014 show. As someone who loves fashion and food (including food fashion) and therefore actually enjoys grocery shopping, this to me is Karl's best work. But it's not just the runway setup that blows my mind, it's the lessons we can learn from Karl and the questions he provokes. Such as…
Shorts and pants are the new dress with pants.
The fact that Kendall Jenner can add Marc Jacobs, Givenchy and now Chanel to her first fashion week runways is pretty damn impressive (see? I told you she was happening).
You can indeed roll a suitcase through the supermarket…but only if it's Chanel (of course) and the next stop is Paris.
The feather hair-extension trend could possibly make a comeback.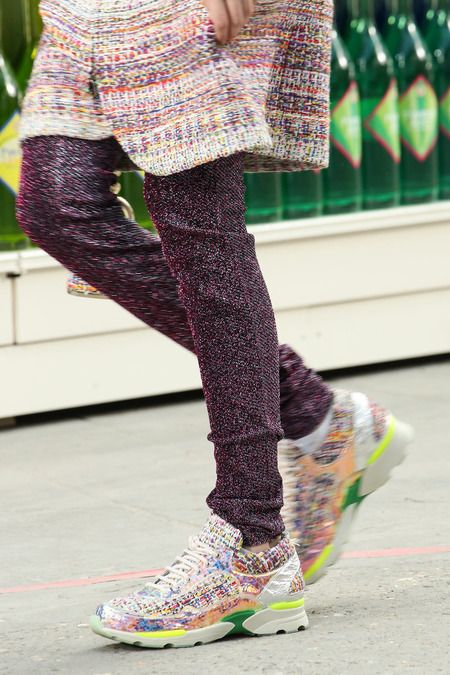 Sneakers are the new heel (we already knew that but Karl confirmed it).
We may have just found the only headphones that are cooler than Frends.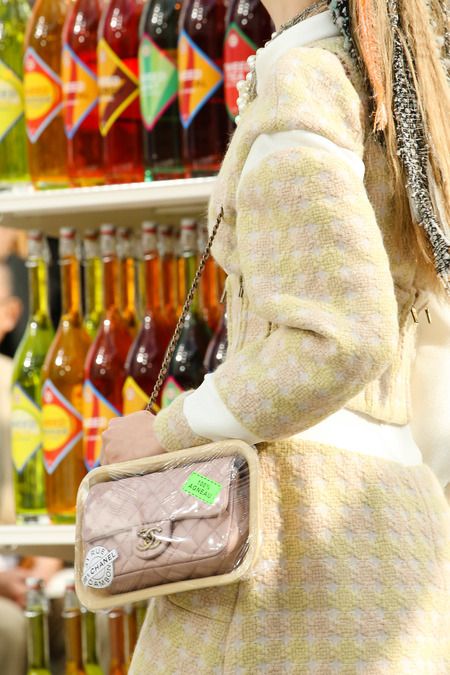 When the FW14 bags hit stores, will they actually be wrapped like this? Can they be found in the refrigerated section?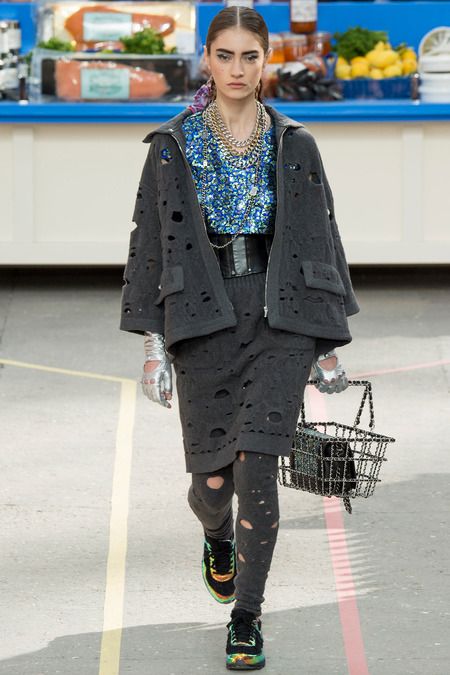 It is now acceptable to have holes in your clothing. I can't wait to look like Swiss cheese!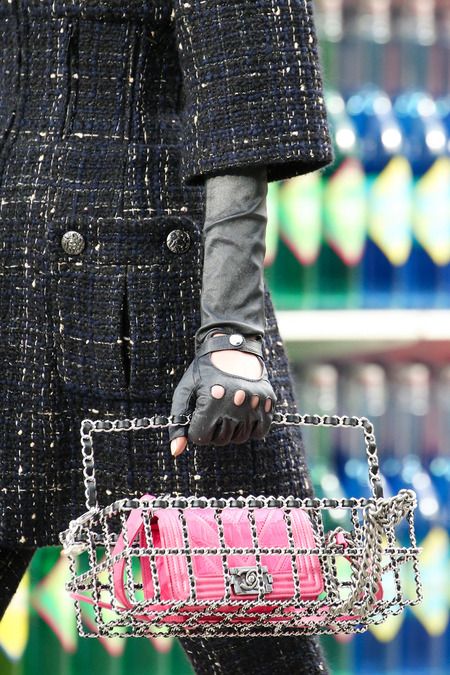 Grocery stores now need to re-do their whole basket concept. Chanel chains are a must.
Maybe it's because I have ESPN or something but I'm sensing that belly chains will be coming back this summer. They'll resurface first at Coachella then make their way across the country as the weather gets warmer…just a hunch.
No comment (except THIS IS EVERYTHING).
—
According to WWD the supermarket displays will be used for Chanel stores worldwide yet Fashionista reports (and has Instagram videos to prove it) attendees got to raid the aisles. Perhaps it's a bit of both? All I know is, Lait de Coco does a body good.
Any lessons / questions I missed? Favorite looks from Chanel FW14?
**UPDATE: According to a new post Fashionista, show-goers were gifted Chanel produce on their way out but could not keep pieces from the set. Hopefully they won't be turning those fruits and veggies into their next juice cleanse…
Images via Style.com & NBC
You might want to check out...