Are cinema-inspired accessories on trend or is a certain designer taking very literal inspiration from another designer? Chi City Fashion investigates (man, I love saying that).
I first discovered the Charlotte Olympia Hollywood collection on Net-a-Porter in early May. I check what's new on Net-a-Porter literally every day (even though I know they only list new things Mondays, Wednesdays, and Fridays…yes I realize that makes me a little crazy) and according to the Charlotte Olympia website, this collection is part of Pre-Fall 2013. Then I researched Kate Spade's side of the story and although I couldn't find anything on their site, I did find a post from Kate Spade-a-holic dated March 6 showing the new summer bags — which includes this cinema-inspired collection.
But it doesn't stop there…
I can possibly overlook the popcorn bags but this one is on another level (and not just because I have the Charlotte Olympia version). Now, this isn't the first time an Olympia and a Kate have looked very similar similar. Olympia Le-Tan is known for for quirky book clutches but Kate Spade does it too (and they're a hell of a lot cheaper). However, this happens in fashion all the time. Steve Madden and Jeffrey Campbell wouldn't be in business if it weren't for taking inspiration from other designers. Sometimes, it's a little too literal but when designers make $1,000 shoes that everyone loves and no one can afford, it's Madden and Campbell who cash in on that.
But back to Charlotte vs. Kate…
Those 4 clutches (Charlotte Olympia Movie Night Embroidered Leather shoulder bag vs. Kate Spade Cinema City Popcorn Bag and Charlotte Olympia Take Pandora Perspex clutch vs. Kate Spade Cinema City Gia Pouch) were the only two very similar styles. But I find it fashionably ironic that both brands seemed to have released a Hollywood-inspired collection right around the same time.
These styles are from these collections as well, but don't have a similar counterpart from the other designer.

Charlotte Olympia Box Office Pandora Perspex clutch

Charlotte Olympia Walk of Fame Perspex matchbox clutch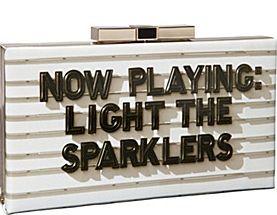 Kate Spade Cinema City Samira Clutch
—
So, what do you think? Are you #TeamCharlotte or #TeamKate?
You might want to check out...