If you've been a long-time ChiCityFashion reader, you may remember this little thing I used to do called Food Pairings. It was my way of incorporating my only hobby of eating with my job that is fashion. I haven't posted one of these in over a year but I'm hoping to make it a regular feature on CCF in 2014 (as long as you're okay with it, of course). Because I attended such an awesome dinner last week, I didn't want to wait until the new year to share.
May I introduce you to the first and only Food Pairing of 2013 — The Second City Food, Wine & Social Club paired with the soft, crisp, oaky finish of Rachel Comey.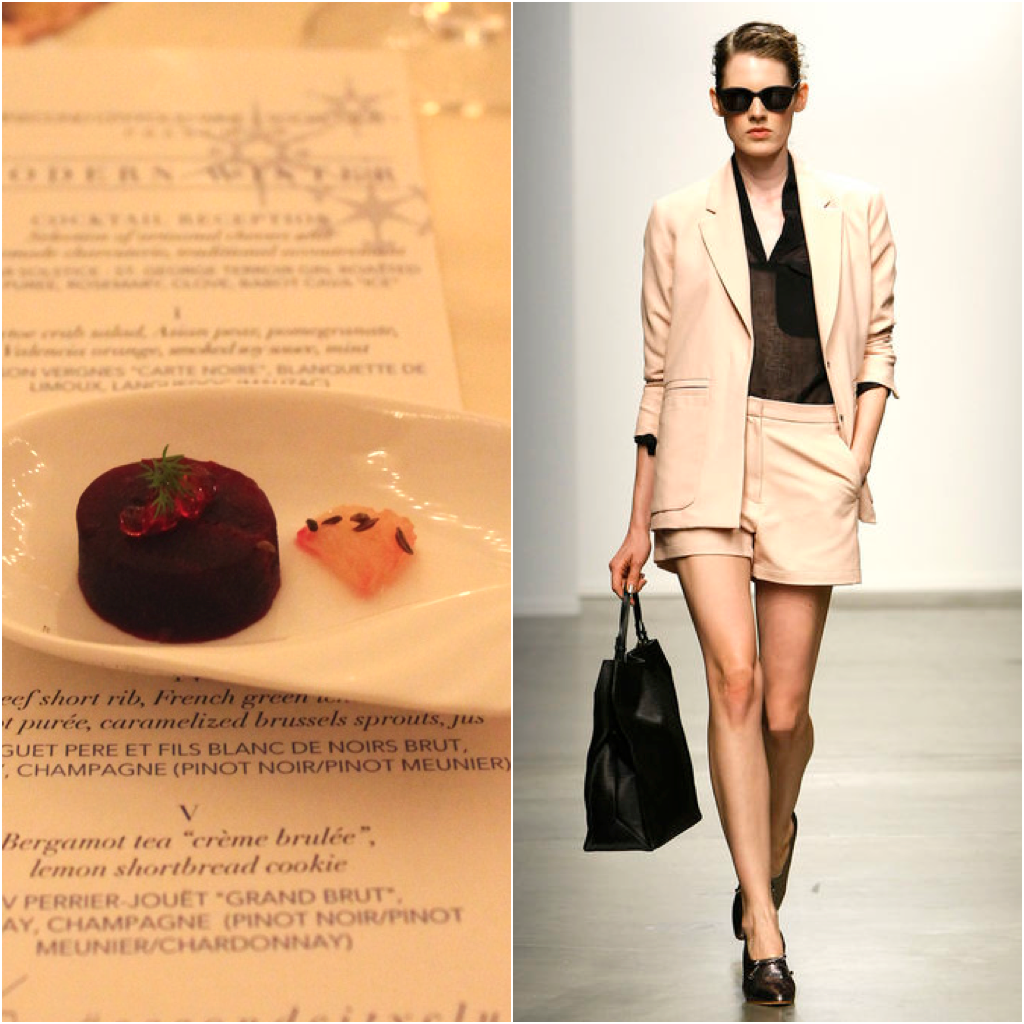 THE ATMOSPHERE:
The Second City Food Wine & Social Club (try to say that ten times fast) is something I recently joined because I was sold on the words "dinner" and "exclusive." It's group of food enthusiasts from all over Chicago who get together each month and have a kick-ass dinner, with a theme. Last week's "modern winter" themed dinner was my first of these gatherings and it was such a great experience having this five-star meal with wine pairings, in someone's home, all while meeting a bunch of awesome people.
Ironically the only person I knew walking in to this was Blair from The Fox & She (whose home the dinner was at and I happened to meet through my friend Mary when she was in town). But it was nice to meet other people who don't think I'm crazy for only watching Food Network (I'll take Chopped over any real housewife any day of the week).
One of my favorite parts about the table setup is that each place card not only had everyone's name and Twitter handle, but also a unique title. And I have zero complaints about mine…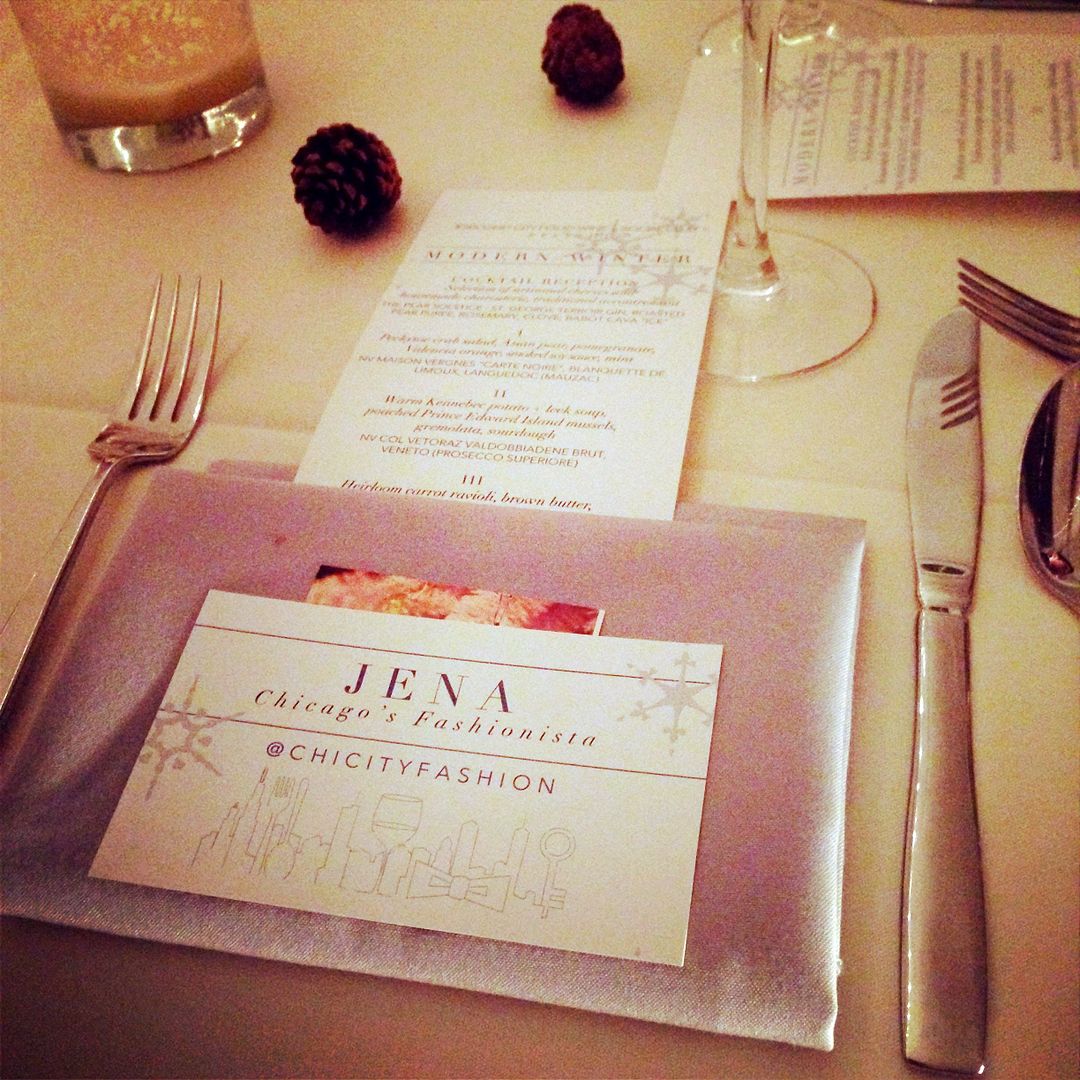 THE FOOD:
No five-course meal would be complete without my favorite word in the food dictionary — an amuse-bouche (seen in the first image, next to the Rachel Comey model). I would name my kids Amuse and Bouche if I had them (but I'm not much of a kid person so maybe a dog or two?) Following that one bite of beety goodness was the peekytoe crab salad with Asian pear, pomegranate, Valencia orange, smoked soy sauce and mint. I'll eat crab in pretty much any form but this form was superb.
A dish that was perfect for the cold, snowy evening was the Kennebec potato and leek soup with Prince Edward Island mussels. It was one of those presentations where the liquid portion was served table side…which is oddly one of my favorite things when it comes to dining out.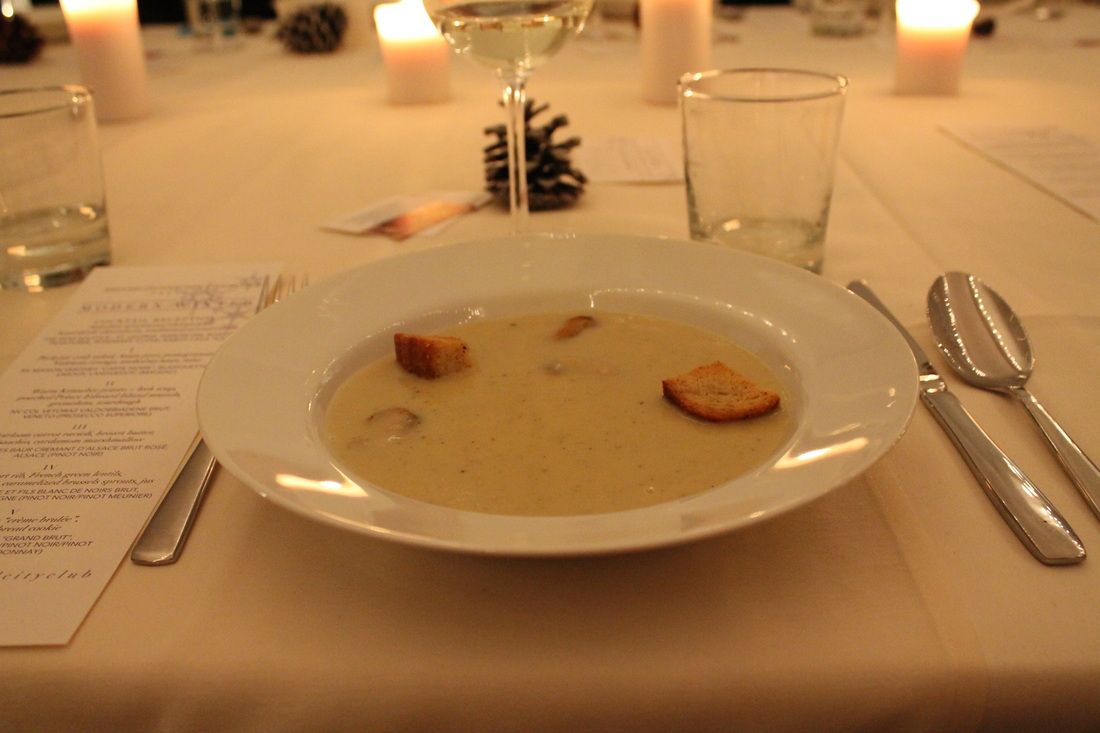 One of the most unique dishes of the night was the heirloom carrot ravioli with brown butter, pistachio, and cardamom marshmallow. Yeah, take that s'mores.
Pasta and marshmallow? I guess there's a first time for everything.
And in case you're just like "okay, Jena…where the hell does Rachel Comey come in?" I'll speed things up. The final course was a beef short rib with French green lentils and caramelized brussels sprouts. I am a fake vegetarian so I had this lentil, curried eggplant (but I still got those brussels sprouts!) situation that even the biggest carnivore would appreciate. The dessert had just the right amount of sweet — a Bergamot tea "Crème brûlée" with a lemon shortbread cookie.
Overall, between the meal and the ambiance it felt cool, sophisticated, well-balanced, exciting and unpretentious. Kind of like designer Rachel Comey…
THE DESIGNER:
Rachel Comey has almost this cult-following that you really wouldn't know about unless you stalked her a little (which I have to say I'm pretty good at). I love that she has this celebrity fan base (Rashida Jones, Parker Posey, and Maggie Gyllenhaal to name a few) but she doesn't get so wrapped up in that. I liked her even more when I found out she opted out of NYFW for Spring '14 and hosted an intimate dinner/presentation instead (even when she had done a show every fashion week for last 11 years).
Although having nothing to do with the food, I think it's pretty cool Rachel started with menswear and after finding out women were buying all the small sizes of the mens clothes, she decided to launch a womenswear line to satisfy those customers. I guess it's kind of like the club — satisfying those [hungry] customers diners who just want something different.
So I chose Rachel Comey to pair with the club because of their unique following, the cool factor they represent, and the well-balanced offerings they create.
NOW I'M HUNGRY AND I WANT TO GO SHOPPING.
Photos courtesy of The Second City Food Wine & Social Club, Style.com…and my iPhone
You might want to check out...