I never make New Years resolutions (because let's be honest, I'm not going to lose that last 5 lbs) but I decided to make a blogging resolution for this year. And now that I'm announcing it to all of you, I am forced to commit to it for 2013. So here it goes…
Because I started ChiCityFashion to showcase the great fashion we have in Chicago, I decided to create a monthly series called "Chi City's Most Stylish" that features people in Chicago who I personally find to have great style. These people are more than a pretty face and a fantastic wardrobe. They're worth knowing…I promise.
So who is Chi City's Most Stylish for January?
It's Eva Daiberl from Miss Renaissance (who is also a pastry chef extraordinaire…more about that below).
Although I've spent time with Eva at events and dinners (which is what my life mostly consists of anyway), I wanted to get to know the girl behind all that Celine and baking powder. So I visited her beautiful home in West Town and she made me these incredibe sugar-poached olive pastries. I don't even like olives and these were insanely delicious. I'm still thinking about them.
And how great is that Markus Lupfer sweater? Okay back to Eva. Here it goes…
What's your favorite thing about Chicago?
It's hard to pick just one thing (I'm a huge Chicago fan!), but I'd say the vibe of the city during the Summer & early Fall. I love how excited everyone gets to be outside! The city explodes with outdoor festivals and rooftop soirees. Going out to eat is a favorite hobby of mine any time of year, but having drinks & food on a patio during a Chicago Summer is perfection. 
What do you love most about your neighborhood?
I'm centrally located between all the hip things that go on in Wicker Park/Bucktown and the chic sophistication of River North/Gold Coast. A short cab ride (or bike ride in the warmer months) puts me right in middle of everything. I like the fact that my 'hood is quiet and residential – perfect for walking my dog and hanging out on the roof without too much city noise.
And speaking of her dog, let me introduce you to Fritz…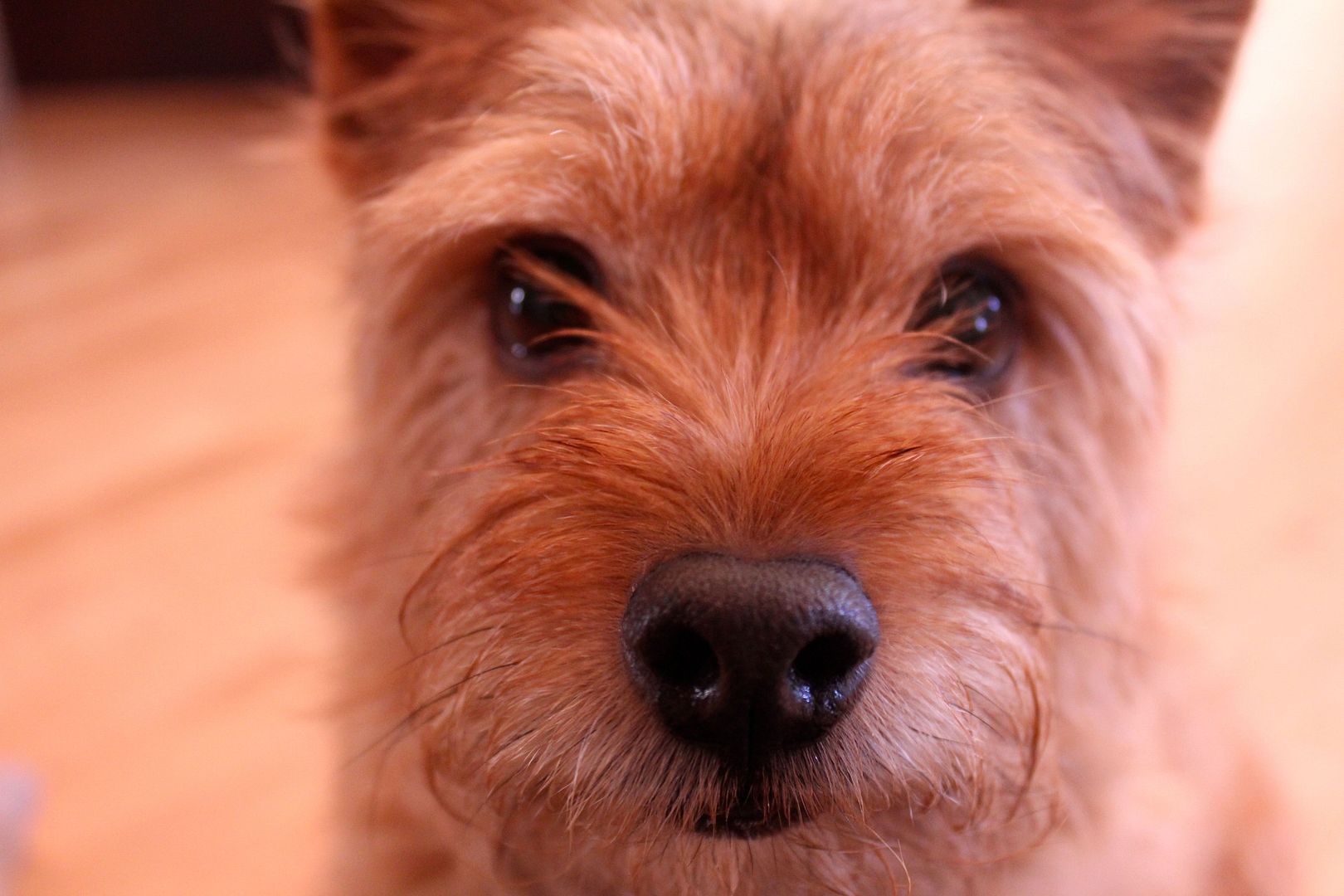 Aren't you glad I made that introduction? 🙂
Your go-to restaurant in Chicago?
Ohhh, now you've opened a can of worms! I'm in love with so many restaurants, I could never pick just one. Here are a few of my current faves: Avec (always & forever), Little Goat Diner (awesome newcomer), Lula Cafe (best brunch), Slurping Turtle (ramen!), Hot Chocolate (dessert heaven), Au Cheval (burgers!), NoMi (understated elegance), Ada Street (great cocktails & small plates.) 
A girl after my own heart.
Advice to out-of-towners…
Come visit during the Summer – you'll never want to leave. Don't just stroll up and down Michigan Avenue & Navy Pier when you visit. Explore some of the other cool neighborhoods, like art & design-heavy River North or Hipster-chic Logan Square. And do yourself a favor and visit the Art Institute's Modern Wing – it's amazing piece of architecture with so much creative inspiration around every corner!
Now let's get to the fashion.
What impact does fashion have on your life?
Fashion & design occupy a borderline ridiculous amount of space in my brain. I'm a creative person and I tend to think in images, so most of my life's inspirations come from the beautiful & interesting things I see. Fashion is an extension of my mood and my creative feelings on a daily basis. 
If money were no object you'd wear…
Head-to-toe Balmain with a custom Givenchy bag dangling from my shoulder…and Celine heels.  
I was actually surprised not to hear more Celine in this answer. Here's why.
The best part about my job is…
The creative energy I'm able to put into it all. I'm lucky to have more than one "job" – things never get boring.
Describe your style.
Moody. I can go from super girly (always with a dose of metallics), to edgy and dark in a matter of hours. I generally like to overdress.
What did you want to be when you were a kid?
A Radio VJ…don't ask me why (probably because I like to talk a lot.)
What does Chicago fashion mean to you?
It's a diamond in-the-rough, and many people don't give Chicago the credit it deserves when it comes to fashion. Let's just call ourselves a well-kept secret until the world starts realizing that we have more unique and luxe style than many other cities in the world! 
—
Hope you enjoyed the first Chi City's Most Stylish feature and be sure to check out Eva's blog, Miss Renaissance (it will make you hungry and give you the urge to DIY everything)
You might want to check out...