I can't even keep track of all the 90s revivals coming back — between overalls, crop tops, and fugly shoes you'd think it's 1998 up in here. But thankfully designers have refined these trends (not so much the fugly shoes though) and hopefully we won't look back on 2014 ten years from now in disgust. However, there's one 90s trend resurfacing you can rock in any decade without looking outdated — that, my friends, is the choker necklace.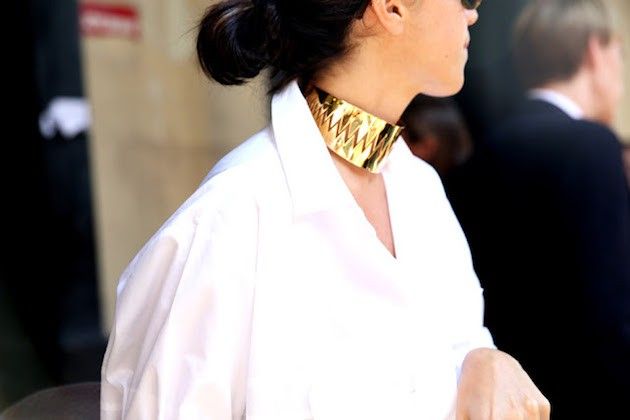 There are so many ways to wear this, there's no reason not to give it a try. There's everything from a thick statement choker and ones with a pendant to a simple gold piece and even a little dainty guy. And with layering jewelry also being a trend, you can wear a bunch of other necklaces with your choker. The more the merrier, right?
Although you can't really tell from this photo (this grainy Instagram is probably a better example), my go-to neck situation as of late has been two little Dana Rebecca necklaces (one Lauren Joy + one Sylvie Rose), a Jennifer Fisher choker (ps. just found the look for less…like under $100 to be exact…right here) and the occasional Alison Lou emoji necklace. And I feel pretty good about it. These necklaces go with everything — I can wear them with a t-shirt during the day or dressed up at night. They're just easy! And I'm down for any style that requires minimal effort.
So right now, I'm only at one choker necklace (seen here) but if you asked me 15 years ago, I would've told you I had at least 5 (I'm sure two of which were edible and the other three looked like a hideous tattoo). I'm very into the idea of a statement choker/collar (like the one pictured above). I especially love what Paula Mendoza is doing, but I just haven't pulled the trigger yet. In the mean time, I'll just continue to layer with my current situation (although Jennifer Zeuner just made it that much easier to do so by creating this two-fer). But if you just want to take baby steps into getting "all choked up", ASOS has a bunch of dainty options that are not only cool, but insanely cheap (like under $20 cheap). And here's a few other ideas to get you started (well, 18 to be exact).
What do you think of the choker/collar necklace trend? Are you into more of the statement pieces or the dainty jewels? Or maybe you prefer the layering route? Or perhaps you hate it altogether? TELL ME YOUR FEELINGS.
Images via Style Hunter
You might want to check out...