When is two better than one? When you get TWO for the price of ONE (AKA the two-fer). Whether it's convertible clothing or one piece that looks like two — this idea of "two-fer" dressing seems to be having a moment.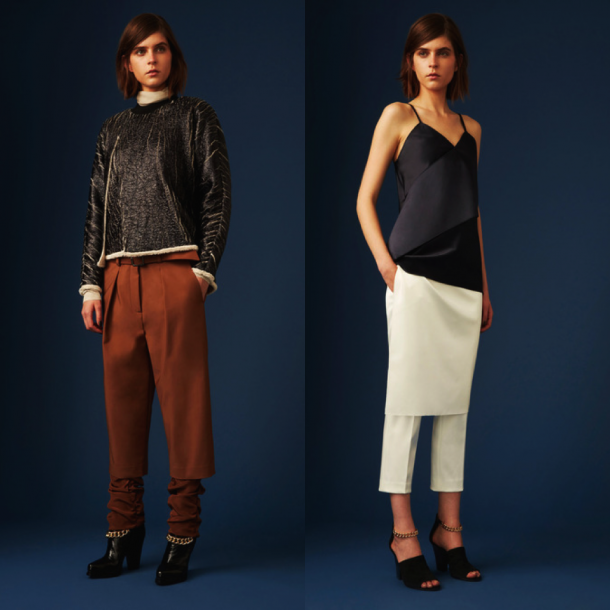 When you think about it, the idea is no new trend. Skorts, jackets that zip off into vests…it's not like these things are unheard of, but designers are starting to take this idea and use it to give us even more clothing options. Phillip Lim did this whole pants over pants and skirt over pants thing for Pre-Fall '14 (along with many other "convertible" looks)…which I happen to be very into. We've seen the dress with pants look at many couture shows (and done in real life) but perhaps skirt with pants is the new dress with pants? Hey, I don't hate it.
There's actually three ways to go about the two-fer trend (I know this sounds like a math problem but I swear you'll ace this) — there's a two-in-one item (like the skirt with pants, pictured above, or a cape dress), there's the one item that can be worn two ways (like this leather jacket that turns into a vest) or you can get creative and think of more than one use for something, like this swimsuit (that is really more of a bodysuit because it's too cool to only be worn at the beach). So why go the two-fer route? BECAUSE IT'S TWO FOR THE PRICE OF ONE. And it doesn't get much better than that (unless you can find three for the price of one…skirt/pants/shorts anyone?) Even doing something as simple and old school as a reversible shirt is still a good deal. Makes those investment pieces (like $2,000 legging boots) just a little more worth it. Just a little…
So if you too are looking for a good two-fer, here's a few ideas to get you started.
Do you have any good two-fers in your closet? Are there any you plan on buying this season? Or do you prefer to stick to the one-fer?
Images via Style.com
You might want to check out...