When we think of fashion week we think Paris, Milan, New York and London…but there are so many more happening all around the world that we don't hear much about. After seeing some extra awesome street style shots coming out of Copenhagen, I thought another city could get the fashion spotlight for once.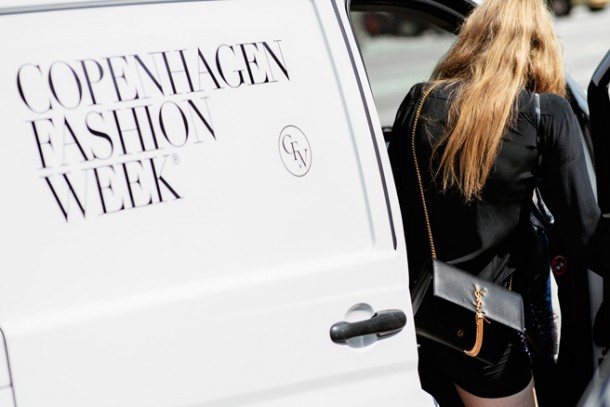 Honestly, I don't know much about Copenhagen or their fashion week. I've never been there (although now I'm pretty interested) and I'm not all that familiar with the designers that show BUT what I do know is that there's an interesting sort of street style that I'm into. When we see typical street style photos from the big four, there's a lot of spectacle, but these ladies seem to dress very real and they put the personal in personal style…and that's why I dig it. So I went through a ton of Copenhagen street style photos and found some that I think we can all learn from and maybe try out a few of these looks ourselves.
This look really takes the typical t-shirt and jeans combo to another level, without going over the top. The whole "tie your shirt around your waist" thing has been making a comeback and designers are making it even easier for us by creating some two-in-one pieces, so you don't even have to tie anything around your waist at all. But if you don't want to invest in a two-fer (although these Opening Ceremony x DKNY jeans are on sale right now), you can always go the traditional route and wrap a denim shirt around your jeans.
If you want to try something on the funky side, this look will definitely turn heads (especially with those yellow booties). I think Cher wore this exact skirt with a matching jacket in Clueless and for that reason, I can really appreciate this girl's outfit. Both mixing prints and matching them have been in style for the last few years and it doesn't look like either are going away soon. So if you try this now, you won't feel "so last season."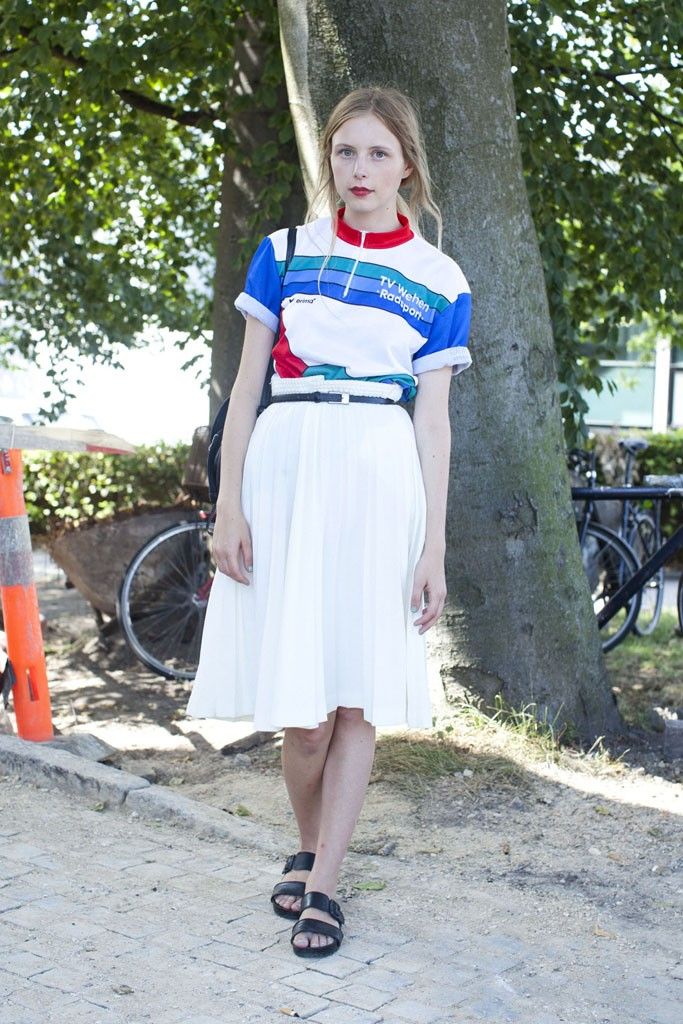 When you break this down, it's pretty simple actually…but it's also an easy look you can wear pretty much anywhere — a multicolor tee with a white midi skirt and black sandals. Any sort of slide sandals, specifically anything Birkenstock or Birkenstock-like, has been huge this spring/summer. So get 'em while you can because soon we'll be switching to boots!
This girl's already sick of the "tie around the waist" comeback and decided to do something totally different. It's like the anti sweater-tied-over-the-shoulders country club look. And you know what? I LOVE IT. With a basic t-shirt and a baseball hat? You're golden.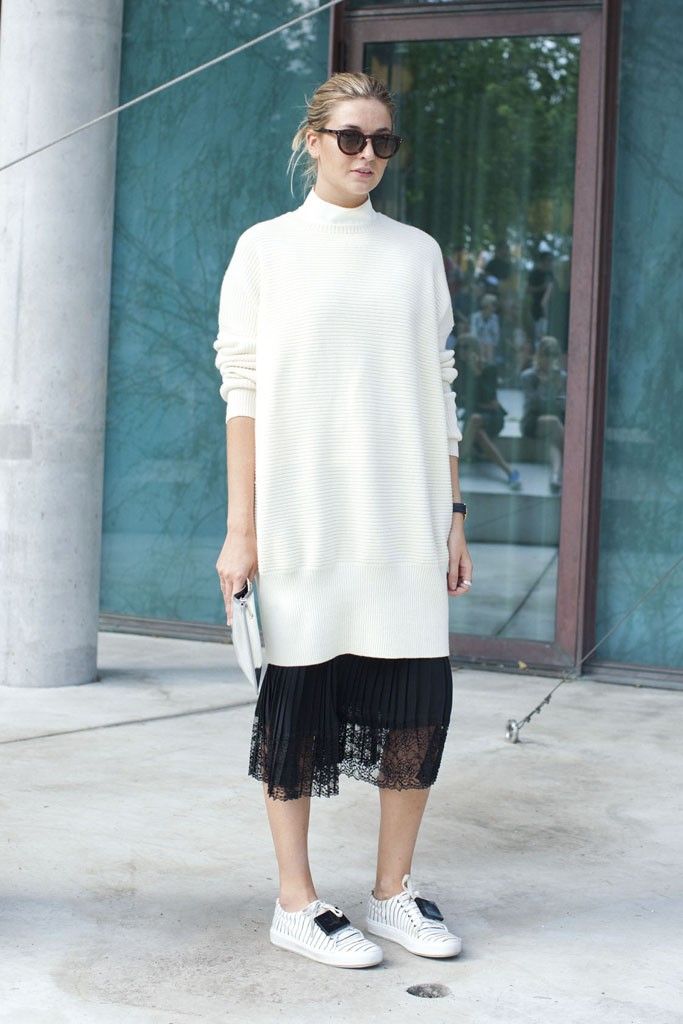 There are so many good things happening here I don't even know where to start. Oversized sweater — always two thumbs up (I live by "the bigger the better" when it comes to clothes). The contrast of that with the lace skirt / dress (can't tell from the pic) gives just a touch of femininity to the look…but that girliness is all ruined (in a good way) with those bomb ass Acne sneakers.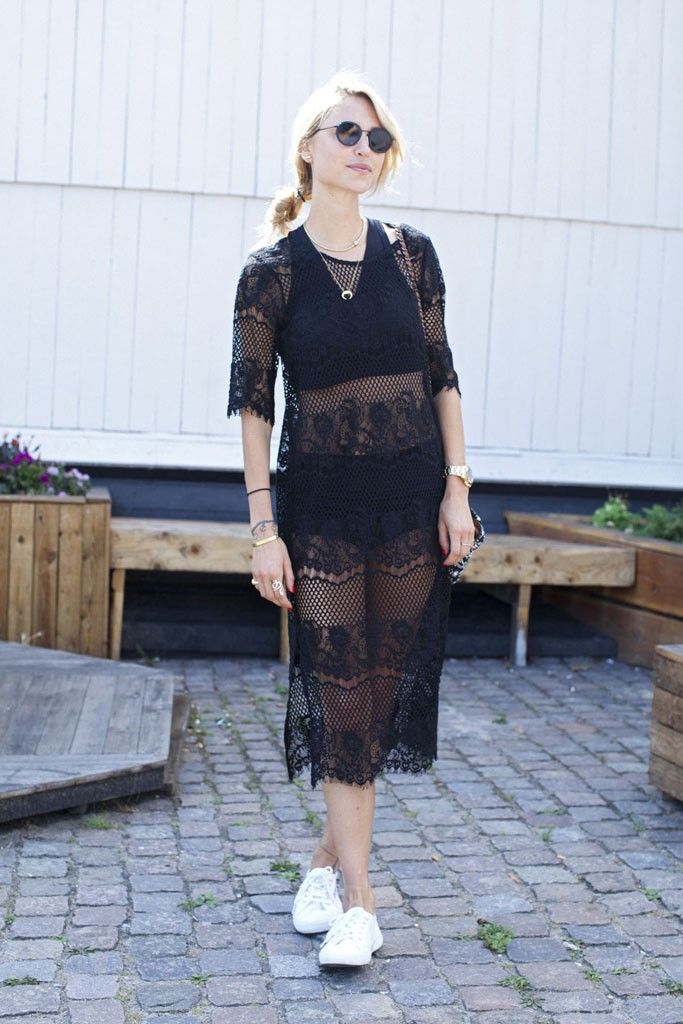 And even more sneakers…another reason I love this whole Copenhagen vibe. This look is a little more risqué, although quite perfect for a summer concert or music festival. The idea of a black dress and white shoes is so simple and the way this girl has done it just screams "yeah I know I'm cool…what's up." A dress like this can also be worn as a swimsuit cover up but if you don't want to show that much skin, try wearing it with a slip dress underneath. I also found a few dresses where you don't even have to worry about what you wear underneath. Makes life a little easier…
—
What do you think of Copenhagen's street style? Have you been there before? If so, is this an accurate representation of how the girls dress? If not, should I still book a flight? And last, any looks here you might try yourself?
Images via WWD & Style.com
You might want to check out...