There's a trend I've been noticing in the shoe-niverse lately and unlike Birkenstocks or sneaker wedges, it's something that isn't so obviously trendy where you wouldn't have to say in 5 years from now, "oh those are so 2013."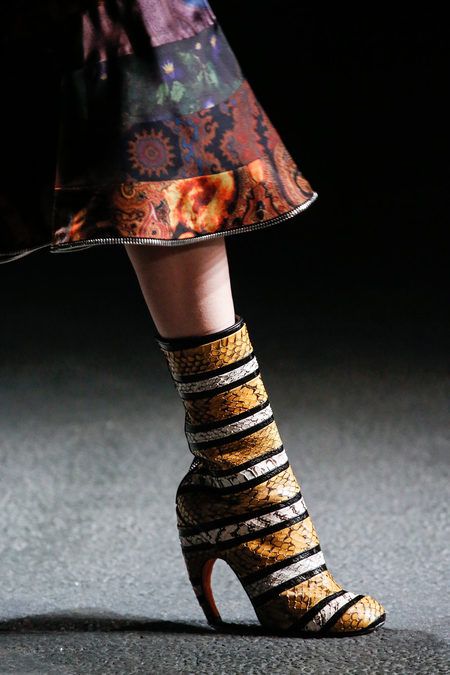 I can't remember the first curved heel I ever saw but it's definitely a tie between Alexander McQueen and Walter Steiger. Now, this type of heel is pretty much all Walter Steiger does now but clearly other designers have caught on. Nicholas Kirkwood, Givenchy, Alaia and even Proenza Schouler are all doing the curved heel thing. But why? What makes this heel so special? Does it feel like you're going to break the heel when you walk? I can say first hand that the heel does feel completely normal when on. This is kind of embarrassing but I thought I didn't own any curved heels until I looked in my shoe closet this morning and noticed I have two (guess I never realized the heels weren't perfectly straight!) Ironically enough, both pairs (Proenza heels and Alaia boots) are some of the most comfortable heels I own.
Now I don't know any of these designers personally so I can't tell you the reason they've all decided to get on board with this silhouette but in my opinion, it's just a cool detail to have in a shoe that you don't see absolutely everywhere. You can get something as crazy as purple eel and watersnake boots or as simple as a nude pump. Regardless of what you choose, there's a curved heel to fit all personalities (but unfortunately not necessarily all budgets, Schutz is the only brand I've seen who makes this silhouette under $250). I'm keeping my eye out for ya though!
What do you think of the curved heel? Would you wear it? Any favorites from these designers so far?
Image via Style.com
You might want to check out...