Remember that chat we had about stacking jewelry a few days ago? Well we're going to revisit that but with a focus on one particular designer who doesn't necessarily need stacking to make her creations look good (but a fist full of Delfina Delettrez never hurt anyone…unless you decided to throw a punch with that fist — those jewels could probably do some damage).
There's very few things I consistently obsess over (it's mostly just Proenza, pizza and those Alaia boots that got away) but recently I cannot get all things Delfina Delettrez out of my mind. Although it wasn't always this way…
It was one of the last times I went to fashion week in New York (so either February 2013 or September 2012) I made my obligatory trip to Opening Ceremony. They always have unique offerings (including the jewelry department) but I remember being confused when I saw a bracelet that looked like this. I didn't even understand how it was possible. Then I tried it on and was like okay this is pretty cool. I don't wear a lot of statement bracelets though but I was very into statement rings at the time (which is why I came pretty close to purchasing this but never pulled the trigger). Fast forward to last Fall and I'm seeing these badass single earrings with eyes and lips all over the Internet. I never knew the same designer who made that crazy ass bracelet also created these dainty yet funky earrings that have been on my wish list for months now.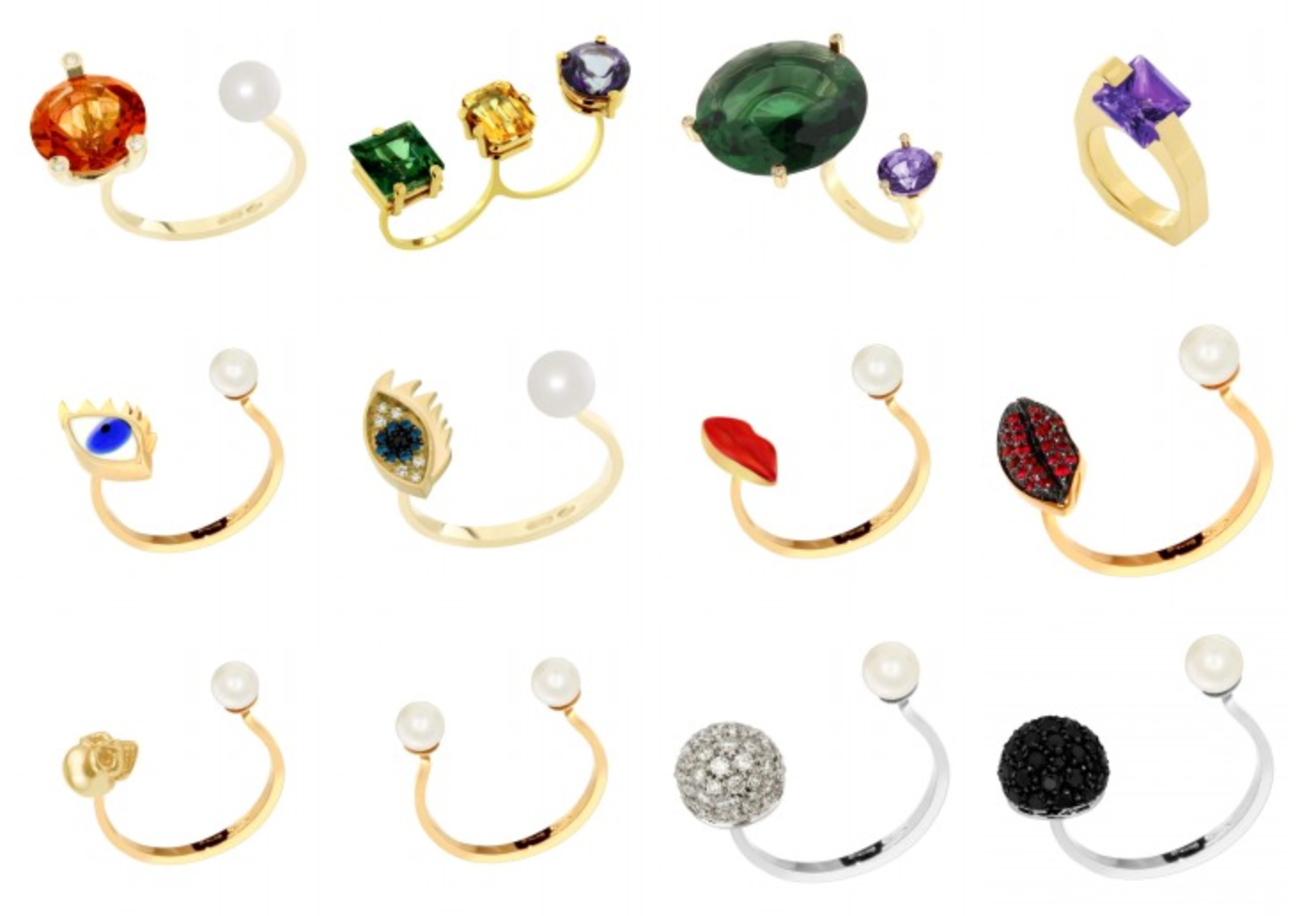 And as time goes on, she creates more and more and my Delfina Delettrez wish list just keeps growing (yet my credit card limit remains the same…). I guess when Fendi's in your name (I guess not literally, but she is 4th generation Fendi) fashion is your game. If you were wondering where all that furry Fendi jewelry came from for Spring, that's 100% Delfina. I think it's pretty cool that she launched her line in 2007, didn't use the Fendi name and waited some time before a collaboration with the family business. Who needs a famous last name to do something awesome, right? (but it does help to have a sweet name like Delfina and a background in Italian fashion).
Fine jewelry seems to be moving in this more unique and funky direction and it's no longer just about your mom's tennis bracelet. The only downside is — it costs a hell of a lot more, and Delfina Delettrez is no exception. Any of the pieces with sparkle are going to be in the four figure range, however most of the enamel pieces will be under $800 (but if you're into some of her older designers, you can find a few on Yoox for under $400…just sayin').
If you happen to be in Rome, you can stop by the Delfina Delettrez store (I'm thinking about booking a trip just so I can visit her boutique…and consume unhealthy amounts of gelato) but if not, you can find eye earrings and lip bracelets on Moda Operandi, Luisa Via Roma, Saks and Matches Fashion to name a few. Or I've "carefully" curated my favorite Delfina pieces (which ended up being a lot more than I had anticipated…the obsession continues) that you can shop below…and doubles as my birthday wish list.
Images via Instagram
You might want to check out...