A sneak peak at the March issue of Glamour magazine with cover girl Diane Kruger.
Photographed by Ellen Von Unwerth in New York City, Diane graces the cover in a Chanel jacket, Daryl K T-shirt, J Brand shorts and Chanel Fine Jewelry necklace.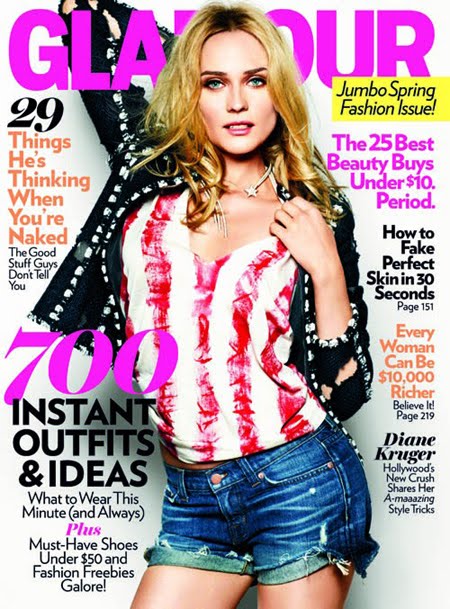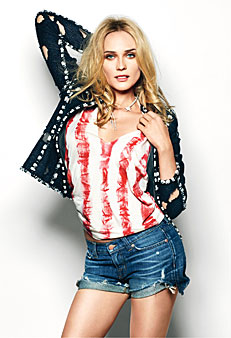 Here's a sneak peak at the editorial spread and exclusive interview…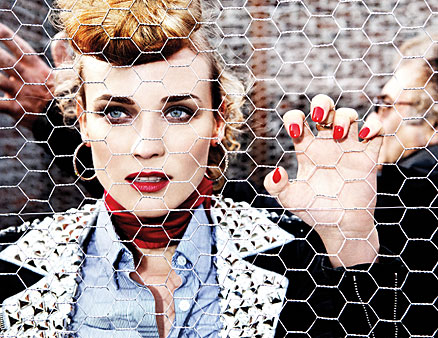 Jacket, shirt, pants, Balmain; earrings, ring, Pomellato Tango Collection; scarf, Collection 18.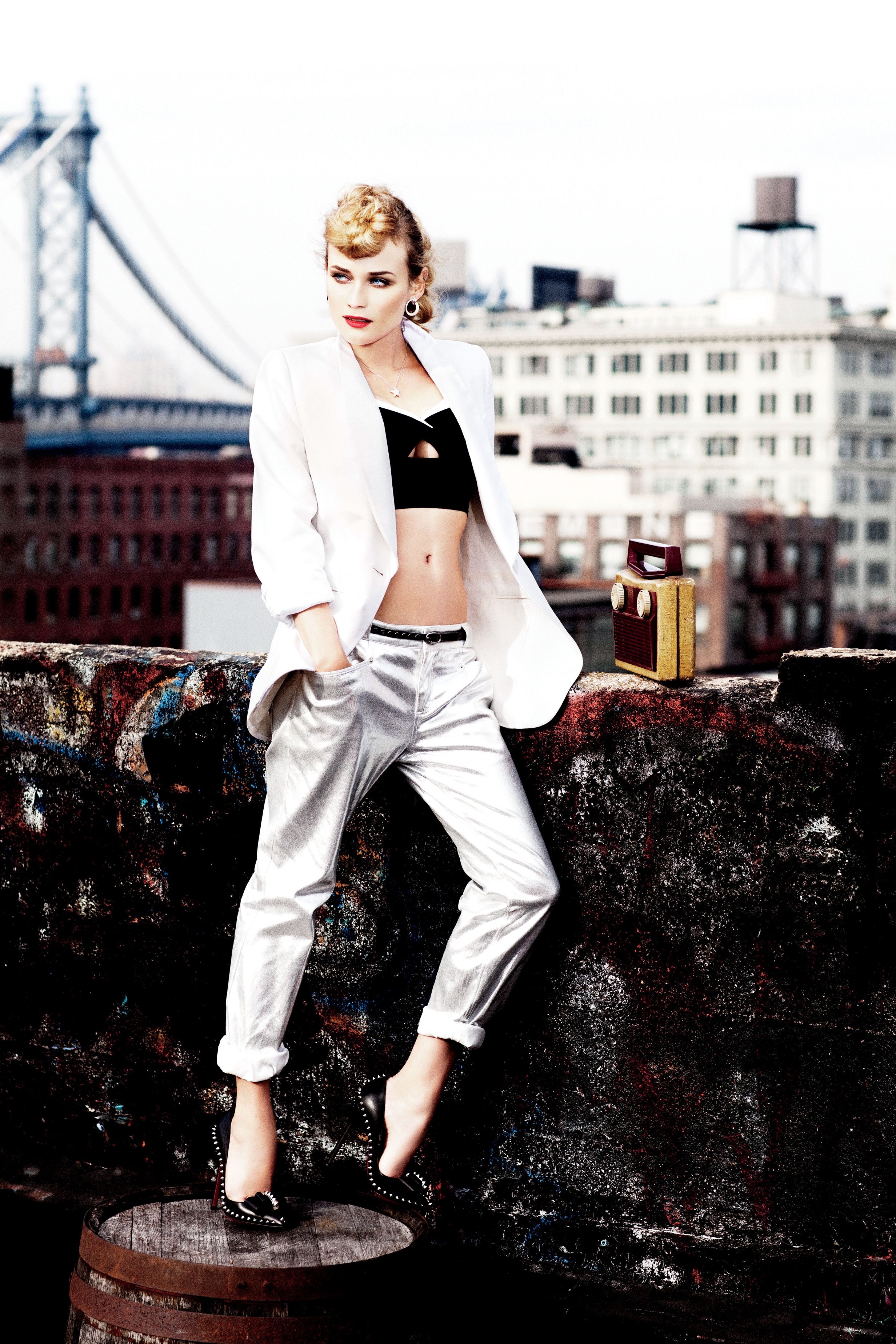 Blazer, Stella McCartney; bra top, Viktor & Rolf; pants, Theyskens' Theory; earrings, necklace, Chanel Fine Jewelry; belt, Linea Pelle Collection; shoes, Christian Louboutin.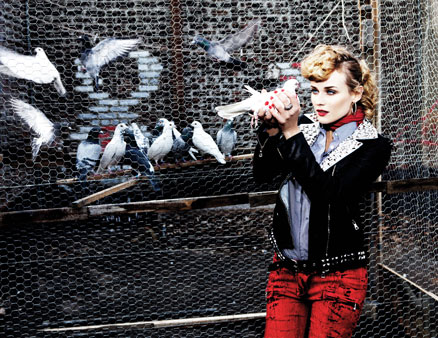 Jacket, shirt, pants, Balmain; earrings, ring, Pomellato Tango Collection; scarf, Collection 18.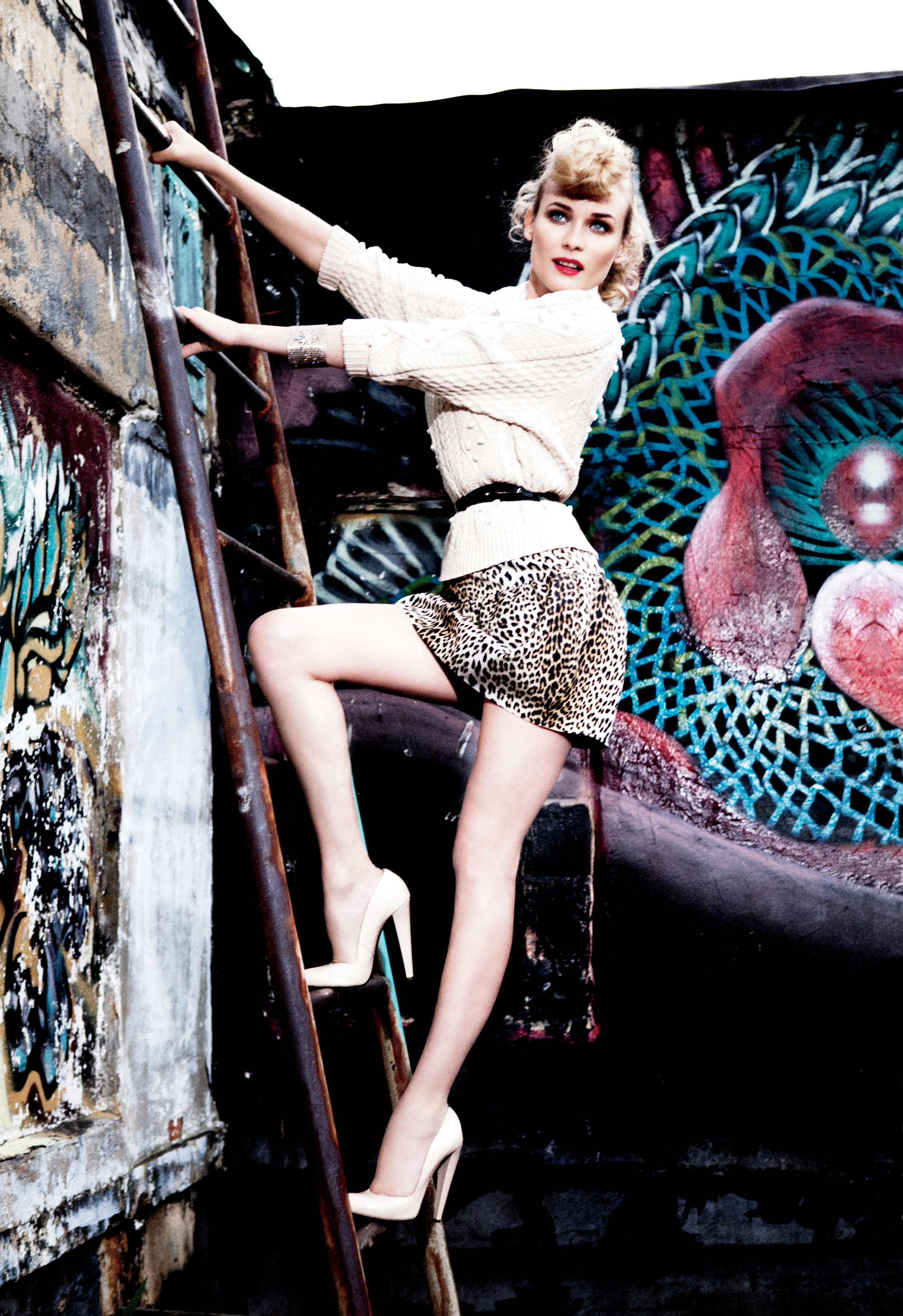 Sweater, Isabel Marant; shirt, Band of Outsiders; skirt, Giambattista Valli;cuff, H.Stern; belt, H&M; shoes, Walter Steiger.
On her love of fashion…
"I truly, genuinely like clothes. Making them is an art form, and wearing them is a form of self-expression. I find it very emotional because I can remember moments in my life—my mood, how I felt—through these clothes."

On what her favorite look is…
"A well-cut dress. It's all about the cut. I love three-quarter sleeves. I definitely like it classic; less is more. The thing I despise most is vulgarity, and there's a lot of that here [in L.A.]."

On her biggest fashion splurge…
"The biggest fashion purchase I ever made I thought about for six years. I'm not kidding. All my life I wanted to own an Hermès Constance bag, and when I signed with Calvin Klein, I decided this was the time that I could afford it. I truly broke a sweat when I paid for it."

On her boyfriend Joshua Jackson and his style…
"We go shopping. But he likes it. I definitely wasn't fond of these blue sneakers that he wore all the time for about a year and a half."

On realizing she wanted to pursue performing as a career…
"I'm from a small village [in Germany], and it never occurred to me that you could actually make a living performing. It was a hobby. I always thought you had to live in Hollywood. So the urge really came later, when I became a model."

On marrying and divorcing when she was younger…
"Without sounding pessimistic, I learned that I don't believe in marriage. I believe in a commitment that you make in your heart. There's no paper that will make you stay."

Her advice to young women pursuing their dreams…
"Ask questions. Surround yourself with people who will help you advance. You should be smart enough to know that you don't know everything. But you have to believe in yourself. I certainly do."
Don't forget to pick up the March issue of Glamour magazine. Available on newsstands and digitally (iPad, iPhone, iTouch and the Barnes & Noble Nook Color) February 8.
Photos courtesy of Glamour
You might want to check out...