Although I love fashion (I wouldn't have this website if I didn't) I don't like to spend a ton of time getting dressed. I'm always looking for easy outfits that are both comfortable and stylish, so when I start gravitating towards something that's the perfect balance of both, I can't help but share the news. I promise I won't draw this out…but we do need to talk about all things drawstring.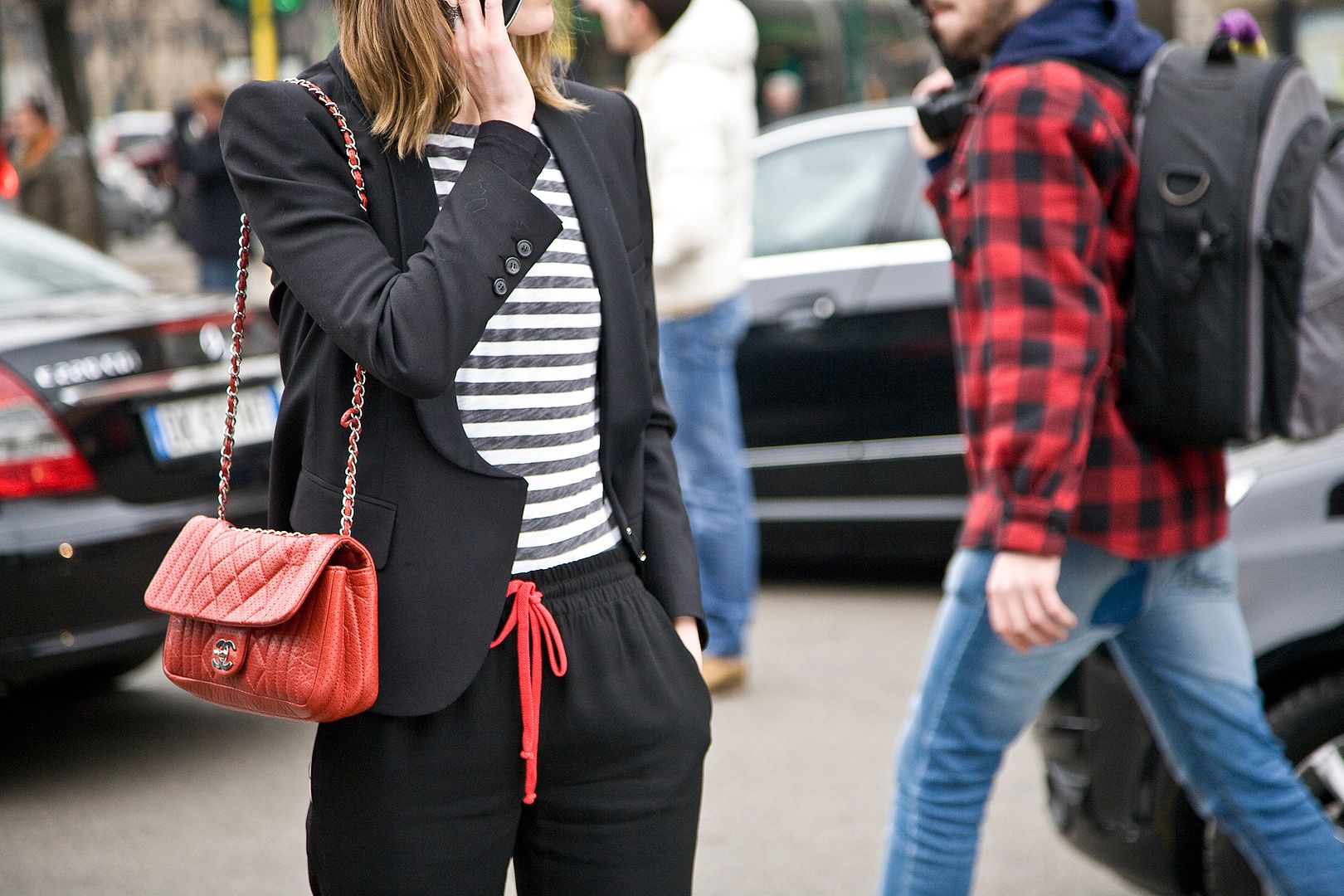 When you think of drawstring pants and shorts, you probably think of activewear or sweatpants…and I get that. But wouldn't it be nice to have the option to adjust the waist of your pants/shorts (depending on what you just ate or how many days/weeks/months it's been since you last hit the gym) at any given moment without looking like a slob? With fashion getting all comfortable, it's no surprise designers like Givenchy and Tibi are making it more acceptable to wear such style outside the gym or off the couch (especially when it comes to drawstring leather…my favorite kind of drawstring). So if it's accepted, then how do we go about wearing it? Well you have quite the array of options, my friends.
I recently got all strung out (get it?) with a crop top and a faux fur jacket with sneakers. This was kind of a random outfit that doesn't work for day or night (or maybe it works for both?) but sans jacket with heels would be the perfect spring/summer evening look that would incorporate drawstring pants…and enables me to eat as many hors d'oeuvres as my little heart desires. If the pants are not as high-waisted as these, try tucking in a silk t-shirt or printed tank. Remember the looser the bottom, the more fitted the top should be (and you can fake that by doing a half tuck in front…my go-to kind of tuck). For those cooler nights, I love the look of drawstring shorts or pants with a sweatshirt and heels. It's got that casual vibe I love but spruced up with some extra height. For shorts, I usually wear them during the day for meetings/errands with a cotton tee and sneakers or loafers. But I'm not opposed to drawstring shorts for evening — just keep in mind, if you're going to wear heels and shorts, make sure you have some length…short shorts and heels are not a good look for anyone (unless your work address is "street corner"). And if you just can't decide between pants or shorts, why not choose something in-between? Long shorts / culottes also come in drawstring form so you can get [in the words of old Miley Cyrus] the best of both worlds.
So if you're like me and enjoy being comfortable and choose your outfits based on your previous and/or future meals, then why don't you get yourself some stylish drawstring things? (after all, many of them are currently on sale…so, why not give 'em a try?)
Are you down for this look? Would you wear drawstring outside the gym/house? I can't be the only one who dresses for food, right?
Image via Pinterest
You might want to check out...