Between ear cuffs and single earrings, it seems like any sort of ear decor is a must-have. The latest to make a splash on ears worldwide? It's like outerwear but doesn't keep you warm in any capacity…however, you look damn cool wearing it. Let me introduce your to the ear jacket.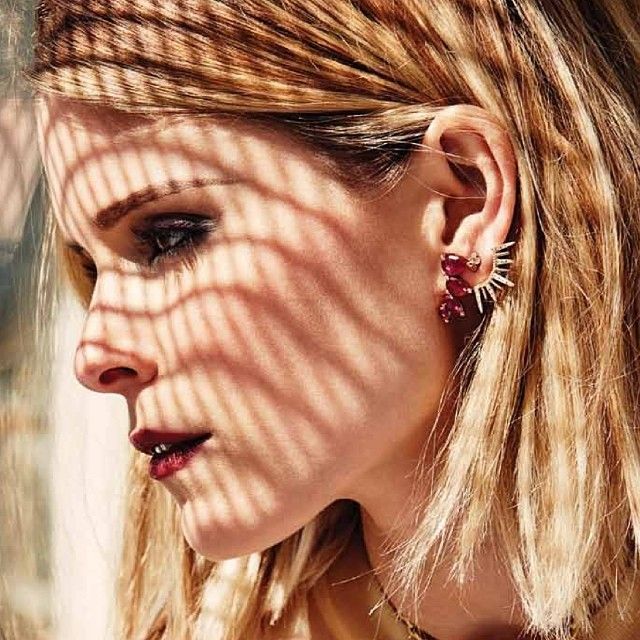 I find it ironic that I've never really been all that into earrings (but for some reason I have three holes in each ear) and now I can't get enough of them. In the past, we only really had simple studs, chandelier earrings (hello 2005!) and hoops (which I loathe by the way, unless they're in Repossi form). Now, there's such a variety in the earring department, including different ways you can actually put things in or on your ear. There's small ear cuffs, statement ear cuffs that take up your entire ear, ear pins, ear crawlers, and now ear jackets. WHAT WILL THEY THINK OF NEXT?! No seriously…how many other ways can you decorate your ear?
What's great about this accessory is that you can rock a two-fer (as in a two-for-one trend) and buy a single ear jacket or a set and just wear one…that way you can do the whole single earring thing or wear something completely different on your other ear (mixing and matching is no longer just for clothes). The best ear jackets I've seen so far are from Jacquie Aiche. However, they're all real gold and diamonds so if you're not looking to invest in this trend, I'd look to stores like BaubleBar and Rue Gembon. Most of these earrings are not as bold as something like the ear cuff trend, so I could go either way on whether or not it's worth spending money on. As long as it's something fairly small and simple, like this one, I don't think anyone's going to look at your ears five years from now and be all "ew that's so 2014." But hey, you never know. I can't predict the future. I mean, who would've thought overalls and jelly shoes would make a comeback?
So as we continue to think outside the [jewelry] box, let's get ourselves an ear jacket to not keep us warm this fall.
Are you down with this trend or do you prefer more traditional earrings? Or no earrings at all? Share your thoughts…
Images via Pinterest
You might want to check out...