Many women are very loyal to their shoe brands (Manolo BB pumps on the reg, red soles only, all Choo all the time, etc). I, on the other hand, prefer as many shoes as possible from as many designers as possible. But with so many fashion brands out there who create everything from shoes and bags to clothing and jewelry, as well as more recent footwear phenomenons like Sophia Webster and Charlotte Olympia…how does one keep track of this shoe madness? Well today's post won't help, but it will make you extra cool.
One of my favorite things about fashion is discovering new designers. Not only do I love supporting emerging talent but it's just another way to find awesome things that not everyone has (at least not yet). There's been quite the uprise of talent in the footwear department as of late, and I thought you'd enjoy hearing about it as much as I enjoyed discovering them. And for those who need a list, here's ELEVEN UNDER THE RADAR SHOE DESIGNERS YOU NEED TO KNOW ABOUT NOW.
Name: Isa Tapia
Location: New York City
Launched: 2012
Story: Attended Parsons. Worked for Marc Jacobs and Oscar de la Renta. Part of the 2014-2016 CFDA Fashion Incubator.
Signature: Colors. Whimsical details. Hearts.
My take: I actually met Isa at an event the CFDA put on at the W Lakeshore in 2014. This was one of my favorite events I've ever attended in Chicago as not only am I a fan of what the CFDA does and of course it was exciting to attend an event of theirs in my own city BUT that event introduced me to four designers I wasn't previously that familiar with — Kaelen, Kara, Nomia, and now, Isa Tapia (all of which have been featured in some way on ChiCityFashion). Previous to this event, I hadn't discovered a new shoe designer in quite some time so it was refreshing to see someone new in the business, and creating things I'd actually want to wear.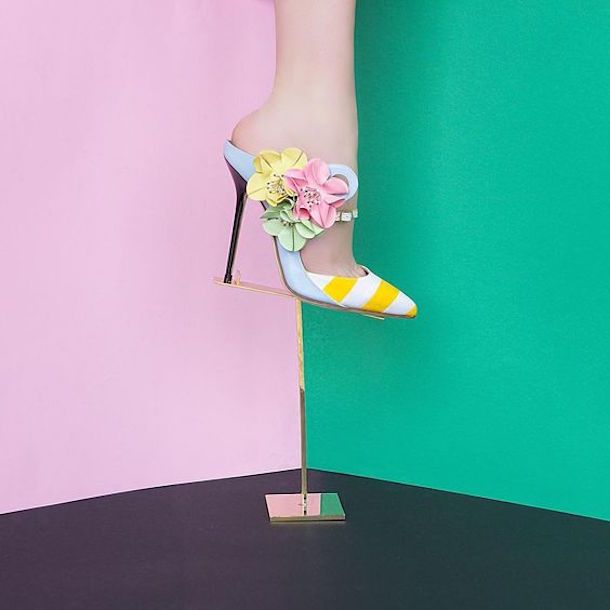 Name: Giannico
Designer: Nicolò Beretta
Location: Milan
Launched: 2013
Story: Nicolò participated in a meet-and-greet with Manolo Blahnik back in 2011 at Harvey Nichols in London. Vogue Italia had organized this event where aspiring designers could share their portfolios, and after Mr. Blahnik himself told Nicolò's mother that he had a real talent and should get serious about this shoe design thing…he decided to go for it. You might be thinking…why was his mother there? Because he's basically a child (now 20 years old to be exact).
Signature: Works of art.
My take: These definitely aren't your everyday shoes but the details will just blow your mind. This isn't just footwear, it's art…and feet art carried by some of the most reputable stores around the world. Pretty impressive for someone who can't even legally drink in the US, right?
Name: Valia Gabriel
Location: Bahamas / Greece
Launched: 2011
Story: Wanted to create beautiful and simple footwear inspired by Grecian sculpture.
Signature: Handmade sandals. Minimalist. Earthy.
My take: Pretty much how I discover most new and noteworthy designers, I found Valia Gabriel on Net-a-Porter. It seems like her goal was to create the perfect everyday sandals and she definitely nailed that. If you're taking a vacation soon and need something to wear from the beach to out with your maxi dress / caftans at night, this is where it's at.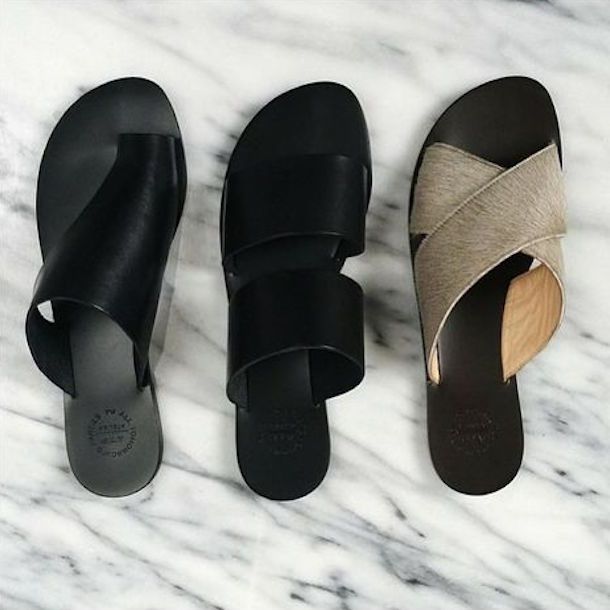 Name: ATP Atelier (All Tomorrow's Parties).
Designers: Jonas Clason and Maj-La Pizzelli
Location: Sweden / Italy
Launched: 2011
Story: The designers met while at Swedish fashion brand Gul & Blå in the 80s. They went separate ways and reconnected in Otranto (Italy) nearly two decades later. They discovered a small studio making sandals in the town and the rest was history.
Signature: "Urban sandals." Minimal. Naturally vegetable tanned. Easy to wear.
My take: ATP Atelier proves that not all sandals are created equal. I like that they've created something a little edgier, even fall-appropriate (I did mention I've been wanting to rock flat Sandals like this for Fall). And with decent prices, EVERYONE WINS.
Name: Dorateymur
Designer: Dora Teymur
Location: London
Launched: 2012
Story: Graduate of the Cordwainers School at the London College of Fashion and started his namesake label shortly after.
Signature: Sculptural. Chunky. Mod-ish.
My take: The next big shoe designer. Seriously, will be on every personal style / street style blog before we hit 2017. Just wait. Oh and Dora is only in his mid-twenties so basically we should be friends and talk shoes all day long. Just saying.
Name: Eytys
Designers: Jonathan Hirschfeld and Max Schiller
Location: Stockholm
Launched: 2013
Story: Childhood friends turned business partners — Hirschfeld went to business school while Schiller worked at Acne (designed menswear while at Acne). Came together to form the cult sneaker brand pronounced eighties.
Signature: Sneakers (unisex platform sneakers to be exact).
My take: It's like my Steve Madden platform sneakers I loved so much as a brace-face middle school pre-teen, all gown up and a hell of a lot cooler.
Name: Martiniano
Designer: Martiniano Lopez Crozet
Location: US-based. Made in Buenos Aires, Argentina.
Launched: 2011
Story: Martiniano Lopez Crozet and Milena Muzquiz have been performing as Los Super Elegantes which mixes music, theater and fashion. And because everything in the creative world is related some way, why not just create shoes…right?
Signature: Glove style.
My take: You might think Celine did it first but Martiniano's "glove shoes" have been his signature since inception. I actually tried on the Celine version at Barneys pretty recently. I almost pulled the trigger and decided it might be too trendy. But now Martiniano has me reconsidering the style (specifically in white!)
Name: Paul Andrew
Location: NYC
Launched: 2013
Story: Previously worked at Donna Karan, Calvin Klein, Alexander McQueen and Narciso Rodriguez. Nominated for Swarovski Award for Accessory Design (as part of the CFDA Awards) two years in a row (including this year!) and won the CFDA / Vogue Fashion Fund in 2014.
Signature: Twist on classic styles. Feminine. Known for the winged silhouette on his pumps.
My take: I'm a little biased as I just met him last week and he was beyond kind, genuine and overall just adorable. I've probably known about his designs longer than I have anyone else in today's post and not only am I fan of the shoes, but I'm excited to see how big he's going to be. You'll see.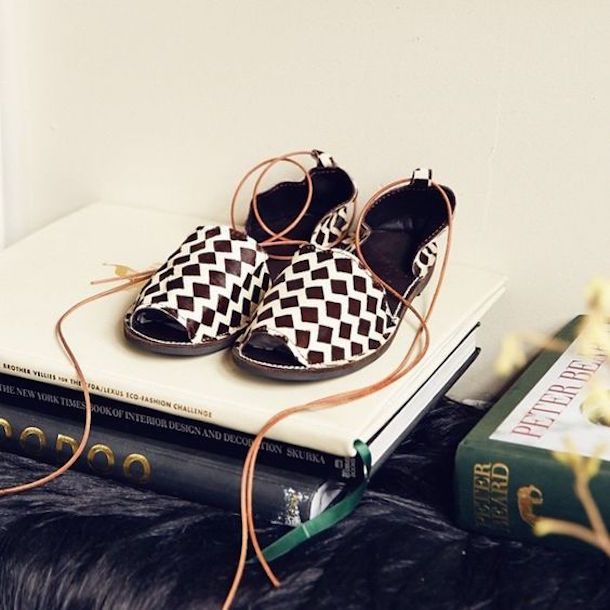 Name: Brother Vellies
Designer: Aurora James
Location: Handmade in South Africa, Kenya and Morocco. Based in New York.
Launched: 2013
Story: Aurora previously worked in fashion as a model agent and curator. She was inspired by her trips to Africa an wanted to share her favorite African footwear with the world.
Signature: The desert boot.
My take: By far the most unique / out there of all these emerging designers…but regardless of what you think of the styles, you have to appreciate the story / point-of-view. If anything, they do create the ultimate Coachella sandals.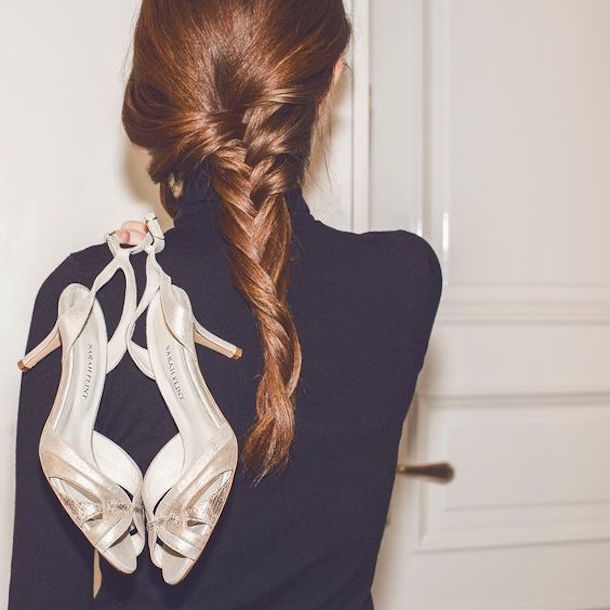 Name: Sarah Flint
Location: Handmade in Italy. NYC-based.
Launched: 2013
Story: Attended Parsons, FIT as well as the Ars Sutoria School of Design in Milan (studied pattern making and shoe manufacturing).
Signature: Comfort and elegance.
My take: Wearable styles for any occasion (sensible pumps, flat sandals, loafers, oxfords, dressy heels) AND with comfort at the forefront? It's rare to find anyone who really cares about comfort that isn't Birkenstock or an orthopedic shoe so CLAPPING EMOJIS FOR SARAH.
Name: MEANDHER
Designer: Emily Cooper
Location: LA
Launched: 2010
Story: Emily trained at the Ars Sutoria technical footwear institute in Milan.
Signature: Borrowed from the boys (oxfords, loafers, etc)
My take: I live in shoes that are "borrowed from the boys" so why wouldn't I be obsessed with MEANDHER?!
—
What do you think of these shoe designers? Anyone you had heard of before? Or maybe currently own their footwear? Perhaps you discovered a new favorite today? Any designer you would include in this list?
If you liked what you saw today, maybe you should add a few of these to your shoe closet…
Images via Instagram & Facebook
You might want to check out...