Although I was less than impressed with the overall fashion on the red carpet last night (see official rant here), I did happen to find 2 more of my best dressed picks in part 2.
Will I choose another? Let's find out.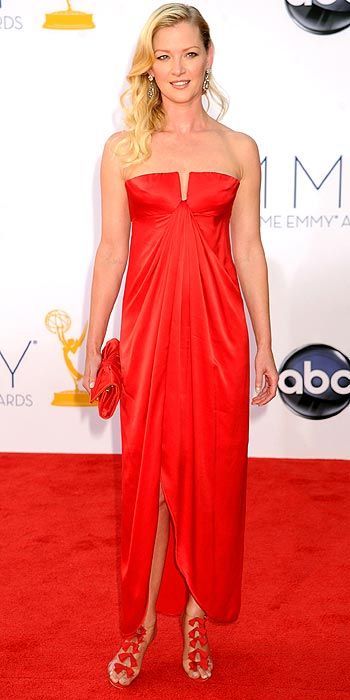 Gretchen Mol in Vintage Valentino couture
I'm thinking her favorite color is red?
Hayden Panettiere in Marchesa Spring 2013
When you have a huge new show coming out, wouldn't you want to really step it up on the red carpet? Well I would, but obviously Hayden doesn't feel the same way. I really do love the blue and gold combination here and I don't mind the dress from the waist-up, but I would have loved to see this with a high slit (minus the protruding leg. cc: Angie and Heidi).
Giuliana Rancic in Romona Keveza
Best Dressed Pick
I'm still debating whether this is black or navy…regardless, this is one of my favorite dresses Giuliana's ever worn on the red carpet. With two elements I normally wouldn't love (dark and strapless), it works perfectly on her. I love the architectural top (a great way to make strapless interesting) and THIS is how you pose with a slit (take note, ladies).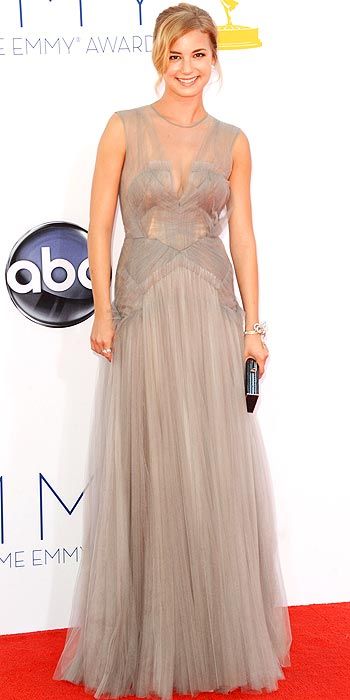 Emily Vancamp in J. Mendel
I really love the detail on this dress, but unfortunately this is NOT her color.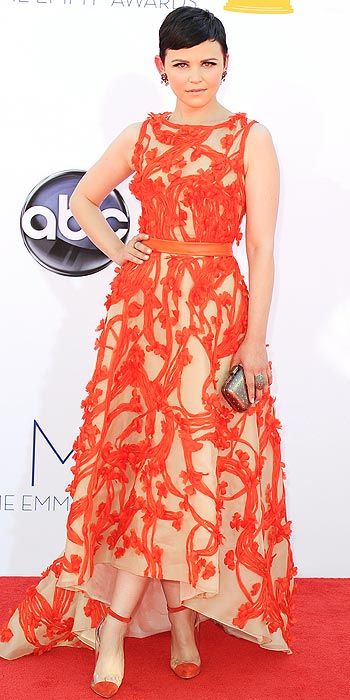 Ginnifer Goodwin in Monique Lhuillier
I'm still indifferent about this. I'm sure you know how I feel about the matching shoes (see matching rant in part 2) but for once in my life (well in my red carpet commentary life), I really don't have an opinion. You win Ginny!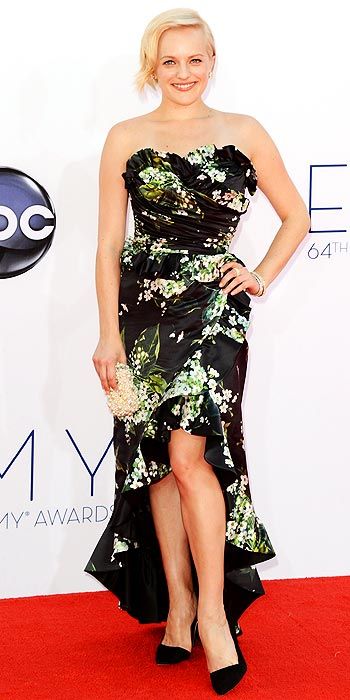 Elisabeth Moss in Dolce & Gabbana
I actually love this dress on her and the shoes are a perfect pairing; black pumps with just a slightly unexpected unique shape that really elongates the legs. But from the neck up, she's a disaster. It's like she completely skipped hair and makeup.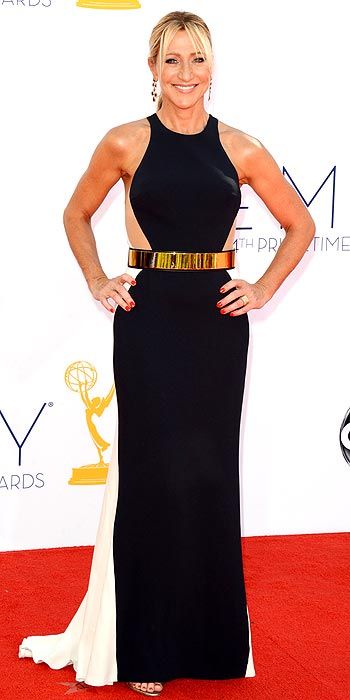 Edie Falco in Stella McCartney
She kind of looks like a fashion warrior who's totally going to kick my ass…but in a good way.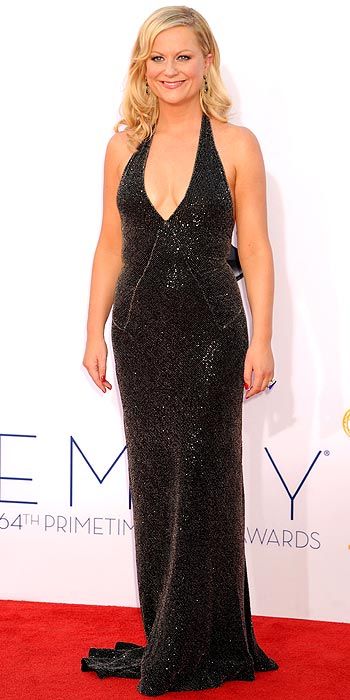 Amy Poehler in Stella McCartney
My feelings towards halters are similar to how I feel about tube tops, flares and flats, and shiny red material. These are not good feelings.
Ariel Winter in Katharine Kidd
I first saw this from the neck up and I was into it. Then I saw the whole thing with those shoes…and my opinion quickly changed. It goes to show how much styling matters because if she wore a strappier shoe, this would have been a best dressed pick for me. Closed toe platforms were just not meant to be worn here.
Claire Danes in Lanvin
I always applaud the ladies who show up to these things, even when they've got one in the oven. If it were me, I wouldn't even attempt to hit the red carpet after the first trimester. Overall, it's a decent pregnant dress.
Connie Britton in Andrew Gn
The hair…it's just…so bad.
Allison Williams in Oscar de la Renta
Love her. Love this. Seriously…when does Girls start?
Photos via People.com
You might want to check out...