The first major awards show of the season, the Emmys, were last night. The red carpet was full of bordeux, yellow, some shamefull beaded turquoise numbers and a pleasantly surprising influx of J. Mendel.
Like I tweeted last night, I feel like with the rise of social media, the increasing popularity of red carpet coverage along with things like Fashion Police, celebrities are less willing to take a risk when it comes to these events. You would think it might have the opposite effect but let's be honest…no one wants to be bashed on national television. So, gone are the days of Bjork's swan dress and JLo's extreme low cut Versace caftan….it looks like a red carpet full of ruching, jewel tones and strapless gowns is in our future for the long haul.
Now that my rant is out of the way (thanks for listening), let's get to the judging.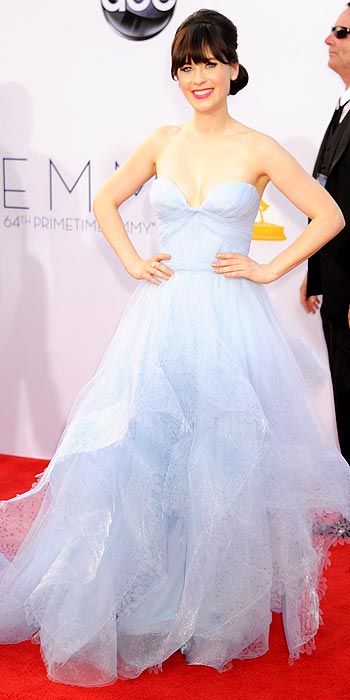 Zooey Deschanel in Reem Acra
This dress is one of the many reasons the red carpet is so tricky. When she was being interviewed, I hated it. Then I looked online for more detailed photos and you can see the skirt is laser cut and not just a bunch of tulle…so I actually dig that. However, you have to try extra hard to sell me when it comes to strapless (and one shoulders) and that bodice just isn't doing it for me. Interesting choice of color though.
Zosia Mamet in Bibhu Mohapatra
When I finally figured out who Zosia was wearing (I was trying to figure it out all night) I was kind of embarrassed it happened to be by a designer whose show I attended during fashion week, Bibhu Mohapatra. The version Zosia wore is clearly modified and although I like both designs, I'm not feeling this on her. I love the design elements from the waist up and I appreciate the detail in the skirt but together it's just too much. She's on the right track though, so I'll give that to her.
Julianna Margulies in Giambattista Valli Fall 2012 Couture
I'm so torn on this one. I appreciate the fact that she wore a print (finally, something interesting on the red carpet) and I live for the fact that it has pockets but there's something about it that's off. I'm thinking it's because I love the dress on its own but it's on the wrong girl. Not a total disaster though, unlike our next candidate…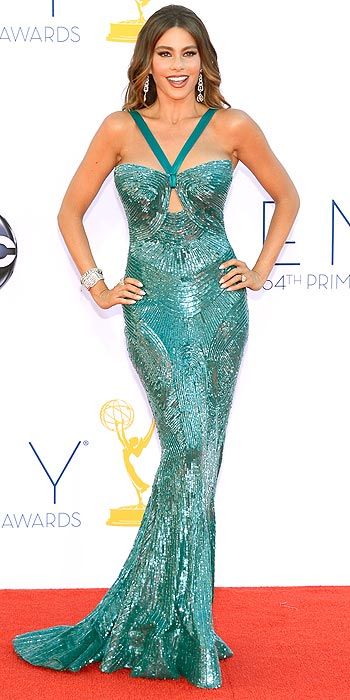 Sofia Vergara in Zuhair Murad
I don't care how great your body is, it doesn't give you an excuse to dress like a mermaid showgirl in Vegas….or a grown up cast member of Toddlers and Tiaras.
Tina Fey in Vivienne Westwood
You go Tina Fey! She looks great in Vivienne. This silhouette is super flattering on her and I really love the contrast of colors at the top. When she was being interviewed it seemed like her boobs looked trapped and breathing might not be an option, but in this photo she looks perfect.
Sarah Hyland in Marchesa
This girl is begging for an edge. Somebody please get her some Rick Owens…and remove the prom hair immediately.
Nicole Kidman in Antonio Berardi Spring 2013
I like the idea of this but the styling is slightly off. I would have loved to see a non matching shoe (why do celebrities feel the need to match? more on this later), a bag (because it just pulls the whole look together…like where are you keeping your stuff right now?) and a cool ponytail (I can't believe I just suggested a cool ponytail). Swing yet a miss for me overall.
Padma Lakshmi in Monique Lhuillier
Yet another jewel toned Lhuillier…
Leslie Mann in Naeem Khan
Best Dressed Pick
THANK YOU LESLIE. I love everything about this (especially the pockets!) The color of the skirt is fun, the detail in the bodice is gorgeous, and I appreciate the pairing of turquoise jewelry. Overall…she looks really happy and super comfortable in it. This is my kind of black tie dress.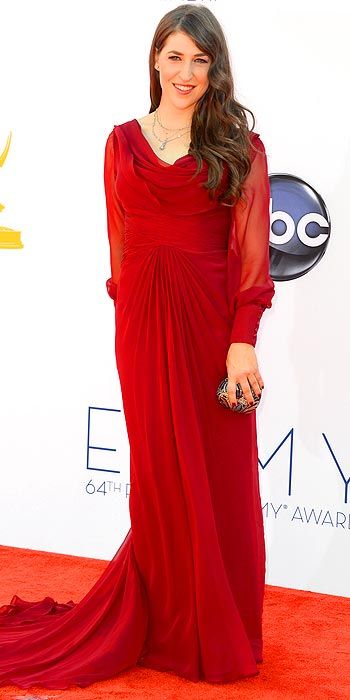 Mayim Bialik in Pamella Roland
This seemed to be the color of the night…but that's all I really have to say about this. That, and Blossom really needs a [new] stylist.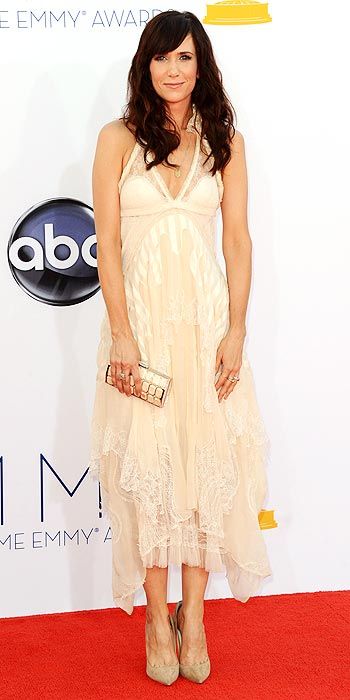 Kristin Wiig in Balenciaga
I adore Kristin Wiig, but she's the perfect example of why you should not fear color. If you do, moments like this will happen. And moments like this are not ideal. Nude dress AND nude shoes? It's almost offensive.
Be on the look out for part 2 coming soon!
Photos via People.com
You might want to check out...