I took a little excursion last Friday afternoon to Rosemont and checked out the much talked about Fashion Outlets of Chicago. Let's just say when I first heard about this place and "Barneys Warehouse" was brought up, I was already sold. But as always, I had to see for myself.
I've been to a few outlet malls in the past and never found anything great. They're usually a mess, disorganized and the selection is sub par. I realize this is a brand new establishment but I could not believe how nice it was. The mall and the stores were clean and organized (which I could not appreciate more), the employees at all of the stores I went in were super friendly, and I got a really sweet head-to-toe designer outfit for under $500. Yeah, I'm 100% serious about that.
It all started at my top priority — Barneys Warehouse. The first thing I noticed was Proenza. Yes, Proenza. A decent amount of PS13 bags to be specific (although I only took a picture of two…)
Because I thought one PS13 was enough (actually seen in Friday's post) I decided to move onto the shoes. I usually have a hard time buying sale shoes because I'm one of the most common sizes (38.5 in case you were wondering) so finding something I love in that size doesn't happen often. But at the Fashion Outlets, it did.
I had my eye on these Celine heels in white for quite some time but wasn't sure how much wear I'd get out of chunky white shoes. But chunky gold shoes…that's a different story.
Neiman Marcus Last Call is next to Barneys Warehouse so I thought I'd complete my outfit there. I was extremely impressed with how many size options they had. There was almost a full size run for most of the contemporary section. I noticed a bunch of pieces from Tibi Fall 2012 (which is one of my favorite Tibi collections to date by the way), including the oversized metallic top that I unfortunately missed out on last year but fortunately found in my size at Last Call. And some 3.1 Phillip Lim leather shorts to finish it all off…why not?
I went from this…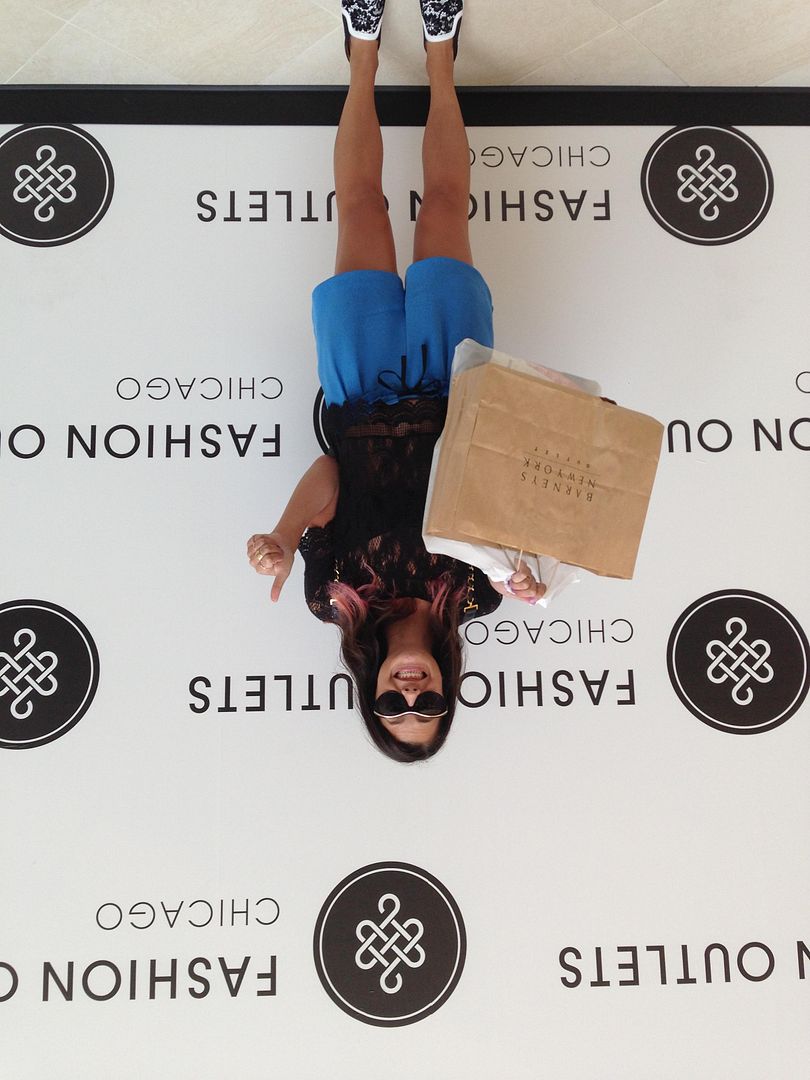 To this…
Not too shabby, right?
Have you visited the Fashion Outlets yet? What did you think?
—

Fashion Outlets of Chicago is the first fully-enclosed outlet mall to open in Chicagoland in more than two decades. Fashion Outlets of Chicago has 130 stores, including Bloomingdale's The Outlet Store, Neiman Marcus Last Call, Saks Fifth Avenue OFF 5th, Tory Burch, Ports 1961, and Barneys New York. Fashion Outlets of Chicago integrates travel, retail, art and dining in an unprecedented way. For more information, visit Fashion Outlets of Chicago online, like on Facebook, or follow on Twitter and Instagram at @FashionChicago.
Disclosure: Compensation was provided by The Fashion Outlets of Chicago via Glam Media.  The opinions expressed herein are those of the author and are not indicative of the opinions or positions of The Fashion Outlets of Chicago.
You might want to check out...