Remember that trivia thing I wouldn't stop talking about? Well it happened last night…and if you weren't there, you missed out on a really fantastic game of trivia (FOMO kicking in yet?) and if you were there, you helped raise over $2,100 for Lurie Children's Hospital soooo that's pretty awesome.
Anyway, I wanted to try something a little different today. This isn't a typical event recap. This will decrease your FOMO because you can now [kind of] participate in Trivia at the Dec, or today we're calling it Chi City Trivia.
Last night we had 3 categories (fashion, food and Chicago…my favorite topics) with 10 questions each. I wanted to pick my favorite questions from each category as well as give you the 5 questions that were never even asked — the tie breakers (we had a clear winner which I'll announce at the end so no tie breaker was necessary at the event).
If you want to give your brain some exercise this morning (beats going to the gym), here you go…
(ps. the bold questions are ones that weren't asked last night…so you're the first to see them!)
CATEGORY: FASHION
1. Who won womenswear designer of the year at the 2013 CFDA Awards?
2. What designer created the 31 minute bag?
3. Which fashion house was Lindsay Lohan [quite unfortunately] appointed artistic director of in 2009?
4. Who was the first high end designer to collaborate with H&M?
5. Shane Gabier and Christopher Peters are the designers behind what brand?
CATEGORY: CHICAGO
1. What is the longest street in Chicago?
2. What was the name of the Tyrannosaurus Rex purchased by the Field Museum in 1997?
3. What celebrity was arrested at the Michigan Avenue Walgreens in 2007?
4. What was the first year the Chicago Blackhawks won the Stanley Cup?
5. What is the name of Brendan Sodikoff's Jewish deli concept opening soon in the West Loop?
CATEGORY: FOOD
1. What variety of caviar is considered to be the most expensive in the world?
2. What is the term for a single, bite-sized hors d'oeuvre that you might receive at a restaurant on the house?
3. What state is the only US state that manufactures Limburger cheese? (one of the stinkiest cheeses, in case you were wondering…)
4. Who was the original host of Top Chef?
5. A Chicago-style hog dog is all beef on a poppy seed bun. Can you name the 7 toppings? 
Fun stuff, right? And so you don't cheat I'm just going to fill this space with some Instagrams I stole from people who hashtagged #dectrivia then you can check your answers.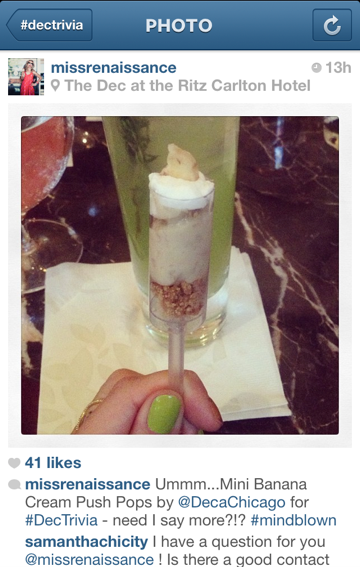 And the winner is…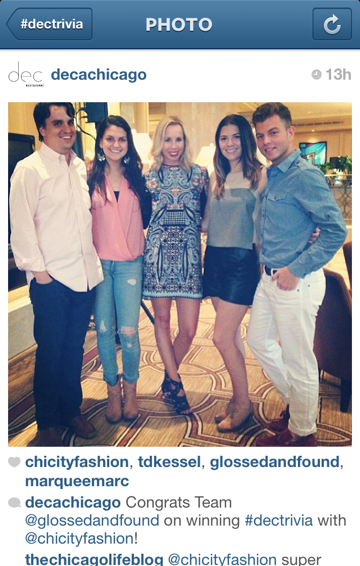 Team Glossed & Found! They got 25 points out of 30 which is pretty damn impressive so you go G&F!
And one more shout out to all of our team sponsors from last night: Sidecar, von Z, Ford Models, SARCA, Purely, Glossed & Found, CakeStyle, Power2Switch, Sash and Cinder, and Blueberry Moon. A special thanks to the Ritz Carlton for letting us use their beautiful space (even though the weather didn't let us use the Dec #bummer)
And now, the answers…
FASHION: 1) Proenza Schouler. 2) Phillip Lim. 3) Ungaro. 4) Karl Lagerfeld. 5) Creatures of the Wind.
CHICAGO: 1) Western Ave. 2) Sue. 3) Shia LaBeouf. 4) 1934. 5) Dillmans.
FOOD: 1) Beluga. 2) Amuse-bouche. 3) Wisconsin. 4) Katie Lee Joel. 5) yellow mustard, white onions, sweet pickle relish (neon relish), a dill pickle spear, tomatoes, sport peppers, celery salt.
—
How did you do? Let me know in the comments, yo!
Thanks for letting me steal your Instagrams (even though I didn't really ask) @heatheratsarca, @amandapuck, @lisaframe, @missrenaissance, @shopsarca, @zahra_sandberg, @decachicago