Ever since a trip to Australia nearly three years ago, I quickly grew fond of all things Aussie — food (excluding Vegemite), accents, exotic animals and of course fashion. It started with some boutiques I enjoyed shopping at and it turned into a full on obsession with stalking Australian designers. And with Fashion Week Australia coming to a close last week, I thought I'd take this opportunity to talk about some designers I especially fancied for Fall 2013.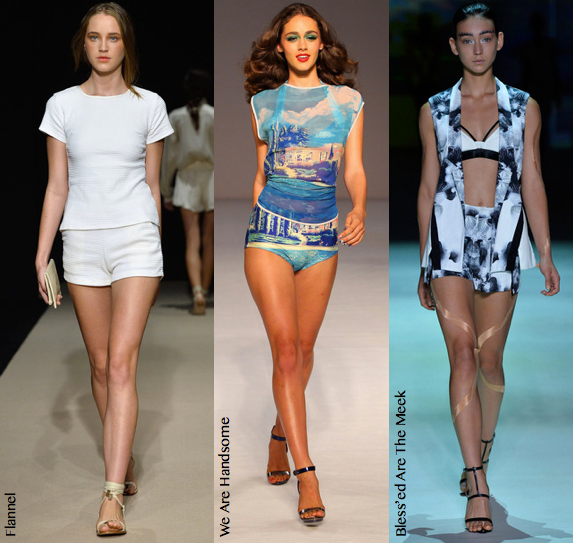 Notice anything a little "off" from these images? These are in fact looks from FW13 but they don't look like Fall at all (I'm a poet and I didn't even know it). I'm guessing it's that whole opposite season thing…which I kind of love, for no apparent reason.
Flannel is a brand you may recognize — it happened to show up a few times in my Ford editorials (see: Noel's sweater and Dominique's jacket). I first discovered Flannel when pulling for this photoshoot from SARCA, which happens to be one Chicago boutique embracing Australian designers (more about that later). If you're a fan of loose silhouettes and pale colors then I suggest you start hunting Flannel FW13 immediately.
We Are Handsome is an especially unique brand. They specialize in swimwear, but like you've never seen before. I mean, how often do you come across a panda one-piece or an eagle cover-up? Yeah, that's what I thought. I always appreciate those who have fun with fashion and extra snaps to those taking swimwear to the next level. I personally don't enjoy shopping for bathingsuits (it makes me reconsider eating that whole pizza to myself, followed by 2 scoops of gelato) but when your beach attire comes with a view, it's not all that bad.
Bless'ed Are The Meek has made a few appearances in my wardrobe. It's pretty easy considering their price-points are phenomenal, the clothes are super comfortable, and they're carried at both Sofia and Edith Hart in Chicago. I wonder if Australian designers hit stores later than most? Because I don't think I can wait much longer for that printed vest with matching shorts. I might even wear it with the bra top, but only to a music festival and only if I use my gym membership…which I don't.
—
It's pretty cool to see such successful designers come out of Australia. It proves that you don't need to be based in New York, Paris, Milan or London to make it in the fashion industry. Maybe Chicago will be next? 🙂 Plus, Aussies are the nicest people you'll ever meet and how can you not support that?
You can find a great selection of Australian designers at Sofia and Edith Hart (two of my favorite stores in Chicago). If you're looking for some other fantastic Aussie designers, check out MINKPINK, Sass & Bide, Camilla & Marc, Ellery, and Bec & Bridge. You won't be disappointed.
Photos via Style.com
You might want to check out...